Written by: Imogen Bellwood-Howard and Helen Dancer
Since the structural adjustment policies of the 1980s, policymaking at a national and continental level has increasingly turned to agricultural commercialisation as the foundation for Africa's long-term nutrition and food security. However, socio-economic inequalities, land tenure and food insecurity, as well as livelihood and income precarities remain widespread challenges. The effects of shocks, such as COVID-19, have overlaid emergent and entrenched patterns of social differentiation that shape access to resources, markets, and other opportunities for those involved in commercial agriculture. This paper considered the impacts of COVID-19 on value chains in Ethiopia, Ghana, Malawi, Nigeria, Tanzania, and Zimbabwe, to ask: 1) What can political settlements analyses tell us about agricultural value chains and responses to COVID-19 in the countries studied? 2) How are structures and power relations throughout the value chains and actors' responses to COVID-19 related to social differentiation in the context of African agriculture?
This blog was written by Ian Scoones and originally appeared on Zimbabweland
The COVID-19 situation in Zimbabwe has improved since our last report, with infection rates and deaths declining in all areas. The alert level has been reduced to Level 2, with restrictions relaxed. At the same time, the vaccination drive has continued apace, with the government now mandating all civil servants to take a shot. So far just over 20 percent of the population has received at least one vaccine – mostly from China – although there are big variations across locations and age groups.
The period of Level 4 lockdown during the most recent wave has taken its toll. During this period, lasting up to 7th September, many businesses closed and most public institutions, including schools and colleges, were shut. This had a big effect on the local economy and many suffered badly. This included farmers across our sites, who complained bitterly that schools, colleges and other businesses they supplied food to were slow to open up after the shift to Level 2. This particularly affected horticulture farmers in Chatsworth and Wondedzo who rely on vegetable sales for livelihoods at this time of year, with large amounts of produce rotting.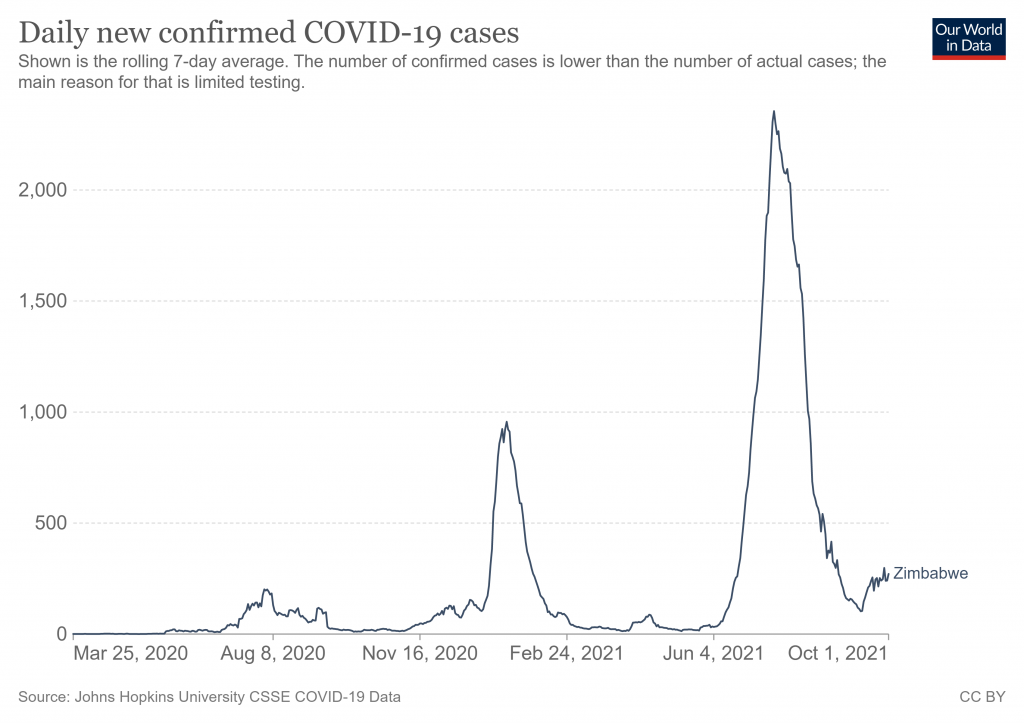 COVID controversies
Controversies around COVID-19 continue to be central to discussions across our sites. COVID has become a symbol of control, a centre of power struggles and local politics; much more than just a disease. This has been especially evident around the vigorous vaccine campaign that the state has led.
Many, particularly younger people, still dismiss the disease: "It's just a strong 'flu", one commented. "We have our own remedies for it, we don't need the vaccines". The view that COVID is being used by the state to control people is widespread. A number of younger informants observed that the vaccines may be used by the government, in alliance with foreign powers, to control the population, making people infertile. While conspiracy theories can be dismissed, their existence must be taken seriously as they reflect the politics of COVID times and the deep lack of trust many, perhaps especially younger people, have in authority.
Geopolitics comes into it too. "Why is this government accepting vaccines from unfriendly states like the US when they impose sanctions on us…. It seems very fishy", one informant observed. Others argue that it's odd to get a free vaccine from China when health centres have no other drugs "not even paracetamol, no basic drugs, no ambulances, yet these are all free and supplied by the government. We smell a rat… there is something not right…. What deals are being made about our future?" "It's all about making money and controlling people", one young person commented, "COVID is destroying our lives and economies".
Trust and the politics of control
All sorts of theories are debated, but the common theme is the little trust in the state and its solutions. Many see politicians capitalising on the COVID moment, recognising that elections are just around the corner. Other local leaders are using the requirement of the state to vaccinate to control their populations, with chiefs and headmen threatening the withdrawal of food aid if people don't get vaccinated. Vendors wanting to sell in local bakosi markets have to be vaccinated in some of our sites, again giving more powers to local leaders. Local officials keep lists of those vaccinated and not, creating new forms of local surveillance. Government departments have until 15 October to get their staff vaccinated, otherwise they must go on 'unpaid leave' until they do. All our team who work in the agricultural extension service have got vaccinated, for example.
Others resist the state vaccination efforts completely. For example, the Vapostori church followers refuse to take them. They say that COVID like other diseases is just punishment from God. It should not be resisted, and any requirement to stop praying in large groups should be resisted lest the Almighty is angered. God will answer and find a solution, they argue. Other churches, such as the Dutch Reformed, Roman Catholic and others, urge their followers to get vaccinated.
Among traditional religious leaders, such as the svikiro spirit mediums, there are a variety of opinions across our sites. Some argue that COVID reflects the anger of the ancestors for not following local customs and rules. They promote traditional practices for curing and healing, and some herbalists have joined others in prescribing herbal remedies for teas/infusions, gargling and steaming. The massive growth in demand for local treatments that arose especially during the most recent deadly wave has reinforced the power of herbalists and traditional healers within local communities.
Recourse to 'tradition' and the rejection of modern ways, around food in particular, is a common refrain. The argument that foods made from rukweza, mhunga (finger and pearl millet) and other traditional products give strength and help people resist the disease has been much repeated. This has strengthened the hand of traditional healers, mediums and some local leaders over their 'modern' replacements in local power struggles in a number of our sites.
There is a gender, generational and locational divide too. Women are getting vaccinated far more than men, according to those working in the local clinics across our sites. Older people too are much more likely to get vaccinated than the youth, as they have seen old people get sick and die. Parents complain that they cannot persuade their children to get vaccinated and follow the regulations on distancing, mask wearing and so on. Finally, those in town are more likely to sign up as they too have seen the effects of the disease in recent waves – some even travelling to rural homes to get their shots as there is more availability of vaccine.
Controlling daily life
COVID times have created many tensions centred on the control over daily life. Tensions play out between the state and normal people; across generations, between youth and older people; within families, and between spouses; among colleagues who are civil servants; between church followers of different denominations, within villages and even within families; between the living and the spirit world; and between local leaders and their followers within rural areas. All these tensions are refracted through local politics.
While vaccination has often been the central, immediate focus, these tensions are therefore about much more; a window on contemporary rural society in Zimbabwe. These disputes are about the politics of control, over defining freedoms and limits and the role of the state and other authorities in relation to citizens. They are about faith and belief, interpretations of 'tradition' and 'modernity' and the trust in state authority and science. And they are about wider politics around which foreign powers can be trusted with people's health and well-being.
Written by: Evelyn Otieno
---
In the second blog of a series following APRA's participation in an Independent Food Systems Dialogue on sustainable value chains for Africa's rice sector in a post-COVID 19 context, we examine the nutrition-related outcomes of the dialogue. The event, which was held on July 29th, 2021, was attended by participants from African countries including Burundi, Kenya, Uganda, and United Republic of Tanzania, as well as representatives of nations all over the world.
---
In conjunction with the International Rice Research Institute, Africa Rice Centre, the Centre for Africa Bio-Entrepreneurship, the Coalition for African Rice Development, and Japan International Cooperation Agency, APRA co-convened and participated in the Independent Food Systems Dialogue. The dialogue brought together stakeholders in Africa's rice food system including producers, consumers, policymakers, and other value chain actors to explore ways of building sustainable rice value chains in a post-COVID 19 Africa.
Pathways for increased nutrition in Africa's agri-food systems
The dialogue was especially timely now, as rice has become an important food crop in Africa, but the continent does not currently produce enough rice to meet its demand, which is expected to increase by about 30 million tonnes by 2035.
As players in Africa's rice value chain focus on increasing rice production to meet this ever-increasing demand, there are concerns on the need to link production to the continent's nutritional needs. In this regard, the dialogue, which comprised of an online public forum with regional stakeholders and experts and breakout sessions, discussed i) how to shift stakeholder perspectives to integrate nutrition and health into agricultural activities and research; ii) how Africa's rice sector can respond to regional and global crises, including the 2007–2008 food crisis and the current COVID-19 pandemic, and the lessons that the sector players can learn to build back better; and iii) the evidence that policymakers and multisectoral partners respond to in the development and implementation of the necessary policies and programmes in response to these crises and to the surging increase in rice imports in Africa.
Dawit Alemu, Country Research Lead for APRA Ethiopia, noted that rice has been declared as an important crop for import substitution in Ethiopia, but like other African countries, its production faces challenges. "Rice production in Africa experiences challenges, such as competition with imports, and each actor engages differently in the sector. Besides, different African countries have rice development strategies, but their implementation remains challenging. Therefore, we need to look at the sector case by case to address these challenges," says Alemu.
To address these challenges, the conference proposed the integration of nutrition in efforts to increase agricultural production. This integration should include processing, nutrient diversification, fortification, use of fertilisers, adequate water supply, efficient distribution and post-harvest handling, financing, rice safety regulations, certification, inspection, support for women and youth, information, and incentives for actors to enhance the nutrition content of rice.
Also important is the need to strengthen communication between the value chain actors, support informal markets, put in place infrastructure such as electricity, and ensure food safety from the farm to the fork through adequate infrastructure and innovations for effective drying, safe storage, packaging, and transportation.
The dialogue also proposed impact assessment and research which should yield good data to influence production and improve nutrition. Further, researchers should speak with one voice to influence policy and programming.
Conclusion
This dialogue provided a platform to consolidate efforts of players in Africa's rice value chain to use timely, high-quality, and independent information to improve agricultural policy and practice to achieve inclusive sustainable agri-food systems in Africa, thereby contributing to the achievement of the United Nations Sustainable Development Goals.
---
To learn more about this dialogue, read the first blog in this series, here.
Written by: Evelyn Otieno
---
This blog reflects on the recent East Africa Independent Food Systems Dialogue, which brought together rice producers, the research and academic community, donors and investors, the private sector and farmers which aimed to discuss and develop pathways to building sustainable value chains in Africa's rice sector.
---
Since the onset of the COVID-19 pandemic, countries the world over grapple with its negative socio-economic effects. Reduced food production, ill health, business closures, job losses, lockdowns, reduced labour availability, and declining economies are just some of the COVID-related challenges facing global populations.
As countries work to build back after the pandemic, one cross-cutting priority is building sustainable food systems to provide food not only for today's consumption but also to ensure food security in years to come. The story is the same, if not worse, in Africa, where effects of the pandemic have ravaged the continent's fragile food systems. More than ever before, there is an urgent need for sustainable food systems in the region, especially through agricultural value chains given that agriculture is the primary economic activity in most African economies.
The Future Agricultures Consortium (FAC) remains at the forefront of research to provide timely, high-quality, and independent information and advice to improve agricultural policy and practice in Africa. As part of its work, FAC has recently focused on the impact of COVID-19 on livelihoods and food security. In such efforts, the consortium participated in the independent dialogue dubbed IRRI East Africa Independent Food Systems Dialogue.
The dialogues entailed an online broadcast of a public forum, which paved the way for panel discussions on topics such as policy, research, and investment. The sessions involved other actors in Africa's rice sector, including the Agricultural Policy Research in Africa (APRA), the Japan International Cooperation Agency, the Coalition for African Rice Development, the Center for African Bio-Entrepreneurship, CGIAR, government and other stakeholders in the sector.
What data is needed to motivate actors in Africa's rice sector
In his opening remarks, Dr Abdelbagi Ismail, IRRI Regional Representative for Africa, noted that the rice value chain has become longer, but faces challenges such as decreasing access to production resources, inadequate research capacity and challenges in the implementation of individual countries' rice development strategies. He noted that research should address these challenges, and provide information for the development of appropriate agricultural pathways and opportunities. Dr Ismail went on to ask what data is needed to motivate players in Africa's rice sector.
A panel report excerpt by APRA CEO John Thompson provides an answer to Dr Ismail's question, emphasising that, "it is important to have good data and evidence-based arguments to support policies that strengthen the rice sector." Thompson added that "speaking with one voice and an ability to influence policy and programming would be important in the search for sustainable value chains for East Africa's rice sector." Discussion from this panel also called for an introduction of standards to improve the quality of rice which is produced. There is a need for diverse processors who are well connected and can work with governments. Also important is improved access to financing, investments in irrigation, sustainable water management, efficient transport systems, continuous research, and strong rice associations.
Need for integrated value chain research
Participants in Session Three, which discussed rice research and production, noted that research has focused heavily on production, thus excluding other players in the rice sector who are not necessarily involved in production. Dr Mary Mwale, a food security specialist in the Kenya Ministry of Agriculture, Livestock and Fisheries, reported that "although the government has subsidy programmes, Kenya's rice sector has not received much support."
This session recommended that rice research should improve nutrition and lead to increased production to match consumer preferences. It also recommended increased communication between value chain actors, support for informal markets and food safety from the farm to the fork (production, farm management, harvesting, transport and processing). Nutrient diversification, comprehensive planning, investment in infrastructure, innovation, integration of nutrition, improved availability of inputs, and access to finance are all important in achieving sustainable rice systems in Africa.
Need for relevant agricultural investments and initiatives
The conference noted that research can contribute to food outcomes if all involved actors have a common understanding of the status of the rice sector. Professor Joyce Kinabo, food technology nutritionist, Sokoine University of Agriculture, Tanzania, called for an understanding of the value chain. "Value chains are different in terms of operations, and there is a need to contextualise the rice value chain, share information, enhance proper data management, and understand nutrition outcomes and local initiatives to deliver context specific interventions," she explains.
Conclusion
As we talk about the UN Food Systems Summit, we need to think about how to make our actions politically sustainable through the implementation of sustainable, consistent policies across Africa. For research to contribute to policy-making, researchers and policymakers should understand each other. There should also be increased collaboration at all levels, such as between researchers, governments and farmers, and through regional organisations and dialogues like this one, which lay a foundation for food systems transformation in Africa.
---
This post was written by Ian Scoones and first appeared on Zimbabweland
---
The third COVID-19 wave has firmly arrived in Zimbabwe's rural areas. This is no longer the 'rich person's disease' of those based in town. The number of cases and sadly deaths has surged across our rural study areas in the last month. This is a picture reflected across the country and indeed the region, with large increases since our last report.
After being spared for so long, why are the rural areas only now being affected? This was the topic of the conversations in our research team this month. It is clear that the Delta variant is proving extremely dangerous. Having spread from a small isolated outbreak in Kwekwe just a few weeks ago and through imports from across the border in South Africa, it seems to be the dominant variant now. Highly infectious and easily transmissible, the fact that rural people don't move much and work and live outside makes much less difference in the face of this variant it seems.
There have been deaths recorded in all our study sites in the past weeks, with others being buried in the area having died in South Africa or elsewhere in the region. Many others have contracted the disease and have been battling it at home while isolating. Some of the most vulnerable are the front-line workers who have frequent contact with people, while living in the rural areas. Nurses, health workers, agricultural extension workers, police and others have all be noted as people who have contracted COVID-19 in our sites in the last weeks, very often passing it on to others. Mr FC is a 68 year old health worker and farmer in Wondedzo. He contracted the disease and went to the COVID quarantine centre. However, he was quickly discharged due to pressure on beds:
"The doctor and nurses decided to send me home for self-isolation paving way for the ever in-coming COVID-19 victims. I was given different drugs by the nurses, but I supplemented these by taking herbal teas. My son used to bring lemons, garlic, onion and mutsviri herbal tea. I used to cut onion or garlic into pieces where I could place underneath my pillow. Crushed onion was used to massage my chest and nose. All my belongings at home were heavily disinfected and I was given my own room where I stayed alone. All the food was brought by my son. I was given light food like crushed potatoes, rice, porridge, beans and mincemeat as swallowing was not easy. In the end, on the 15th day, I felt better and there was then slow improvement until I returned to work, when I got the disease again as I am in contact with people. This time fortunately it was not so severe and we now know how to treat it."
Vaccine demand and compulsion
The demand for vaccination has risen significantly too as a result of the surge in disease and concerns about severe illness and death. Queues have been forming at vaccination centres in all our study sites, but demand far exceeds supply, and the many return home disappointed. While nationally over 10% of the population have had one dose, there is much further to go even amongst the older, more vulnerable age groups.
Zimbabwe's vaccine programme has been the envy of neighbouring countries, but it does remain heavily reliant on supplies from China (and to a lesser extent Russia and India). The J&J single dose vaccine is now (finally) approved locally, so maybe there will be an expansion of supply soon, but with China now experiencing new outbreaks some worry that politically-driven gifts of free vaccines to Zimbabwe will be less of a priority.
Despite claims that vaccination will always be voluntary there have been recent moves to make it compulsory among civil servants, with memos circulating across all departments requiring reporting of coverage. This has provoked quite a bit of debate, including within our team. Among those who have been hesitant about the vaccine, several commented that they will get it now as they need to keep the job. The old tension between public health and individual freedoms is once again being played out.
Limited state capacity: reliance on local innovations
This latest surge is both more severe and more widespread than before. The state, despite its best efforts, does not have the capacity to respond effectively. Health services are overwhelmed, funeral parlours are full, drugs are in short supply and vaccines insufficient. Whether via treatment or prevention, the response has to be centred on local people, their ingenuity and capacities. As we have mentioned in previous blogs, there has been a blossoming of innovation and entrepreneurship in response to the pandemic, particularly focusing on traditional remedies.
The now-famous Zumbani herbal tea is in huge demand, and those who collect it and process it are making good money. Diaspora Zimbabweans based in South Africa are sourcing it in large quantities as an effective remedy. Team members comment that they have abandoned Tanganda (black tea leaves) for herbal teas and remedies. A few months ago, they did not like them much, but now such teas are the preferred beverage several times a day. For those who get sick there is now a common health folklore about what the most effective treatments are.
This is shared through various routes. One of our informants swore by a video she had seen on WhatsApp from a Nigerian woman extolling the virtues of steaming and certain breathing exercises. Others listen to what neighbours have done and share locally. Even our research team, now known to be the contributors to these blogs – which are often shared further through social media and in local newspapers – are asked for advice. "We are the new doctors!", one quipped. While there is much misinformation on social media spread through rumours among relatives, neighbours and church members alike, there is also lots of useful advice. Sifting through this competing knowledge claims and making choices in the face of disease is a critical part of living with COVID-19 today.
Alongside traditional herbs and remedies, lemon, ginger, garlic and onion are the most common ingredients for local remedies and are used as teas, chest/body presses, inhalation steaming and so on. Mrs MC contracted COVID recently and explained:
"I had two regimes, which is Zumbani mixed with lemon as tea taken twice a day, morning and afternoon. I also had ginger and garlic tea, which I took at sun down and late at night. I also used to chew raw onion regularly as means of opening the nasal system. I had learnt of these traditional medicines via social media, friends and relatives, I also learnt of the use of crushed onion wrapped in a transparent cloth, which then could be pressed against my chest whenever I go to sleep. It is now a habit in my family to take the traditional medicines all the time".
The demand for such products is massive. Mrs Kwangwa has a nursery in Masvingo in the compound of her husband's National Railways of Zimbabwe house (see pictures). They started the project back in 2014 after she graduated from Masvingo Polytechnic with a certificate in agriculture. They have been growing vegetable seedlings, fruit trees, flowers and so on, with a wide market across the province and beyond. In COVID times they have shifted focus – and now the big crops are onions and lemon tree seedlings, with plans for expanding into garlic and ginger growing once they secure a bigger plot with more reliable water supplies. As we noted in earlier blogs, everyone is now a gardener, and Mrs Kwangwa commented that her customers have expanded. "COVID-19 has popularised agriculture – I now have doctors, engineers, teachers coming for seedlings as well as the normal farmers." Everyone wants to buy products that can help them fight infections. It's a profitable business and they bought a Nissan Sedan and a Mazda truck to transport water, leaf litter and seedlings, and they now employ three people.
If the world is going to live with COVID-19 (in its now many forms) forever, even with protections from vaccines and so on, then the sort of innovations and investments that Mrs Kwangwa has made will continue to be vital. Research on new agricultural products and wild product harvesting and processing will be needed to support a longer-term strategy for responding to a seasonal, hopefully less virulent coronavirus into the future.
Disease spreading events
While traditional remedies help fight infection and treat disease, other behaviours may reduce transmission. People are now used to the idea of keeping a distance, wearing a mask, not going to large gatherings and so on, but it's difficult to do this in normal life. Transport for example is rare because of restrictions and so people must resort to informal, illegal means. Such mushikashika transport is always packed, often with few measures to reduce infection. Cross-border movement is essential for many people's businesses, especially in those study sites near the borders such as Chikombedzi and Matobo, but people have to pay the bribes to cross illegally so their business can survive. Different people commented: "It's better to die of corona than hunger"; or "I have to carry on, I cannot let my business collapse. What will I do to survive?"; or "We just have to learn to live with this virus, we don't have any other safety net".
In our sites, our team (now all expert field epidemiologists too…) identified a number of spreader events. For example, one malaicha – an informal transporter of goods – became infected and spread the disease widely as a result of contacts made through his business. Equally, particular shebeens (illegal drinking places) have become a focus for outbreaks, as people gather in packed rooms, as the official bars and restaurants remain closed. Although church gatherings are officially banned and most churches comply, some – such as the Apostolic churches – resist and hold their (often huge) gatherings at night. It being winter, people huddle together and so become infected.
Perhaps the most risky gatherings are funerals. With more people being buried – sometimes several a week in a village – funerals bring together people from across the country as relatives gather to pay condolences. Village neighbours come to pay their respects and commiserate with the family. Viewing the body happens in closed spaces, within huts while the family sits nearby. With it being winter, more happens inside in closed spaces with limited ventilation, and no one knows if wood smoke disrupts the virus or makes you more susceptible. Funerals are of course important moments in any society, and are especially so in rural Zimbabwe and for the older (more vulnerable) generation. Children in the diaspora have been beseeching their parents to avoid funerals in their villages, but with little effect. How can you not attend, at least for a short time? The traditions and rituals of passing are so significant that even a public health crisis cannot prevent them happening.
While official case numbers and deaths are thankfully declining in the last few days, this third wave has brought with it new challenges, especially in the rural areas where, for the first time, infection, severe disease and deaths are being seen on a much larger scale. There are many hypotheses as to why this is only happening now, but much must be to do with the Delta variant, which is effectively a new disease. The state is doing its best, but can only do so much. As before, rural Zimbabweans are left to cope on their own, with important innovations supporting the struggle against the disease, both for now in the midst of the pandemic and likely into the future, as this is clearly not going to go away completely.
---
Covid-19 is having a major impact on livelihoods and food security across the globe, with women and those who work in informal economies often the hardest hit. This is the focus of our latest Research for Policy and Practice Report on 'The impact of Covid-19 on livelihoods and food security' and upcoming UN Food Systems Summit independent dialogue.
The dialogue event on 'Building resilient and sustainable food systems: How can emerging lessons from communities affected by Covid-19 shape the way forward?' and report are part of the CORE rapid research initiative, which seeks to understand the socio-economic impacts of the pandemic, improve existing responses, and generate better policy options for recovery.
Household-level food and livelihood insecurity
Studies of livelihoods and food systems since the start of the global pandemic in 2020 have shown a consistent pattern: the primary risks to food and livelihood security are at the household level. Covid-19 is having a major impact on households' production and access to quality, nutritious food, due to losses of income, combined with increasing food prices, and restrictions to movements of people, inputs and products.
The studies included in the Research for Policy and Practice Report span several continents and are coordinated by leading research organisations with a detailed understanding of local food system dynamics and associated equity and livelihood issues in their regions:
Together, these studies show how the hardest hit in both rural and urban areas are frequently women and those working in informal economies. They also draw out key lessons and priority actions that need to be taken to respond to food and livelihood security challenges in a way that addresses informality and gender dynamics, for food systems to become equitable and resilient:
To mitigate Covid-19's impacts on livelihoods and food systems, countries must meet the immediate food and income security needs of their vulnerable rural and urban populations, keep agricultural markets open and trade flowing, and support smallholder farmers and small and medium enterprises to continue to operate.
Adaptive social protection measures can build the resilience of both rural and urban households to the impacts of large natural and human-driven shocks, such as pandemics, but structural inequalities must be addressed to ensure these reach the poorest and most vulnerable populations.
Particular attention must be paid to women and young people, who are more likely to work in the informal sector, have lower incomes and often play a central role in household reproduction and the care economy.
Covid-19 provides an opportunity to rethink policies for ensuring food and nutrition security and economic recovery that are aligned with the commitment of the UN 2030 Agenda for Sustainable Development to 'leave no one behind'.
Opportunity for reform
The concept of 'building back better' has already become a well-worn cliché since the start of the pandemic, but these studies show that it is possible to view this crisis as an opportunity for fundamental reform and for creating more just and sustainable food futures.
Key messages from this report will inform the independent dialogue on 9 July. This invite-only event, organised by the IDS-led IDRC CORE KT programme, in collaboration with International Development Research Centre and Australian Centre for Agricultural International Research, will focus on drawing out the lessons and priority actions that need to be taken to respond to food security challenges in a way that addresses informality and gender dynamics, for food systems to become resilient, equitable and sustainable into the next decade.
The dialogue will bring together a range of stakeholders and perspectives on the impact of the Covid-19 pandemic on food systems and livelihoods, focusing on the evidence and experience generated from the most affected communities in low-income countries to generate ideas for action. It will provide opportunities for researchers and policy actors to talk about some of the key issues arising and produce some recommendations for policymakers attending the UN Food Systems Summit in September.
Vaccination drive at Hippo Valley sugar estate
---
This post was written by Ian Scoones and first appeared on Zimbabweland
---
The increase in COVID-19 cases in Zimbabwe has been significant in the weeks since our last blog. This has been matched by an increase in recorded deaths. The government has responded with a new 'level 4' lockdown, imposing a curfew, restricting business hours, limiting inter-city transport, requiring movement exemption permits, closing schools and educational institutions and banning all gatherings, except funerals where numbers are again restricted.
The national level data show an increasingly dangerous situation, but why now and how has it affected the rural areas? As we have reported in the past, the incidence has been extremely low in most of our study sites, but this has changed somewhat recently, although few deaths have been recorded. Why this change?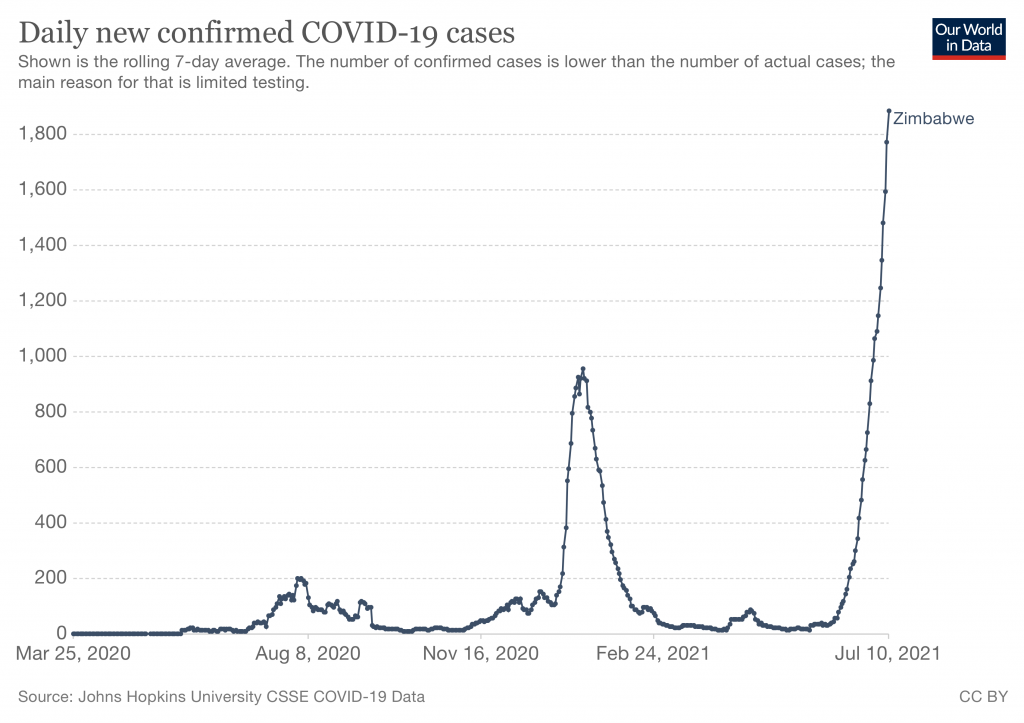 Why is there a surge now, including in the rural areas?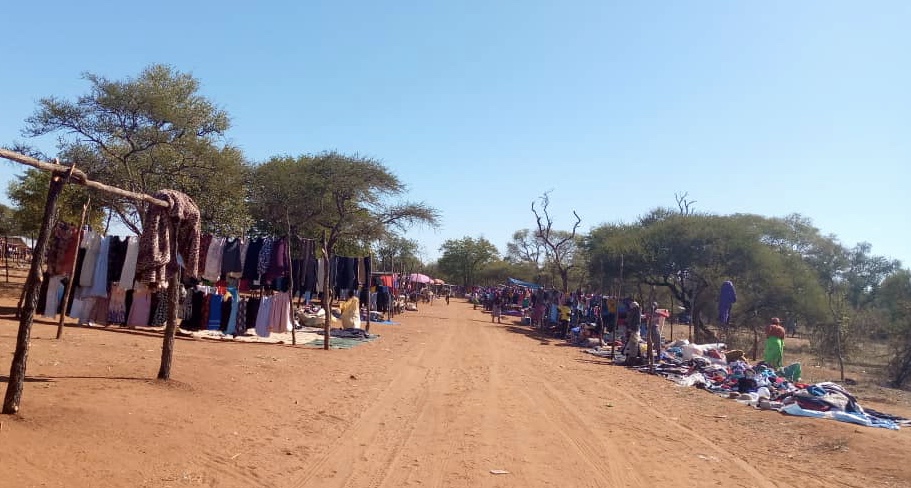 Informants across our study sites point to a number of factors.
First it is winter and this is the cold and flu season when respiratory infections spread as people are more frequently inside and interacting in close proximity.
Second, it has been marketing season when people have been travelling about, gathering at market places, interacting with itinerant buyers and going to auction floors in the tobacco areas. Indeed, it has been in the tobacco areas that the greatest spikes in infections have been noted, and people have speculated that buyers travelling from hotspots – such as Karoi – have brought new infections into areas.
Third, it has been the relaxation in measures, including the day-to-day practices of hygiene that have occurred. Certainly over the last months people had gone back to a (nearly) normal life, and abandoned wearing masks and had attended large gatherings of weddings, funerals and church services. These are now banned, but some churches are dismissive of the regulations and argue that the power of prayer in large gatherings should be recognised as a way of combating the disease, and many are still continuing.
Fourth, early foci for infections have been educational institutions, including Bondolfi mission, Morgenster and Great Zimbabwe University. Here students and staff have been infected and later isolated, but in places where there is residential accommodation such as teachers' colleges and boarding schools, the virus can spread, and those moving to such establishments – as day pupils, as service providers or sometimes as church goers – can in turn spread the infection to their communities.
Fifth, the ease of movement from South Africa through illegal crossings improves in the dry season as the Limpopo has little water and the danger from crocodiles and hippos recedes. This is the period for mass movements, as people go and shop in South Africa and bring back goods. At the Chakwalakwala crossing people move daily in their thousands, even with cars and trucks crossing the sandy river bed. This has a focus for significant importation of disease, as South Africa's surge is in full swing, increasing earlier than Zimbabwe's.
Sixth, the increase in dry season trade is linked to major markets in the south of the country. These bring people together over wide areas. These Bakosi markets are preferred to going to town as you can buy everything from iron sheets for roofing to a chicken for a meal, and everything else in between. Much comes from South Africa, but local produce is also sold and exchanged. Such large markets are also a focus for social events and much interactions. In the midst of a pandemic, they are clearly foci for infection, and have now been closed.
All these factors have combined in the last couple of months to fuel the pandemic in Zimbabwe, extending it to the rural areas.
Why do death rates remain low, at least for now?
Yet despite this, the number of deaths in our study sites remain low. This remains an anomaly as vaccination rates and existing immunity from earlier infections rates are low.
When we discussed this, the team pointed to the difference between mortalities of those coming from South Africa (and indeed of South Africans and Zimbabweans), pointing to different lifestyles, unhealthy diets of processed foods, co-morbidity factors (including being overweight, having diabetes and so on). Poverty, they argued, has kept us healthy!
In our study areas, burials have been occurring in cases where bodies have been returned home from South Africa. Cemeteries in Bulawayo for example are reported to be being under pressure. This may yet change, but there are some interesting hypotheses about what both results in infection and causes death.
Many informants across our sites point to local remedies as important in managing infection. While more people are getting the disease, its effects though far from pleasant are being addressed by local remedies. Mr Moses Mutoko from Wondedzo Extension in Masvingo district explained:
"In June my whole family was infected by an unknown 'flu. It was persistent and heavy. We treated ourselves by steaming of a mix of Zumbani (a local herb), eucalyptus leaves and lemon, covering ourselves with a blanket for 15 minutes and sweating hard. We would also drink the mixture morning and night. We would also gargle several times a day with coarse salt and warm water and drink large amounts of water when we wake up and before we go to sleep to clean the body. We all recovered and are fine now. I have shared this prescription with the community, and everyone has taken it up. We hope it will save people from the disease."
People across our sites urge the government to take local treatments seriously and invest in research as well as promoting seemingly efficacious ones.
Vaccine views
The surge in infections across the country has put the vaccine programme in the spotlight. Earlier reluctance among some has turned to an increasing eagerness to be vaccinated. Currently approximately 6% of the population have had a first dose, but rates have slowed of late due to supply problems. The vaccines being offered remain only the Chinese, Russian and Indian vaccines with an offer via the African Union of Johnson and Johnson vaccines being rejected on the grounds that the infrastructure for delivery was not up to scratch.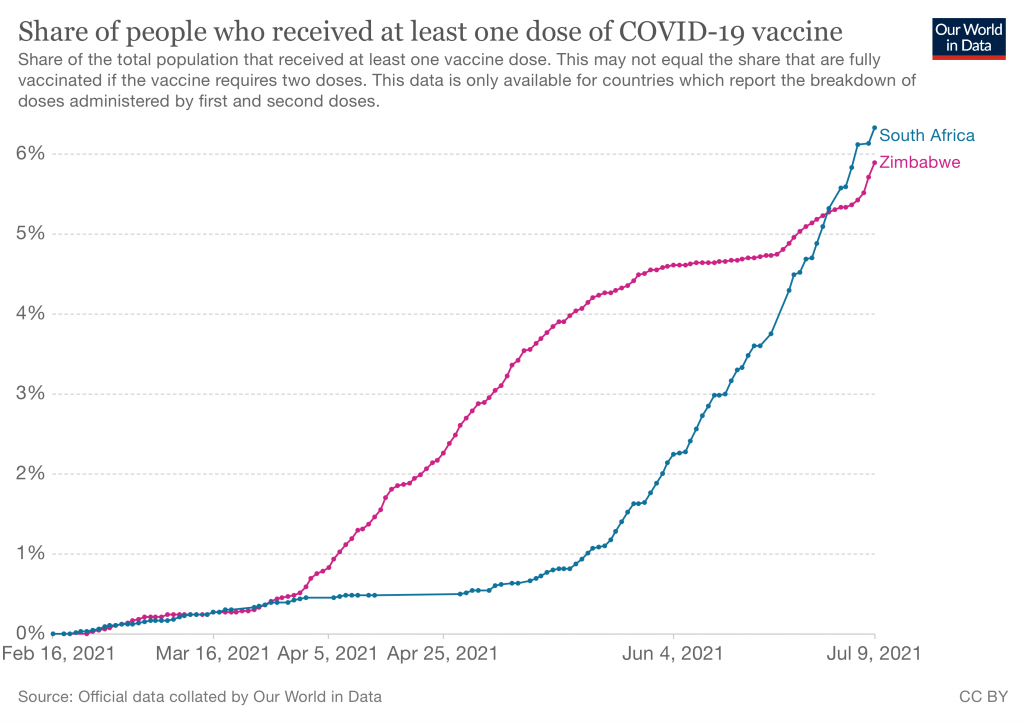 Many speculated that this was just politics being played out, with the Zimbabwe government snubbing the West. With the Chinese offering a further 2 million of their Sinovac shots, Zimbabwe may be able to play politics, but it seems a risky strategy right now. This is especially so as delivery is patchy, and the logistics not always streamlined with shortages reported across our sites. Nevertheless, the government's overall COVID-19 approach has met with approval, both from other countries in Africa, and from the Zimbabwean population according to the Afrobarometer survey.
For a time Zimbabwe had been seen as a potential vaccine tourism destination, with private clinics offering shots for US$70 or more, and South African travel agencies offering pricey vaccination travel packages. However, with current shortages, this has all stopped for now.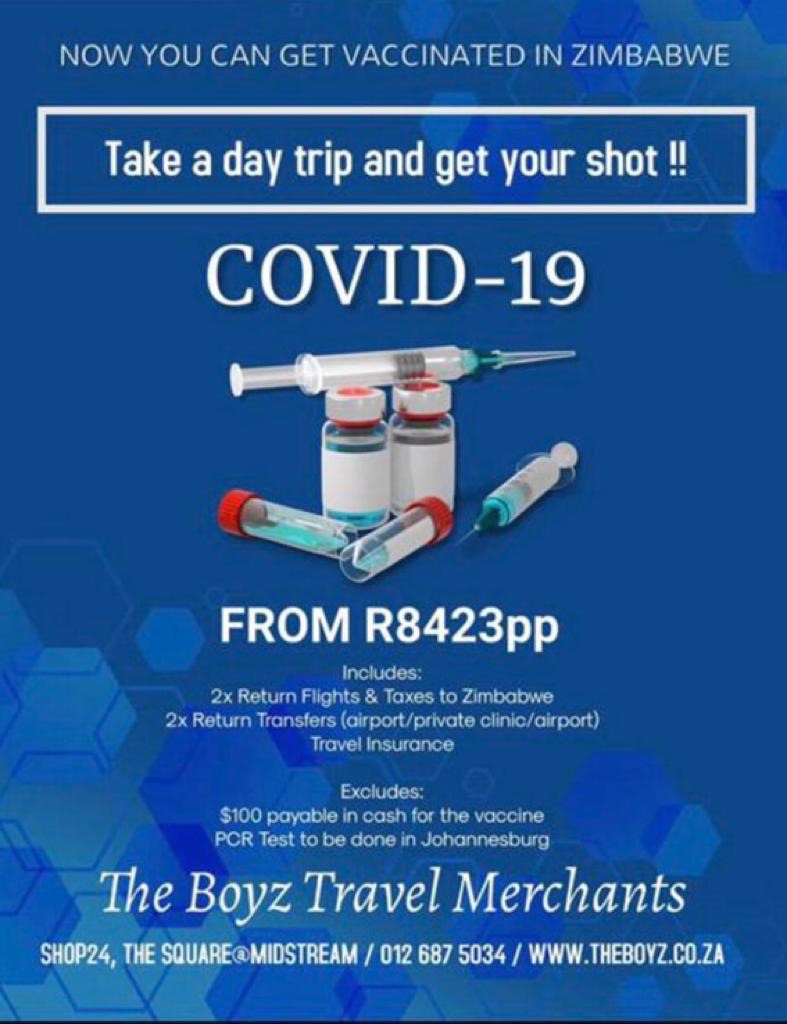 Meanwhile, companies such as Tongaat Hullett who run the huge sugar estates are offering shots to workers, as there has been a local peak in infections on the estates, with worker compounds closed down and put into quarantine. Again, this is linked to the season and the greater movement of people associated with cane cutting.
The discussion in our team and amongst informants across our sites on vaccination continues. Many views are expressed:
Some complain that agricultural extension workers are not treated as front-line workers and do not get priority on the vaccination lists like doctors and nurses, yet they have to have face-to-face contact on a regular basis and must travel over wider areas. These individuals are keen to get a shot but have failed so far.
Others say that since deaths remain low and that the surge will likely abate after the marketing season and when the weather warms up, then they don't mind and will wait for an more effective vaccine. They argue that these vaccines are not fully protective like the ones for measles, diphtheria and so on that Zimbabweans are very familiar with and many can name a case where someone vaccinated gets it again.
There are some who argue that the situation is nothing like that experienced with AIDS when burials were happening daily and everyone was affected, and yet, they comment, we survived that without a vaccine and through changing behaviours and practices over time.
Still others say it's like any other severe 'flu and we must learn to live with it, using local remedies. It's clearly now endemic and it will be part of our winter experience forever.
Just like in discussions across the world, there are plenty of views, each with their own evidence and case studies to share. Complexity, uncertainty and contested interpretations of both science and experience remain the order of the day.
Lockdown responses
The return of a lockdown is creating real concerns. The memories of the suffering from 2020 are fresh. This is especially challenging now as this is the main season for marketing horticultural products. Transporters can only start moving after 6am due to the curfew, meaning fresh, perishable products can only get to market late. And in the evening they want to move their transport out of town before 6pm for fear of getting vehicles impounded. This constrains the marketing day and for farmers reduces income.
In the past weeks, there has been an increase in direct contracting to local supermarkets, as markets have been closed down. This is only available to some and often means lower prices, even if a market is guaranteed. Wider business dependent on agriculture and dependent on farmers buying things are suffering as business hours and movement is restricted once again. It is back to the bad old days of 2020, with businesses laying off people or closing, and farmers suffering.
The importance of real-time reflections
This is the fifteenth contribution to our real-time monitoring and reflection of the pandemic in rural Zimbabwe. It is far from a linear story and there are many contested views and diverse experiences. Without such in-depth, real-time information it is difficult to make an assessment, and so difficult to learn lessons. Lots of studies are emerging right now that offer definitive statements from snapshot and circumscribed surveys, including from rural Africa. What our tracking has shown is that these are inadequate.
A fuller understanding of this pandemic in all its dimensions will only emerge in time, and we will continue our regular reflections, so watch out for the next blog in about a month.
Written by: Loveness Msofi Mgalamadzi
---
The COVID-19 pandemic has affected lives and livelihoods around the world, and Malawi is no exception. This blog explores the social and food security issues arising from the implementation of COVID-19 preventive measures at household level in the country.
---
Introduction
The COVID-19 pandemic has brought about unprecedented impacts that have affected most aspects of people's lives. As cases rose and the world became increasingly anxious, many countries started implementing measures to prevent the disease, such as border closures. Malawi declared a state of disaster on March 20, 2020. The first case was confirmed on April 2, 2020 and as of 19th March 2021, there were 33,174 confirmed cases with about 4,101 active cases, 27,847 recoveries and 1,092 deaths.
After cases were detected, the country moved to enforce a nationwide lockdown aimed at restricting movement and enforcing adherence to prevention measures. However, the public argued that the country was not prepared for a lockdown, especially among many Malawians who live on "hand-to-mouth" basis, and protests went so far as to obtain a court order stopping the government from enforcing the lockdown. Further, any move to impose a lockdown was perceived to be politically orchestrated, related to impending elections.
Despite the lack of a nationwide lockdown, different measures were implemented at individual, household, community, workplace and national level which came at a cost, and impacted social networks, economic activities and the population's psychological wellbeing.
Study details
A study commissioned by Young African Researchers in Agriculture under the COVID-19, Food Systems and Rural Livelihood in Africa Programme was aimed at assessing the social and food security issues arising from the implementation of COVID-19 preventive measures. This study was conducted with the understanding that the pandemic not only affected economic activities, but also social networks which are crucial for food security at household level as social capital is one of the assets people use in pursuit of their daily livelihoods. The study also provides a different perspective of the pandemic's effects as Malawi followed a unique approach to control the virus. The study used qualitative interviews with targeted urban and peri-urban dwellers. A questionnaire was sent out virtually to 114 respondents, with a 71% response rate.
Study findings
Most common COVID-19 preventive measures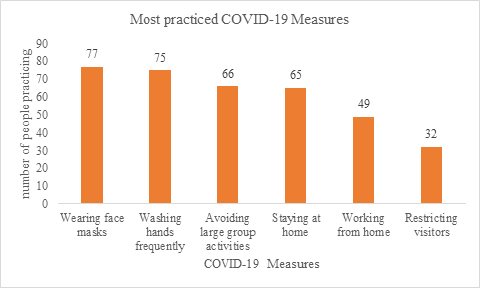 The most common measures practiced include wearing a face mask, washing hands frequently, avoiding large group activities, staying at home, working from home and restricting visitors. These measures had several social implications affecting food availability. For example, wearing a face mask has become a precondition for accessing most public places and supermarkets in which individuals must go to purchase food. At the beginning of the pandemic, face masks were expensive, costing about US$1.03, and therefore posed an economic challenge for low-income households. However, prices have since dropped to US$0.23 with hand-made and washable cloth masks also available.
Food market purchases crucial during COVID-19
The study established that the majority of participants access food through purchases at local markets and supermarkets within their locality. However, the pandemic affected the frequency of visits to these markets because, as noted above, people preferred staying at home and avoiding large groups. Before the pandemic, participants could typically make one visit per week to the market, but during the pandemic, they visit the markets just once a month. This, in turn, affected their food availability and choices, as some foods are perishable and because they could not go certain places where specific foods are sold.
Food production is indirectly affected by reduced economic activity
As the majority of participants access food through purchases, rather than producing it themselves, their food production was not directly affected. However, some indicated that reduced economic activities and reduced interaction with parents, as a result of COVID-19 measures, affected their parents' and relatives' potential production activities. The majority of participants (63%) indicated they are bread winners for their parents and other relatives.
"Reduced visits to my dependents has affected the frequency of support that I give to them, which is mostly on food and production resources," said one respondent.
Measures such as staying at home or working from home to avoid large groupings also affected interactions with peers and other relations who were potential sources of food.
Extension services were also affected, as extension workers were unable to visit farmers. This lack of contact between extension workers and farmers can signal lower harvests in the next growing season, which has implications for long-term food security.
Closure of schools meant that children stayed at home for a much longer time, increasing expenditures on food and, among those learning from home through online means, increasing internet costs, hence straining an already reduced budget on food further. This also meant that parents and guardians were spending time helping their children with school work, reducing their economic activities even more.
Social conflicts increasing with COVID-19
Other impacts of COVID-19 reported include incidences of discrimination, as reported by about 72% of respondents. This discrimination is especially towards those wearing masks, coughing, and who have had the disease, as well as returnees from abroad. "Those infected are isolated even after the disease, and are considered infectious by society even after being declared virus free," one respondent said.
Those discriminated against were unable to go to spaces where they can access food, and their relations were unwilling to come near them for fear of contracting the disease, which deprived them of interactions important for economic activities and food access. Church closures also held challenges, as some participants indicated that they get a lot of help from church colleagues with access to food.
Conclusions
The study aimed to understand social issues arising due to COVID-19 measures such as face masks, washing hands, staying home and avoiding large groupings, and how these social issues impact food security. These measures brought about disruptions in social networking which had consequent impacts on food availability, access and choices. For example, we found that the measures resulted in reduced economic activities which constrained household income and therefore reduced access to food and food choices. Other examples include reduced visits of children to their parents and trips to food markets, and various social impacts such as stigma and discrimination, teenage pregnancies and early marriages, and disruption of religious activities.
---
This post was written by Ian Scoones and first appeared on Zimbabweland
---
Zimbabwe's COVID-19 situation looks uncertain, with localised outbreaks and a rise in infections south of the Limpopo in South Africa. On June 11 there were 191 new cases (including 82 that were reported late) and 3 deaths reported, making a cumulative total of 39,688 cases and 1,629 deaths and a current seven-day rolling average new case rate of 77 per day, with a discernible upward trend. Vaccination rates are increasing, but very slowly and somewhat chaotically with 691,251 vaccinated so far.
On June 12, Vice-President and health minister, Constantino Chiwenga, imposed new restrictions, with the banning of gatherings, the limiting of business hours, a stipulation that offices should only be half full and the prevention of moving to and from 'hotspots'. This is a set-back as things had got largely back to 'normal' (whatever that is) in the previous weeks. Across our sites people had got back to work. It's harvest season and markets have been open, with the selling of grains, tobacco, beans and horticulture happening across all sites. Meanwhile in the sugar estates it's cane cutting season, with much activity and movement of people to provide temporary labour.
With so many people gathering at marketing points and traders, labourers and transporters, the fear was that these could become sites of infection, hence the recent move. Larger gatherings of churches, farmer field days, training events, funerals and so on were previously allowed if not exceeding 50 people, but are now either banned or have a reduction in permitted numbers. While these regulations were sometimes not kept to, as of last week our team report no major COVID-19 problems in any of our rural sites across the country, although the worry is that this may yet change.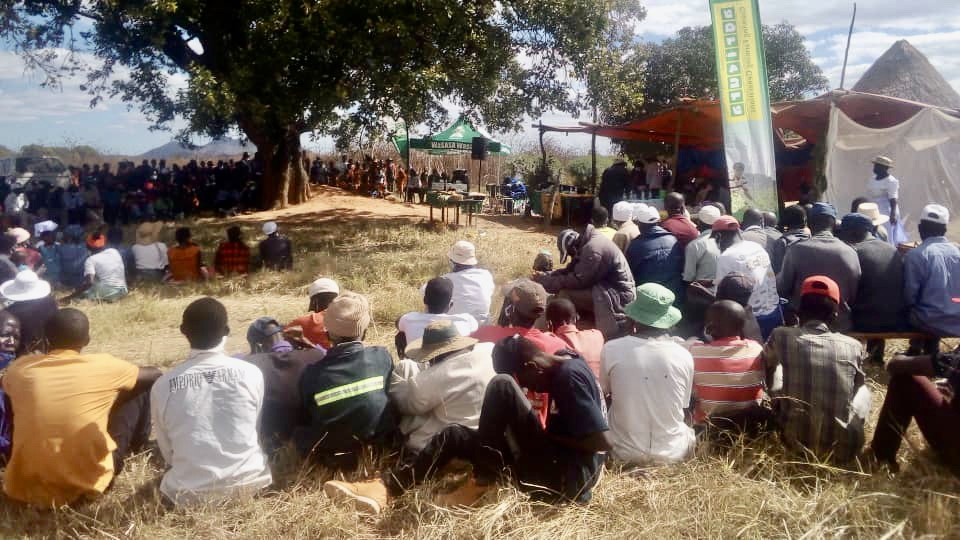 The national pattern currently seems to be small, focused outbreaks that are dealt with by Ministry of Health 'rapid response teams' that operate in each of the provinces, coordinated through the district COVID-19 taskforces, which has membership from across sectors. The most recent such outbreak near our sites was at Bondolfi teachers' college where there were a number of cases reported. Isolation and quarantining seem to have stopped further spread fortunately and all are now recovered.
Currently there are concerns in Kariba where the district taskforce has been targeting 'houseboat gigs' and shebeens where many gather to drink and are spreading infection. Last Saturday a lockdown was announced for Hurungwe and Kariba districts due to 40 new cases being identified, with movements in and out of the districts restricted and a process of contact tracing is ongoing. The fear of course is that such hotspots will spread.
Variants and vaccines
Like other parts of the world, the concern is with the potential impact of new variants. So far there has been one outbreak of the Indian-origin delta variant in Kwekwe. Someone returning from India had infected a number of people and a local lockdown has occurred and been extended, again hopefully stopping further spread.
However, borders remain open, although restrictions and requirements for testing have been increased this last weekend. There is some testing, but also lots of reports of fake test certificates, with some in Mpilo hospital arrested, so it is difficult to see how the spread of variants, as elsewhere in the world, will be stopped, even if spread can be slowed.
The vaccination programme has run into difficulties with demand exceeding supply in some places, although the opposite in others. The ministry has admitted problems with distribution and administration. The main vaccines remain the Chinese Sinopharm and Sinovac shots (and some Indian ones too). Promises of others from Western aid programmes seem not to have been fulfilled as yet, while the Zimbabwe government has been showing caution around the US/Belgian Johnson and Johnson vaccine, perhaps part of the on-going tussle with Western powers. Meanwhile, as part of the continued frenzied vaccine diplomacy, the president received the first delivery of 25,000 Russian Sputnik V vaccine doses at the end of last week, donated by a diamond mining company. Vaccines clearly have important soft power.
Vaccine hesitancy remains, fuelled by much misinformation through the online media, WhatsApp messages and so on. But the big issue seems to be delivery and the capacity of the over-stretched health service to delivery. The ministry correctly is keeping up with its regular vaccination programmes, and the current polio vaccination drive is occupying staff and taking them away from COVID-19 vaccination.
Our informants noted that they can arrive at a clinic and be turned away as the health staff are busy, even if there are COVID-19 vaccines there. Given the lack of incidence in our study areas, there is little urgency felt and many argue that local remedies – from local herbs and leaves to lemons, garlic and ginger – used for teas and steaming are sufficient. The cost of lemons apparently is soaring, and there are many new businesses packaging teas and juices to combat COVID-19.
Markets are open, business is back
Unlike last year when the harvest season was very difficult, this year there has been much more opportunity. In Mvurwi, tobacco marketing has been in full swing across a number of auction floors, and the trading companies are busy. Transporters are moving crops around and there has been a thriving business in the areas where people gather to market their crops, as prepared food is sold and groceries exchanged through a myriad of traders. As of 12 June, this is now banned as vending in and around tobacco auction floors is prohibited and a maximum of two sellers per delivery is allowed.
Maize and soybean marketing is underway too, but the government buyer – the Grain Marketing Board (GMB) – while offering higher prices has distant depots, pays in local currency (RTGS) and the cost of transportation is high. Instead, informal traders come to the farms, exchanging goods, notably groceries, for maize in particular. This means maize goes for USD 3 per bucket not the equivalent of USD 6.
While farmers complain about being ripped off, the provision of goods locally and the ease of marketing/transport is clearly beneficial. And the growth of informal trade provides jobs and sources of income for a whole range of people, especially women and younger people.
The cold season is traditionally a focus for horticultural production but some producers, particularly in Chatsworth-Gutu area, have been hit by frost, with large amounts of produce destroyed. In the same way, livestock have been affected be tick diseases this year, due to the plentiful rains. Despite it being the dry season now, this continues to be a problem in some of our sites, and owners are selling off sick cattle before they die and so flooding the market and suppressing prices.
Despite these challenges, the marketing difficulties for farmers of the earlier COVID-19 lockdown periods have declined and all value chains for different crops are re-emerging, with vendors, traders, transporters and others all returning to support agriculture and the marketing of products across our sites.
However, the form, composition and location of these value chains are changing. Agricultural markets are now more localised, involve a greater diversity of people with exchange and barter being important and formal sales to outfits like the GMB on the decline. In time it may be that the more formal connections are re-established with the big players returning to dominate and control the market from farm sales to retail, but for now the COVID-19 shock seems to have reconfigured markets in favour of multiple, local players, with important effects on local economies, with value distributed across agricultural marketing chains.
Small towns are benefiting
This explosion of local economic activity is seen especially in small towns. In the two previous blogs (here and here), and in our paper in the European Journal of Development Research, the implications of land reform on small town growth has been emphasised, based on work in Mvruwi, Chatsworth and Maphisa over the past five years or so. This pattern has been accelerated by the effects of the pandemic.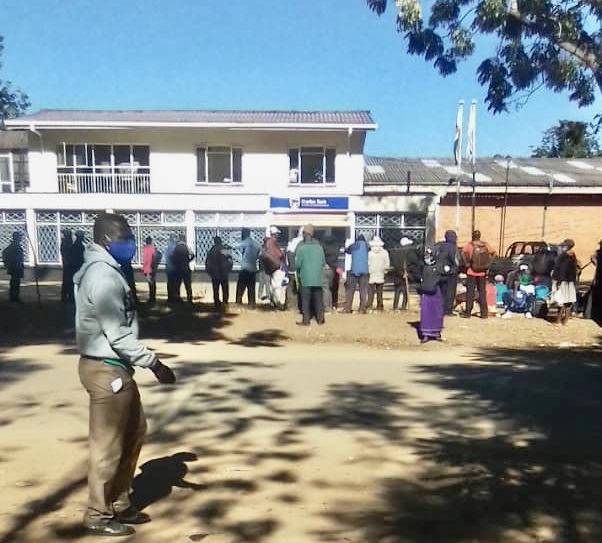 With transport restricted by lockdowns and curfews and endless rent-seeking by the police on the roads, there has been a move to local marketing arrangements, often small-scale and involving informal, sometimes barter, arrangements. Women and young people without land are especially involved, and their improved spending power is seen in the rise of local retail outlets in small towns offering basic goods and groceries. While lockdowns affected the operation of food outlets and many other businesses, as we have discussed many times in our blogs on COVID-19 impacts since March 2020, there has been a rebounding of activity; although with the recent announcement business hours are again restricted to 8am to 6pm, with all markets closing at 6pm and bottle stores two hours earlier.
Unlike larger businesses with a single operation, many of those involved in trade in small towns operate at a small scale and have other activities in play. Many business people in the small towns we've been researching had land reform farm plots and could diversify when their businesses were restricted, but now they're very much back.
There are health restrictions in place – sanitisation and mask wearing is encouraged and large crowds are banned – but in the absence of cases and with the fear of COVID having receded from earlier periods, there is a much more lax attitude to restrictions in all our sites according to our team. This may not last if the spread of COVID-19 continues in South Africa, but for now small town business is thriving again.
The shortening of value chains and the focus on local economic activity is also reflected in investments by larger agricultural businesses. For example, in Mvurwi, an important centre for tobacco growing, tobacco companies have invested in new floors, with impressive new structures being built.
Since people couldn't move during lockdown, they had to come nearer to the farmers. And the firms have clearly judged that this situation is permanent, with significant benefits for the efficiency of marketing and access to high quality tobacco leaf. There are now eight trading floors operating in the town, up from one earlier, ranging from the big players (ZLT, MTC, Boka) to newer companies (Boost Africa, Sub Sahara etc.). This move to local investment is reflected in the multiplication of banks in the town too. There are now six banks operating, where there were only three before. This allows farmers to gain finance, pay in sales receipts and manage their income much more easily, with the banks benefiting too.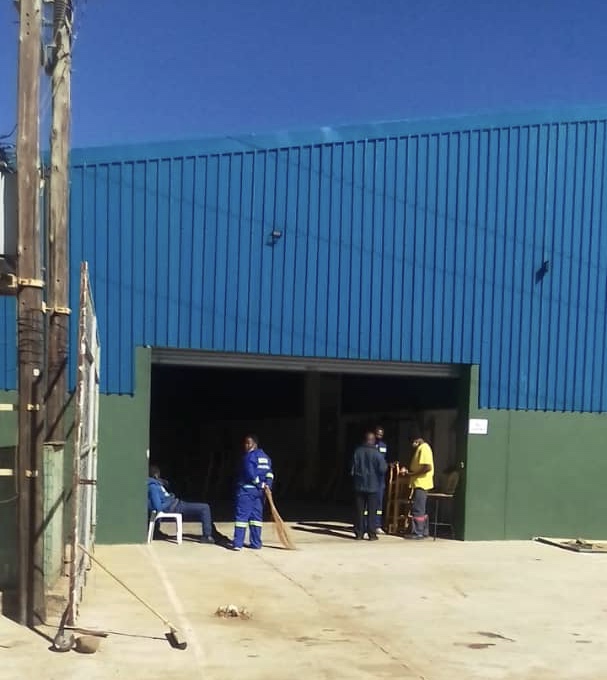 Even in areas that don't have such an intensive, cash-oriented commercial agriculture, there are other similar developments towards a localisation of the economy. For example near Wondedzo, because people could not travel to Masvingo, Gweru or Harare to get seedlings for horticultural operations, a number of new business have emerged, based in the rural areas. Near Zimuto Mission, for example, Mrs Z has started producing seedlings, including of rape, cabbage, tomato and so on, with a vibrant local market. The same applies to Mr B's business in Chatsworth, again supplying seedlings to the local horticultural market, replacing the mainstream suppliers, and making serious money by all accounts.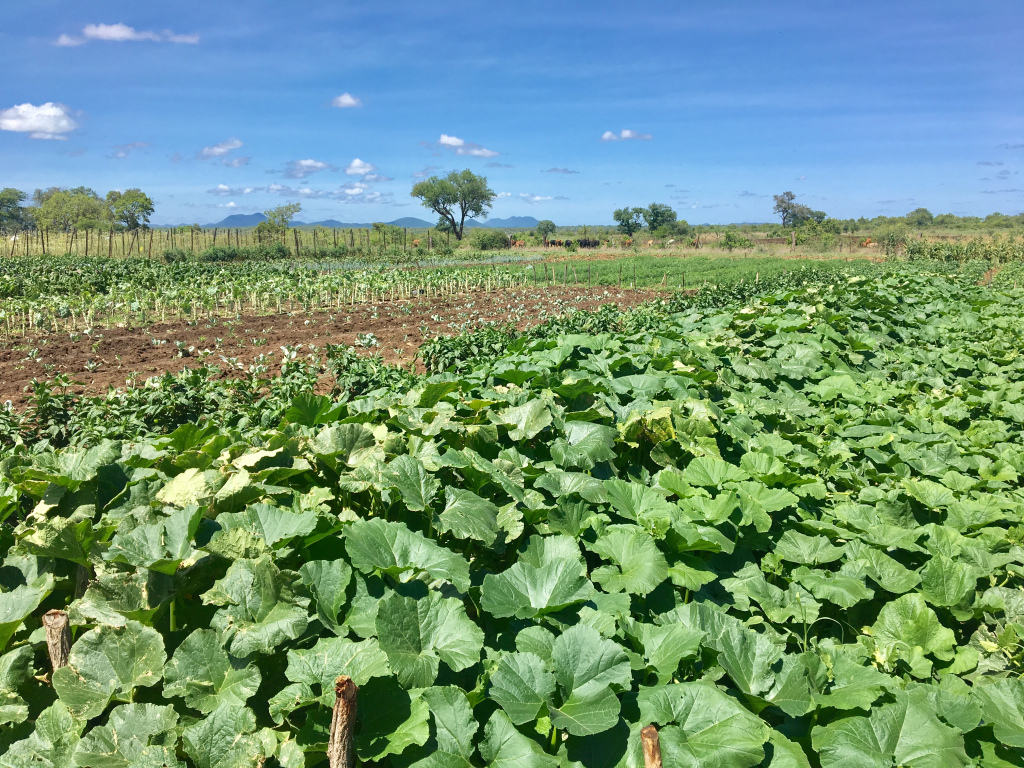 Localising economies
We are very far from a post-COVID situation in Zimbabwe, and must await a wider vaccination effort, with help from the world beyond China being essential. However, there are glimpses of what this might look like. The growth of informal markets, the localisation of economic activity, the expansion of rural-based businesses and the continued growth of small towns as centres of exchange and trade in rural settings are all central elements.
These are all features that have dominated Zimbabwe's rural areas since land reform. Sometimes denigrated and dismissed as not the supposed ideal of what existed before, but maybe this transformation has been the basis for survival during the pandemic, and provides the basis for an on-going shift to a more flourishing, localised economy linked to agriculture into the future.
Written by Vicentia Quartey
---
The findings of a recent APRA Ghana research project were shared with a range of stakeholders at a dissemination event on Wednesday, 17 March 2021 in Takoradi, Ghana. This workshop included a discussion of the team's research and the implications of these findings. The outcome of discussions will be incorporated into subsequent analyses and reports on the APRA project, and contribute to informing policy and practices related to rural development, empowerment of women and girls, and food and nutrition security. This will ensure that this research is used to inform effective and relevant policy.
---
The COVID-19 pandemic has forced events that would typically be held in person to move online. While this shift is positive in some regards, it is not without limitations, notably the missed opportunity for networking and the spontaneous exchanges that in-person events afford.
Faced with an expectant stakeholder community of research participants eager to learn about the outcome of the Agricultural Policy Research in Africa (APRA) project to which they contributed, including smallholder farmers, oil palm companies and policymakers, it was essential that an accessible, timely dissemination event was organised. Challenges such as the smallholder farmers' rural locations and limited or lack of access to online meeting technologies meant that this event also needed to be held locally, with an extended reach to the wider community. The key objective was to achieve an event that's accessible – in terms of both language and reach – to our wide-ranging stakeholders at the local and the national level.
Our efforts – planning an event responsive to the peculiar needs of all stakeholder groups – paid off. The result: a well-attended, COVID-safe, and accessible event that received coverage in regional and national media, providing an appropriate platform to disseminate our project findings.
Lessons learned
Organising a successful in-person event during COVID had its share of challenges, but we learned lessons throughout the process, and can now share advice to others hoping to achieve the same:
Choose a convenient location: To ensure maximum participation of research participants (end users of findings), we made the decision to hold the event in Takoradi, the capital town of the Western Region of Ghana, home to respondent communities. For us, this meant making the long, but totally worthwhile, three to four-hour road trip outside Accra. In Takoradi, we again chose a central location, the Western Regional Library, as it is both well-known and easily accessible.
These efforts not only secured maximum stakeholder attendance (by reducing travel time and effort), it also demonstrated our commitment to the pledge we made to return to respondent communities and share our findings, giving them the opportunity to make their voices heard. The latter point is especially critical to building sustained stakeholder relationships and minimising incidences of research fatigue among respondent communities.
As many participants noted: "Researchers always approach us with research questionnaires and hardly return with feedback. We are happy that you came back to share findings and engage with us."
Use accessible language: Aside from summarising results in reasonably non-technical language, we also ensured there was local language translation, volunteered by one of the stakeholders. This, coupled with the generally flexible and relaxed atmosphere of the workshop, allowed us to connect more effectively with participants and vice versa, making for very interactive sessions.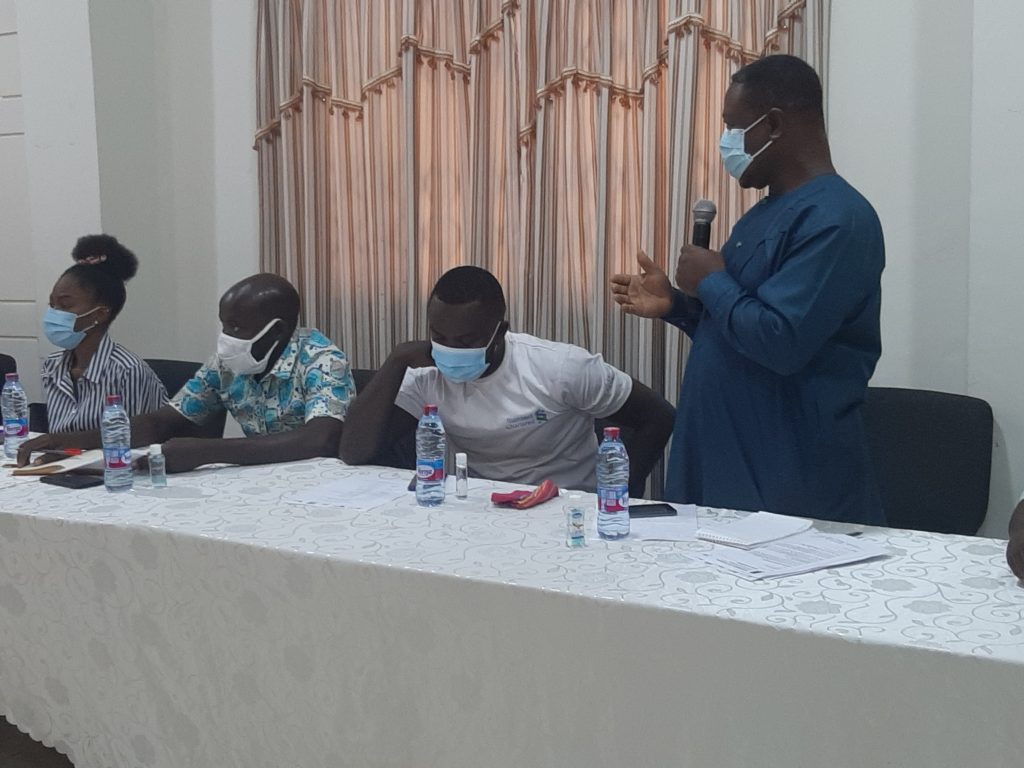 Involve the media: While we limited in-person participation to selected stakeholders only, as COVID-19 protocols oblige, we made sure to engage media representatives who had the capacity to provide coverage in local as well as national media. We granted interviews and provided additional information needed to facilitate reportage, and ensure that outcomes of the research and discussions are extended to the wider community.
Bringing it all together: Finally, it is advisable to get support. In this case, we engaged logistics and communications support, which saved us lots of time and proved helpful in ensuring a smooth and seamless coordination of the various aspects, players and stages of the event towards successful outcomes.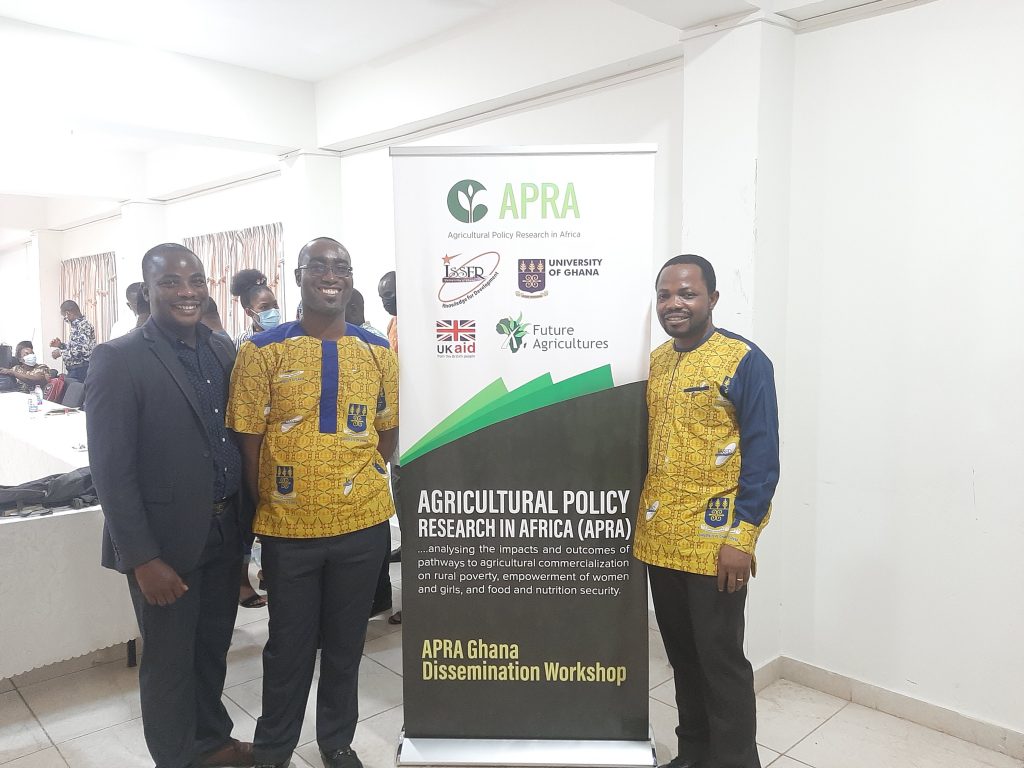 See selected online reports, here: Ghana News Agency; My Joy Online
---
This post was written by Ian Scoones and first appeared on Zimbabweland
---
Half a million people have now been vaccinated in Zimbabwe, but this is still only 3.5% of the population. The Chinese Sinopharm vaccine has now been fully approved by the WHO for emergency use and Zimbabwe's vaccination drive is in full swing. Even tourists from South Africa are taking advantage of vaccine availability for a fee. However, there have been hitches and hesitancy, and despite widespread adherence to basic hygiene/sanitisation measures, there is a general relaxation on social distancing and other COVID-19 prevention measures after so many months of restrictions.
It is perhaps not surprising that things have relaxed since the peak of the lockdown periods, given that case rates are low and recorded recoveries are high. The total number of cases recorded in Zimbabwe by 7 May was 38,403, while the number of registered deaths was 1,576. Compared to many other countries, this remains very low; although of course these are likely underestimates. And the effects of COVID-19 are very uneven geographically and socially too, with most cases and deaths recorded in Harare and Bulawayo and especially among relative elites. The rural areas where our team live and work remain largely unscathed by the virus.
Relaxed measures, but livelihood challenges remain
In the rural areas, as our team reported in a conversation last week (this is the twelfth update in our COVID-19 blog series since March 2020), coronavirus is not the major concern. It is a busy time due to harvesting after a good season and, with the seasons changing, many are complaining of colds and 'flus as the weather becomes colder. Livestock diseases continue to cause problems after the very wet periods, with the lumpy skin outbreak in Matabeleland causing havoc.
While there are fewer restrictions these days and no curfews, there's still a lockdown and there are notional restrictions of business hours, although many do not observe these. Large gatherings remain banned, but there are plenty of drinking spots where people gather in numbers. Many have returned to normal business, although transport remains limited as private operators remain restricted.
Despite the relaxation, the police are always ready to extract bribes, and moving about remains a hassle. Informal gatherings for beer drinking are regularly raided, but those hosting these often have made advance deals with the police or can pay them off. Movement across borders for trade is especially challenging as there are so many requirements for tests, certificates and loads of paperwork. There is a steady business in forgeries and bribing of officials is apparently commonplace; although there have been some arrests of truck drivers and others for flouting the regulations.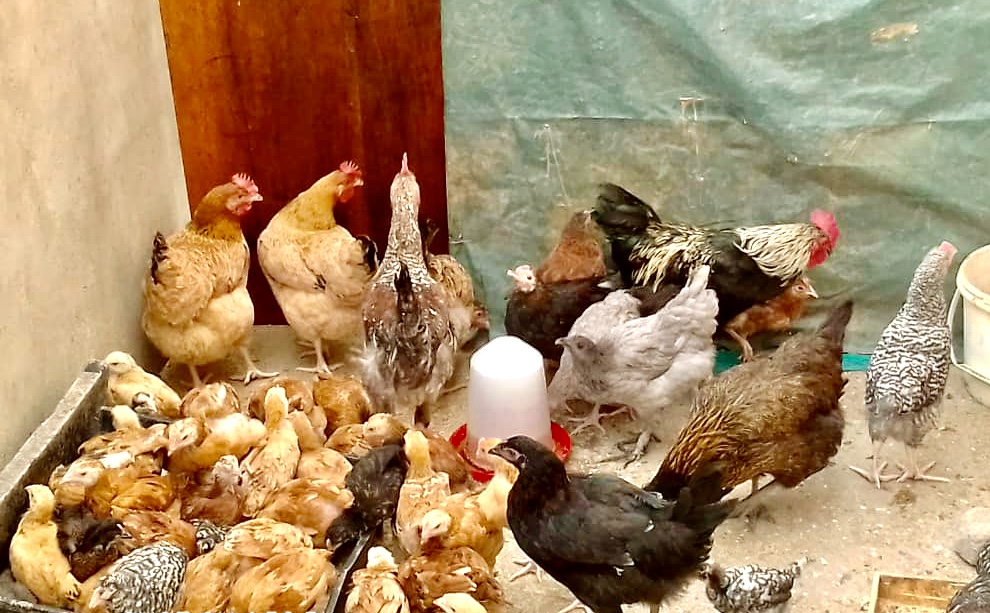 In the rural areas, while the harvest has been good the lack of other sources of income is a challenge. Many have started small agricultural projects – vegetable growing, selling of chickens and so on – and there has been a proliferation of small tuck-shops in everywhere from labour compounds to the smallest village settlement. As one farmer commented, "We used to go to town for shopping, but now there is no need, as everything is here!" With the good harvest and the surplus of agricultural produce in all our sites, farmers' clubs have been revived to allow for collective selling and helping farmers to source inputs.
Remittances remain important across our sites but have declined, especially from South Africa and Botswana. Many who returned from there during the COVID peak across the border have remained in rural Zimbabwe, unable to return. In our Matobo site in Matabeleland South migrants have become stuck, so have had to find other sources of income as they do not necessarily have their own fields. There has as a result been a massive increase in informal artisanal mining in the area, with many villagers profiting from selling food and renting out blankets for the filtration of sediment. This is mostly taken up by women who are making a steady profit, as apparently 600 Rand can be earned from a careful washing of each blanket rented to miners, retrieving the last bits of gold.
Schools remain open, but many are working with staggered attendance. This means kids attend only two or three days in the week, with the burden of extra care falling on women. Some have sought out places in boarding schools, as the regimes are stricter and a more complete education can be offered, but in the rural areas this is only possible for those who have got good harvests and income, and this is especially in the tobacco areas.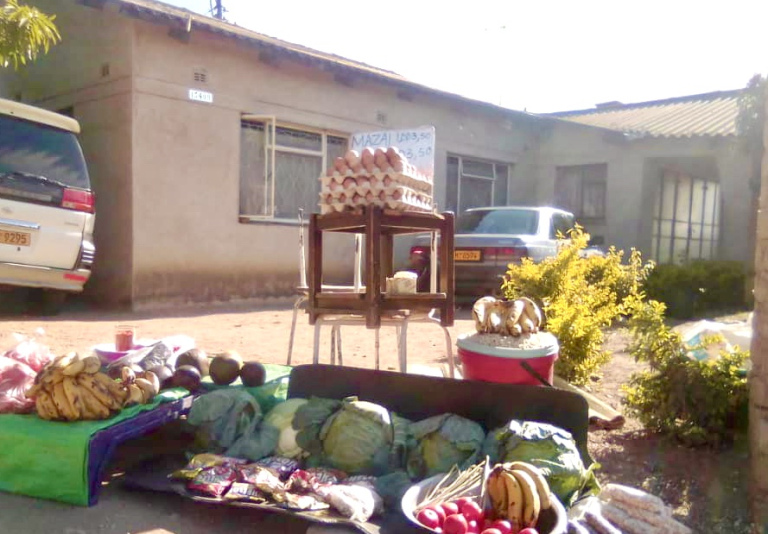 Vaccine hesitancy and supply challenges
After the high-profile arrival of the Chinese vaccine and the televised inoculation of senior political figures, the rollout has continued across the country. Initially the focus was on 'front-line' workers, mostly health workers, and then the elderly were focused on. Now a wider population can get vaccinated, but the take-up is still patchy, a pattern repeated across Africa.
As reported before, many are worried about the vaccine. They have heard of blood clots from vaccines in other parts of the world (mostly the UK), and fear the same will happen to them. This may after all be a plot by foreigners to kill Africans, some argue. People wonder why those who produce so many of these vaccines – such as India and Europe – have been so badly affected. Maybe these vaccines don't work? And in any case, with so little COVID around, why bother, especially as our local herbs and medicines seem to work well. Some of the religiously inclined argue that the great pestilence of COVID is just a sign that the second coming of Christ is imminent, and we should not worry but celebrate. And of course the rounds of social media rumours reinforce concerns and worries for many.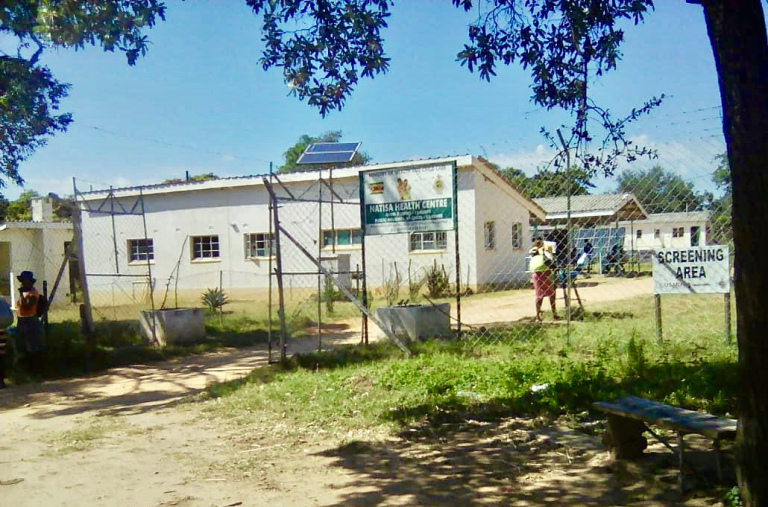 In our sites there have been no reports of vaccine side-effects but uptake even amongst health workers has been below 50% so far. Of the others, it seems to be mostly women who have been coming forward, along with older people. However, getting a vaccine is not always straightforward. Supplies have been uneven, so clinics may have run out, and a clinic may be 20 kilometres walk away. Many feel that it is not worth the effort of going so far. The idea of mobile delivery like other health outreach was recommended by some, arguing that this will get more to take the vaccine and the vaccines can be kept in cooler boxes for the day.
Across our sites, the availability, delivery and acceptance of vaccines is the highest in Hippo Valley. Here the major hospitals in Hippo Valley and Triangle are run by the sugar company, Tongaat Hullett. Workers on the estates, as well as contract farmers, have taken up the vaccine in droves. In part the supply is better, but some commented that they feared the company discriminating against them if they didn't have a shot. Either they might lose their job or they might not be able to get access to company services. On the estate, a different set of rules applies.
Across the country, including widely in the rural areas in all our sites, there is on-going promotion of vaccination and other mitigation measures by the government, some churches, NGOs and others, and overall the general understanding of the disease and its prevention is high. Contrary to the politicised narrative from the urban areas about the clampdown on civil society (which certainly has happened), by-and-large people think the government is doing the best it can – a finding echoed in a large survey mostly of urban dwellers in February.
While the official media pumps out health messages, people confront many other sources of information via WhatsApp, Facebook and so on. There are parallel messages, with people often getting confused or anxious, particularly around vaccines. Vaccine rumours abound, and it is difficult for most to sift fact from fiction. One rumour was set off in our Matobo site that the vaccine also prevented HIV/AIDS and there was a flood of people turning up at clinics until the rumour was dismissed. It is clear that HIV/AIDS still remains a much more live concern for many than COVID-19.
Life continues, but fears on the horizon
The big fear in Zimbabwe as elsewhere is the prospect of new variants. No-one wants to return to a full lockdown and as everywhere people have viewed the scenes from India with horror. The leaky borders, the dodgy certificates, the prospect of flows of refugees from the conflict in northern Mozambique and the opening up of international travel are all sources of concern. But meanwhile, people in our sites must get on with their livelihoods, generating a living in a challenging economy. There is a harvest to bring in and sell, gold to mine, vegetables to sell and livestock to look after. Rural life in Zimbabwe continues, despite the pandemic.
Written by Toendepi Shonhe
---
In this blog summarising APRA Working Paper 55, Toendepi Shonhe discusses the growing prevalence of informal tobacco aggregators, their impact on farmers' wealth accumulation potential and the changes in this value chain since the onset of the COVID-19 pandemic. Shonhe also assesses how Zimbabwe's government can address the challenges in the chain.
---
The financing and marketing channels for tobacco, a crop responsible for over 24% of foreign currency earnings annually in Zimbabwe, are central to its production and circulation in the country. Reports indicate that farmers who are financed through contract farming tend to secure better prices compared to independent growers, and so tobacco financing is reportedly now dominated by this system. For example, by Week 53 of the 2020 marketing season, at least 94% of tobacco purchased was marketed under contract farming. However, our APRA survey administered in Mvurwi farming area in Mazowe (2017–2020), shows that as low as 13.5% of the communal area farmers, 17.5% of A1 farmers and 35.9% of A2 farmers actually grew the crop under the contract farming system.
How can such a significant majority of tobacco be marketed under contract farming, and yet so few farmers report actually growing under this arrangement? What can account for this 'missing' tobacco? This discrepancy indicates that many independent growers who self-finance their cropping programmes end up selling their crop through contract merchants, presumably because there are better prices offered. In other words, while they do not finance their activities through the contracting system, their end products are marketed and sold through this system.
The growth of the Makoronyera
An intricate and emergent tobacco marketing practice is distorting the tobacco value chain, creating new winners and losers and negatively affecting financial rewards for farmers. This practice is driven by informal tobacco aggregators – the Makoronyera –who buy tobacco and other crops directly from farmers, and have overtaken formal marketing arrangements.
The Makoronyera buyers disregard the government's limit on foreign currency payment to farmers, which stipulates that only 60% of the value of the total tobacco sales may be paid in foreign currency, with the remaining balance being paid in Zimbabwean dollars. By offering the full value in foreign currency, albeit often at lower total prices, the Makoronyera lure farmers into selling their crops.
Within the context of COVID-19, farmers are exposed to more risks, which diminish their wealth accumulation potential. Many such risks are exacerbated by movement restrictions which mean that farmers are not present throughout the marketing and auction processes. These include but are not limited to the following:
The use of a complex matrix in calculating tobacco pricing enables buyers to manipulate prices. The inability of farmers to monitor the selling prices under COVID-19 exacerbates this.
Representatives of the farmers are given an opportunity to assess the sale of tobacco, but since the onset of COVID-19, as little as five minutes is allowed after the process has been concluded. This timeframe is inadequate for an effective assessment to be carried out.
Tobacco leaves of poor quality are often mixed with good quality tobacco to lower the prices without the farmers' knowledge.
Disqualification of tobacco bales on the basis of only a few leaves that could instead be removed by the farmers, if they were present. This results in the need to regrade the tobacco and causes unnecessary additional costs or an unexplained
loss of weight.
Transporters are accused of making changes to tobacco bales during transportation.
Delayed payments due to the use of incorrect details, which farmers are unable to immediately correct as they are not present during the sale.
Stop order are created for farmers without their consent. This results in deductions being made upon the sale of tobacco without the farmers' knowledge.
Some tobacco bales are getting lost and farmers are losing value due to their inability to effect timely follow-ups.
Deliberate exchange of price tags, which results in farmers being paid a lower value for the crop.
As a result of these challenges, the involvement of the Makoronyera has increased in the wake of COVID-19 because their engagement in the process has shifted the burden of transporting the crop to the auction floors away from the farmers. This responsibility is deemed worth the disadvantages of the significantly lower prices they offer and their unclear grading processes by farmers. The APRA survey shows that Makoronyera dominate the purchase of tobacco from farmers, with at least 52.1% of A1 farmers selling to these aggregators compared to 30.3% who sell directly through tobacco merchants. Only 17% now sell through the auction floors.
Finding loopholes
The Makoronyera may well be composed of some registered growers who choose to buy the crop and resell to tobacco merchants under contract farming. Some of them work for the merchants directly, so this crop is not recorded in the auction system, creating a loophole for informal processing and illicit production of cigarettes and well as the sale of the semi-processed produce to Botswana, Mozambique, Namibia and South Africa. Illegal exports are carried out through undesignated crossing points, and therefore Zimbabwe faces losses of export taxes and foreign currency to syndicates.
Studies show that registered tobacco companies are responsible for the bulk of the illegal export of the produce, thus circumventing the payment of export taxes and depriving the country of much needed foreign currency. Millions are lost through mispricing and illegal exports, and so are employment opportunities in local value chains. The government should consider options for increasing the level of retention of foreign currency for growers to curb the incidence of Makoronyera. The disappearing of tobacco, now being exacerbated by COVID-19, undermines the prospects for farmers' wealth accumulation. The government must prioritise revisiting the marketing framework to avoid exploitation of the producers and thus stop leakages at the national level, as this practice undermines rural and agricultural development in the country-side.
By Emmanuel Remi Aiyede
---
In this blog summarising his research in the newly published in APRA Working Paper 52, APRA researcher Emmanuel Remi Aiyede highlights the challenges facing the rice and cocoa sector in Nigeria. He outlines the findings from the paper, how COVID-19 has impacted the value chains, and provides policy advice on how Nigerian governments can improve the outlook for these two core agricultural crops.
---
Since the 1980s, Nigeria has sought to diversify its economy away from dependence on oil as a major source of government revenue through agricultural commercialisation. Agriculture has been chosen as a priority sector because of its very high growth potential, and opportunities to provide widespread employment and create export revenue for the government. The cocoa and rice value chains are central to the government's engagement with agriculture to achieve these objectives.
Cocoa is Nigeria's major agricultural export, while rice is a major staple for food security. In this study, I investigated the underlying political economy dynamics of the commercialisation of the cocoa and rice value chains in Nigeria. Using the political settlement theory – that is assuming leaders, elites, coalitions, and their followers reach agreements about the political conditions and practices they will observe – I study agricultural commercialisation in terms of (1) smallholder farm households' shift from semi-subsistence agriculture to production primarily for the market, and (2) predominantly commercial medium- or large-scale farm enterprises complementing or replacing smallholder farm households. While carrying out the study, I examined key secondary sources pertaining to cocoa and rice value chains in Nigeria, as well as recent policies and regulations that govern the value chains. These were complemented with official statistics regarding the structure and performance of the value chains. Additional data was drawn from in- depth interviews with knowledgeable actors, including federal and state government officials, donor agencies, rice and cocoa farmers' organisations, processors, fertiliser and seedling suppliers, agribusinesses across the rice and cocoa value chains, and academics from the Cocoa Research Institute of Nigeria and the International Institute for Tropical Agriculture.
Findings
I found a consensus among policymakers to promote agricultural commercialisation in Nigeria, which can be traced back to the adoption of structural adjustment in the 1986. Pressures to increase the foreign exchange earnings of agricultural products and the need for food security have ensured that a policy of commercialised agriculture has been sustained since the 1980s
The national government has invested its power and resources more in the commercialisation of the rice value chain compared to cocoa. The goal to achieve food security seems to have placed rice above cocoa in terms of government intervention to support primary production in these value chains. Rice is a staple food with a huge gap between domestic production and demand. It is grown more widely than cocoa across Nigeria's states. Successive governments have sought to make the country self-sufficient by substituting rice imports with domestic production. Thus, commercialisation of the rice value chain is driven by rising urban markets and the government's goal to substitute imports with local production. Large-scale investors are driving the development of the rice value chain, which is helping to improve the livelihoods of smallholders. Even so, Nigeria has not been able to close the huge gap between consumption and local supply of rice.
Unlike rice, however, which is a staple, cocoa products cannot command a large market in an economy that has a very large population of poor people. It is therefore difficult for the government to create a local market for cocoa production, since it lacks control over the consumption end of the chain. A few transnational companies such as Barry Callebaut, Cargill, Olam/ADM and Blommer Chocolate Company, continue to dominate the downstream sector of the cocoa value chain. Smallholder farmers face structural poverty, are largely poorly organised, and voiceless in terms of price transmission, power, and influence in chain decision making.
The COVID-19 pandemic and the government's response have had mixed consequences on the rice and cocoa value chains in Nigeria, and some of these are still unfolding. For rice, the lockdown and fear of the pandemic has been the major challenge, while the increasing demand for food and government desire for palliatives (food) have benefited producers and processors. The cocoa value chain has been affected by the shrinking export market in Europe and other importing countries, which are currently experiencing lockdowns. The lockdown has created modest logistic problems for local input supplies and farm labour. Although governments have provided exceptions to the movement of agricultural produce, enforcement has been difficult.
Policy implications
To improve the performance of the rice value chain, Nigeria needs to address low input farming practices and inadequate, or poor, use of fertilisers and other agro-chemicals to enhance productivity. Nigeria will have to increase paddy production and improve the quality of rice processing to a level that is price competitive globally. The federal government has to sustain partnerships with donors to encourage state governments and large-scale businesses to mechanise and expand local production and processing of rice. The Nigerian governments should provide physical infrastructure and financial incentives to encourage investors to participate in the downstream and midstream segments of the cocoa value chain as a long-term government programme. For cocoa farming to thrive, Nigeria should encourage farmers to discard old production practices and embrace new technology, including drone service, grafting, tissue culture and drying technology. Nigeria should also inspire younger generations into cocoa farming and collaborate with international cocoa organisations to ensure the enforcement of sustainable cocoa initiatives to by transnational companies.
Photo credit: ICARDA
---
This blog was written by Ian Scoones and first appeared on Zimbabweland.
---
If you didn't know already, vaccines are political. And in southern Africa perhaps particularly so as the Chinese, Russians, Indians and the so-called international community through the COVAX facility jostle for position, each trying to show their benevolence towards Africa, reaping soft power diplomatic benefits in return.
In this context, the vaccine becomes the symbolic totem of a new form of political power. This competition between old and new powers has important implications for how public health and development more broadly are seen and responded to across Africa, including in Zimbabwe.
Vaccine nationalism and diplomatic competition however is raising concerns. These exist in Europe of course, perhaps especially around the British-Swedish AstraZeneca vaccine, which at different times has been cast as dangerous, ineffective or highly efficacious, depending on which politician or selective media commentary you listen to.
These uncertainties of course feed into anxieties and contestations over different types of vaccines, some of which have a major commercial dimension. It's predicted that those with a profit-making business model behind them – Pfizer, Moderna and the rest – will make huge profits over the coming years as the coronavirus settles into its endemic state across the world.
Of course many Africans will not be vaccinated well into 2022, such is the inequality of vaccine distribution and access. Zimbabweans currently only have one vaccine being administered: the Sinopharm vaccine from China. Arriving through a coup of diplomacy on a specially chartered Air Zimbabwe flight, and met by the Chinese ambassador and the Constantino Chiwenga, Vice-President and health minister, it was a symbolic moment showered across the press.
Other vaccines from China are expected (including Sinovax), along with the Indian vaccine, Covaxin and the Sputnik V vaccine from Russia. Nearly a million COVAX vaccines (AstraZeneca) are also expected as Zimbabwe (finally) signed up for a share, although the first deliveries to Africa from the international facility went to Ghana and Ivory Coast while nearby Malawi got a first shipment last week.
Zimbabwe's vaccine roll-out: intense debate
With 200,000 Sinopharm doses delivered in the first batch, the Medicines Control Authority of Zimbabwe was quick to approve the vaccine, and the Ministry of Health presented a plan for delivery across three phases. Initially, following the symbolic injecting of the vice-president (the president and the rest of the cabinet it seems await the next batch), 34,000 'front-line' workers were targeted. In Zimbabwe, the front-line is nurses and doctors, but also police and soldiers, who have been very present throughout the various lockdowns.
Agricultural extension workers were supposed to be in this batch apparently, but have been relegated to the next phase, alongside teachers, college and university lecturers and those deemed vulnerable, including the elderly and some with particular health conditions. After these groups are vaccinated, the rest of the population will be offered vaccinations, which are free and not compulsory, with the aim of covering 60% of the population.
In all our sites bar one (and this is expected this week), the selection of frontline workers have been vaccinated. Not all took up the offers, with quite a few preferring to wait to see if there were any problems. Others were eager to get protection, while some feared that vaccinations were going to be used to restrict jobs in the health service – no jab, no job was the (actually unfounded) rumour. In our sites there were few side-effects commented on, and only a few nurses in one site who got a fever for a few days were mentioned. Sadly in one site someone died of a stroke following vaccination, although this was apparently due to high blood pressure rather than the inoculation.
With vaccinations underway, our team discussed with local people about their views. Many repeated the arguments that COVID-19 is not seen in the rural areas, so why bother get vaccinated. Others pointed to indigenous herbs and treatments that were proving sufficient. Rumours and strongly-stated viewpoints abound. Suspicion of China's motives were presented: "China has economic and political interests in our country. They can now expand and exploit our resources". Others observed that China "is known for sub-standard goods. This makes us worried… We definitely don't rule out fake vaccines from China". Some backed China – a war veteran from Mwenezi argued "We have a long relationship with China. It assisted us during the war of liberation. We have confidence in them, more than the West".
Others shared more dramatic conspiracy theories circulating on social media: "COVID-19 is man-made; the vaccines alter our DNA and can kill us". Others commented on the financial gains to be made: "This is about money. There are trillions to be made. How can we trust those companies?" Alongside the proliferation of stories on social media, a number of influential actors are adding to anxieties, despite the best efforts of government health services, with prophets, bishops and some churches urging people to avoid the vaccine.
Thus in the villages across our sites – from Mvurwi to Matobo – there is intense debate. As the vaccine rollout continues things may change, but there seems to be widespread hesitancy right now, which is concerning medical doctors. Even amongst our team there are quite contrasting views. In part this emerges from the context. The rural areas have not suffered massive deaths from coronavirus; indeed in the past weeks the number of cases has declined significantly across the whole country and no cases were reported from our study sites. People in all sites once again emphasised the importance of local medicines, vegetables and herbs. Their popularity has resulted in some commercialisation of these products, with Tanganda, the famous Zimbabwean tea manufacturer, producing a new green tea line made from the popular COVID-19 treatment, Zumbani (Lippia javanica).
As team members commented, the shifts in behaviour over the past year around hygiene in particular have been impressive. As one commented, "you go to people's houses and there's hand sanitiser or soap to wash; even the kids will pull you up and ask if you've washed your hands!" The village health workers reinforce health messages, and continue to work on small allowances, but are widely respected in local communities. With schools opening soon again, school development committees have been mobilised to supply sanitisers and masks and parents have set up duty rotas to clean and sanitise classrooms.
Despite the lack of coronavirus, people have seen the potential risks through high-profile deaths and sickness (including of relatives) in towns and in the diaspora, in South Africa and the UK in particular. This has prompted local mobilisation and collective action in the absence of state support.
Lockdown easing, but other challenges
In early March, the president eased the lockdown conditions. You can now move without permits between towns (although police are still at road blocks, extracting 'fines'), and the massive price hikes that were seen in the last lockdown have reversed to some extent. There is more transport on the road and so greater competition among operators and now lower prices, which is in turn easing transport challenges for farmers who can bring their produce to towns to sell. Many suffered badly in the last lockdown as perishable crops just rotted at home, unable to be moved. Now things have improved, and there was a definitely more positive mood reported this month.
What has really struck people hard in this last period has been the tick disease of cattle known as January disease (theileriosis). People refer to this as 'cattle COVID', and it is hitting cattle herds really hard. Our team member from Mvurwi estimated that around 25 percent of all cattle have been lost. This collapse in a core asset will have long-term consequences, including damaging knock-on effects for ploughing next season. Tick grease has been supplied as part of government packages, but this is not easy to use given the density of ticks that have grown in number thanks to the heavy rains this season.
Lockdowns have meant that movement of animals is not possible, and people could not go to town to buy dipping chemicals, and even if farmers could get there they were in short supply. Standard government dipping has not been functioning effectively for a while, and the veterinary department has been overwhelmed and not been able to respond. In many ways, the impact of this cattle disease on people's livelihoods is far greater than COVID-19, and it is being felt across our sites, with farmers selling animals for as little as US$60, and many have died.
***
We never expected to be reporting on the responses to COVID-19 a full year on, but this is now the eleventh report since our first post at the end of March 2020, and we will continue to monitor what happens across our sites in the coming weeks and months as vaccines become more common and the seasons shift from the wet to dry season, hopefully with a decline in tick diseases resulting along with a continued decline in COVID-19.
---
Thanks to the team from Mvurwi, Gutu, Masvingo, Matobo and Mwenezi. Photo credits: Felix Murimbarimba
---
Written by Gideon Boniface and Aida Isinika
---
This blog uses data from recent APRA surveys to examine the changing situation among farmers resulting from the ongoing COVID-19 crisis. The authors look at how the farmers are responding to such changes, how their livelihoods have altered, and what the government and development partners can do to help.
This blog is linked to APRA Round One and Round Two country reports on the Impact of COVID-19 on Food Systems and Rural Livelihoods in Tanzania.

Read the full APRA synthesis report on the Rapid Assessment of the Impact of COVID-19 on Food Systems and Rural Livelihoods in sub-Saharan Africa, here.
---
Since March 2020, COVID-19 has caused many changes to livelihoods and social-relations (affected by social distancing and a fear of contracting the virus) among farmers in Mngeta division, Mlimba district in Morogoro region. The crisis caused people to adapt to control the spread of infection and cope with its impacts. In the two rounds of phone surveys that took place in July 2020 and October 2020 from five APRA study villages, the findings highlight the perceptions and effects of the pandemic among respondents.
Understanding and interpretations of COVID-19 among respondents
All respondents in both survey rounds showed that they are aware of the pandemic based on media coverage and instructions from the Ministry of Health but there were mixed thoughts on where the virus originated. Some respondents thought the pandemic was restricted to urban centres, while others understood how contagious it is.
Taking of precautions and adhering to control measures
After the first case of COVID-19 in March 2020, the government enacted restrictions on sports and games and limited social gatherings such as wedding ceremonies, funerals and religious services. However, by July 2020 (when the first round of data collection for this study started), restrictions were being relaxed. Universities were opened and other social gatherings (such as sports, concerts and large religious gathering) took place. Most of the respondents (75%) followed guidelines (hand-washing, face masks etc.) for preventing the spread of the virus.  By the second round of data collection in October 2020, the number of people who followed guidelines decreased significantly to only 36%, and the majority did not take the pandemic seriously. This decline was partly due to an announcement by the government that spread rates of COVID-19 had significantly decreased.
To avoid unnecessary movement some farmers reported that they decided to stay at home in the first round of the survey, while others bought large quantities of essential goods to limit movement. Takeaway food orders also decreased, with home-cooking becoming more popular.
However, this was not the case in the second round. While most respondents treated the pandemic seriously, there are some who believed they were immune and did not follow any guidelines.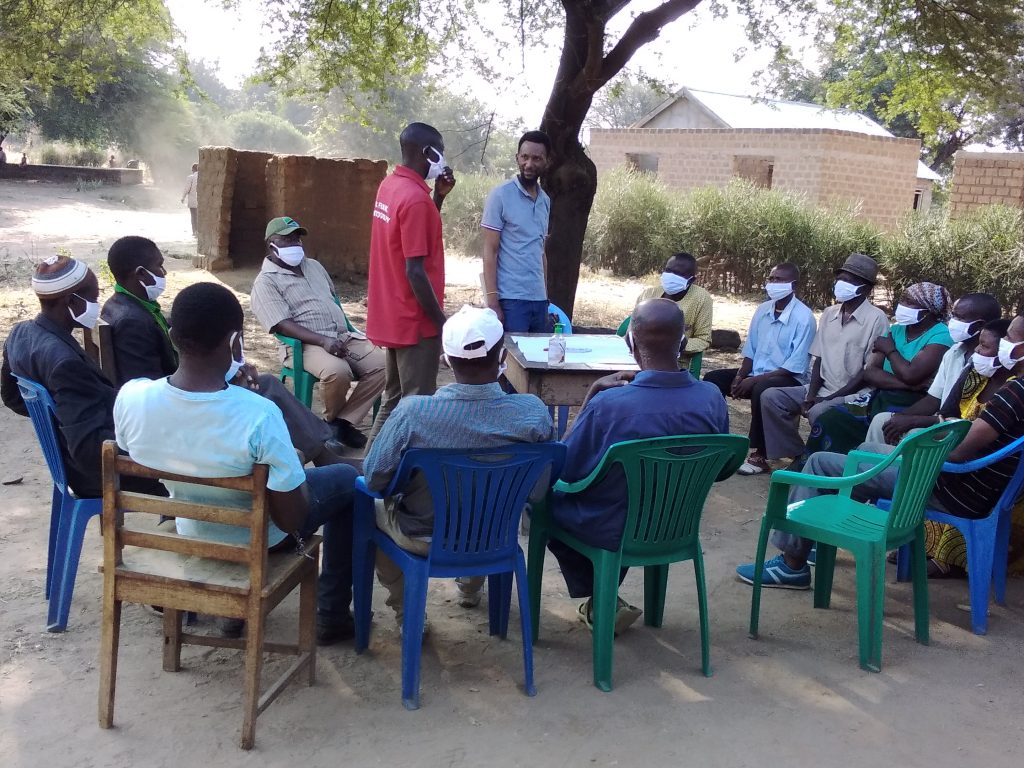 The dynamics in livelihoods
Agriculture is the main economic activity in Mngeta division, with rice as the main cash crop. Following the economic slowdown, many people lost their informal jobs due slowdown of businesses and the imposed restrictions. However, farmers managed to continue with their harvesting activities, incurring lower harvesting cost due to the increased supply of labour as due to job losses in other sectors. Meanwhile, restrictions on movement within the country, including borders to other countries, caused the number of paddy-buying traders to decrease by 70%. This led to an oversupply of harvested paddy and a decline in the price of paddy. In both Round 1 and 2, farmers' were less able to sell their produce at local and other market channels, forcing farmers to rely on domestic demand within their local villages.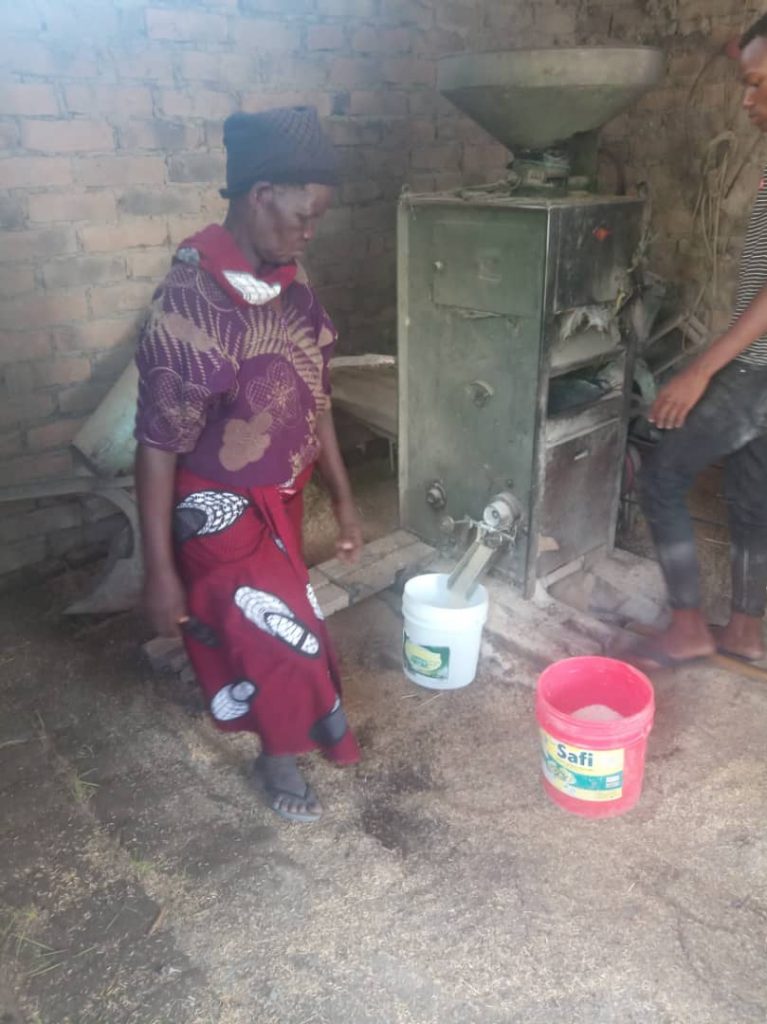 Revenue also declined due, leading to reduction in the farmers' purchasing power, and a rise in cost of living for most. Due to the decline in farmer's purchasing power, the majority of respondents ate less varied food, with some farmers having stopped cultivation of crops in short rainy season of 2020 (September–December) to cut production costs. Round 2 of survey highlighted concerns for the next agriculture season (planting is between November 2020–March 2021, with harvest starting in July 2021) due to not being able to afford inputs for production, even though prices remained unchanged.
In both rounds of the survey, operations of rice milling machines were reported to have declined, and processors operated at only 30% of their capacity. The processing that was taking place was mainly reserved for the paddy sold within the villages, or home consumption in small quantities. Worker numbers in this industry were reduced, and others had their pay halved.
To cope with the effects of the pandemic some people who lost their jobs decided to join fishing activities in Mngeta River. Others started selling face masks, sanitisers, and buckets, all of which were in high demand. In the first round, some respondents reported an almost two-fold increase in their income due to selling these items, and demand was so high that some stocks vanished within two days. By Round 2, these business disappeared as their demand has gone down significantly, a situation that hurt those traders who had stocked up on these items.
Conclusion
In Mngeta division, COVID-19 not only caused negative effects, but it also caused emerging opportunities for those who lose their jobs in the first wave of the pandemic. However, it also left unanswered questions, such as where did the virus originate from? When will the pandemic come to an end? And what will be the further social-economic impacts of the pandemic as it continues to disrupt the economies globally.
Government and development partners should keep urgent priorities in enabling farmers to afford the production costs by helping them accessing the inputs and services of/for production such as fertiliser, improved seed, pesticides and tillage services. This will help to avoid the possible threats imposed on food and nutrition security due to forecasting decline in the production level of the crops as farmer's ability to afford enhanced production inputs has declined.
---
Feature photo: A group of farmers taking part in an APRA focus group discussion in Luono village, during lunch break. Credit APRA Tanzania
---
Please note: During this time of uncertainty caused by the COVID19 pandemic, as for many at this time, some of our APRA work may well be affected but we aim to continue to post regular blogs and news updates on agricultural policy and research.
The Agricultural Policy Research in Africa (APRA) Work Stream 2 team have continued to attend events, despite the technical challenges brought by pandemic-related lockdowns.
Dawit Alemu, Ethiopia-based academic, participated on behalf of APRA at the Zoom Webinar "COVID-19 Impact and Rice Competitiveness" on 25 February 2021, organised by Coalition for African Rice Development (CARD). The webinar was designed to deliberate on (i) the impacts of COVID-19 and possible mitigation measures, and (ii) to create an opportunity for the CARD initiative and its stakeholders to have a broader picture of the impacts of COVID-19 on the rice sector development in the continent.
More than 200 participants from 40 countries from across the world engaged in the webinar, including the Minister of Rice Promotion of Côte d'Ivoire, Japan International Cooperation Agency (JICA), International Rice Research Institute (IRRI), AfricaRice, APRA, participants from the 32 CARD member countries, development partners, and donors.
The webinar focused on the impact of COVID-19 on the agriculture sector and rice sub-sector in sub-Saharan Africa (SSA), and two presentations were made followed by reflections and a question and answer session. The first presentation was on JICA's assistance on food and nutrition with COVID-19, while the second was on APRA's Rapid Assessments on the Impact of COVID-19 on Rice Value Chain in Africa presented by Alemu. This included an overview of APRA's main synthesis report, as well as the round 2 country reports for Tanzania and Ethiopia. In particular, the key timing, purpose and goals of these rapid assessments were explained to ensure timely action to address the emerging challenges related with COVID 19. Several other important issues were also discussed during these presentations, such as how regional trade can be facilitated within SSA, on systems over-reliant on international commerce, to reduce the impact of COVID-19
The sessions reflected on the need to consider specific challenges facing different countries and regions when addressing the impact of COVID-19, along with the on-going attempts to increase competitiveness through upgrading rice value chains covering process upgrading (farming and milling), product upgrading (variety, standard, packaging), functional upgrading (vertical coordination, channel upgrading, and inter-sectoral upgrading (by-product product development).
In conclusion, it was agreed that the CARD secretariat will document the key issues identified for further discussion and the design of interventions. The APRA research outputs are expected to inform the future discussion for the design of intervention options at both country and regional levels.
Mr Tadashi Sato, JICA Vice President, emphasised the timeliness of the event during his closing remarks in order to address the challenges caused by the pandemic, and urged those attending to sustain their engagement.
"APRA will continue its engagement activities, and inform CARD, and its member countries, on its latest research and policy findings. Our APRA researchers also look forward to attending the next CARD general meeting, held in Abidjan next year."

APRA researcher Dawit Alemu, speaking after the webinar
The webinar focused on many topics that will also be raised in the upcoming East Africa Rice Conference on 20-22 May, which APRA is co-convening with CARD, CABE, JICA and IRRI. For more information on this conference, click here.
---
Access all of the presentations from the webinar, here:
Shinjiro Amameishi, JICA. JICA's Assistance on Food and Nutrition with COVID-19 (Increase of resilience through CARD)
Dawit Alemu, APRA. The Impact of the COVID-19 Pandemic on Rice Value Chains: Findings from Ethiopia and Tanzania.
Ernst Zippel, AfricaRice Responding to the COVID-19 crisis:CORIS rice seed delivery model.
Shuichi Asanuma, JICA. Strengthening competitiveness through better seed systems.
Matty Demont, CGIAR. Upgrading rice value chains to increase competitiveness of domestic vis à vis imported rice in Africa.
---
Feature photo: field workers tend CIAT's rice plots, during the Global Rice Science Partnership (GRiSP). Credit: ©2011CIAT.NeilPalmer
---
Written by Dawit Alemu and Abebaw Assaye
---
This blog uses new APRA research to explain how COVID-19 has increased the pressure on the Ethiopian rice sector. The authors provide details the APRA study, the impact on rice production, before examining the decline in household rice production and looking at the way forward for the industry.
Read more on the Impact of COVID-19 on Food Systems and Rural Livelihoods in Ethiopia in the Round One and Round Two APRA country reports.

Read the full APRA synthesis report on the Rapid Assessment of the Impact of COVID-19 on Food Systems and Rural Livelihoods in Sub-Saharan Africa, here.
Background
Like other African countries, rice has become one of the most important commodities for domestic production and consumption in Ethiopia. The increase in domestic consumption has surpassed the increase in domestic production, thereby forcing the country to import rice. It is estimated that the level of self-sufficiency has declined from about 70 per cent in 2008 to 24 per cent in 2019, creating a burden on the meagre foreign currency reserves (see APRA Working Paper 44 to understand the emerging importance of rice as a strategic crop in Ethiopia).
While different initiatives have been implemented to boost domestic rice production including public investment in rice research and training, public extension services, membership in Coalition for African Rice Development (CARD) initiative, and promoting commercial rice production, the outbreak of COVID-19 has created more challenges for domestic production, marketing and rice imports, creating considerable challenge to keep rice supplies well-stocked for consumers. This will disrupt the performance of the rice value chain influencing the opportunities rice offer as business for the different actors of the value chain and also the food and nutritional security status of rice consumers.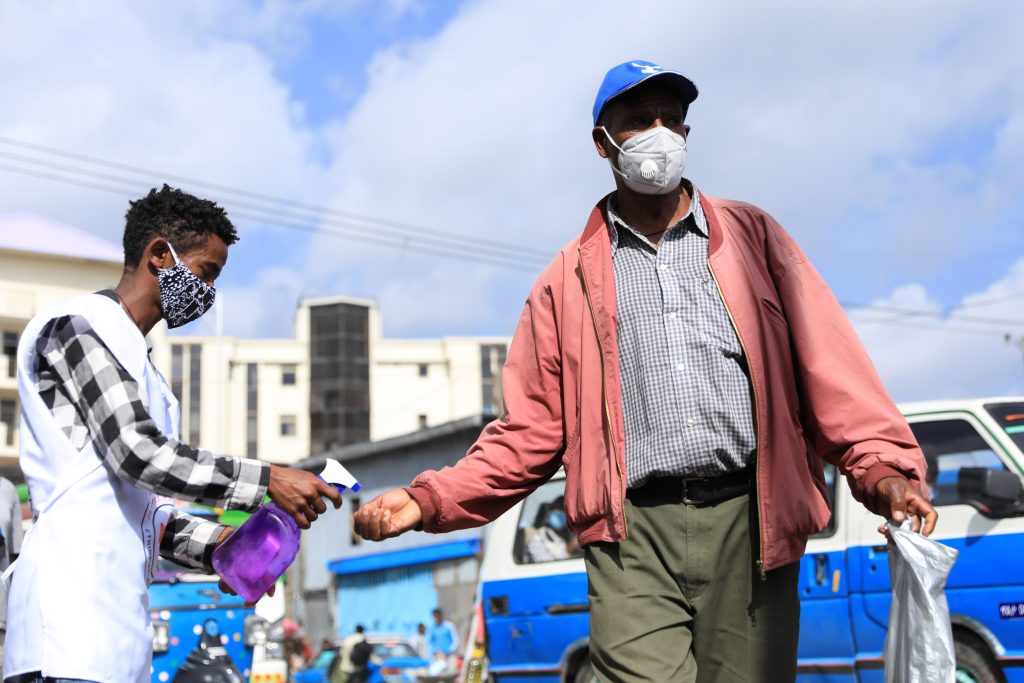 APRA Study
The APRA Ethiopia team assessed how COVID-19 has affected the rice value chains in Ethiopia based on surveys conducted in June-July and October, 2020, with a third round planned for February, 2021.
The impact of COVID-19 on the rice value chain originates from (i) the public restrictive measures implemented by the Government (via the State of Emergency declared from March-August 2020) and local authorities, which were related with the movement of people and goods; control of food prices and other goods; and a reduction of public services, (ii) the type and extent of responses in the commercial behaviours of the different actors of the rice value chain, and (iii) overall global trends in response to the challenges .
The results indicate that nearly all rice farmers reported that they are aware of COVID-19 along with the preventive measures such as social distancing and wearing of facemasks but very few abide by such measures. Many households reported reduced movements within and outside of villages due to the restrictions, which has resulted in certain changes in roles among household members, such as care and farm responsibilities.
Impact on rice production
Though there was limited impact on rice production activities due to farmers not fully abiding to COVID-19 restrictions, there was a considerable decrease in the availability of agricultural inputs with significant increase in input prices. There is shift in the commercial behaviour of actors of the rice value chain due to the mobility restrictions and import challenges linked with the export ban by major exporting countries mainly India and Pakistan and to some extent Vietnam, and increasing prices of paddy and milled rice. These have resulted in concerns about food nutrition and insecurity among many farmers.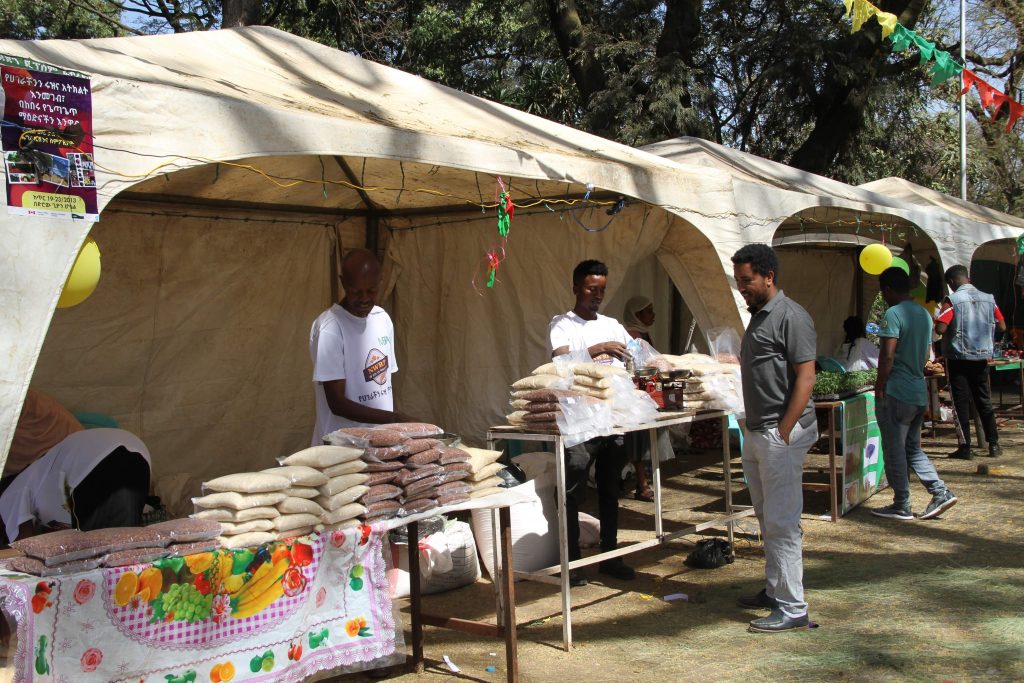 Decline in household rice consumption
There is also decline in rice consumption both in terms of frequency and volume of consumption in urban context. Comparing the changes observed in Addis Ababa in August 2019 with August 2020, about 21 per cent of respondents stopped consumption and almost the same proportion of respondents began consuming rice. The frequency of rice consumption per week has declined on average of 1.11 days per week to 0.88 days per week for each household. Because of the COVID-19 pandemic, 79 per cent of households had either stopped or reduced the volume of rice consumed.
Way forward
Given the declining trend in rice self-sufficiency over the last 10 years, the emerging challenges related with COVID-19 both for the domestic production and rice import, boosting domestic production and productivity of rice alongside enhancing the value chain performance are crucial. This demands the implementation of different interventions to boost domestic rice production and productivity along with market regulatory measures.
Specifically, enhancing the adoption of rice-related technologies (improved varieties, pre-harvest, harvest and post-harvest technologies, and application of recommended agronomic practices), expansion of rice production through improved access to irrigations, modernisation of rice processing industry, and improving an enabling policy environment for increased investment in rice sector.
---
Feature photo: Rice producers and processors display their rice products in Wereta, Ethiopia.
---
Please note: During this time of uncertainty caused by the COVID19 pandemic, as for many at this time, some of our APRA work may well be affected but we aim to continue to post regular blogs and news updates on agricultural policy and research.
---
Written by Louis Hodey & Fred Dzanku
---
This blog highlights the findings of a recent study that seeks to estimate the impact of COVID-19 on food systems and livelihoods in south-western Ghana and provides insights based on household-level and key informant data gathered in the first and second rounds of three expected surveys.
This blog is linked to APRA Round One and Round Two country reports on the Impact of COVID-19 on Food Systems and Rural Livelihoods in Ghana.

Read the full APRA synthesis report on the Rapid Assessment of the Impact of COVID-19 on Food Systems and Rural Livelihoods in Sub-Saharan Africa, here.
---
Background
Beyond its severe impact on public health, the COVID-19 crisis appears to be affecting broader spheres of life. Evidence is gradually emerging on the impact of the crisis on food systems and rural livelihoods worldwide. The first (R1) and the second round (R2) APRA surveys involved 110 households and 107 households respectively in the Mpohor and Ahanta West districts of Ghana's Western region. Additionally, five key informant interviews were conducted in each round. The study communities are Akatanchie, Ahountemo, Hotopo, Manso and Adum-Dominase. The R1 survey was conducted in June/July 2020, and the R2 survey was in October/November 2020. The final round (R3) of the survey is scheduled for mid-February 2021.
Key findings
Our findings show that one of the immediate responses of farmers to the announcement of COVID-19 restrictions in the country was a decline in their participation in farm and off-farm economic activities. This however improved between R1 and R2 surveys, following the easing of most COVID-19 restrictions by the government.
Next, though farmers' access to output markets improved marginally since R1, access to farm inputs such as seeds, fertilisers, as well as extension and advisory services remain highly constrained by increasing input prices, COVID-19 movement restrictions, and severe financial difficulties caused by the COVID-19 crisis. In one of our key informant interviews, a community leader in Ahountemo indicated that:
"The markets are relatively better since the last interview. Unlike the lockdown period, activities are back to normal. People can work now and have some money to help them meet their basic needs."

Community leader in Ahountemo
This decline in access to farm inputs is likely to affect crop yields and subsequently, farm incomes, with potentially dire implications for households' food security and well-being.
Further, we find that though the closure of many informal markets in key urban and peri-urban areas to avoid crowding has initially disrupted food supply systems in R1, the output market situation has improved considerably in R2, thanks to the easing of such restrictions over the period.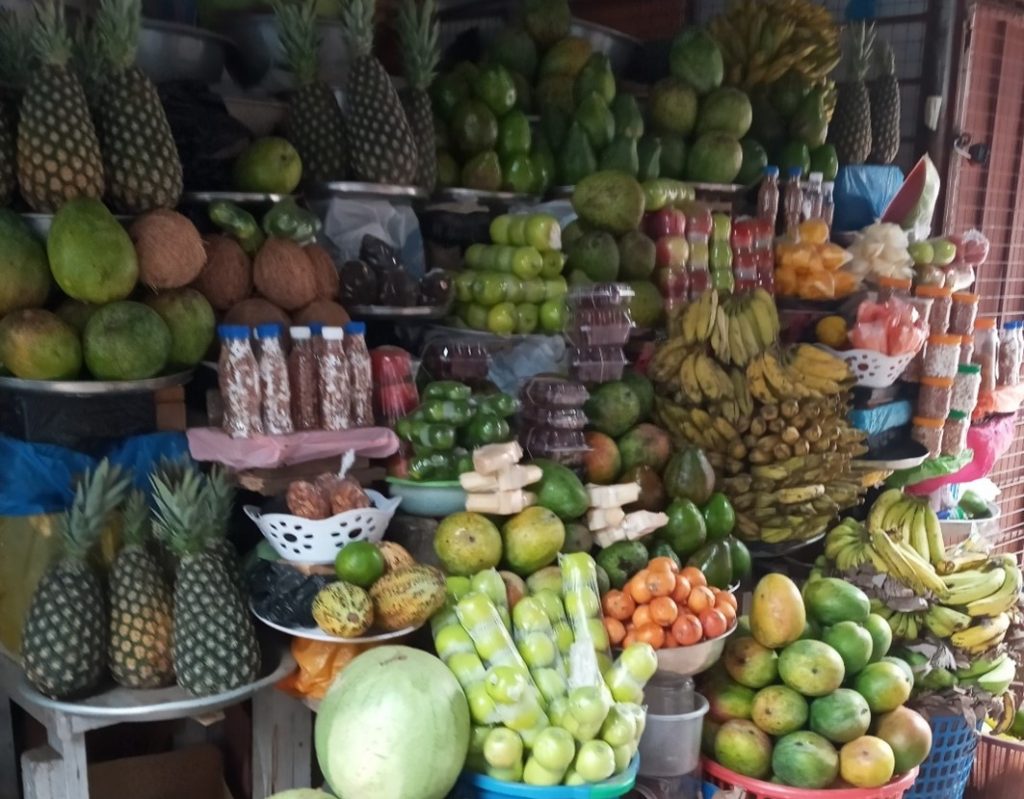 Households generally reported spikes in the cost of living, suggesting declining living conditions in the area, although the severity has eased marginally between R1 and R2 surveys. Decrying the price hikes, a community leader in Manso has this to say:
"The only food that is now in short supply is cassava. But the prices have really increased. We buy them at twice the prices we used to buy."

Community leader in Manso
Indeed, Figure 1 shows that more than a half of respondents observed increased cost of living following the COVID-19 crisis, though this observation slightly declined between R1 and R2 surveys.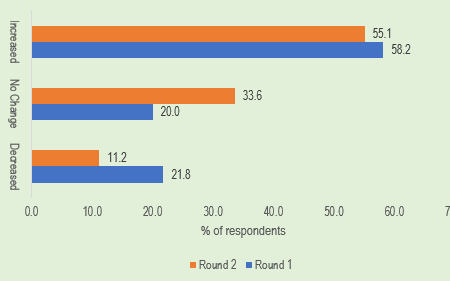 Subsequently, our findings point to a precarious food insecurity situation among households in the study area. This appears to be fuelled by increasing costs of living amidst financial hardships imposed by the COVID-19 crisis. Indeed, though the availability of food supplies has generally improved between R1 and R2 surveys, price hikes persist for certain important food items.
Quite markedly, we find that the COVID-19 alleviation support received by households from government and other local sources have considerably declined between the two rounds of survey.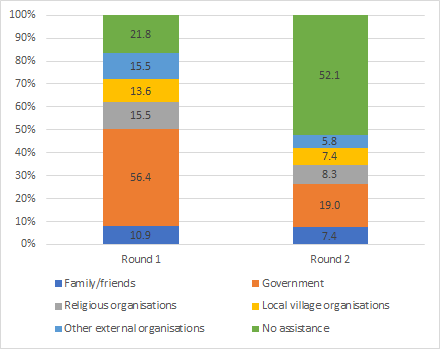 Speaking in relation to the declining support, a male community leader in Manso, one of the study communities made the following passionate appeal during a key informant interview:
"We are still appealing to the government to come to our aid and help us with some form of financial assistance to lessen our hardship."

Male community leader in Manso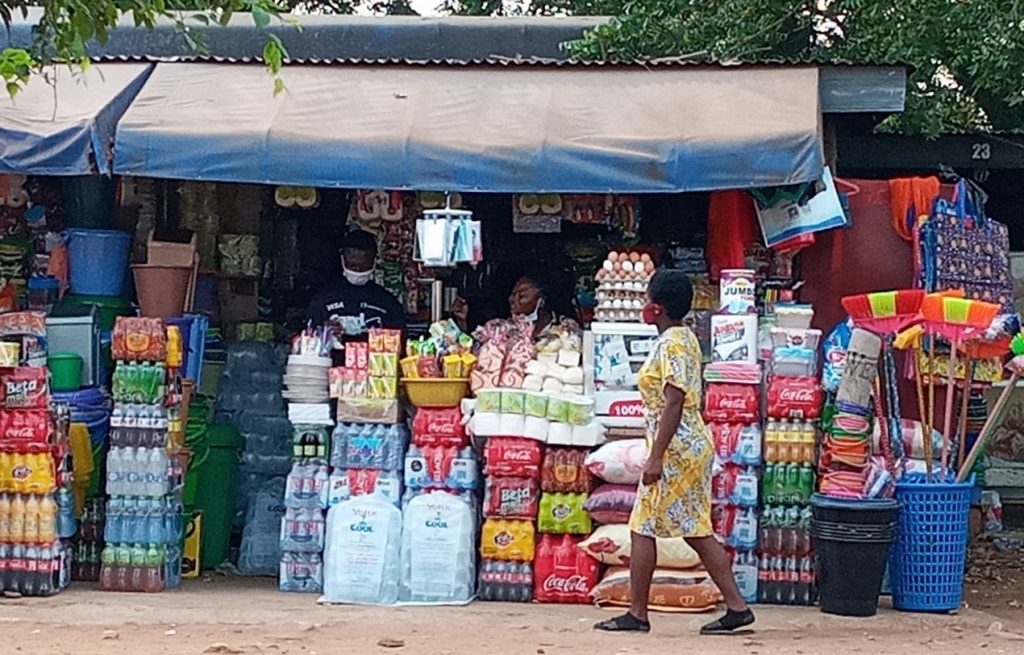 Conclusions and the way forward
In summary, our key findings so far point to increasing costs of living resulting from rising food prices and declining income levels. This has further heightened the food insecurity situation of farmers in the study area. Amidst these difficulties, COVID-19 alleviation support for farmers in our study area is reported to be waning. How would these vulnerable farmers cope with these conditions going forward? According to the Food and Agriculture Organization of the United Nations (FAO, 2020), safeguarding the lives and livelihoods of the most vulnerable people is important to mitigate the impacts of the COVID-19 crisis on vulnerable households in the short term. Therefore, efforts geared at building the resilience of food systems and improving livelihoods by targeting the worst affected groups such as smallholder farmers is critical to safeguarding the sustenance of the most vulnerable in Ghana.Indeed, improving farmers' access to key agricultural inputs such as seeds, fertiliser, and other farm inputs would be critical to this end. Most importantly, the role of government and non-governmental organisations would be crucial in providing the required production and livelihood supports to smallholders.
---
Feature photo: One of APRA Ghana enumerators in an interview session prior to the COVID-19 crisis in Ghana. Credit: Louis Hodey
---
Please note: During this time of uncertainty caused by the COVID19 pandemic, as for many at this time, some of our APRA work may well be affected but we aim to continue to post regular blogs and news updates on agricultural policy and research.
---
Written by Chrispin Matenga and Munguzwe Hichaambwa
---
This blog highlights how COVID-19 preventative measures have affected small-scale farmers surrounding the Mkushi farm block in Zambia, focusing particularly how such measures have disrupted production, marketing and livelihoods. The authors then look at how the government and cooperating partners can help to make life easier.
Read more on the Impact of COVID-19 on Food Systems and Rural Livelihoods in Zambia in the Round One APRA country report.

Read the full APRA synthesis report on the Rapid Assessment of the Impact of COVID-19 on Food Systems and Rural Livelihoods in Sub-Saharan Africa, here.
---
Background
Zambia announced its first 'imported' COVID-19 case on 18 March 2020. As with other countries in sub-Saharan Africa, the Zambian promptly responded by imposing lockdown measures on 20 March 2020, but this was largely limited to issuing regulations and public health guidelines, and enforcement of partial restrictions.
On 13 March 2020, the Zambian government enacted Statutory Instrument Number 22 of 2020 to aid the enforcement of control measures. The first measures imposed by government involved the closure learning institutions, places of worship, gyms, bars, night clubs and restaurants were to serve food on a takeaway basis. Public health guidelines, such as wearing of masks in public and on public transportation, keeping social distance of 1 metre, avoiding handshakes, avoiding overcrowding during important social events such as funerals, kitchen parties (traditional gathering of women before weddings) and weddings. Social events were restricted to no more than 50 attendees.
Some restrictions were lifted on 8 May 2020 that included the opening of schools for students in final examination years, opening of restaurants and gyms but with strict adherence to public health measures.
APRA Study
To assess the impact of COVID-19 on local food systems and livelihoods, the APRA Study used mixed methods involving a quantitative survey involving 115 small-scale farming households and qualitative interviews with key informants from five communities surrounding the Mkushi farm block* in the Central Province of Zambia between 30 September and 6 November 2020.
Cross-border trade
As a landlocked country with eight borders, Zambia is particularly vulnerable to the pandemic. Thus, a mandatory 14-day quarantine period and testing for truck drivers entering the country was introduced as cases escalated. This, along with measures introduced by Zambia's neighbour and main supplier of imports, South Africa, disrupted cross-border movement and transportation which had a knock-on effect on the supply chain for important commodities including agricultural inputs and markets crucial to business, as well as, smallholder producers.
The measures undertaken by the government had certain impacts on different sectors (e.g. agriculture, tourism, mining, service sector etc.), as well as spatial effects – or differential effects on the urban and peri-urban on one hand, and rural areas on the other.
Apart from grains, the small-scale farmers currently produce the largest proportion of the country's vegetables, such as tomatoes, that are sold in regional markets and in the neighbouring Democratic Republic of Congo.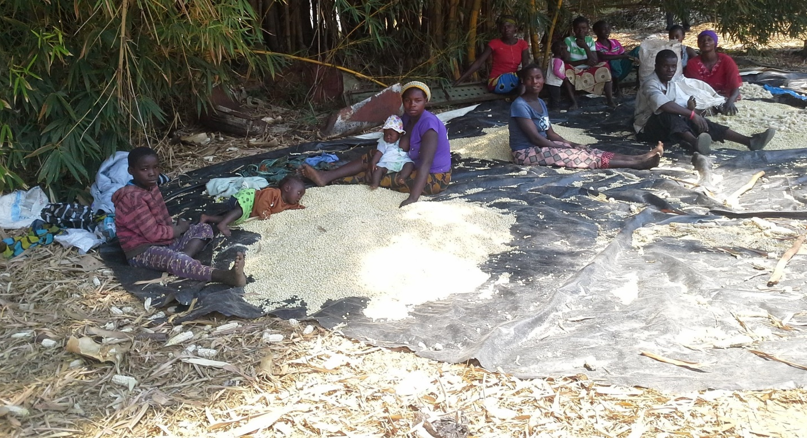 Impact of lockdown restrictions
The effects of social restrictions and partial lockdown measures include:
Decrease in participation in farming activities by communities;
Decrease in availability of labour and access to all markets, but an increase in the cost of farm labour and transportation of farm produce;
Less availability of key foods such as milk and milk products, fish, eggs, meat, grains and nuts, but an increase in food prices compromising household food and nutrition security.
Reduced movements within and outside the communities, and fewer traders visiting villages to purchase produce.
The escalation of COVID-19 cases during the period June/July coincided with the period of harvesting the annual grains like maize and other crops by small-scale farmers. The farmers reported staying at home for extended periods, while at the same time they were scared of hiring outside labour, fearing contamination. For many farmers, their produce were destroyed in the field and after harvesting, particularly the perishable vegetables and other horticultural products, and some farmers would wait for longer periods to transport their produce to markets.
Interviews indicated that key agricultural services, including agricultural extension services to farmers, contractual arrangements between traders and farmers for main cash crops ( maize and tomatoes and to a lesser extent beans, cassava sorghum and finger millet), and availability of farm inputs had decreased due to Covid-19. Farmers were, thus, unable to benefit from these services, negatively affecting their productivity.
Disrupted cross-border movement and transportation led to uncertainty in future supplies of inputs like fertilisers, agro-chemicals and stock-feed, resulting in price hikes. Worse, movement restrictions meant that farmers could no longer access their usual more lucrative markets in the border areas of Kasumbalesa with Congo DR and Nakonde with Tanzania, thus, denying them the high incomes they earned from these markets before the pandemic.
Farmers were challenged by low prices offered by local markets for their produce, and escalating prices for farming inputs. Therefore, the livelihoods of small-scale farmers were negatively impacted as they reported inability to purchase adequate food from the shops, therefore compromising their food and nutrition security.
Way forward
In spite of the challenges faced small-scale farmers, donors and government have focused efforts have focused their efforts on helping urban dwellers through various economic stimulus packages and emergency cash assistance programmes, leaving out small-scale farmers (who have no access to the programmes) that produce over 90 per cent of food production in the country.
Based on the above research findings, we recommend that government and cooperating partners should consider creating a COVID-19 agricultural stimulus package that centres on the challenges faced by small-scale farmers, rather than the traditional and more generic Farmer Input Support Programme (FISP). FISP targets vulnerable but viable small-scale farmers, thus leaving out the poorest small-scale farmers, and has largely focused on giving input in form of fertiliser and maize seed. The programme does not include other crops in horticulture/vegetables, meaning many more farmers are ineligible.
---
* A farm block is a large agricultural area where backbone infrastructure such as feeder roads, electricity, water for irrigation and domestic uses, and communication facilities are provided by Government to stimulate sustainable partnerships with private sector investors.
---
Feature photo: Labourers threshing maize grain at a farm in Mkushi farm block. Photo credit: Cyriaque Hakizimana.
---
Please note: During this time of uncertainty caused by the COVID19 pandemic, as for many at this time, some of our APRA work may well be affected but we aim to continue to post regular blogs and news updates on agricultural policy and research.
---
Written by Adebayo B Aromolaran
---
This blog presents a snapshot of the efforts of Agricultural Policy Research in Africa (APRA) to help stakeholders to track the initial impacts of the COVID 19 pandemic on agricultural commercialisation, food and nutrition security, labour and employment, and poverty and well-being in rural Nigeria.

This follows on from a blog posted in September, 2020 on the same subject.
Read more on the Impact of COVID-19 on Food Systems and Rural Livelihoods in Nigeria in the Round One and Round Two APRA country reports.

Read the full APRA synthesis report on the Rapid Assessment of the Impact of COVID-19 on Food Systems and Rural Livelihoods in Sub-Saharan Africa, here.
---
Introduction
Since the outbreak of COVID-19 in Africa, there have been serious concerns about the impact of the pandemic on agri-food systems – given that most of the population depends directly or indirectly on agriculture for their livelihoods. These concerns are compounded by the fragile state of the continent's health and food systems.
The first case of COVID-19 in Nigeria was reported on February 27, 2020. In order to mitigate an impending health crisis, the Nigerian government commenced a series of COVID-19 lockdowns across states in Nigeria on 30 March, 2020. These lockdowns lasted for 3 months before a gradual relaxation began on 1 July, 2020. By the end of June, 25,694 infections and 590 deaths related to COVID-19 had been recorded, rising to 58,848 infections and 1,112 deaths by the end of September 2020.
By late November 2020, the Nigeria Centre for Disease Control (NCDC) was reporting a cumulative total of 67,412 cases, 1,173 deaths, and 3,184 active cases. Currently, a more serious second wave seems to have emerged with 127,024 confirmed cases and 1,547 deaths recorded by the end of January 2021. This interprets to a respective 89% and 32% increase in confirmed infection and death cases in the 2 months between the start of December 2020 and end of January 2021.
Data
The study involves three rounds of data collection and analysis from a random sample of 109 rural farming households drawn from five Local Government Areas (LGAs) in Ogun (Ijebu East, Obafemi Owode, and Imeko Afon) and Kaduna (Chikun and Soba) States. At the time of the start of the first-round survey, these LGAs had reported a small number of COVID-19 cases. The survey data was complemented by insights from seven in-depth key informant interviews conducted in the LGAs. This blog presents some insights obtained from the first and second round surveys implemented in July and October 2020. The third wave data collection is planned for mid-February 2021.
Highlights of findings
Our findings from the first two rounds of survey show that, compared with pre-COVID 19 period, most rural farm households in Nigeria experienced the following during the COVID 19 period:
Increase in cost of purchased farm inputs, tillage services, land rentals and casual labour;
Increase in prices of food items;
Decreased access to farm inputs and agro-services;
Decline in accessibility to agricultural markets;
Decline in land area under cultivation; and a decline in household food consumption and dietary diversity.
In addition, the negative effect of the lockdown on children's education was severe, in that the majority of households reported that boys and girls spent a substantial amount of the lockdown time in non-school related work and leisure activities.
The study also observed the softening of some negative impacts of COVID 19 lockdown on livelihood in Round 2 relative to Round 1 of the study. Some of the observed areas of improvement in between R1 and R2 data collection were:
Increased availability of purchased farm inputs;
Better access to farm-gate markets, increase in food availability;
Improvements in food consumption and dietary diversity.
Even though, our study locations, Kaduna and Ogun states, are currently among the first 7 states in rank on the NCDC list of confirmed COVID 19 cases; less than 5% of sampled households have seen someone with COVID 19 in their community. Consequently, it can be said that the negative effects of COVID 19 pandemic on livelihood recorded in this study is largely due to government lockdowns and restrictions in movement rather than direct COVID 19 infection.
Case study: a poultry farmer
An interview with a prominent member of the Poultry Farmers Association of Nigeria demonstrates how the sub-sector was badly hit in the first two months of interstate border closures between April and May 2020. This poultry farmer had to starve the stock of layer birds of feed to bring down egg production from 90% to zero per cent in order to cope with the egg glut after about 2 weeks of inter-state lockdown. This was caused as most of the egg buyers were from outside of Ekiti State and could not easily cross state borders reach the farm in Ekiti.
To compound the problem, egg sales declined because of shrinking incomes of consumers resulting from low reduced level of economic activity due to the lockdowns. This was in addition to very high transportation costs that carriers of agricultural produce experienced during the lockdown. This high cost was partly driven by extortions from law enforcement officers in multiple check points on most Nigerian roads.
All of these factors put together nearly crippled investments of this poultry farmer in the first 3 months of lockdowns in Nigeria. The situation adversely affected the health of this farm household as the household head and the spouse needed sleeping pills to get some sleep at night.
This demonstrates how poorly managed the lockdown was by agencies of government, leading the unintended consequences, caused partly by inter-border closures and bribery by law enforcement agencies, arguably being more of a health risk to families than COVID-19.
Looking ahead
Finally, the APRA study observed a significant decline in compliance to government COVID 19 safety regulations between the first and second 4-month periods of COVID 19 pandemic in Nigeria. The Government may therefore need to find more effective ways of enforcing compliance if a severely impactful second wave is to be averted. To do this, the Government could identify and financially support influential local/community organisations to advocate for increased compliance to COVID 19 safety regulations at the grassroots level.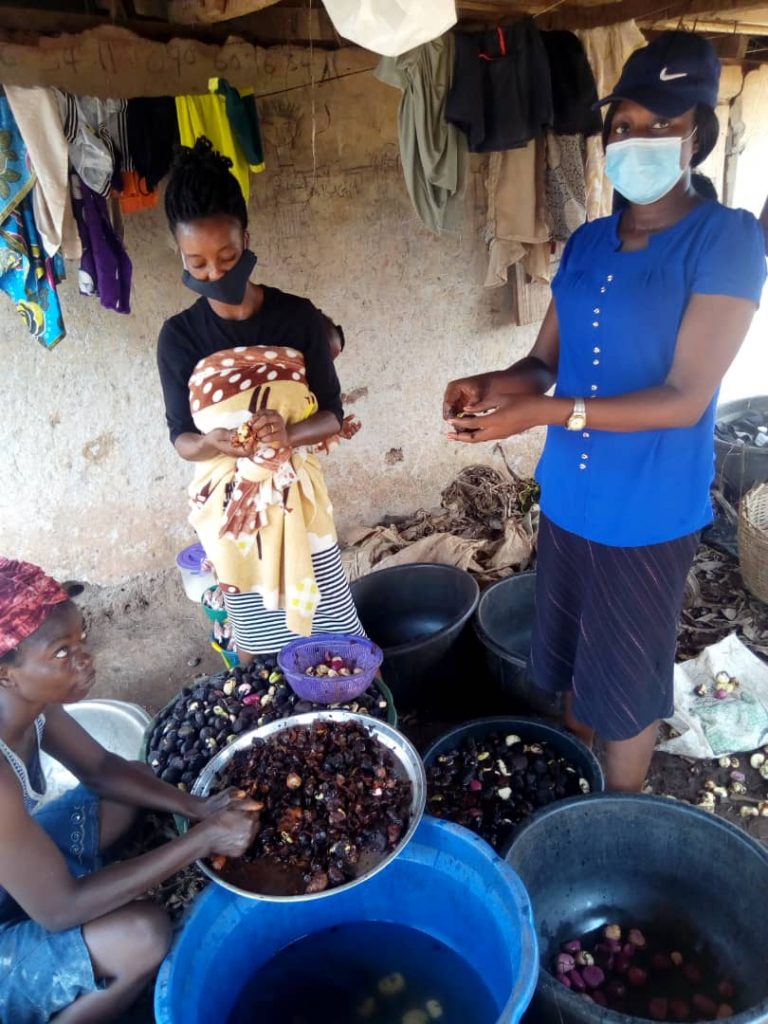 ---
Feature photo: The Dopemu bus stop is seen amid the COVID-19 Pandemic in Nigeria. Credit: © IMF Photo/Ebun Akinbo


---
Please note: During this time of uncertainty caused by the COVID19 pandemic, as for many at this time, some of our APRA work may well be affected but we aim to continue to post regular blogs and news updates on agricultural policy and research.
---
This post was written by Ian Scoones and first appeared on Zimbabweland.
---
A few weeks back Oxfam released a major report, 'The Inequality Virus', documenting the way COVID-19 has affected different populations and parts of the world. The now well-established impacts on the already-marginalised are presented, alongside how the rich have benefited. But the debate in Zimbabwe is currently rather different – people are wondering why the virus is hitting the urban rich and well-connected the most.
The last weeks have seen a massive spike in reported cases and deaths in Zimbabwe. The deaths of senior politicians, party officials and business people have been widely reported. It has provoked a level of concern, even panic, across the country, especially given the parlous state of the health care system.
Last weekend I caught up with the team who is monitoring the situation across our rural study sites – in Mvurwi, Gutu, Masvingo, Matobo, Chiredzi and Mwenezi areas. This is the tenth blog in a series (see here, here and here for updates since last March)
A disease of the urban rich and powerful?
In our rural study sites the experience of COVID-19 as a disease remains limited. Team members were able to report a few cases from each of the sites, with some deaths usually among older business people, but many of the funerals were of those coming back from towns or from South Africa. COVID-19 is still, it seems, not a rural disease – although of course, given the complete absence of testing in these areas, we cannot know for sure.
Over the past week or so, team members have been discussing why COVID-19 seems to be concentrated among the urban rich and powerful with locals in the rural areas where they live. Many explanations were offered. The rich move around more, they fly in planes, drive in cars; we barely move, especially with lockdown. The rich don't do physical exercise, they move in cars; we walk everywhere – we have to, and do manual work. The rich work in offices and enclosed spaces; we are outside, in the clean air. The rich eat junk food, and have conditions like BP, diabetes and so on; we have fewer chronic conditions and get good food from our own local vegetables, which give immunity.
All this makes sense epidemiologically, but what was central to local narratives across sites was that local responses were not just passive – the consequences of being poor – but due to active choices about prevention and treatment. Unlike a few months ago, there is a tangible fear of the virus now. The news reports of the rich and influential dying despite their privilege, mean that people have to act to protect themselves.
Local remedies and vaccine anxieties
There is today a booming market in local vegetables (such as Rudhe/Ulude and Mutsine/Umhlavangubo (Shona/Ndebele)– 'weeds' from fields mostly), as well as local medicines. Hot teas of many sorts – lemon and ginger, guava and eucalyptus, soaked onion – are combined with steaming using a variety of herbs. Herbs, roots and tree products such as Ndorani/Intolwani, Rufauchimuka/Umafavuke, Zumbani/Umsuzwane and Chifumura are hot commodities, and lemons are reportedly selling for 20 bond notes a piece.
As people explained, they cannot get to town for conventional medicines, and in any case they have no money, so local approaches are better. They point to cases where people have recovered using such medicines. WhatsApp group messages are full of advice on local herbal medicines, and offers of their sale.
What then of the prospects of a vaccine? Here there is a raging debate across our sites. When asked, most people seemed highly sceptical. The Chinese have offered vaccines to the country (to be available free, despite early confusion), and this has been widely trailed in the press, as part of China's effective vaccine diplomacy. While in time there will hopefully be allocations from COVAX, the central global facility too, it's the Chinese vaccine offer that seems to be generating the most debate.
Where does the scepticism come from? In part it emerges from (usually unfair and often racist) attitudes towards Chinese interventions in Zimbabwe and the quality of Chinese products, disparagingly referred to as 'Zhing-Zhong' – cheap, low quality products likely to break or be useless. People also worry that the state will force people to have the vaccine.
There are also rumours that vaccines cause infertility, make women grow beards and have other severe side-effects, potentially resulting in death. It is difficult to know where such rumours come from, but they are very real. I was sent a whole string of videos (mostly coming from anti-vaxxers and others in the US) by a friend who had received them from a church-based WhatsApp group. There are likely many similar ones circulating.
Amongst our informants across the study sites, there was a general unease about the rapidity of the vaccines' development – pointing out of course that there is still no vaccine for HIV/AIDS after many years. There was also a sense that, among poor rural people, they have not been affected so far, and that the local medicines and remedies being used seem to be working so far.
As across the world, vaccine anxiety mixed with vaccine nationalism will be a big issue for Zimbabwe when vaccines finally come to the country.
Farmers' lockdown struggles
Combined with the flood of migrants from South Africa coming back over the festive period, there were many press reports of the elite partying unprotected and churches gathering in large numbers. The consequences are now being felt with the current surge. For good reason, the government has clamped down on the strong advice of the medical professionals. Since Jan 2nd there has been a strict 'Tier 4' lockdown across the country, recently extended for two weeks until the middle of February.
People report that this is the strictest lockdown yet, with severe movement restrictions, a curfew and business hours restricted from 8am to 3pm. Many arrests have been reported and once again there are accusations that the lockdown is being used to suppress political dissent. In the past, people could flout the rules or get round them – especially if you could bribe the police or were well-connected. Some are still able to get round the lockdown restrictions, but many fewer this time. There are shebeens (drinking places) that operate after dark, some transport operators that dodge the police road-blocks and a few churches still flout the rules, but for most the elaborate process of getting exemption letters is a daily struggle. One of our colleagues explained how he had to get an exemption letter locally in the township in Masvingo to get another exemption letter in town to travel to Chiredzi so he could look after his sugar farm. It's not easy being a farmer at the moment.
The informal markets and many shops remain shut. Getting farm inputs is nearly impossible as movement restrictions and curfews mean many businesses have closed. Farmers cannot move their produce, and horticultural produce is rotting in the fields. Those who used to rely on vending of agricultural products at fixed locations have to move around or sell from home, with far reduced returns. Input supplies for farming have dried up – with fertiliser being absurdly expensive (up to US$40 per bag) and much in demand because of the heavy rains this year. The rains have resulted in livestock disease outbreaks, notably blackleg, but getting access to medicines is difficult because of movement restrictions, and cattle are dying in numbers. Despite it being a good season overall, especially on heavier soils, gaining the advantage of this is proving tough, both in terms of production and marketing.
With the good season, there are at least some early crops. Cucumbers, pumpkins, sweet reeds and early maize are already being consumed, along with the proliferation of local vegetables and wild fruits that have grown this year. This is a major help to many. Those who planted early look like they will get a decent crop in most of our sites, including those that are traditional 'drought prone'. But late planted maize is currently looking weak and, with the lack of fertiliser and incessant rain, much of it is yellowing.
The COVID barter economy
Even the COVID economy discussed in previous blogs is highly constrained at the moment. There is very little money circulating and people must get along with their own production and barter exchange. The growth of farming in town is dramatic – the outskirts of Masvingo are reported to be 'one big farm'! Sugar beans or sweet potatoes with maize seem to be the favoured crops, and these will be keeping many people fed in the coming months.
Those who have some crops can exchange for other goods in their neighbourhoods. Barter is the basis for exchange without cash, and word is put out on the street or via the WhatsApp groups if things are available or needed. Goods are moved around the townships by a proliferation of push-carts, operated by many who have lost their jobs. And with the informal markets closed, selling has moved to people's homes or mobile shops – in carts, wheelbarrows or cars – linking informal township-based wholesalers (who source for other towns or abroad) and a network of small-scale retailers and vendors.
As we have discussed before, there has been a massive growth of small-scale mining across our sites. In the last few weeks, two new areas have opened up near Masvingo and adjacent to our study sites, with now thousands of miners arriving in a new gold rush. Many underground mines have been flooded with the heavy rains, and some are now dangerous, but mining continues in others, often with serious attendant dangers – not only of mine collapse, but also of COVID-19 infection.
An unequal disease
COVID-19 is certainly an unequal disease, but in unpredictable ways. In Zimbabwe, it affects the rich and powerful disproportionately through illness and death and the poor through livelihood struggles during lockdown. How will the inequality virus' evolution pan out over the coming months? Check out the blog for further updates.
---
Thanks to the team in Mvurwi, Gutu, Wondedzo, Masvingo, Matobo and Chikombedzi.
---
Picture credits: Felix Murimbarimba (Mrs Florence Magura and her daughter selling sugar bean seed to farmers from her place of residence as the kutrain market is closed due to lockdown; Road-side vendors, Mucheke; Loice Dzoro's maize and sweet potato crop in Victoria ranch suburb, Masvingo).
---
Written by John Olwande and Miltone Ayieko
---
In our latest blog, John Olwande and Miltone Ayieko of the Tegemeo Institute examine the results of recent APRA studies and assess the impact of an easing of COVID-19 lockdown restrictions in Kenya on the livelihoods of small-scale farming households.
This blog is linked to APRA Round One and Round Two country reports on the Impact of COVID-19 on Food Systems and Rural Livelihoods in Kenya.

Read the full APRA synthesis report on the Rapid Assessment of the Impact of COVID-19 on Food Systems and Rural Livelihoods in Sub-Saharan Africa, here.
---
Kenya confirmed its first case of COVID-19 on March 12, 2020. Since then, the Ministry of Health has confirmed a cumulative total of 98,432 cases of new infections, 81,255 recoveries and 1,716 deaths as of January 12, 2021. The initial response by the Kenya government was to implement a range of policy measures in efforts to contain the spread of the coronavirus. These included:
Restricted movement of people;
Countrywide dusk to dawn curfew;
Ban on dense crowds of more than 100 persons;
Closure of universities and schools, restaurants and other entertainment spaces, and some open-air markets, which are managed by county governments and hence the discretionary to close only some of them;
Ban on all inbound and outbound international flights restricted cross-border movement of people and;
Mandatory testing of drivers of vehicles transporting cargo over long distance.
Consequences of restrictions
Some of these measures helped to restrict the local spread of virus, but with negative consequences to the country's food system, such as limiting supply of food, particularly perishables, to the local markets.
For example, a discussion we had with an agricultural officer from Kwale County in June 2020 revealed that the restricted cross-border movement of food and people from and into Kenya and Tanzania at Kinango border point resulted in reduced supply of food in local markets and increased prices. Prices for food items such as beans, cowpeas, green grams, rice, and onions went up, with the price of 1 kg of onions, which is mostly imported from Tanzania, doubling from KES 90 ($0.82) to KES 180 ($1.64). The quality of produce in local markets also deteriorated due to the prolonged transit, caused mainly by police roadblocks set up to enforce COVID-19 protocols.
In a survey that we conducted in June 2020 on rural households in five counties in proximity to Nairobi, Mombasa and Kilifi towns (the five initial hotspots for COVID-19 infections in Kenya), over 40 per cent of the households experienced reduced availability of fruits and vegetables, pulses, nuts and seeds, and white roots and tubers in local markets, while about one-third observed a decrease in the supply of grains, processed foods and fish and seafood.
The reduced supply of food and higher prices not only reduced food access by rural populations, but employment, and therefore income to meet their food and other needs, was also negatively affected.
As an agricultural officer in Nakuru County said, "When COVID-19 struck, many large farms especially in the flower industry lost contracts and laid off labourers". This observation was also made by an agricultural officer in Kilifi County: "Finding casual work for small-scale farmers was a challenge as demand for off-farm labour decreased drastically". About 58 per cent of the households in the rural survey in June 2020 also reported that they were unable to hire labour for their farm and off-farm enterprises".
Household needs not met
Approximately 89 per cent of the households in the June 2020 survey reported that they did not have adequate food for their needs. Additionally, 97 per cent of the households reported that the cost of living generally increased since restrictions, outlining the struggle faced by rural households.
In the third quarter of 2020, the national and county governments relaxed some of the restrictions that were previously in place. According to a follow-up survey on the same households and key informant interviews with government officers in early October 2020, the removal or relaxation of the restrictions appears to have resulted in stabilised food supply in local markets and subsequently moderated food prices. In Nakuru, for example, food supply in the markets generally stabilised compared to June 2020. In Kiambu, some marketplaces had been closed, which led to many traders using their own cars as mobile roadside stores. However, there have been significantly less cars since the markets opened. In Kilifi County, food supply in local markets has changed a little since July 2020. Since transport services have normalised, food traders are able to access the Mombasa market, and food prices have decreased slightly.
Rural labour demand
Employment of rural labour has increased since restrictions were eased in July 2020. People are less cautious about COVID-19 and farms are more accommodating to labourers. The October 2020 survey indicates that 46 per cent of the farming households could not hire labour, down from 58 per cent in June 2020. But demand for labour is low because many farms and businesses have not fully resumed normal operations, while the poor economic situation has lowered farmers' purchasing power to hire labour. For example, in Muranga County, many export-orientated horticultural farms have not resumed full operations, while in Kilifi County, low demand for labour in the non-farm businesses in nearby towns has continued to affect many small-scale farmers who depend on casual work to supplement their income.
Conclusion
Results from the October 2020 survey show that approximately 77 per cent of the households reported that they did not have adequate food for their needs, which is lower than the June 2020 survey (89 per cent), and a noticeable improvement between July and October 2020.
This implies that a significant improvement in food security among the rural population can be realised if policy responses to curtail the spread of COVID-19 do not restrict food supply in local markets, which would raise food prices, and stymie rural employment, leading to reduced income earnings of rural people. With many COVID-19 restrictions removed or relaxed,  the food security situation in the country's rural areas will likely continue to improve. This will be clear when the third round of the survey is finalised in the first quarter of 2021.
---
Cover photo: Nakuru, Kenya. ©The Sanitation and Hygiene Fund on Flickr.
---
Please note: During this time of uncertainty caused by the COVID19 pandemic, as for many at this time, some of our APRA work may well be affected but we aim to continue to post regular blogs and news updates on agricultural policy and research.
---
Written by Libor Stloukal and Susan Kaaria, Inclusive Rural Transformation and Gender Equity Division, Food and Agriculture Organization of the UN (FAO), Rome, Italy
---
In the previous blog, demographic factors that leave rural women more susceptible to socio-economic marginalisation were highlighted. In this blog, we focus on the socio-economic participation of rural women, including the "feminisation of agriculture" phenomenon and the impact of crises such as COVID19.
---
Feminisation of agriculture
Evidence for many developing countries indicates that women's involvement in agriculture is increasing over time, whether as independent producers, as unremunerated family workers, or as agricultural wage workers. This shift is often referred to as the feminisation of agriculture, and sometimes it is (incorrectly) portrayed as a global trend.
In reality, national-level data sources are seriously deficient with regard to women as independent producers. In many countries, much of women's work in rural areas is informal or unpaid, and therefore goes unrecorded. From the patchy evidence available, it can be estimated that women comprise over 37 percent of the world's rural agricultural employment, a figure which rises to 48 percent for low-income countries (estimates based on ILO, 2020). In Sub-Saharan Africa, women make up about 46 percent of agricultural employment. In Southern Asia, although fewer women than men are engaged in employment activities in general, women still make up 30 percent of agricultural employment. In Latin America and the Caribbean, women make up 21 percent of agricultural employment. These shares are higher in some countries and vary greatly within countries.
Globally, there is evidence of only a slight feminisation of the agricultural labour force over the last 30 years, except in the Near East and North Africa regions where the trend is clearly pronounced. In other regions trends are much less clear-cut, with variations in both directions (e.g. significant masculinisation of agricultural labour in parts of South-East Asia and some countries in Latin America and the Caribbean; and feminisation in some parts of Africa, where women traditionally have engaged strongly in agriculture, but their share seems to be rising, e.g. in Botswana, Chad, and Malawi).
We can determine that rural out-migration seems a more significant phenomenon in South-East Asia and Latin America (where the diversification of the rural economy appears more advanced, at least in some regions, and where women seem to be taking on farm management responsibilities in some cases) than in South Asia or sub-Saharan Africa. Southern Africa, however, is more effected by the HIV and AIDS epidemic, which through its sex- and age-specific mortality effects on the composition of rural households, has a stronger influence on the feminisation of agriculture than in any other region.
Agricultural transformation is affecting rural areas everywhere, and each region and country in different ways, depending on local socio-economic and institutional structures. For example, the increased demand for female labour in the agricultural wage labour market as a result of expanding non-traditional agricultural exports is affecting Latin America the most, and to a lesser extent India and some countries in Sub-Saharan Africa, such as Kenya, Rwanda and Uganda.
Socio-economic participation of rural women
Evidently, the forms and conditions under which women participate in agriculture matter for demographic reproduction, gender equality and economic development – as does whether an increase in the percentage of women in the agricultural labour force relative to men is because more women are economically active or because fewer men are working in agriculture.
However, in many settings rural women's social and economic participation is severely hindered by deeply rooted discriminations which affect their access to resources and assets such as land, technology, education, information, services, rural organisations, employment opportunities outside the family farm, and legal rights.
Women are significantly disadvantaged relative to men with regard to their land rights. This is true for all dimensions of land rights associated with agricultural land: ownership, management, transfer and economic rights. According to FAO's Gender and Land Rights Database (http://www.fao.org/gender-landrights-database/en/), less than 15 percent of all landholders in the world are women. The distribution of women landholders ranges from 5 percent in Middle East and North Africa to 18 percent in Latin America and the Caribbean. The proportion of women out of all landowners ranges from less than 20 percent in Honduras to slightly over 50 percent in Malawi. Furthermore, women reported owners are less likely than men to have a legal document proving ownership of their plots or to have their names on the land ownership document. Women's limited land rights effect all dimensions of land use: ownership, management, transfer and economic rights. Existing studies suggest that the gender gap in land ownership is substantial in many countries. In Nigeria, 3.9 percent of women own land, compared with 23.3 percent of men (FAO, 2020).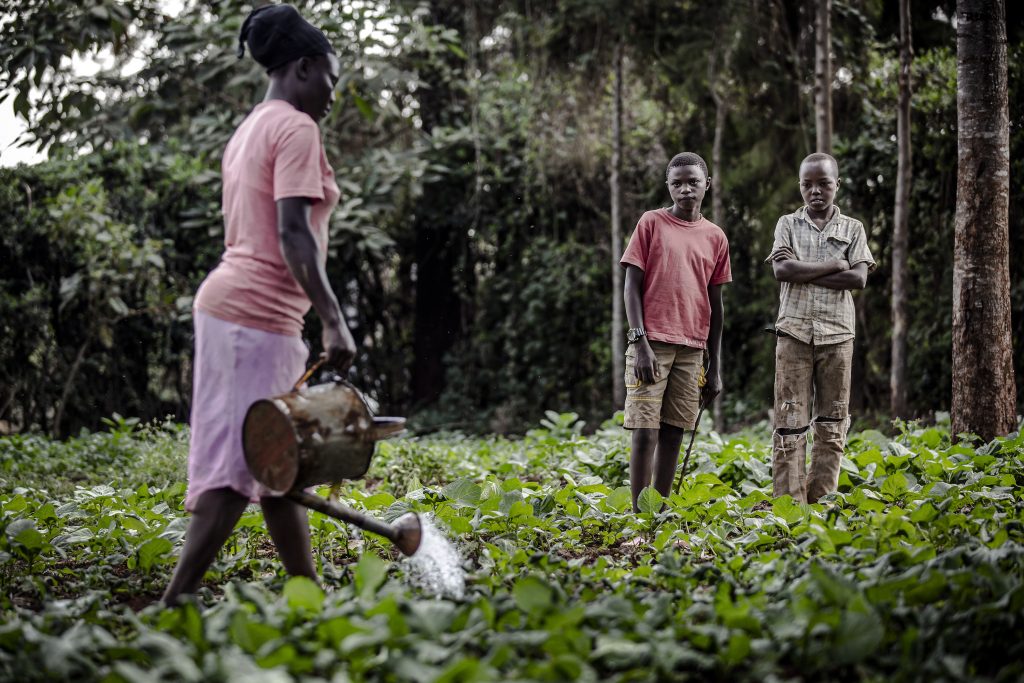 One restricting factor is a lower education level by women compared to their male counterparts. This is partly due to discriminatory access as children and partly due to higher school drop-out rates, driven by factors such as early marriage or pregnancy, but also unsafe school environments and girl's engagement in unpaid or paid labour.
Similarly, rural women's access to improved technologies, agricultural inputs, credit and other productive resources, as well as to decision-making, is generally much more limited than men's. In some rural settings, it continues to occur mainly through the mediation of men, especially husbands or fathers. The multiple biases against women's access to services, information, financing, technology, and decision-making make it more difficult for them to produce and market as much as men with similar assets. The impacts of climate change further aggravate the situation for rural women, who tend to be generally more dependent on natural resources than men, but their disadvantaged socio-economic status undermines their access to climate-smart technologies and services.
Rural women and COVID-19
Rural women are particularly vulnerable to shocks affecting the agricultural sector, including rising food prices, climate change and socio-economic crises. In this regard, evidence on the gendered impacts of the COVID-19 pandemic is especially revealing. From the limited information that exists, we can conclude that the pandemic has significantly reduced the economic opportunities for rural women.
In Africa, women constitute nearly 46 percent of agricultural workforce and own 1/3 of small and medium enterprises (SMEs). COVID-19 restrictions have undermined women's ability to access resources for productive activities, find finance to keep their SMEs afloat, and earn incomes in rural markets (CARE, 2020a).
The pandemic has also worsened women's and girls' access to nutritious and safe food. According to research conducted by CARE across 40 countries, 41 percent of women and 30 percent of men reported lack of food was a key impact that COVID-19 had on their lives (CARE, 2020b).
Due to COVID-19, women's unpaid care work and the unequal division of labour within households both increase, as response measures close schools, public spaces and care services (CARE 2020a). Gender-based violence has also increased during the COVID-19 crisis as lockdowns and self-isolation measures increase stress and economic hardship. In Tunisia, initial information indicates an average increase in the incidence of gender-based violence of 50-60 percent, rising up to 400 percent, based on survivors' calls for help to women's organisations hotlines (UN Women, 2020).
Therefore, there is urgent need to prioritise women's access to social protection programs and humanitarian aid. Programs also need to ensure that women (including married women) are able to access aid independently, and that they participate equally with men in COVID-19 response committees and task forces (CARE, 2020b).
Conclusion
The current global demographic and socio-economic picture is one of considerable diversity and ongoing change. The continuation and consequences of demographic trends present unique opportunities as well as challenges for all societies. Understanding a country's demographic situation should help in prioritising policy responses.
Empowering rural women economically and socially emerges as a clear priority regardless of the country's demographic scenario, but especially so for the LDCs. Empirical evidence strongly indicates that lasting improvements in household food security in less developed countries can only be achieved through the expansion of women's access to productive resources, decent employment and education, and their enhanced role in decision-making at all levels.
Improving gender equality in rural areas is one of the most powerful instruments to fight rural poverty and hunger, improve human capital for future generations, and foster inclusive economic growth. The specific nature of gender equitable interventions should reflect the different demographic realities as well as the diverse development needs of countries.
---
References
CARE, 2020. COVID-19 Rapid Gender Assessments. http://www.careevaluations.org/keywords/covid-19-rga/
CARE, 2020b. She Told Us So. Rapid Gender Analysis: Filling the Data Gap to Build Back Equal. https://insights.careinternational.org.uk/media/k2/attachments/CARE_RGA_SheToldUsSo_Sept-2020.pdf
Committee for the Coordination of Statistical Activities, 2020. How COVID-19 is changing the world: a statistical perspective. https://unstats.un.org/unsd/ccsa/documents/covid19-report-ccsa.pdf
FAO, 2019. RuLIS – Rural Livelihoods Information System [online].
FAO. 2020. Gender and Land Rights Database [online].
FAO, forthcoming. Data Snapshot: Using sex-disaggregated data to better understand gender gaps in agriculture.
Global Strategy for Improving Agricultural and Rural Statistics (GSARS), 2017. Field Test Report: Intra-household decision-making in agriculture. http://gsars.org/wp-content/uploads/2017/05/WP-02.05.2017-Field-Test-Report-.pdf
ILO, 2018. Women and men in the informal economy: A statistical picture. https://www.ilo.org/wcmsp5/groups/public/—dgreports/—dcomm/documents/publication/wcms_626831.pdf
ILO, 2020. World Employment and Social Outlook. http://ilo.org/wesodata
Slavchevska, V., Kaaria, S. and Taivalmaa, S. 2016. Feminization of Agriculture in the Context of Rural Transformations: What is the Evidence? https://openknowledge.worldbank.org/handle/10986/11866
Komatsu, H., Malapit, J. L. H. and Theis, S. 2015. How does women's time in reproductive work and agriculture affect maternal and child nutrition? Evidence from Bangladesh, Cambodia, Ghana, Mozambique, and Nepal. IFPRI Discussion Paper 01486.
UN DESA, 2019. World Population Prospects 2019.
UN ESCWA and UN Women, 2020. The Impact of COVID-19 on Gender Equality in the Arab Region. https://www.unescwa.org/sites/www.unescwa.org/files/20-00131_gpid_pb_eng_apr5.pdf
UN Women, 2020. Press release: Gender-responsive measures to combat COVID-19 urgently needed to preserve and advance Tunisia's progress on human rights, warns UN Women. http://gsars.org/wp-content/uploads/2017/05/WP-02.05.2017-Field-Test-Report-.pdfer equitable interfor-gender-responsive-measures-to-combat-covid-19
---
Feature photo: Members of FAO trained group of youth Blessed Achievers Group harvest indigenous vegetables at a farm in Kiambu, Kiambu County, Kenya on October 5, 2020. Credit: ©FAO/Luis Tato.
No commercial use, advertising, marketing, storage or third-party distribution of FAO photographs is allowed. Photographs may not be modified without prior permission.
---
Written by Masautso Chimombo and Mirriam Matita
---
This blog focuses on the perceptions of Malawians in the rural districts of Mchinji and Ntchisi towards COVID-19 and their perception of risk and vulnerability based on the qualitative APRA interviews. It highlights the difficult task faced by authorities in Malawi as they try to curb the threat of the pandemic across the country.
For more on the impact of COVID-19 on Food Systems and Rural Livelihoods in Malawi, read our round one and round two country reports.

Access the full APRA synthesis report on the Rapid Assessment of the Impact of COVID-19 on Food Systems and Rural Livelihoods in Sub-Saharan Africa, for free, here.
---
Background
The first confirmed cases of COVID-19 in Malawi were reported in April 2020, but the then President of the Republic of Malawi, Arthur Peter Mutharika, introduced lockdown measures which included the closure of learning institutions, mobility restrictions and the closure of borders. Furthermore, markets had to close at 5pm, bars were only allowed to open from 2pm to 8pm for takeaways, no more than 100 people (later reduced to 50) could meet up in public, and many employers were encouraged to let their staff work at home.
APRA study
From late June to early July 2020, the APRA Malawi team conducted both qualitative and quantitative interviews with randomly selected heads of farming households and key informants from government and NGO organisations in the two central districts of Ntchisi and Mchinji. The aim was to understand how ordinary Malawians were reacting to the COVID-19 restrictions and preventive measures, and how these are impacting on the agrarian-based food and livelihood security.
Misconceptions of the pandemic
There is a false and discriminatory view among some in Malawi that because China is the purported origin of the coronavirus ('China virus'), Chinese people are more likely to have it. In a similar view, which targets the rich, the virus is known as the 'biggies virus', apparently because they think the virus only targets rich people who are living in Malawi's big cities of Mzuzu, Lilongwe, Zomba and Blantyre.
With testing being done mainly in the four big cities, all confirmed COVID-19 cases, critically ill patients, and deaths were only being reported in the four cities. There were, generally, no confirmed COVID-19 reported cases in the rural areas at the time. The profiles of people that were confirmed to be COVID-19 positive portrayed the better off urban elite as the exclusive social class who were affected by the pandemic.
Rural communities therefore only experienced reduced traffic of visitors, such as agri-business vendors who normally travel together to buy farm produce from farmers. For these reasons, in the rural community narratives and discourses, COVID-19 is being discussed in the context of being a disease for the town and city residents.
Smallholder farming households' perception of risk and vulnerability to COVID-19
According to the Health Belief Model, people will not change their health behaviours unless they are convinced and believed that they are indeed at risk of catching a serious life-threatening disease. If people think that they can't be infected, or at least not become seriously ill, they will ignore all the COVID-19 preventions which are being promoted by the World Health Organization and its member countries. It is therefore important that farming households, led by their heads, should feel that they are not immune to COVID-19.
Our findings show that overall, the smallholder farming communities in the two central region districts of Mchinji and Ntchisi do not feel that they are at risk of catching the virus. And even if they do, they think the hardships they survive on a daily basis will help them not to get seriously ill with the disease
The rural farmers also attributed their diets – dominated by indigenous vegetables and low use of processed foods like cooking oil – as another reason for their apparent immunity, equating such to herbal vaccinations against diseases. They argue town folks eat processed foods that are full of fats giving them weaker bodies and no immunity.
The key informants reported that the rural farming households believe that the coronavirus cannot affect them, as it is only found in hotels, airports, airplanes, and other places frequented by rich and successful people. Consequently, the people are living within their own world of 'exaggerated' safety.
Some members of smallholding farming households in central Malawi think that they are not vulnerable to Covid-19 as they are not "Azungu" (white or light skinned foreigners), who they see as being more susceptible to coronavirus.
'Fake news'
The same people believed that the local media coverage of COVID19 is fake, for two reasons. Firstly, they accused Peter Mutharika's government of trying to avoid court-sanctioned fresh presidential elections, which had threatened his grip on power. Secondly, they thought he was faking COVID-19 cases in order to benefit from potential aid from the World Health Organization and other rich western countries, who they believe pressured the government to declare the existence of the virus. They speculated that the government was under pressure to declare existence of COVID-19 from the world super powers.
This conspiracy theory did not spare urbanites, the majority of whom were believed to back regime change and therefore as a result, urgently needed the court-ordered fresh elections to take place. That most of the people who contracted COVID-19 were asymptomatic and never required hospital treatment added to the speculation. Questions arose such as where are COVID-19 patients? Or worse still, where are the dead bodies?
COVID-19 and secularisation
Malawi is very religious country. When COVID-19 restrictions were announced, congregations in churches and mosques were instructed to limit gatherings to no more than 100 congregants. Face masks were also mandatory, which dissuaded some worshippers from attending services at all for reasons such as not being able to afford a face mask. This also led to many religious conspiracy theories, creating further mistrust of the authorities and COVID19.
Conclusion
Perceptions are very important because of their behavioural implications. Those of the smallholder farming communities in Malawi's central regional districts of Mchinji and Ntchisi points to the conclusion that people do not believe in the existence of COVID-19 and the threat to life that it poses to Malawians. It is therefore important that whatever strategies are being put in place by government and other stakeholders to manage the virus, their existence should be taken into account. As the Health Belief Model warns, people first have to acknowledge the existence of a serious risk for them to change their health seeking behaviours. Preventing COVID-19 is crucial, as only physically healthy people can contribute to food and livelihoods security.
---
Feature photo: Man transporting firewood along the 50km road to Lilongwe, Malawi. Photo Credit: Mitchell Maher/International Food Policy Institute.
---
Please note: During this time of uncertainty caused by the COVID-19 pandemic, as for many at this time, some of our APRA work may well be affected but we aim to continue to post regular blogs and news updates on agricultural policy and research.
---
To better understand the impact that COVID-19 is having on food systems and rural livelihoods in the region, APRA researchers have been conducting a rolling series of telephone-based household surveys and key informant interviews. This blog is based on the findings of these two reports, that were written by Amrita Saha, Marco Carreras and John Thompson.

The first round of surveys and interviews was conducted in seven countries – Ethiopia, Ghana, Kenya, Malawi, Nigeria, Tanzania and Zimbabwe – in June-July 2020. The second round was built on these baseline reports, with the addition of Zambia as an eighth country in October 2020.

Click here to access the country reports.
---
Since arriving in Sub-Saharan Africa in early 2020, the shockwaves of COVID-19 have hit food systems throughout the region. Many countries, to varying degrees, introduced a series of strict control measures on social and commercial activities with detrimental impacts on food systems in several areas, arguably causing more damage to livelihoods and local economies than the virus itself.
Food and nutrition security at local levels, particularly in Africa, is under the most strain, in spite of global agricultural markets being predicted to remain stable throughout 2021. Further stresses, such as extreme weather events, conflict and insecurity (or a combination of these), and desert locust infestations have added to the pressure for smallholder farmers.
Emerging income-nutrition-livelihood crisis
As efforts to tackle hunger decreased due to the pandemic, there has been an intensification of pre-existing vulnerabilities and inadequacies of Africa's food systems – understood as "all the elements (environment, people, inputs, processes, infrastructures, institutions, etc.) and activities that relate to the production, processing, distribution, preparation and consumption of food and the outputs of these activities, including socioeconomic and environmental outcomes" (HPLE 2014: 12).
Round 2 findings from October 2020 suggest that the shock of COVID-19 has resulted not so much in a 'food production crisis' as an 'income-nutrition-livelihood crisis' in some communities and households in the eight countries, mainly from a decline in economic activities, which in turn led to income losses and reduced household purchasing power, and a multitude of food-system wide shocks.
Compared to Round 1, fewer (though still a large proportion) respondents reported a decrease in the number of buyers or traders coming to their village to do business (Stevier Kaiyatsa's recent three-part blog outlines the decrease of grain buyers in Malawi), excluding in Ethiopia, where marketing activities were largely unaffected.
The availability of transport also declined, while food prices have increased, thus reducing access to vital farm inputs and constraining the movement of goods to local and regional markets. Supplies of staple foods in local markets were also reduced as a result of the trade restrictions, and food prices saw a marked increase.
The loss of income, decrease in food availability and increase in food prices is reflected in local diets, with a sizeable number of households stating that they have been skipping meals and facing a shrinking basket of available foods locally. For example, a large number of households in Kenya (40%), Malawi (34%) and Nigeria (16%) indicated that they "went without eating for a whole day because of a lack of money or other resources". In Zambia, food availability issues appear particularly stark as nearly half of all respondents reported a decrease in the availability of several food groups. Concurrently, food prices have increased across several major food groups, with the prices of grains, pulses, and nuts and seeds most affected.
The report also outlined that women and girls in Zambia, Kenya and Ghana are encumbered the most by childcare and housework, households continued to report more childcare and housework compared to any other study area. Meanwhile, individuals were still reducing their movements both within and outside their own village, except in Tanzania where travel restrictions have been limited (for more on life in Tanzania following the lifting of restrictions, read this two-part blog series).
However, the effects of COVID-19 restrictions and control measures have not all been negative. Some households have innovated to survive, shifting towards more local production, shorter value chains and diversifying the range of their off-farm livelihood activities (see Ian Scoones' Zimbabwe blog for an example of how farmers adapted to the challenges brought by COVID-19).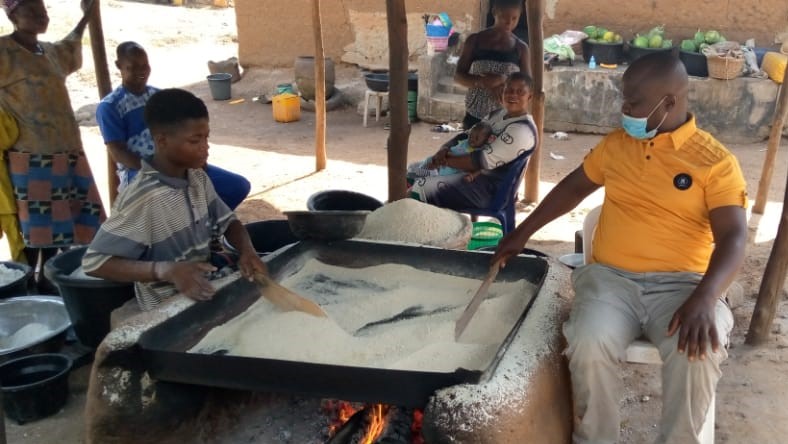 Decrease in emergency assistance
As government COVID-19 restrictions eased in most countries, a general decrease in households receiving any type of emergency assistance was observed, with many stating they had yet to receive any support since June-July, especially those in Kenya, Malawi, Nigeria, Tanzania and Ghana (see this blog for the agricultural implications of the pandemic in Ghana). Family, friends and local religious organisations remain important sources of support for some households, particularly in Ethiopia, Malawi and Zambia.
Mixed results
The APRA assessments found both positive and negative examples of the ability to households to continue their farming activities and non-farm economic enterprises during the COVID-19 crisis, depending on the community and country in question. For example, most respondents in Ethiopia, Ghana, Kenya, Malawi and Tanzania reported no major changes in their own participation in farming activities since the first round, but did experience a decrease in participation in business or household enterprises (except in Ethiopia). In Nigeria, Zambia and Zimbabwe, though, most respondents continued to report a decrease in their participation in farming activities as well as in their business activities. Conversely, in Ghana, farmers' participation in both farm and off-farm economic activities has generally improved since June-July.
The impact on farm labour also saw mixed results in the different study countries. Most of the respondents in Ethiopia reported that they had managed to hire farm workers (see Agajie Tesfaye's three-part blog series on the impact of COVID-19 on daily labourers and rice commercialisation). This was also the case in Tanzania, Zambia and Zimbabwe and Nigeria (for more on the unintended consequences of the lockdown in Nigeria, read this blog) but access to hired labour continued to be disrupted in Ghana, Kenya and Malawi. However, in several countries labour costs were on the rise, forming obstacles for many farm operations.
Way forward
For the majority of households in the sample communities, APRA's multi-country research indicates that they have experienced significant hardship since the onset of COVID-19, with many facing a loss of income, reduced purchasing power, rising food prices and decreased food availability. Farming and business activities have also been affected. While some households have been able to cope with the crisis in innovative ways in the short-term, the intersection of COVID-19 restrictions with other environmental and political economic shocks and stresses has made it hard for others to adapt, particularly with little external assistance.
Although only a second 'snapshot' of changing conditions, these results suggest that it will be important to continue to track these households and communities over time to assess how the pandemic is unfolding in different parts of Sub-Saharan Africa. As several countries recently reported an increase in the number of COVID-19 cases, APRA is planning to return to the study communities in the first quarter of 2021 to analyse how local people, governments and food systems are responding.
---
APRA researchers interview households in Adao Abeokuta suburb, Ogun State, Nigeria. Credit: Anas Umar
---
Please note: During this time of uncertainty caused by the COVID19 pandemic, as for many at this time, some of our APRA work may well be affected but we aim to continue to post regular blogs and news updates on agricultural policy and research.
---
In the third and final blog of the series on grain marketing in Malawi, APRA researcher Stevier Kaiyatsa looks at the contributing effects of COVID-19 on grain price instability, the implication of this, and what the Malawian government can do to tackle the problem.

Part one examined the role played by small-scale traders in the grain supply chains of Malawi, while part two looked at how farmers are being exploited by some of these traders.
---
For more on the impact of COVID-19 on Food Systems and Rural Livelihoods in Malawi, read our round one and round two country reports.

Access the full APRA synthesis report on the Rapid Assessment of the Impact of COVID-19 on Food Systems and Rural Livelihoods in Sub-Saharan Africa, for free, here.
---
Written by Stevier Kaiyatsa
---
Malawi recorded its first COVID-19 case on 2 April 2020. Prior to the first COVID-19 case, the former President Peter Mutharika declared the disease a national disaster on 23 March 2020. The government closed schools and banned large gatherings as measures to control the spread of the disease. Further, the government announced a 21-day lockdown on 14 April that would run from 18 April to 9 May 2020. However, the Malawi High Court barred the government from implementing the lockdown on the basis that the Human Rights Defenders Coalition petitioned for more consultations on how to protect the livelihoods of poor and vulnerable Malawians.
Post-harvest period
The post-harvest period in Malawi starts in April, when small-scale traders buy agricultural produce from smallholder farmers. The APRA Malawi team has observed that fewer small-scale traders purchased grain from rural areas during COVID-19. As indicated in part one of this blog series, small-scale traders operate at different scales, namely; low-tier, mid-tier, and top-tier. Thus, COVID-19 created a situation where the big buyers, including local processors, were uncertain on the future of grain markets within and across national borders, which affected the grain supply chain.
Between April and July 2020, most countries implemented lockdowns with additional border controls, so it became risky for the big buyers to invest in grain – particularly those that rely on export markets. Rural areas did not see an influx of top-tier small-scale traders in the midst of COVID-19 relative to the previous years. Thus, it become difficult for the big buyers to purchase the grain through top-tier small-scale traders. As a result, the low-tier and mid-tier small-scale traders were the only ones that were purchasing grain from smallholder farmers since they use their own savings to invest in the grain trade. Although the mid-tier small-scale traders were functioning, their level of operation was affected by trading in smaller quantities, and therefore less trips to sell their grain to the big traders in urban areas.
Grain price instability
As we transition from the lean period (i.e. from October to March) when the grain is scarce to the post-harvest period (i.e. from April to September) when grain is abundant, the overall price of grain drops. Then, the price starts to increase as the post-harvest period progresses. As usual, purchasing prices were lower at the onset of the post-harvest period and farmers expected the prices to increase as the season progressed. However, due to lower competition among the grain traders, coupled with increased supply of the grain on the market, the price of grain continued to drop. For instance, at the onset of the post-harvest period in April, the price of soybean was MWK250 (US$0.33)[1] per kg, but it dropped to MWK180 (US$0.24) per kg in May, and reached as low as MWK150 (US$0.20) per kg in July. Compared to the previous season, the price of soybean increased to MWK320 (US$0.42) per kg in July 2019. Further, the purchasing price of groundnuts was MWK550 (US$0.73) per kg in April, but the price dropped to MWK500 (US$0.66) per kg in May and reached as low as MWK450 (US$0.60) per kg in July, while it was trading at MWK700 (US$0.93) per kg in July 2019. However, I observe that the price for maize grain remained unchanged between April and July 2020 at MWK120 (US$0.16) per kg in most food markets, on average. This might make sense, given that maize grain is a staple crop while soybean and groundnuts are cash crops for smallholder farmers in Malawi. Both mid-tier and low-tier small-scale traders might have enjoyed lower purchasing prices between April and July 2020.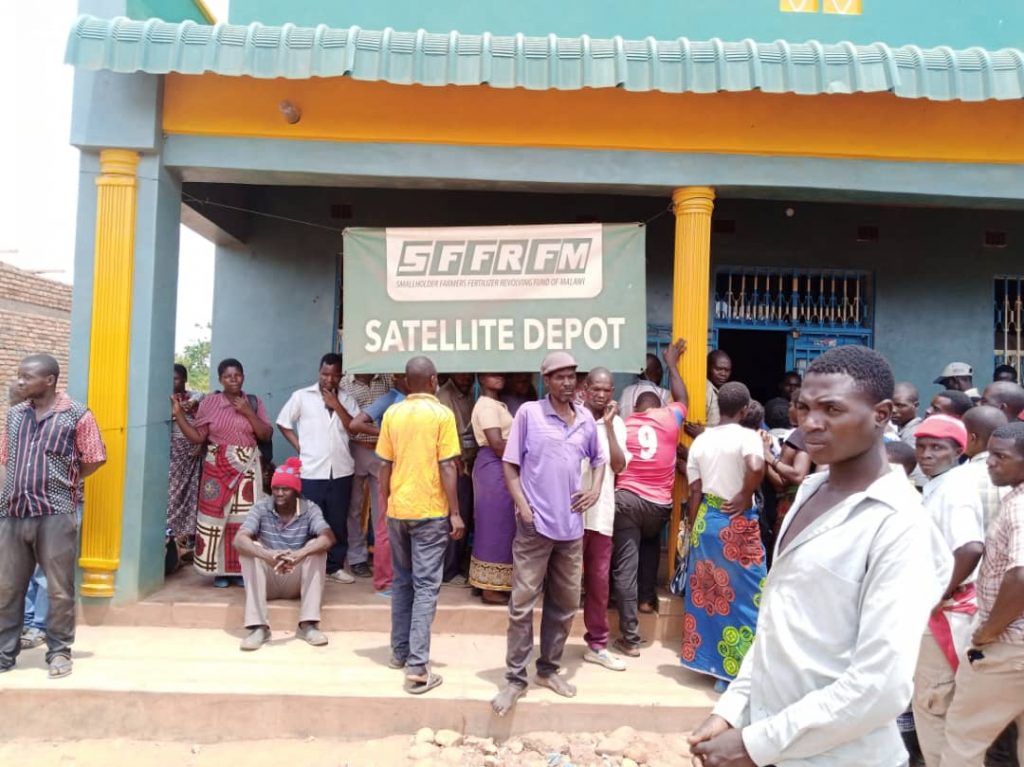 Implication of unstable grain prices
The lower grain prices that most smallholder farmers were offered have implications for smallholder farmers' income and food security. Smallholder farmers that produce smaller quantities had no option but to sell their produce at very lower prices, while those that have other sources of income are hoarding their grain in anticipation of better prices in the lean period. The lower output prices have eroded farmers' income, limiting their access to productivity enhancing technologies, such as improved seed and fertilisers, for the next growing season. Therefore, it is more likely that most farmers will not be able to invest in farming to produce greater market surpluses, which will directly compromise their food consumption and agricultural income. Conversely, small-scale traders have aggregated grain at lower prices in anticipation of better prices in the future should big buyers such as the Agricultural Development and Marketing Corporation (ADMARC), the National Food Reserve Agency (NFRA), the National Association of Smallholder Farmers of Malawi (NASFAM), and processors open up their markets as the lean period progresses.
Conclusions
As low levels of COVID-19 continues, the government has reopened schools and lifted the ban on large gatherings. However, uncertainty regarding the future of grain markets both local and across the borders continues to grow among grain traders. This has affected the incomes of smallholder farmers, which may lead to lower production in the upcoming growing season, particularly for non-staple commodities such as soybean and groundnuts. Further, through the Affordable Input Programme (AIP), a successor to the Farm Input Subsidy Programme (FISP), the government has invested about MWK160 billion (US$212.5 million) to subsidize maize production for about 4.3 million smallholder farmers. AIP beneficiary would be able to purchase two bags of fertiliser (NPK and UREA) weighing 50 kg at MWK4, 495 (US$5.97) each, a pack of maize, rice or sorghum seed weighing 7 kg at MWK2, 000 (US$2.66). Unlike the FISP, AIP does not subsidise legume seed for pigeon peas, cowpeas, beans, soybean, and groundnuts.
As a result, we should expect a decrease in the production of legumes including soybean and groundnuts in the upcoming growing season due to smallholder farmers' limited access to legume seed and an increase in maize production.
A separate investment by government to procure expected surplus maize will be required to protect the incomes of smallholder farmers. One way is to fund ADMARC and NFRA in time to allow them to open up their markets early in the season and procure the maize grain directly from smallholder farmers. This would eliminate grain traders particularly top-tier small-scale traders in the supply chain that benefit at the expense of smallholder farmers. In the future, AIP should include seed for legumes, which are central to smallholder farmers' incomes and food security.
---
[1] US$=MWK753 as of November 2020
---
Feature photo: A women wears a face mark in Mchinji district, Malawi. Credit: Symon Duwe.
---
Please note: During this time of uncertainty caused by the COVID-19 pandemic, as for many at this time, some of our APRA work may well be affected but we aim to continue to post regular blogs and news updates on agricultural policy and research.
Written by, Marco Carreras, Amrita Saha and John Thompson.
This report presents a summary of findings emerging from the second round of a three-wave rapid assessment led by the Agricultural Policy Research in Africa (APRA) Programme of the Future Agricultures Consortium (FAC) in October-November 2020 to examine how COVID-19 is affecting food systems and rural livelihoods in eight countries – Ethiopia, Ghana, Kenya, Malawi, Nigeria, Tanzania, Zambia and Zimbabwe. It builds on a set of phone-based household surveys and key informant interviews conducted in those countries in June-July 2020, which served as the baseline for this research.1 APRA will continue to monitor the situation as the
response to the pandemic unfolds through the third round of data collection and analysis planned for the first quarter of 2021.
Written by, Chrispin Matenga and Munguzwe Hichaambwa.
To assess the impact of COVID-19 on local food systems and livelihoods, a total of 115 small-scale farming households (102 male- and 13 female headed) were interviewed from five communities (Lilanda, Luang (Mankanda), Masansa, Nshinso and Miloso (Tazara Corridor) surrounding the Mkushi Farm Block in the Central Province of Zambia between 30 September and 6 November 2020. The respondents were selected as a random sample, targeting 20-25 households per community or village. The small-scale farmers in these areas benefit from linkages with commercial farmers in the block.
Written by, Mirriam Matita and Masautso Chimombo.
COVID-19 continues to impact households and economies worldwide. For this reason, in June 2020 APRA started assessing its likely effects on food systems and livelihoods in Malawi. This report presents insights from the second round (R2) of data collection in October 2020. Data was collected from a stratified random sample of 111 households (59 female and 52 male respondents) drawn from an APRA household survey of groundnut producers in Mchinji and Ntchisi districts, Central Region, as well as from eight key informants. One additional round of research is planned for the first half of 2021.
---
This post was written by Ian Scoones and first appeared on Zimbabweland.
---
On January 2nd, Vice-President and Minister of Health, Constantino Chiwenga, announced another strict lockdown on the whole country. As in March, non-essential businesses are shut, travel is restricted and schools are closed. Everyone is urged to stay at home. In the last week, there have been a further 1342 cases, adding to the total of 14084 recorded. There have been a further 29 deaths too, including a number of high profile business people and politicians, adding to a cumulative total of 369.
Zimbabwe seems to be facing a second wave, driven by the new variant coronavirus from South Africa. I caught up with colleagues yesterday to hear about the current situation and to reflect on how has Zimbabwe fared since the first case was identified in March 2020 (see the Zimbabweland COVID-19 blog series).
On the face of it, Zimbabwe like many other African countries outside South Africa and to some extent Nigeria, has been relatively spared the ravages of COVID-19 to date. The total (reported) cases and deaths remain low. Compared to the US, UK and much of the rest of Europe, where last week's reported figures are a small fraction of what is happening each day in these countries, the figures seem to portray (relative) good news.
At the beginning of the pandemic, there was a wave of Afro-pessimism: Africa was going to be hard hit, and with poor health services and many co-morbidities the toll would be massive. This did not happen during the first wave of the pandemic. In fact, the richest, supposedly most 'efficient' countries on the planet suffered worse. Why is this?
Why so few cases?
There are many theories out there, and no one really knows – uncertainties are everywhere. Some claimed it was the heat, but of course there are cold parts of Africa in some seasons and places, and hot places around the world have suffered terribly too, notably in Latin America. Some said it was because of widespread BCG tuberculosis vaccination, but the comparative data proved dodgy. Some said it was because of a young population demographic. This certainly helped, given the susceptibility of different age groups, but there are plenty of other places where a 'young' population was hit hard.
Certainly African countries, including Zimbabwe, responded to the pandemic quickly and effectively in line with WHO recommendations, with national lockdowns, restrictions on movements and health campaigns. This was unlike Western nations where the response was sluggish, with an arrogance that they knew best. Clearly, they didn't and coronavirus did not turn out to be like 'flu as all the elaborate preparedness and contingency plans assumed.
The experience of past pandemics/epidemics has also probably helped in Africa. The AIDS pandemic taught African nations and peoples a lot of important lessons: know your epidemic, take it seriously and change behaviour to save lives. The same applied to Ebola in West Africa and of course SARS in southeast Asia. Such experiences shape cultures and practices, and citizens, experts and institutions learn lessons the hard way. In the West, assuming that COVID-19 was 'flu was fatal – literally, and resulting in hundreds of thousands of deaths in the US and Europe – but Western nations had not experienced the ravages of a serious pandemic for many years outside certain communities.
In some ways it may have been that poor health conditions actually helped. Acquired or pre-existing immunity through the frequent attack of multiple pathogens may have made certain people more able to fend off COVID-19. Noone knows this for sure, and plenty of poor and marginalised people have died, but it's a hypothesis worth exploring, as many of the (recorded) deaths have been among middle class and richer people, where co-morbidities – being overweight, having diabetes etc. – are similar to those in the 'healthy' West.
The spatial pattern of cases also gives some clues. Cases in Zimbabwe, for example, are heavily concentrated in the larger urban centres, where poorer people live in crowded places and moving to jobs means travelling on crowded transport. The colonial design of racially-segregated cities has resulted in increased susceptibility to this type of respiratory disease, requiring new thinking in city planning.
The other foci of infection are on the borders, highlighting the impact of migration as a spreader of disease, especially from South Africa. With the new variant extending from the coastal areas of South Africa, the transfer of the virus through migrant populations moving back and forth, especially through the festive period, has already happened. Add to this the crowded conditions and long queues at the borders such as Beitbridge seen over the holidays, it has been a recipe for rapid spread.
Understanding disease contexts in rural areas
However, there still remain very few (recorded) COVID-19 cases in any of our rural study areas, and few stories about people who have died. This is the case across the country – from Mvurwi to Chikombedzi – and the exceptions are in all instances a few imports from returning migrants, most common in Matobo. This is striking and contradicts the national narrative of growing infection.
We have been observing the local situation now for 9-10 months, and the pattern seems clear. Despite massive under-reporting due to an almost complete absence of testing, the rural areas seem to have been spared so far. As colleagues noted, "it may be that we have had the disease, but there are a range of 'flus' (respiratory diseases), and we know how to treat them with herbal medicines. Even the local village health workers are encouraging their use."
We asked people in each of the study sites about why there were so few cases, and they consistently identified the activity patterns of people in rural areas. They live outside, there is 'plenty of air', they are not crowded together, as villages and homes are spaced out and people don't move around so much – certainly compared to the 'big bosses' from Harare who seem to be suffering most. The moments when infection might happen included, according to their listing, funerals, markets, tobacco selling points, schools, indoor church services and beer parties where receptacles are shared. They also all pointed out that people are generally good at hygiene as this part of cultural practices for washing and cleaning, especially before eating.
As Paul Richards and Daniel Cohen point out on the African Arguments blog, understanding infection risk in context is essential, and this requires detailed insights into what people do where and why. In Africa it is not meat packing plants or care homes where concentrated transmissions occur, but in other settings. In order to shift behaviours and reduce infection, there is a need to know more about – for example – "the way infection hazard is shaped by key ceremonial activities in private spaces." This means not just relying on the generic 'science' and projections from generalised models, or even the direct experiences of elite policymakers in large urban centres, but engaging with those who are confronting the disease, even if at this stage at very low levels. As they comment, it's imperative to:
"involve at-risk communities of all kinds in debate about how to manage the hazards associated with a second wave of the disease in Africa, based on diligent backward contact tracing undertaken while disease circulation remains relatively low. The time to do this work is now."

Paul Richards and Daniel Cohen
Only with such engagement and supported by effective testing – as was the case with Ebola in West Africa – will people shift practices, perhaps in quite subtle ways, to prevent disease spreading. The blunt tool of lockdowns and generic health messaging may be increasingly ineffective in a second wave, and more attuned responses will be needed.
Dangers at the borders
As colleagues said, "people are fed up with lockdowns, they don't know why they are happening". In the last period, things had got back to a (sort of) normal. Or at least people had found ways of managing the restrictions. Businesses had been re-established, markets had reopened, people were moving about (even if paying bribes to the police at roadblocks), funerals were being held with numbers way beyond the stipulated number, schools were open and mask wearing had become much more casual. The announcement of a new harsh lockdown has been met with dread. People remember the first major lockdown from late March, and cannot afford to return to that situation of extreme hardship.
But notes of caution also come from the border areas, especially in the last weeks. Over the festive period there have been a huge number of returnees from South Africa wanting to visit their relatives and rural homes. The massive queues at the border posts, with traffic jams of 20km or more have been widely reported. Traffic disruption has also occurred further away as police check for COVID test certificates among motorists and truckers.
As we have observed in previous blogs, migrants have invested in their rural homes during the pandemic, and have opened up fields, moving members of their families to these homes and away from towns in Zimbabwe or South Africa. Some villagers have been complaining that grazing areas are becoming short as so much land once fallow (and so available for grazing) has been ploughed this year, spurred on by the very good rains. There is now more movement and mixing with migrants from elsewhere, and especially around holiday times.
With the main border posts highly congested, others have resorted to illegal crossings. The Limpopo is flowing due to plentiful rains and normal crossings on foot are not passable. Boat operators have sprung up using large inflatables, with crossings costing Rand 200 per head. Huge numbers of people cross each day – around 150 per boat – along with goods and supplies, and sometimes even vehicles. Soldiers and border security forces are paid off, and a lucrative transport business has emerged, alongside other activities including supplying food to travellers. These crossings are taken by those without the full paperwork and who cannot pay for the U$50 cost of a COVID test. No doubt viruses along with people and goods are being imported too.
What next?
To date, the rural areas of Zimbabwe have yet to experience the direct impact of the disease, and only the consequences of lockdowns. This may yet change. In the coming weeks, we will continue to monitor the situation in our study areas. How will they cope with the new lockdowns? Will the second wave hit the rural areas this time? What strategies are being used to respond locally, with they remain effective even with greater transmissibility of the virus? Before the next update report, next week the blog will look more broadly at the debate about lockdowns and their politics.
---
Thanks to the team from Mvurwi, Gutu, Masvingo, Matobo and Mwenezi.
---
Photo credit: KB-Mpofu/ILO
Written by, Vine Mutyasira.
In response to COVID-19, the Government of Zimbabwe enforced a nationwide lockdown on 30 March 2020, closing most sectors of the economy, including informal markets. However, with limited cases, lockdown movement restrictions were eased and supermarkets, restaurants and vegetable markets allowed to reopen. Between 3-13 October 2020, a second-round (R2) of surveys was conducted, targeting farming communities in Mvurwi and Concession Areas of Mazowe District, to assess COVID-19 impacts on food production systems, supply chains and general livelihoods. This report summarises insights obtained from the phone-based survey, covering 102 respondents (20 female and 82 male-headed households), and 5 local key informants (councillors and extension officers). Results are compared to the earlier R1 survey carried out in late June/early July.
Written by, Gideon Boniface and C.G. Magomba.
On 8 June 2020, the Government of Tanzania officially declared the country to be free of COVID-19 and all restrictions have since been lifted. As of 3 December 2020, Tanzania had only 509 confirmed cases of the virus and 21 deaths. Nevertheless, neighbouring countries are still facing the threat of the pandemic, all of which are key trading partners. Their continuing COVID-19 control measures have disrupted regional and domestic agricultural markets and affected local livelihoods and food systems. This study analysed the resulting impacts in those systems in several rice-producing communities in Morogoro Region, south-western Tanzania.
Written by, John Olwande and Miltone Ayieko.
Since 12 March 2020, when Kenya reported the first COVID-19 cases, the Ministry of Health confirmed a total of 45,076 cases and 839 deaths, as of 19 October.1 Despite the rising number of COVID-19 confirmed infections and deaths in Kenya during the third quarter (Q3) of 2020, the national and county governments relaxed some of the restrictions that had been in place during Q2 aimed at controlling the spread of COVID-19. This assessment was aimed at understanding the effects of COVID-19 at household level and attendant policy responses during Q3 of 2020, to inform actions to assure protection of local food systems, rural livelihoods and the supply of adequate, affordable food of acceptable quality to the population.
Written by, Louis Hodey and Fred Dzanku.
This study seeks to assess the continuing impact of COVID-19 on food systems and livelihoods in south-western Ghana and provides insights obtained from household-level and key informant data in the second of three surveys conducted during October/November 2020. This second round (R2) survey involved 107 households of oil palm farmers (86 male-headed and 21 female-headed) and 5 key local informants in the Mpohor and Ahanta West Districts of the Western Region.
Written by, Abebaw Assaye and Dawit Alemu.
This report presents an assessment of the changes in effects of COVID-19 on agricultural commercialisation, food and nutrition security, labour and employment, and poverty and well-being in rural Ethiopia by comparing the results of a baseline household survey (R1) in late June 2020 with a follow-up survey (R2) in late October 2020. Data was collected from a stratified random sample of 106 smallholder rice farmer households (24 female and 82 male-headed) in five kebeles (villages) in the Fogera Plain
area of Amhara Region. Data was also collected through 25 key informant interviews conducted in the kebeles.
Written by, Adebayo B. Aromolaran and Milu Muyanga.
This study provides insights from a second survey assessing COVID-19 impacts on agricultural commercialisation, food and nutrition security, labour and employment, and well-being in rural Nigeria. Data for round 2 (R2) were collected between September and October 2020, from 109 households that were interviewed in mid-July (R1). Households were drawn from a stratified random sample from three Local Government Areas in Ogun State and two in Kaduna State. This survey data is complemented by insights from seven in-depth key informant interviews. This analysis compares COVID-19 effects in the second quarter and the third quarter of 2020, which corresponds to the first and second 3-month periods after Nigeria's countrywide lockdown was put in place.
---
This post was written by Ian Scoones and first appeared on Zimbabweland.
---
2020 has been quite a year in Zimbabwe and across the world. The blog has had two major series of posts, and this wrap-up features both – now with the links all working.
One series has followed the COVID-19 pandemic in Zimbabwe, and particularly the consequences of lockdown in rural areas. The blogs are based on discussions with our team based across the country – from Mwenezi to Matobo to Masvingo to Gutu to Mvurwi. The pandemic measures have radically reshaped the rural economy, with diverse impacts on different people. Heavy-handed clamp-downs have combined with (as ever) plenty of innovation and adaptation as people find ways of surviving. Luckily, despite dismal predictions, Zimbabwe has as yet not been heavily affected by the disease, a pattern seen in many parts of Africa. Why this is will be the focus of continuing discussion in the new year when this series will continue.
2020 has also seen the 20th anniversary of the fast-track land reform. Our surveys across Masvingo province have continued throughout the 20 years, documenting how livelihood changed in this turbulent period in Zimbabwe's history, where economic collapse, political chaos and continuous sanctions preventing investment by Western development agencies have persisted. The other major blog series this year therefore presents of the results of our longitudinal studies looking at what has happened in A2 medium-scale farms, A1 self-contained, villagised and informal settlements across Masvingo. The story is fascinating yet complex, and the blogs present much data to show how there have been both important successes, but also major challenges.
Links to the two blog series are presented below. Additional themes discussed this year include commentary on the important compensation deal signed between former white commercial farmers, yet another blog on land tenure (given the on-going intransigence of the debate) and one on conservation and development in the Lowveld. A new paper on the history of commercial farming in Mvurwi was also highlighted.
As ever the blog has been widely read across the world, with many thousands of views, multiple subscribers and plenty of reposts, notably in The Zimbabwean and Chronicle newspapers. The blog will return in the new year with more evidence-based research and comment on agriculture and rural development in Zimbabwe and beyond.
COVID-19 in Zimbabwe: a blog series
Women and young people in Zimbabwe's COVID-19 economy, Nov 9
"Know your epidemic": Reflections from Zimbabwe, Sep 27
Innovation in the pandemic: an update from Zimbabwe, Sep 7
Viral politics and economics in Zimbabwe, Jul 27
COVID-19 lockdown in Zimbabwe: 'we are good at surviving, but things are really tough', Jun 15
COVID-19 lockdown in Zimbabwe: a disaster for farmers, Apr 27
Surviving COVID-19 in a fragile state: why social resilience is essential, Mar 30
Twenty years after Zimbabwe's land reform: a blog series
20 years after Zimbabwe's land reform: what does the future hold? Jun 29
Zimbabwe's land reform areas twenty years on (summary and reflection), Jun 22
Zimbabwe's land reform areas twenty years on (A2 areas), Jun 8
Zimbabwe's land reform areas twenty years on (A1 informal settlements), Jun 1
Zimbabwe's land reform areas twenty years on (A1 villagised areas), May 25
Zimbabwe's land reform areas twenty years on (A1 self-contained areas), May 18
Zimbabwe's land reform areas twenty years on: Introduction to the blog series,May 11
---
All photo credit: Ian Scoones
On Wednesday, December 16, 11.00 – 12:00 GMT, a one hour webinar ''The impact of COVID-19 on food systems and rural livelihoods in Africa' will feature two presentations by John Thompson (SSRP Deputy Director, IDS Fellow and CEO of the APRA Programme) and Imogen Bellwood-Howard (SSRP Member, IDS Fellow and APRA Researcher).
They will discuss recent APRA work, providing policy-relevant insights into the differential impact of COVID-19 in Sub-Saharan Africa.
The presentations will be followed by a question and answer session chaired by Joseph Alcamo, Director of SSRP.
Visit our events page for more information. For more information about this event, please contact ssrp@sussex.ac.uk.
---
Feature photo credit: World Bank.
Following APRA Tanzania's recent report on the Impact of COVID-19 on Food Systems and Rural Livelihoods in Tanzania in October, the team has presented further evidence of the effects of COVID-19 on agricultural value chains in Africa.
Researchers Aida Isinika, Ntengua Mdoe, Gideon Boniface, Gilead Mlay, Devotha Kilave, Christopher Magomba and John Jeckoniah attended the Agricultural Society of Tanzania (AGREST) 12th Scientific Conference in Dodoma, 2-4 December 2020, with the theme 'Unleashing the potential of food systems to enhance intra-African agriculture trade.'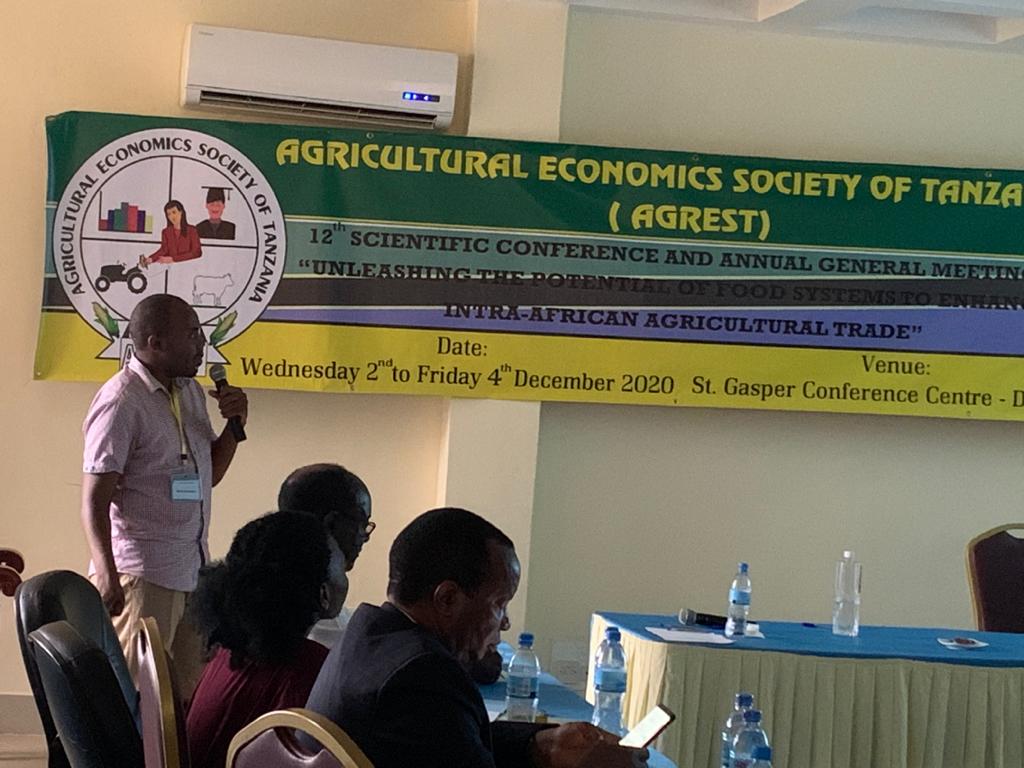 On the opening day of the event, Gideon Boniface presented a paper on 'Effect of COVID19 on agricultural value chains in Tanzania: The case of the rice value chain in Morogoro region'. Several points were highlighted:
The COVID -19 crisis brought rice surplus due to significant reduction of trade from neighbouring countries;
Most traders now depend on the local market, which has also shrunk due to reduced income;
Farmers' purchasing power has significantly declined;
58% of the respondents reported a decline in their living standards;
Reduced rice paddy production next year;
Urgent measures to be taken to address the liquidity problem facing farmers.
The paper was also summarised in APRA Tanzania's recent two part blog series 'Rice value chain: has life returned to normal after lifting of COVID-19 restrictions in Tanzania?' (Click here to read the blogs).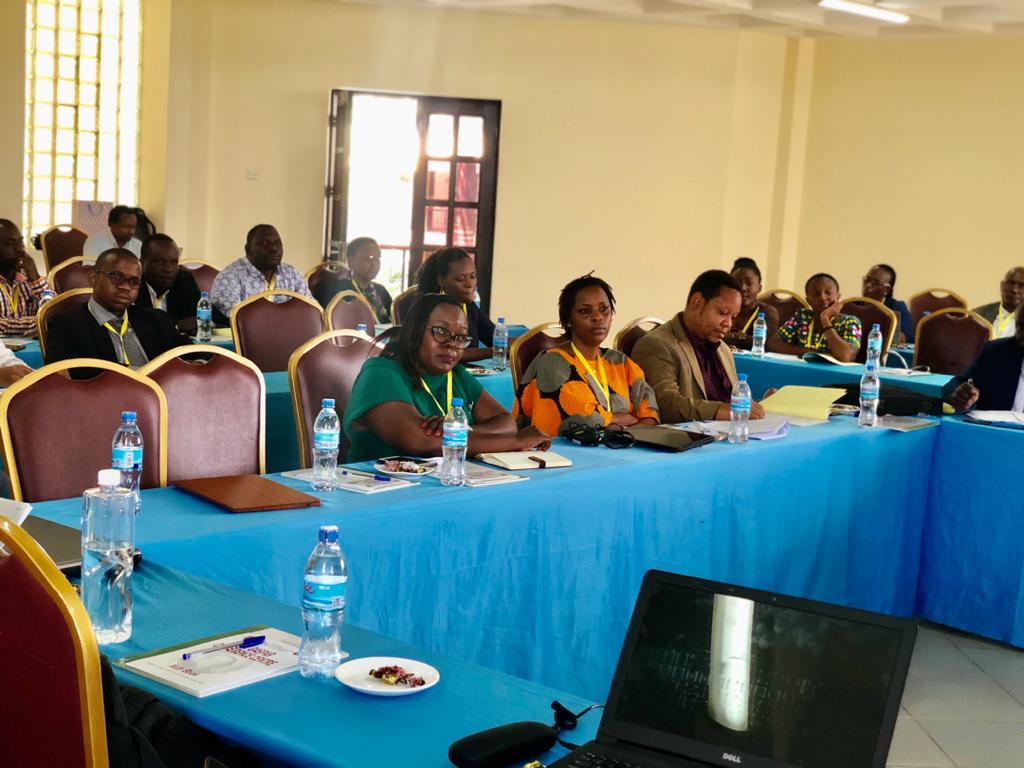 Ntengua Mdoe then presented a paper on 'Youth participation in commercial rice farming in Kilombero Valley, Tanzania'.
On the second day of the event, Aida Isinika presented a paper called 'Rice exports, an untapped potential in Tanzania: Factors limiting rice commercialisation in Mngeta, Kilombero valley'.
The APRA presentations were amongst 38 scientific research papers presented to over 80 participants from across Tanzania who attended the conference, including academics, researchers, NGO representatives and government officials led by retired Prime Minister, Hon. Mizengo Pinda, who was the guest of honour.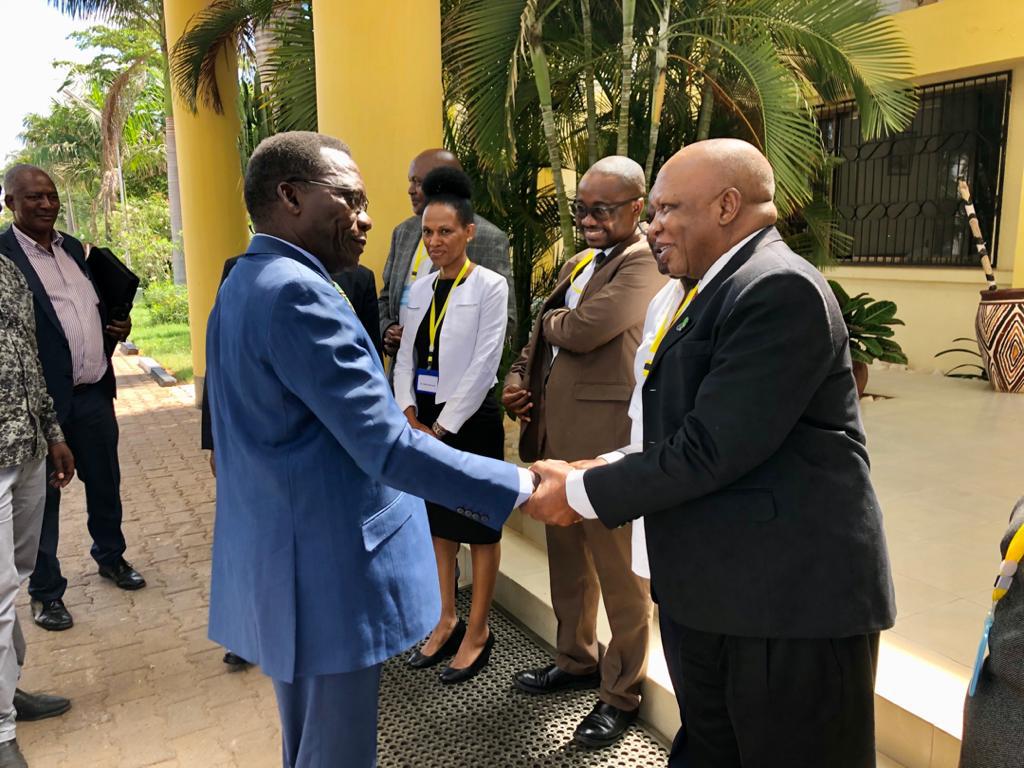 Goals of conference
The theme of the conference was "Unleashing the Potential of food systems to enhance Intra-African Agricultural Trade." The outbreaks of the COVID-19 pandemic and the responses to the crisis has created deep structural problems in the way our food system works with the shrinkage of the global and local food supply in particular in many countries, which has resulted in a 'food emergency' being declared by the UN.
Conference organisers, AGREST, defined the "food emergency" as, first, the difference between rural and urban food prices due to the break in connection between the food supply in rural regions and the food demand in urban areas. Secondly, they highlighted smallholders' restricted access to inputs, which disrupted preparations for subsequent production season. Thirdly, they underlined that agri-businesses only had a limited capability to cope with severe disruptions such, as the COVID-19 pandemic.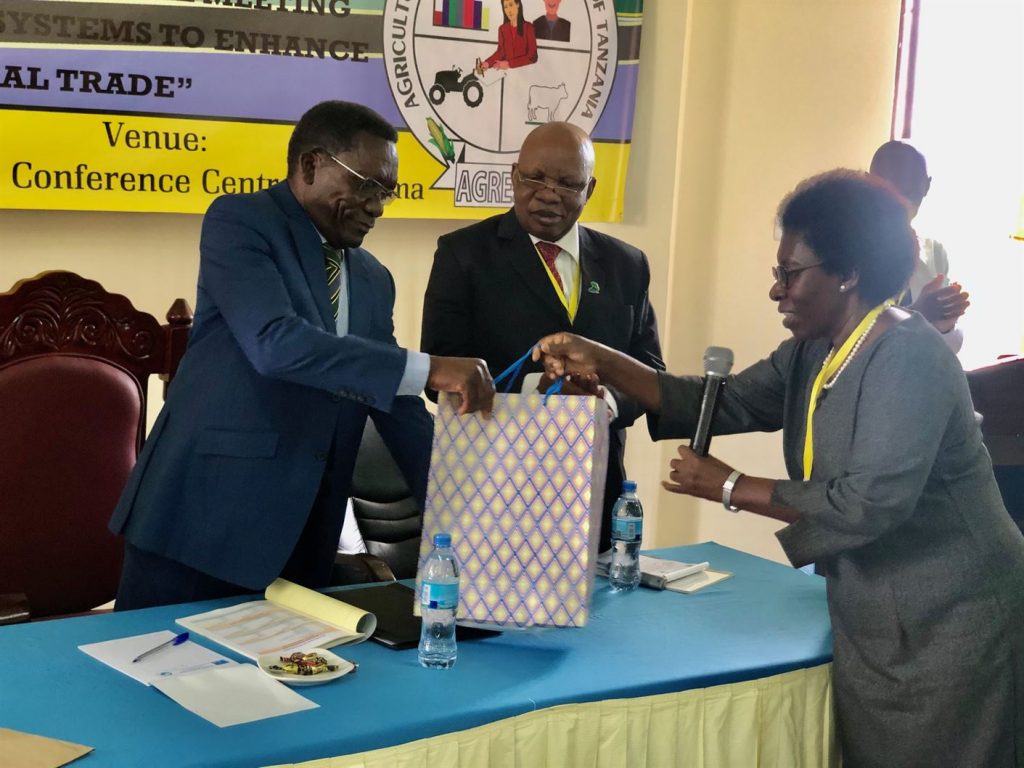 To respond to the situation and seek some answers, the following questions were posed in AGREST's call for papers for presentation and discussion at the conference:
1. How should food systems be transformed to meet the rural and urban demands while ensuring sustainability?
2. What initiatives have been and or are being taken to ensure that food systems transformations contribute to the attainment of SDGs?
3. What kind of policy frameworks are needed to foster sustainable food systems?
4. How can we better nature domestic and intra-African Trade for improved resilience?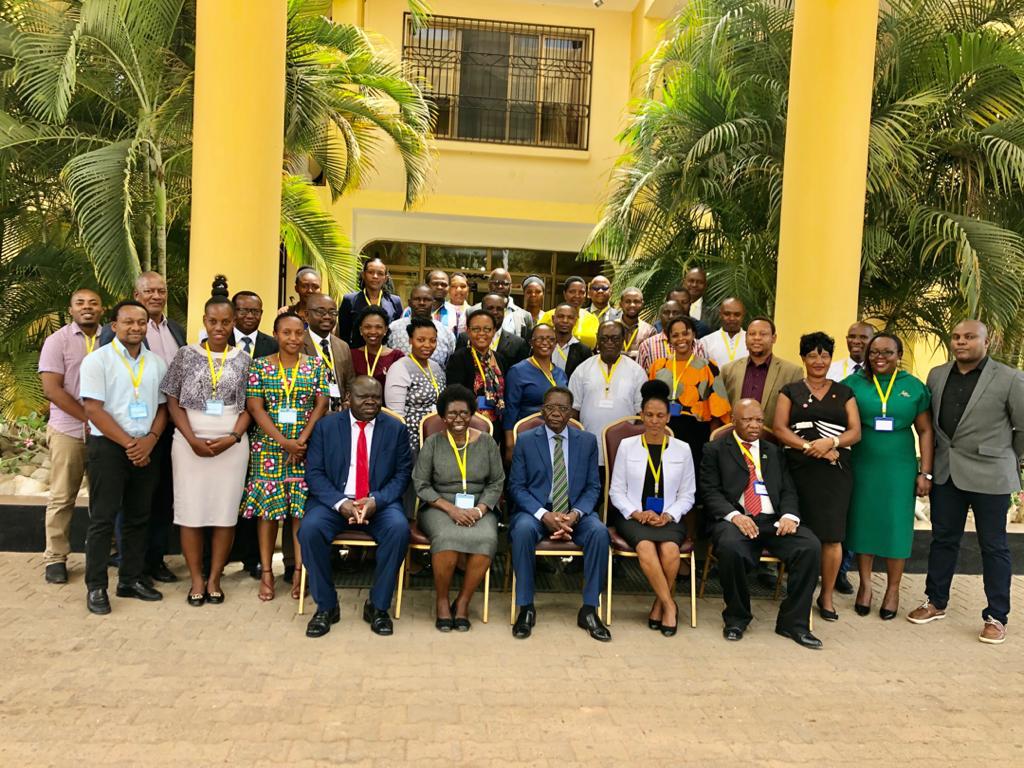 Other conferences attended by APRA
In what was a very busy week for APRA Tanzania, Ntengua Mdoe also presented two papers based on the APRA Study to the Tanzania Animal Science Association (TSAP) and the Tanzania Society of Agricultural Extension (TSAE), in Dodoma, 2-9 December 2020. The papers were: "Agropastoralists and rice commercialisation in Kilombero valley, Tanzania" for TSAP and "The effects of formal education and agricultural extension on rice productivity in Kilombero valley: Implications for agro-industrial development in Tanzania.
---
Feature photo credit: Calvin Gwabara, SUAMEDIA
---
In part two of this blog series, APRA Tanzania researchers Ntengua Mdoe, Gilead Mlay and Gideon Boniface use data from follow-up interviews with raw rice traders and the hospitality business in Morogoro and Mbeye regions, before drawing a conclusion on the way forward.

For the first blog on their interviews with farmers, processors and input suppliers, click here.
This blog is linked to APRA Round One and Round Two country reports on the Impact of COVID-19 on Food Systems and Rural Livelihoods in Tanzania.

Read the full APRA synthesis report on the Rapid Assessment of the Impact of COVID-19 on Food Systems and Rural Livelihoods in Sub-Saharan Africa, here.
---
Written by Ntengua Mdoe, Gilead Mlay and Gideon Boniface
---
Part two: Experiences from follow up interviews with raw rice traders
Previous COVID-19 blogs have indicated that the Tanzanian Government's decision to close educational institutions and suspend big social and other gatherings on 17th March 2020 to prevent the spread of the pandemic negatively affected rice businesses.
The decision to remove most of the control measures (listed in part one of this blog series) taken to prevent the spread of COVID-19, effective from 29th June 2020, except the enforcement of the WHO health standards was well received by the rice value chain actors, including those who stepped out of the value chain. This blog highlights experiences of the value chain actors on the effect of the government decision on their businesses through follow-up interviews with the same actors interviewed in June 2020 as presented below
Effect on hospitality businesses
The follow-up interviews conducted by the APRA Tanzania team covered owners of hospitality industry businesses, including hotels, restaurants and other eateries selling rice recipes in Morogoro municipality who were interviewed in June 2020 to determine the effect of COVID-19 control measures on their business. The control measures that affected their businesses included the closure of educational institutions, the ban on big social and other gatherings, restriction of international flights, and the enforcement of the WHO health standards (such as the costs associated with providing washing facilities for clients).
The removal of the first three measures at the end June 2020 led to recovery of businesses in the hospitality industry. The interviewed businesses highlighted the positive effect of the government decision, as the number of customers has been increasing over time. However, they indicated the recovery is slow because of the following reasons:
Fear of the pandemic among potential customers is still prevailing.
Low purchasing power of potential customers resulting from low business during period with COVID-19 control measures.
Travel restrictions prevailing in a number of counties with potential visitors to Tanzania especially tourists.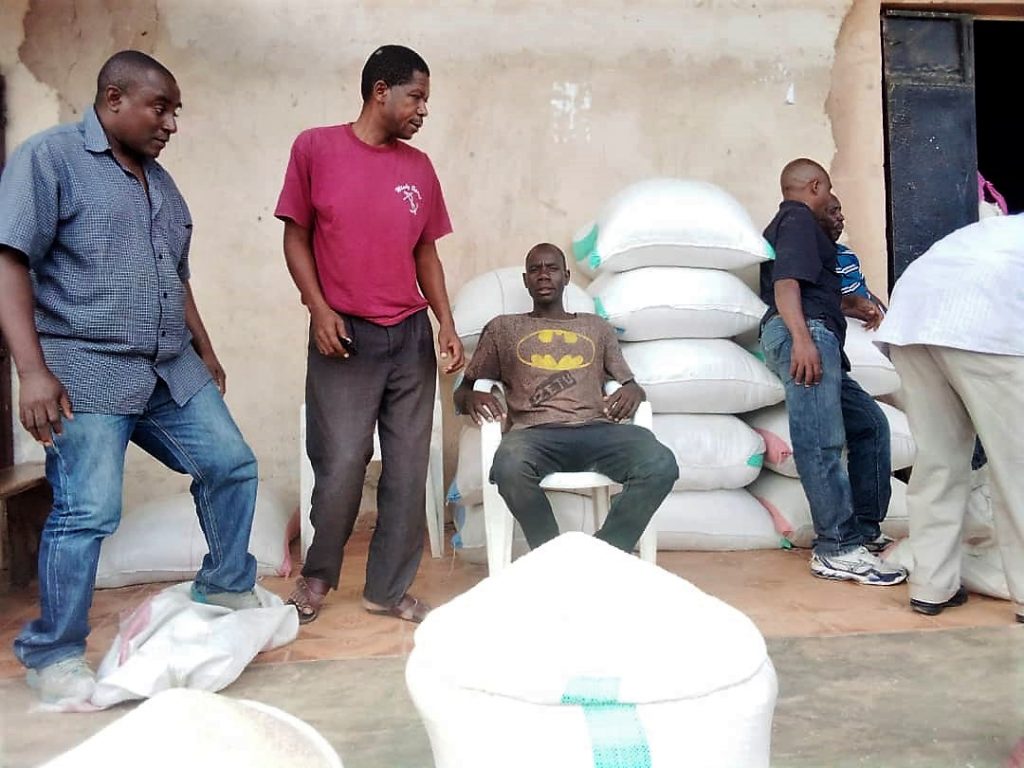 Effect on domestic traders of raw rice
All categories of the interviewed domestic traders of raw rice reported that, contrary to the negative impact experienced before the removal of the COVID-19 control measures, they have been experiencing a slight increase in rice revenue due to an increase in the number of buyers and a slight increase in rice prices. On average, rice retail prices in Morogoro municipality have increased from TZS 1,300 ($0.56) per kg of grade 1 rice during COVID-19 to TZS 1,600 ($0.69) after the removal most of the COVID-19 control measures. However, prevailing prices of low quality rice grades remain unchanged.
Effect on inter-regional (export) traders
The experience of exporters of rice to neighbouring countries of Kenya, Rwanda, South Sudan, Zambia, Malawi and DRC Congo on the effect of removal of COVID-19 control measures is mixed. Some processors have stopped exporting rice despite the removal of the cross-border physical barriers while others are still exporting, although in lower quantities than the pre-COVID period. The interviewed traders who are exporting rice to Zambia reported that the prevailing charge for a truck transporting rice across the Tanzania-Zambia border is more than twice the charge during the pre-COVID period – from TZS 300,000 ($ 128.21) to the prevailing charge of TZS 700,000 ($ 299.15) per 30 tons-truck.
Besides the high transport charges at the Tanzania borders, rice export trade has been affected by a decline in export demand. Most neighbouring countries are still restricting gatherings and movements that are affecting cross-border trade, implying that domestic traders will largely depend on local demand for rice, estimated at about 6 million tons, which is lower than the estimated current supply of about 8 million tons. Like the processors, they have piles of paddy and milled rice in their warehouses. Some of the exporters with processing facilities are resorting to provision of processing services.
Conclusion
Evidence from the follow-up interviews with the various actors in the rice value chain indicates that the business across the rice value chain is gradually returning back to normal after the government's decision on 29th June 2020 to remove most of the restrictive measures taken to prevent the spread of the pandemic. However, this gradual revival suggests that a full recovery may take longer, not only due to the COVID19 control measures still existing in neighbouring countries that limit cross border trade, but also due to international travel restrictions in other foreign countries that limit visitors to Tanzania.
This suggests that it is unlikely that most of the businesses will be able to meet their operational costs and meet debt obligations. To sustain the rice business, the actors need liquidity support in terms of accessing and making good use of any government established survival fund for small businesses. The International Monetary Fund (IMF) has funds earmarked for bailing out COVID-19 affected businesses. This should be complemented by a revision of the repayment terms of the funds borrowed by the businesses before the COVID-19 pandemic as directed by the Bank of Tanzania.
Regarding facilitation of cross-border trade, a regional committee has been established to coordinate the implementation of guidelines and facilitate the resolution of operational issues at borders during the COVID-19 pandemic. These guidelines include allowing cargo trucks to cross the borders if they submit certificates from the member state that they have been screened and are have no COVID-19 disease. What remains is authorities at the borders to fast track verification of the certificate to avoid delays at the borders.
---
Feature photo credit: Nkumi Mtimgwa/CIFOR
---
Please note: During this time of uncertainty caused by the COVID19 pandemic, as for many at this time, some of our APRA work may well be affected but we aim to continue to post regular blogs and news updates on agricultural policy and research.
---
Following his blog on the winners and losers in livestock commercialisation in northern Kenya and the accompanying working paper, researcher, pastoral development and dryland management specialist Guyo Roba examines the impact of COVID-19 market risks, explaining how strengthening their resilience is a key priority.

Access this previous blog, and Working Paper 39, here.
This blog is linked to APRA Round One and Round Two country reports on the Impact of COVID-19 on Food Systems and Rural Livelihoods in Kenya.

Read the full APRA synthesis report on the Rapid Assessment of the Impact of COVID-19 on Food Systems and Rural Livelihoods in Sub-Saharan Africa, here.
---
Written by Guyo Roba
---
Livestock represent a marketable asset owned by pastoralists in northern Kenya, as well as other arid and semi-arid southern rangelands. Livestock marketing in these rural communities are highly personal exchanges, emphasised by more familiar relations between traders and pastoralists, particularly at the informal markets where the organisational structure or presence of authorities are minimal, and in a more controlled interactions at the formal markets. The latter offer opportunities for buyers and sellers to congregate in large numbers, and trade in substantial volumes. Although the numbers of market participants are usually very high in relatively vibrant markets that are locally referred to as "hot" markets, the number of both the market participants and animals transacted varies from one market to another.
Typically, transactions in these markets involve lengthy negotiations between buyers and sellers, while deals are usually sealed through closer social interactions that involve a seller and buyer holding hands, raising and releasing mid-way to signify closed deal(s). Since most local markets have actors with common ethnic identity, other kinship discussions also take place. As such, markets also attract other people interested in dialogues that go beyond price negotiations to other exchanges related to the potential of grazing lands, animal health, and state of security in specific area. However, such ethnic connections cannot cushion pastoralists to deal with multiple risks, such as supply uncertainty, price volatility, high transaction costs, post-harvest losses and other market risks.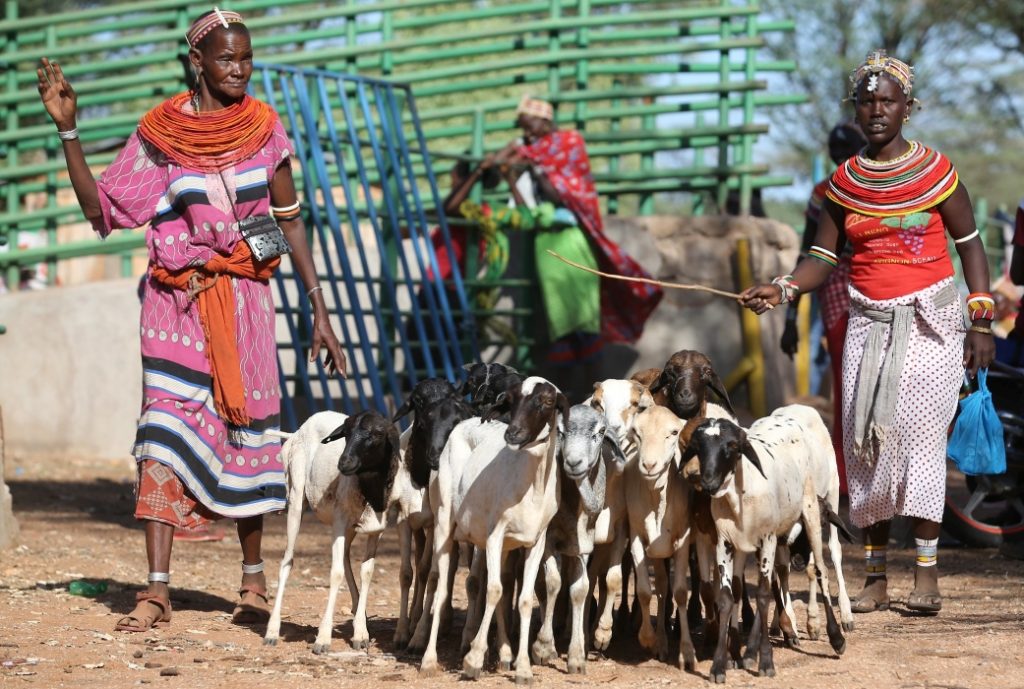 Common risks in livestock trade
Risks are common and highly unpredictable events that distinguish between success and failure in livestock trade. Risks occur at all stages of the marketing channel, from the purchase, collection stage through the transport to their final sale at a terminal market. Several attributes of livestock trade increase risks and the likelihood of losses, including live transportation, the high volume and value of animals moved, and the credit sales and possible payment default at the terminal markets. These risks applies to all, irrespective of the experience of a market actor, the scale and geographical scope of his/her trade activities or affiliation to a particular ethnic group.
In long-distance livestock trade, the risks increase towards the terminal markets. This include the risk of losing animal during the collection, the danger of the animal catching diseases while being hauled over long-distances, livestock thefts, loss from asphyxiation from poor and frequently overloaded conditions of livestock trucks. Weight loss or mortality is also more likely to occur when trucks are delayed for several hours at the multiple police roadblocks.
Although both pastoralists and local traders have adapted to mitigate common risks through strategies like collaboration on purchase and sales, pooling working capitals and sharing of information, the level of risks are aggravated with the emergence of COVID-19 pandemic, which is already disrupting food supply chains, including along pastoral value chains.
COVID-19 reinforces existing risks
The impacts of COVID-19 pandemic in pastoral areas of northern Kenya, due to transport restrictions and quarantine measures, are likely to impede the access of pastoralists to input and output markets, thereby decreasing their cash flow, profit margins and reinforced already precarious situation of pastoral and agro-pastoral households. Shortages of market labour due to COVID 19 travel restrictions have also widened, which could slow market activities, most notably for labour-intensive activity of collecting livestock prior to transportation to terminal markets. COVID 19 movement restrictions have also affected the itineraries of traders from outside pastoral areas to visit and purchase animals. This has led to external traders offering relatively better prices to pastoralist.
Similarly, the closure of international transport routes, particularly the sheep and goats export to Middle East countries may also result in reduced incomes for traders, livestock keepers and other actors along the meat export supply chains. So far, Saudi Arabia, Dubai, Oman, Qatar and Kuwait have all closed their doors to livestock imports from Kenya and other countries in the region.
The intermittent closure of live animal markets by the government have affected the operations of both formal markets as well as informal market in more remote areas and by extension contributed to liquidity challenges among pastoral households and disrupted their livelihoods. Meanwhile, the retention of some level of restrictions such as night curfews makes it difficult for pastoralists and buyers to travel to markets either for fear of being contaminated or because of the high cost of transport. This limits the number of external traders and buyers in local markets and overall affects price competitiveness, household incomes and household purchasing power. Together, these weaken households' food security and preparedness to manage drought related stress.
Way forward
Strengthening resilience of pastoralists and agro-pastoralists facing the negative impacts of the coronavirus pandemic is a priority. The immediate intervention should aim to maintain productivity and strengthen livelihood and resilience of the vulnerable actors by supporting existing community safety nets. This could entail provision of targeted food support to vulnerable households, short-term credits, subsidies or financial support to assure business continuity for traders, agro-vets, butchers and other actors.
In the long term, strengthening of regional value chains should be a priority to diversify risks and increase resilience to future shocks. ASAL counties should increase investments to fast-track regionalisation of livestock trade, operationalise abattoirs and engage private sector players in bulk meat supply chains. This offers both the alternative trade avenue and ensure seamless connectivity.
Invest in value chain management information systems at national and county levels. The weak information system in livestock trade implied that the social restrictions of COVID-19, led to slump in market activities. As such, investing in appropriate ICT technologies and infrastructures can offer mechanisms to crowdsource market prices to make real-time price information available to buyers and sellers and offer a stronger platform for open purchase and sales orders. Success will result in improved coordination and tighter market linkages that ICT solutions can provide.
---
Cover photo: Herder drives his goats in Marsabit County. Credit: Credit: Fredrick Omondi
---
Please note: During this time of uncertainty caused by the COVID19 pandemic, as for many at this time, some of our APRA work may well be affected but we aim to continue to post regular blogs and news updates on agricultural policy and research.
Add this event to your calendar
Wednesday 16 December 11:00 until 12:00 on Zoom

Speaker: John Thompson and Imogen Bellwood-Howard
Part of the series: SSRP Webinar Series on the Pandemic and Sustainability
Register to attend this Sussex Sustainability Research Programme (SSRP) webinar: 'The impact of COVID-19 on food systems and rural livelihoods in Africa'.
Even before the COVID-19 pandemic struck, the United Nations reported that more than 250 million people in Sub-Saharan Africa faced severe food insecurity. Incomes for farmers were lower in real terms than anywhere else in the world, and more than 30% of children were stunted, partly due to poverty and poor diets.
Since then, the World Food Programme and other agencies have warned that COVID-19 could cause one of the worst global food crises since World War II and predicted a doubling of the number of people going hungry over the next year – more than half of them in Africa.

The Agricultural Policy Research in Africa (APRA) Programme of the Future Agricultures Consortium (FAC), a partnership of over 100 African and UK researchers working on agricultural policy issues, has been conducting a number of comparative studies to assess how COVID-19 measures and restrictions are affecting local food systems, rural livelihoods and value chains.
This one hour webinar will feature two presentations by John Thompson (SSRP Deputy Director, IDS Fellow and CEO of the APRA Programme) and Imogen Bellwood-Howard (SSRP Member, IDS Fellow and APRA Researcher) discussing recent APRA work, providing policy-relevant insights into the differential impact of COVID-19 in Sub-Saharan Africa. The presentations will be followed by a question and answer session chaired by Joseph Alcamo, Director of SSRP.
Register now to attend this free webinar that will take place on Zoom.
For any enquiries about this event, please contact ssrp@sussex.ac.uk.
—
About SSRP
The Sussex Sustainability Research Programme (SSRP) is committed to delivering science for the Sustainable Development Goals (SDGs). Building on the University of Sussex's tradition of interdisciplinarity, SSRP provides critical research focused on identifying possible trade-offs and synergies among the SDGs for achieving global goals for humanity and the environment. Read the blogs on SSRP's forum for the pandemic and sustainability.
About APRA
Agricultural Policy Research in Africa (APRA) is a six-year research programme of the Future Agricultures Consortium (FAC). APRA aims to identify the most effective pathways to agricultural commercialisation that empower women, reduce rural poverty, and improve food and nutrition security in sub-Saharan Africa. Through in-depth interdisciplinary, comparative research across nine countries, APRA is generating high-quality evidence and policy-relevant insights on more inclusive pathways to agricultural commercialisation. Find out more and read blogs about APRA's response to COVID-19.
---
Feature photo credit: World Bank.
---
In the first of a two part blog series, researchers from APRA Tanzania follow up on their earlier blog series on the COVID-19 coping strategies of rice value chain actors. In this blog, they use data from follow-up interviews with farmers, processors & input suppliers in Morogoro and Mbeya regions to determine what difference there has been since the easing of lockdown in late June.

Part two examines the effect on the raw rice traders and the hospitality industry, and a way forward. Read it, here.
This blog is linked to APRA Round One and Round Two country reports on the Impact of COVID-19 on Food Systems and Rural Livelihoods in Tanzania.

Read the full APRA synthesis report on the Rapid Assessment of the Impact of COVID-19 on Food Systems and Rural Livelihoods in Sub-Saharan Africa, here.
---
Written by Ntengua Mdoe, Gilead Mlay and Gideon Boniface
---
Part one: rice farmers, processors input suppliers and financial service providers
Previous COVID-19 blogs have indicated that the Tanzanian Government's decision to close educational institutions and suspend big social and other gatherings on 17th March 2020 to prevent the spread of the pandemic negatively affected rice businesses. The effects include but not limited to:
Complete loss in revenue from food services offered to educational institutions;
Substantial decline in revenue from provision of food services to seminars and workshops as the measures to control the spread of COVID-19 pandemic limited services to offer to gatherings with a maximum of 15 people;
Costs associated with provision of washing facilities to clients in accordance with the World Health Organization (WHO) health standards despite limited number of clients;
Compensating laid-off workers in kind in the form of food items such as rice and beans and;
Difficulties in meeting loan repayment obligations due to a decline in cash flow.
The decision to remove most of the control measures taken to prevent the spread of COVID-19, effective from 29th June 2020, except the enforcement of the WHO health standards was well received by the rice value chain actors, including those who stepped out of the value chain. This blog highlights experiences of the value chain actors on the effect of the government decision on their businesses through follow-up interviews with the same actors interviewed in June 2020 as presented below
Effects on rice farmers
Telephone interviews with some farmers in Morogoro and Mbeya regions show that they have been experiencing a slow recovery in paddy business since the government decision to remove most of the COVID-19 control measures. The number of traders buying paddy at the farm level has been increasing since July 2020, resulting into increase in farm-gate prices. In Morogoro region, paddy price declined by about 41% as a result of COVID-19 and then increased by 21% after the removal of the COVID-19 control measures while in Mbeya Region, paddy price declined by about 36% as a result of COVID-19 and then increased by 27% after the removal of the COVID-19 control measures as shown in the table below. However, the prevailing prices in both regions are still below the pre-COVID period prices by 29% in Morogoro and 19% in Mbeya. The interviewed farmers indicated that their purchasing power for rice production inputs has declined significantly as they have to sell more rice to purchase the same amount of inputs such as fertilisers they purchased before the COVID-pandemic.

Effect on input suppliers and financial service providers
The interviewed suppliers of rice seeds, fertilisers and pesticides in major rice producing regions of Morogoro and Mbeya indicated that the removal of the COVID-19 measures has had little impact on their business because the new rice season is just starting. However, they thought a decline in demand for rice production inputs, due to the prevailing low paddy prices, very likely. However, financial service providers indicated a positive effect from the removal of most COVID-19 control measures, as many actors (farmers, traders and processors) with outstanding loans are gradually meeting their credit obligations.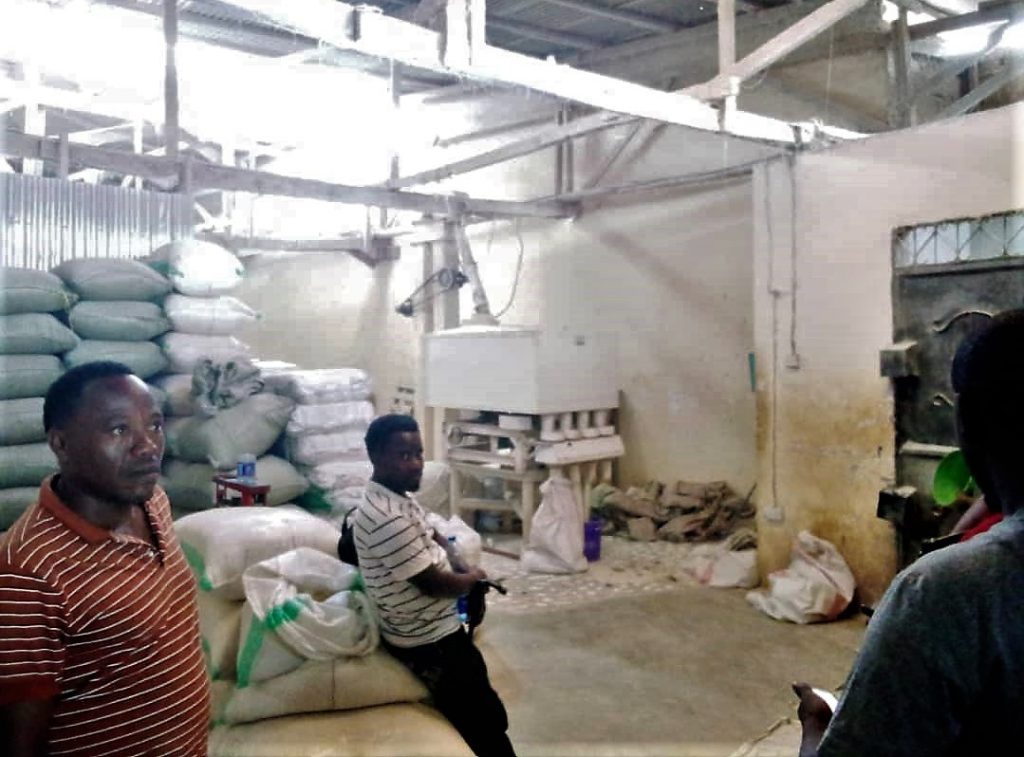 Effect on rice processors
Like rice farmers, rice processors have been experiencing a slow recovery of their businesses since the end of June 2020, when the government removed most COVID-19 control measures. All of the interviewed processors were operating under capacity, despite the increase in the quantity of processed rice compared to when the restrictions were active. However, the current operating capacity is still below the pre-COVID-19 period capacity (before March 2020). Most of the processors have large stocks of paddy in their warehouses awaiting processing when business returns to normal. They indicated that they were facing financial cash flow problems, thus failing to cover operational costs or to pay outstanding loans.
The second blog in this series looks at the effect of the lifting of COVID-19 restrictions on the raw rice traders and the hospitality industry.
---
Cover photo credit: Malingerist on Flickr
---
Please note: During this time of uncertainty caused by the COVID19 pandemic, as for many at this time, some of our APRA work may well be affected but we aim to continue to post regular blogs and news updates on agricultural policy and research.
---
This post was written by Ian Scoones and first appeared on Zimbabweland.
---
I had another catch-up with colleagues in Zimbabwe recently, reflecting on the COVID-19 situation and its consequences across our sites in Masvingo, Gutu, Mwenezi, Matobo and Mvurwi. This is now the fifth update since March/April (see summary so far here).
The pandemic has not proceeded as some feared in Zimbabwe, and recorded case numbers (at 8471 on November 6) and deaths (at 250) are still low. There is much speculation about how and why the pandemic took a different course across Africa, and in future blogs we will explore some of these hypotheses in relation to the Zimbabwe setting.
As colleagues mentioned during the call, "We really don't know any cases where we live, even in the hospitals and clinics. We don't see people sick with the virus so far". What is feared is the return of migrants from South Africa plus visitors from Europe and the UK during the holiday season. "We hope the government will be strict. There are requirements for test certificates, but you know they can always be cheated." The importance of flows of people from outside the country is certainly central to the COVID-19 story in Zimbabwe, as we have discussed in previous blogs.
Zimbabwe is still under partial lockdown, with road blocks and movement restrictions in place, even though curfews and business opening hour regulations have been relaxed. The police are very present, and particularly engaged in checking permits especially of cross-border traffic in towns like Masvingo. With the weather being very hot last week before the rains, it was commented that "many had given up wearing masks, and relied on the heat as a 'natural sanitiser'". As one colleague observed, "It's difficult to continue protecting ourselves when we don't see the impacts of the virus".
Diversified livelihoods
This blog focuses on the situation in the period since the last update on September 27, with a particular focus on the livelihood impacts of lockdown on women and young people. The standard approaches to raising funds to support families by women and young people have been insufficient, as COVID-19 restrictions have hit hard. Diversification beyond agriculture is key, offering new livelihood options. Below are some examples of occupations taken up during the pandemic in our sites, especially by women and young people, to support their livelihoods.
Fruit and veg. Diversification of livelihoods has been vital, since traditional occupations for women and young people have been constrained during lockdown. For example, while vending remains important for women, cross-border trade that used to be a mainstay in the border areas such as Mwenezi and Matobo is no longer feasible. Some have diversified, so for example dry season sales of wild fruits has expanded along the roads near Gutu, as women and children harvest matamba and mushuku, both selling for a US dollar for a handful of fruit.
Similarly, gardening continues as a vital source of self-provisioning with major nutritional benefits. As we have reported before, nearly everyone is a gardener now, whether in town or the rural areas, although women and youth are the dominant gardeners it seems. However, the expansion of gardening, combined with restrictions on market (again discussed in earlier blogs) has resulted in local gluts, particularly during the recent dry season – which is the traditional focus for gardening activities. The result is that women in particular have had to innovate, and develop new ways of processing and storing vegetables and fruits to sustain income over a longer period across seasons, and through variable market conditions.
Gold and amethyst. Small-scale mining is an essential activity for young people, mostly men. However, over the past few months a surprising development has been the movement of women into mining activities. Our colleague in Matobo reckons perhaps a fifth of miners are now women. While the mining claim owners of course are by-and-large well-connected older men, who manage the claim through a system of sharing with a group of contractors, women and young people join syndicates and provide labour. Most mining is of gold and in these cases half is shared with the owner, while the rest is divided amongst the group who did the mining.
Gold mining has expanded massively in all sites, including a recent huge expansion around Masvingo town. One young man, RB, relayed his story:
"I had been a driver for three years, but I lost my job because of lockdown. The transport businesses just collapsed. My wife and kids went back to the rural home as I could not support them in town. But in the last six months I have started mining outside town. I work with a group of five and we share the ore, milling it locally. If you work hard you can earn US$1400 per month, even when giving half to the claim owner. I have bought a car and I have plans to buy a stand. My family came back two weeks ago and are with me now. Life is now good!"
In Chikombedzi area in Mwenezi there has been a massive rush to mining sites where purple amethyst deposits have been found. Around a thousand people are living there, with markets developing for food, as well as services including transport, machinery hire and sex work. With amethyst quartz rocks being sold for about R1800 per kg, it has become a lucrative business.
Brick-making and building. With the flood of migrants coming back from South Africa and neighbouring countries, as well as from urban areas across Zimbabwe, during the pandemic due to the loss of jobs, the demand for building in the rural areas has sky-rocketed. These dispersed COVID-19 'refugees' have returned home, but need somewhere to live. This, in turn, has generated a big demand for local 'farm bricks', which are cured and sold on to builders. In Wondedzo, a thousand bricks were being sold for around US$25. Brick-making has become an important source of income during this past dry season for both women and youth, who take on different roles between digging, moulding and firing in kilns, with each kiln producing 5-10,000 bricks each time.
Chickens and pigs. Poultry is another area where women and youth have invested considerably in recent months as there has been a growth in demand for local supplies of poultry. In part this is because of the closure of butcheries and the difficulty of getting to town, and in part because local sources of meat have been hit hard by the mass mortalities of cattle due to 'January disease' during the past wet season. The abbatoirs are also closed too; indeed one near Masvingo has been converted into a gold milling plant reflecting the switch in livelihood activities.
Mrs C. based in Masvingo explains how she moved from having under 30 chickens to over 300:
"I am a teacher, but my salary doesn't pay. My husband who used to work on cross-border buses also lost his job due to COVID. I decided to expand my flock, buying up 'road-runner' indigenous chickens. I now have three breeds, two from a supplier of day-old chicks in Bulawayo and one from Mr M who supplies from a nearby growth point. I buy these for between 55 and 80 US cents per chick, along with some feed. These breeds though don't need expensive feed and medicine, so I don't have to go to town. I now make US$200 per month and am planning to expand further. I have already started a small piggery project to complement. I am thinking of quitting teaching, as this really pays".
Bread and buns. With access to town restricted and movement difficult, baking has become another big cottage industry in rural areas and urban locations, and an important income source for women. In Chatsworth in Gutu for example a government training course encouraged women to take this up, and baking at home of bread and buns has expanded massively since. Across our sites you can buy bread, buns and cakes from people's homes, as local people have taken on the supply.
Piece-work employment. While conventional jobs are scarce, there have been other sources of employment emerging, even in the dry season when agricultural piece-work options are generally limited. In particular, hiring of labour for digging holes for the Pfumvudza programme (a major government-led initiative with donor support on conservation agriculture – watch out for blogs on the experience of this in the coming weeks) has become important in all our sites.
Young people in particular have been able to benefit, with digging pits in one plot (39m x 16m) being charged at between US$5 at US$20 depending on the soil type and location, with payment in cash or kind (mostly soap and sugar). It is young men in particular who are benefiting from this, as older people often prefer to pay for the labour in order to get the free seeds and fertilisers.
Money matters
Saving and circulating money is a big challenges, as access to towns has reduced. There has therefore been a big growth in various forms of 'savings clubs' in the past months across all sites, which particularly involve women. For example in Wondedzo area near Masvingo, 20 women pooled cash and members draw funds to finance projects, paying interest on the amount of around 20%. In Masvingo town meanwhile there are lots of such clubs, some church-based, some just amongst a group of individuals. One group involves six female civil servants, mostly teachers, who save 150 Rand every two weeks, and one member takes out the full amount each fortnight to fund activities.
Money for new activities is crucial; without employment and with banks closed or difficult to get to from rural areas or townships, then new forms of managing money becomes important. New regulations that restrict the amount of phone lines for mobile ecocash money transactions and the electronic transfer tax also dissuades people from using electronic means. Instead very localised systems for saving and circulating cash – all in foreign exchange, either Rands or US dollars depending on the location – is the alternative.
And it's women in particular who are the key players in this new savings and credit economy, as they in particular need funds for new projects to enhance their livelihoods.
Lockdown challenges
As we have discussed in earlier blogs, lockdown has not all been plain-sailing. Not everyone is able to innovate, earn money and do better than before, as with RM the young miner and Mrs C the poultry producer introduced above.
Our colleagues report in particular the many tensions that have arisen within families. With relatives coming back from South Africa and elsewhere they have to be accommodated and supported. Extra mouths to feed and people to house in a time a crisis. While the COVID-19 migrant-return situation has not been widely reported, as people have dispersed to multiple homes across many locations, the absorption of many thousands of people into a poor, local, mostly rural economy has had a big impact economically and socially.
Those returning, used to working in big cities south of the Limpopo may not be happy with a new rural existence, something they escaped before. Among (mostly male) youth, both returnees and local residents, our colleagues reported a rise in drug taking, drinking and general depression. This has led to arguments and sometimes violence. A rise in pregnancies among young women and teenage marriages have also been reported. Boredom and lack of opportunity, along with an inability to travel, even move to the local town, play into a negative, potentially destructive, social dynamic affecting many young people.
Not all migrants have been able to return, however, and some have been trapped in South Africa, unable to move. In our study areas near the borders – Matobo and Mwenezi – in the past men would move back and forth between often temporary jobs in farms and mines in South Africa, or to Mozambique or Botswana. Today this flexible movement is no longer feasible. Men are locked in South Africa in particular, while women are locked down at home. Adulterous affairs among both men and women have expanded, resulting in arguments, occasional violence and many reported divorces.
Unlocking opportunities during lockdown
Despite the very clear lockdown challenges, the pattern seen across sites is one of innovative survival, and sometimes more. As one informant from Masvingo explained: "Lockdown has unlocked the entrepreneurial spirit! We can now earn good cash. I am not looking back!"
The transformations precipitated by COVID-19 lockdown have therefore not all been negative. As people have innovated to survive, new options have emerged, focused on new markets – whether building for returning migrants, supplying chickens or vegetables in the rural areas. With a shift to local production, short market/value chains and extending the range of activities – from mining to baking – the rural economy, and its connections to urban areas, has shifted significantly over the past seven months.
There is therefore a new COVID economy – and with this new social relations, with both opportunities and challenges. We will keep an eye on these developments over the coming months as the dry season moves (hopefully) into a rainy agricultural season, exploring whether these changes are temporary – a response to a crisis – or more long-term, shifting the terms, roles and incentives in economic activities over time, with new opportunities, especially for women and young people.
---
Thanks to the team in Matobo, Mwenezi, Mvurwi, Gutu, Wondedzo and Masvingo for contributing insights to the blog.
---
Credit for all photos: Ian Scoones.
Three weeks since the Malawian government was brought to task by the national press following an APRA brief on agricultural policy, the APRA Malawi team has featured in The Nation Paper once again.
Appearing under the headline "Covid-19 chokes food Systems, livelihoods" both in the newspaper edition and on their website, the news article highlighted a new APRA report on Impact of COVID-19 on Food Systems and Rural Livelihoods in Malawi. Written by APRA Malawi researchers Mirriam Matita and Masautso Chimombo, the report estimates the likely impact of the pandemic on food systems and livelihoods in Malawi.
The two-page report, is based on a random selection of 114 household heads involved in groundnut production in Mchinji and Ntchisi districts and other key informant interviews. The authors indicate that about 60 percent of farmers reported a decline in business activities, which means they could not raise enough income for their livelihoods.
The newspaper article, published on 20 October 2020, highlights from the report that there has been an increase in transport costs as well as decline in number of traders coming to villages for farm produce purchases affecting incomes.
The article also emphasised that the significant decline in the availability of extension services that was show in the report, with 70 percent of respondents mentioning a lack of credit facilities, which could affect the outcome of the upcoming 2020/21 farming season.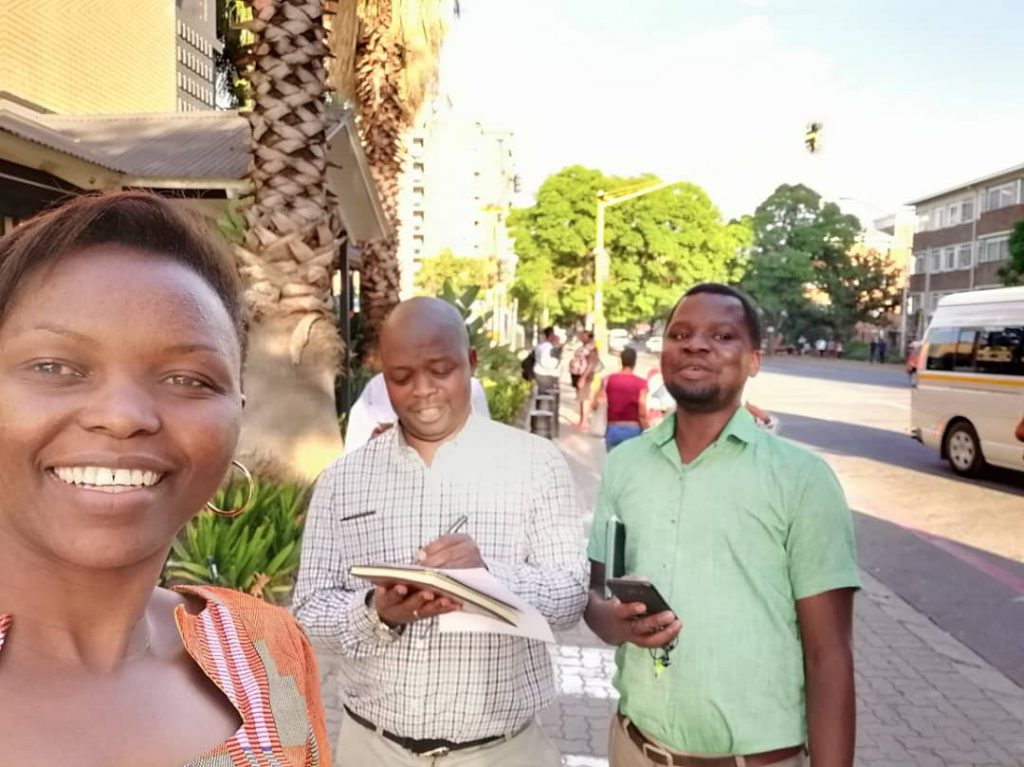 Both researchers responded to the media attention:
"… the Nation newspaper has for 5 consecutive years been winning print media house of the year in Malawi. It enjoys massive readership by both ordinary people, policy makers and politicians. It feels good to have our research product covered by them. This means we are building our name as emerging researchers, and this will open up more opportunities for us …"

Masautso Chimombo
'… I am excited our work is finding space in local media and I hope it reaches those that need to make decisions to ease COVID impacts on small farmers…'

Mirriam Matita
The report was released alongside several other short APRA studies on how COVID19 is affecting food systems in different APRA countries. To access these reports, click here.
---
Access the new APRA COVID Malawi report, here
---
Cover photo credit: IFPRI
Written by, Vine Mutyasira.
COVID-19 has undoubtedly affected lives and livelihoods across the globe. In Zimbabwe, preliminary indications point to a worsening economic situation in a country already facing macroeconomic challenges, particularly in rural communities where most households depend on agriculture. National lockdown and movement restrictions have affected agricultural activities as well as access to markets and farming inputs.
Written by, Gideon Boniface and C.G. Magomba.
The first case of COVID-19 in Tanzania was confirmed in March 2020. The government immediately imposed restrictions on mass gatherings, suspended international flights and established special medical camps for COVID-19 patients. They also published guidelines and health measures to be followed by citizens and emphasised these through media and physically through local government officials located across the country.
Written by, Mirriam Matita and Masautso Chimombo.
Given the ravaging effects of the COVID-19 pandemic worldwide, this study seeks to estimate its likely impact on food systems and livelihoods in Malawi. This briefing note is based on our stratified random sample of 114 household heads (32 female and 82 male) drawn from an APRA household survey of groundnut producers in Mchinji and Ntchisi districts, Central Region, as well as seven key informant interviews from those areas. The APRA COVID-19 data collection will be carried out over three rounds. This report presents insights obtained from the first round of research conducted during June/July 2020.
Written by, John Olwande.
Kenya confirmed its first case of COVID-19 on 12 March 2020. Since then, the government has been providing daily updates on the number of new COVID-19 infections, recoveries and deaths in the country, as well as implementing several interventions to manage the disease. The cumulative numbers as of 12 August 2020 were 27,425 new infections, 13,867 recoveries and 438 deaths, and rising. The objective of this assessment was to understand the effects of COVID-19 on the food system and the sub-set of the population largely dependent on agriculture. The findings were intended to inform actions to assure protection of rural livelihoods and
the continued supply of adequate and affordable food of acceptable quality to the population.
Written by, Louis Hodey and Fred Dzanku.
Given the ravaging effects of the COVID-19 pandemic worldwide, this study seeks to estimate its likely impact on food systems and livelihoods in south-western Ghana. Our sample consisted of 110 female and male respondents drawn randomly from an APRA household survey of oil palm producers in the Mpohor and Ahanta West Districts in the Western region, as well as a set of five key informant interviews. Data collection for this study will be carried out over three rounds. This report presents insights obtained from the first round conducted during June/July 2020.
Latest Covid-19 blogs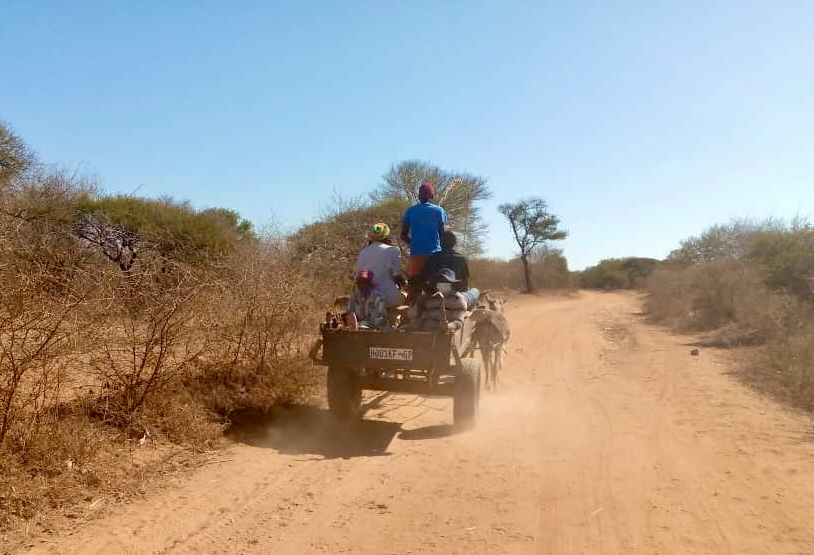 The politics of control in Zimbabwe's COVID times
October 4, 2021
The COVID-19 situation in Zimbabwe has improved since our last report, with infection rates and deaths declining in all areas. The alert level has been reduced to Level 2, with restrictions relaxed. At the same time, the vaccination drive has continued apace, with the government now mandating all civil servants to take a shot. So far just over 20 percent of the population has received at least one vaccine – mostly from China – although there are big variations across locations and age groups.
Read more »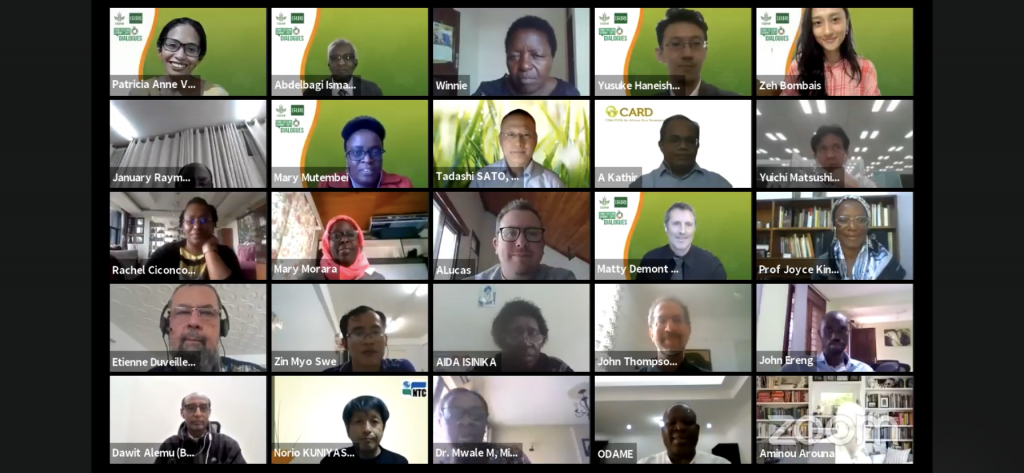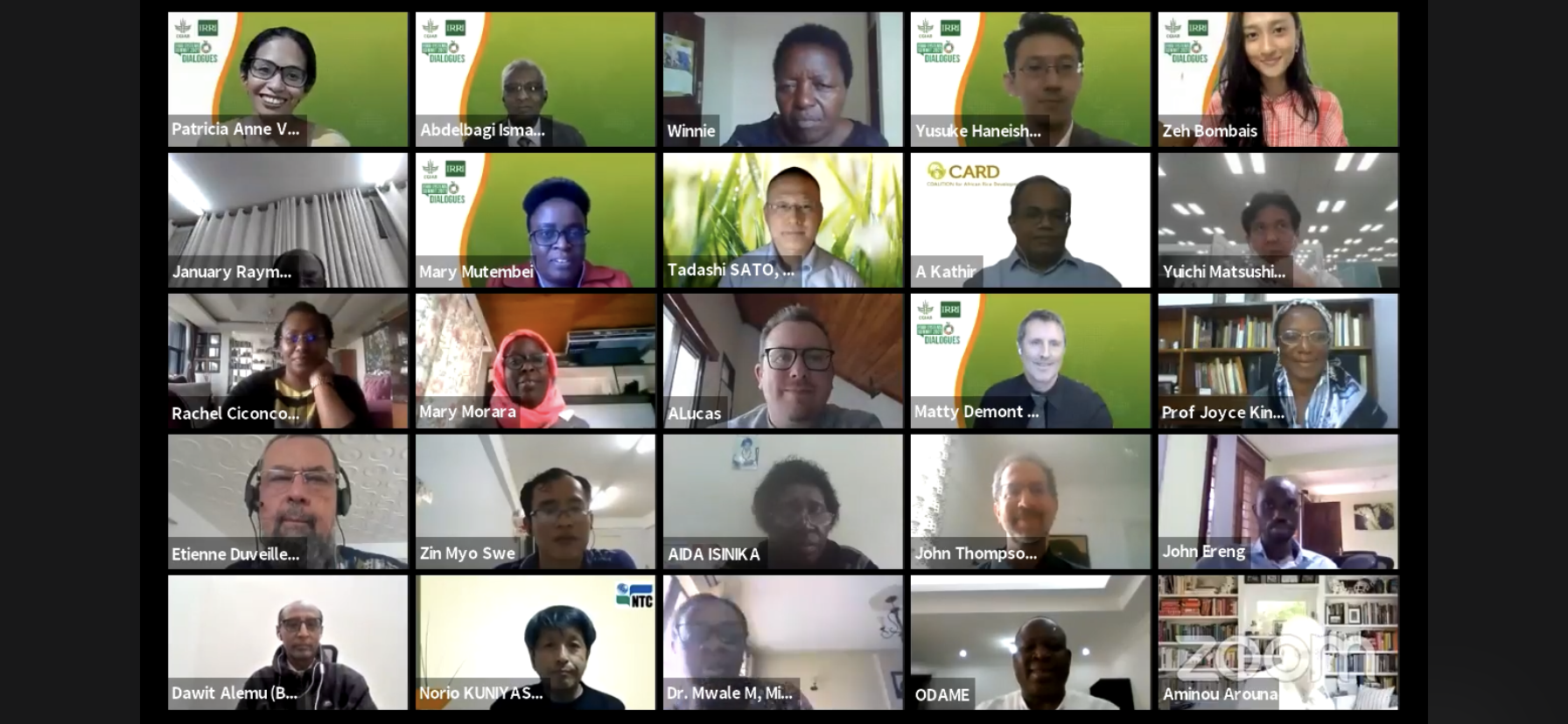 Enhancing nutrition for a stronger, sustainable post-COVID-19 rice sector in Africa
August 31, 2021
In the second blog of a series following APRA's participation in an Independent Food Systems Dialogue on sustainable value chains for Africa's rice sector in a post-COVID 19 context, we examine the nutrition-related outcomes of the dialogue. The event, which was held on July 29th, 2021, was attended by participants from African countries including Burundi, Kenya, Uganda, and United Republic of Tanzania, as well as representatives of nations all over the world.
Read more »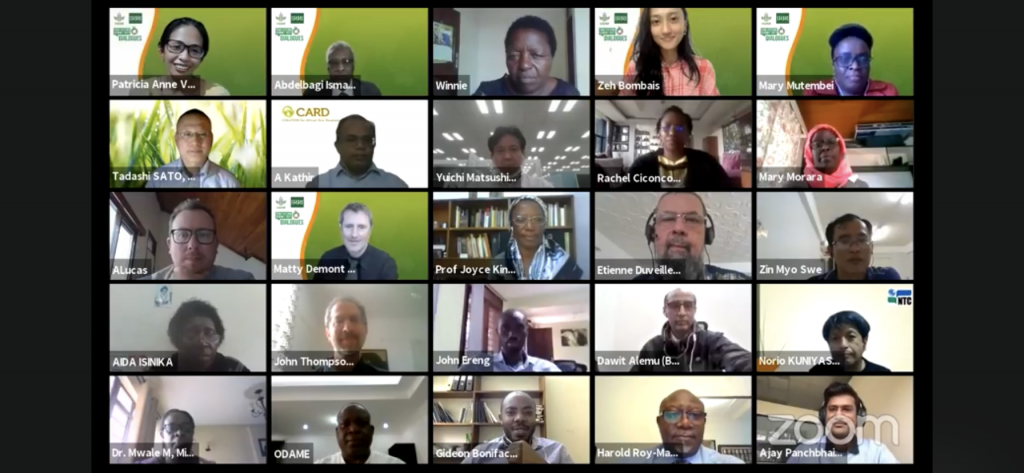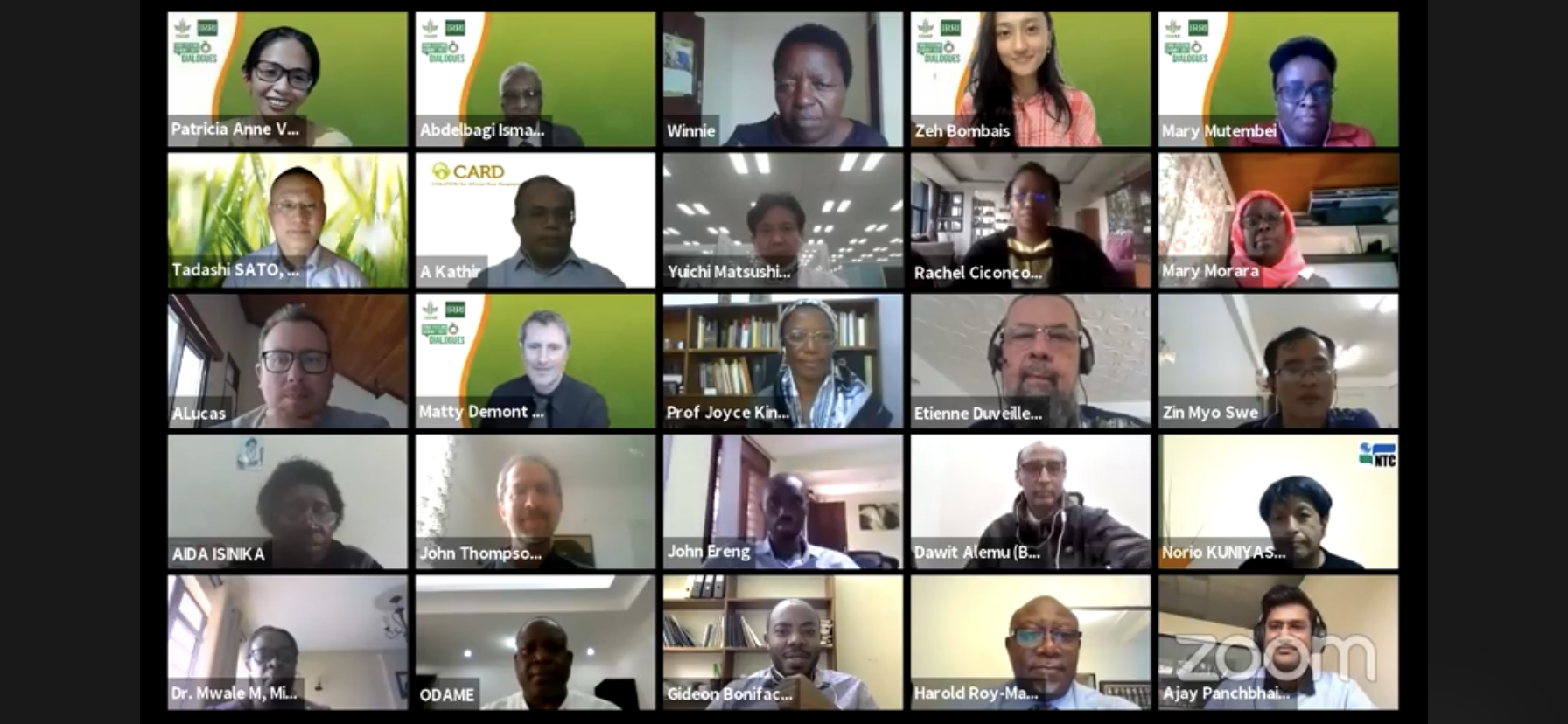 Building sustainable post COVID-19 value chains for Africa's rice sector: Outcomes of an East African Dialogue
August 19, 2021
This blog reflects on the recent East Africa Independent Food Systems Dialogue, which brought together rice producers, the research and academic community, donors and investors, the private sector and farmers which aimed to discuss and develop pathways to building sustainable value chains in Africa's rice sector.
Read more »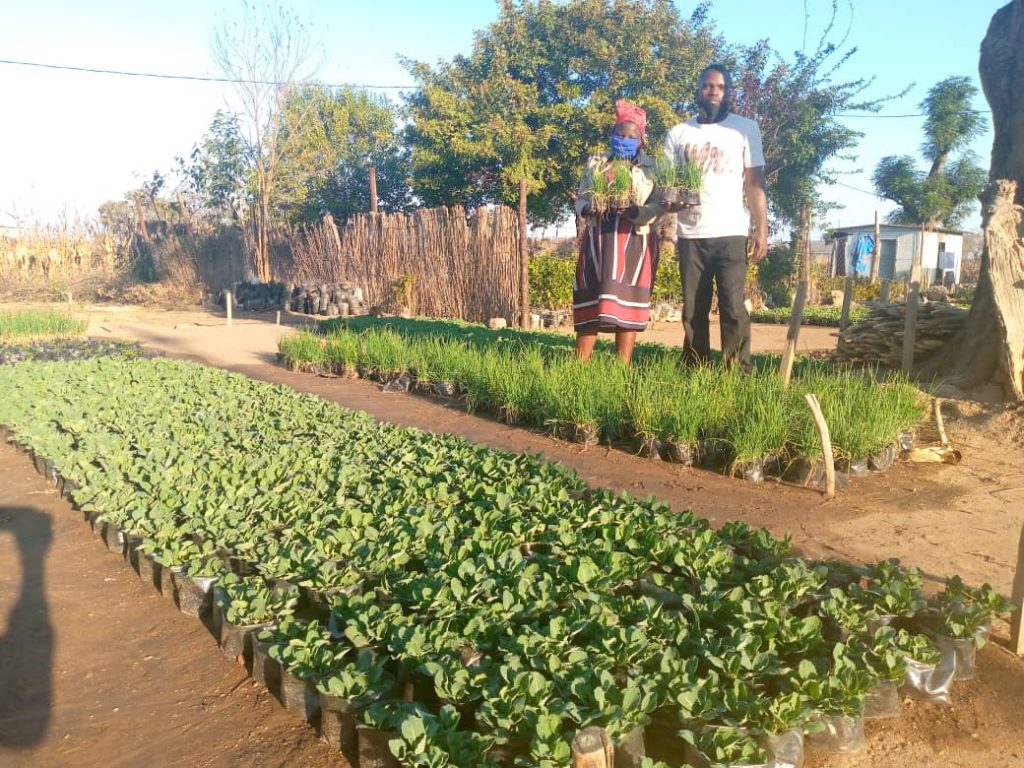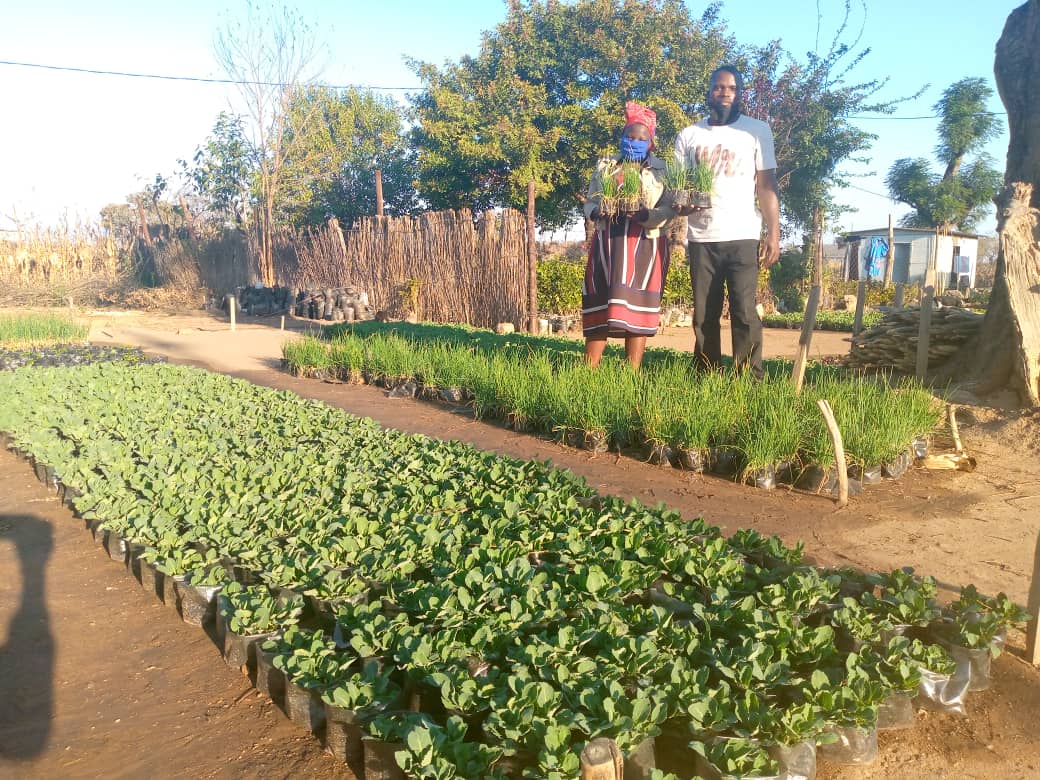 COVID-19 spreads to rural Zimbabwe
August 9, 2021
The third COVID-19 wave has firmly arrived in Zimbabwe's rural areas. This is no longer the 'rich person's disease' of those based in town. The number of cases and sadly deaths has surged across our rural study areas in the last month. This is a picture reflected across the country and indeed the region, with large increases since our last report.
Read more »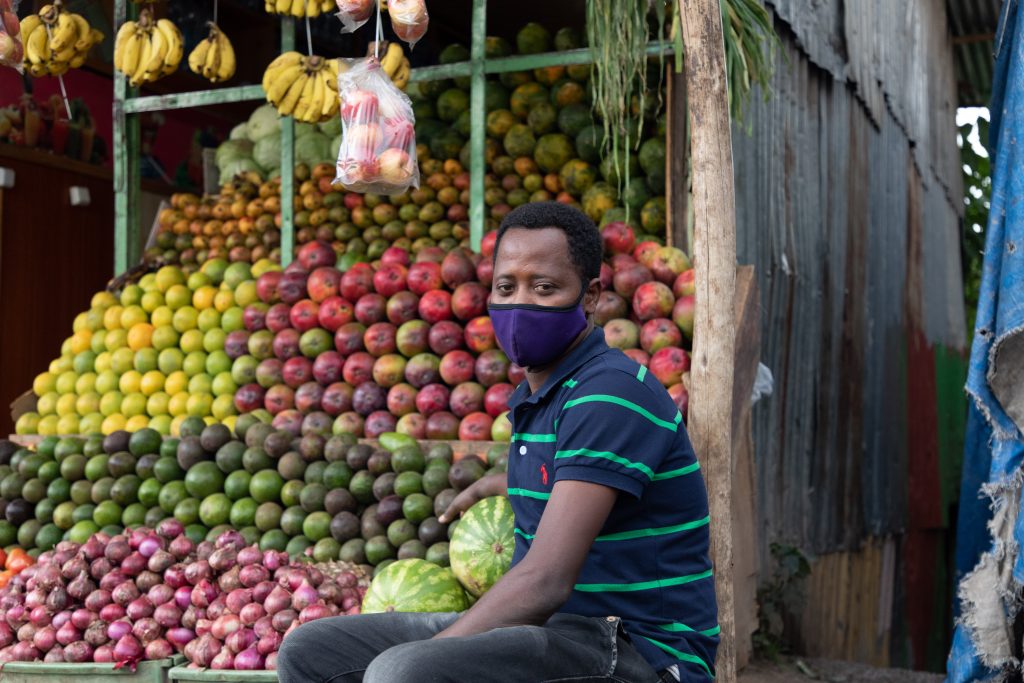 Covid-19 and food security: What is the way forward?
July 15, 2021
Covid-19 is having a major impact on livelihoods and food security across the globe, with women and those who work in informal economies often the hardest hit. This is the focus of our latest Research for Policy and Practice Report on 'The impact of Covid-19 on livelihoods and food security' and upcoming UN Food Systems Summit independent dialogue.
Read more »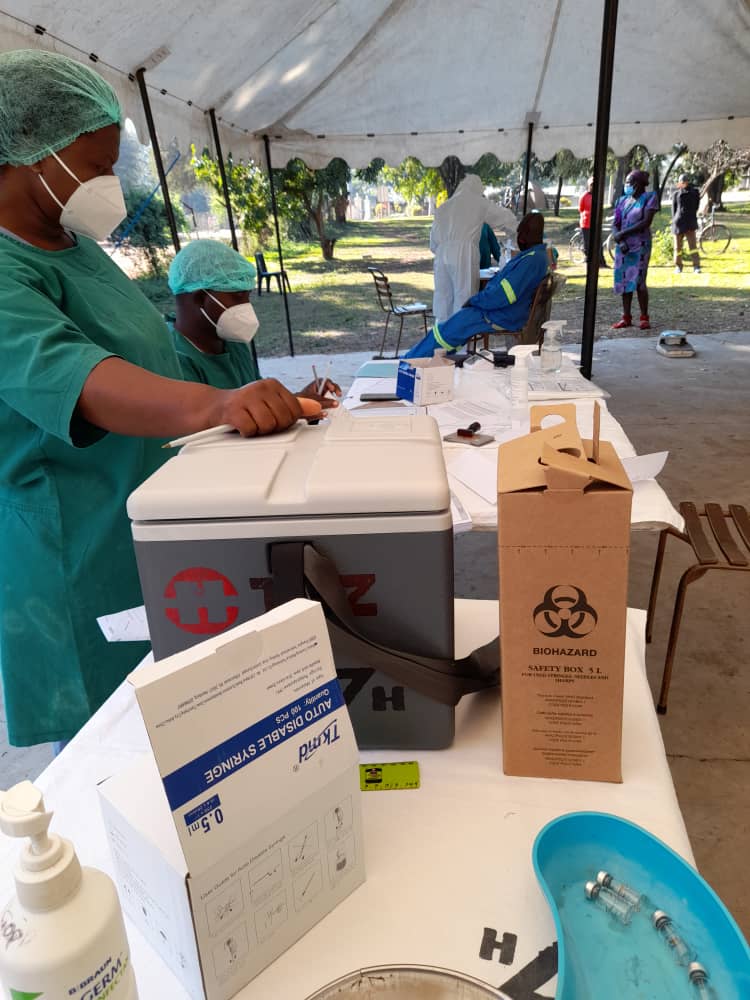 Zimbabwe faces a COVID-19 surge: what is happening in the rural areas?
July 12, 2021
Vaccination drive at Hippo Valley sugar estate This post was written by Ian Scoones and first appeared on Zimbabweland The increase in COVID-19 cases in Zimbabwe has been significant in the weeks since our last blog. This has been matched by an increase in recorded deaths. The government has responded with a new 'level 4' lockdown, imposing a curfew, restricting… Read more »
Read more »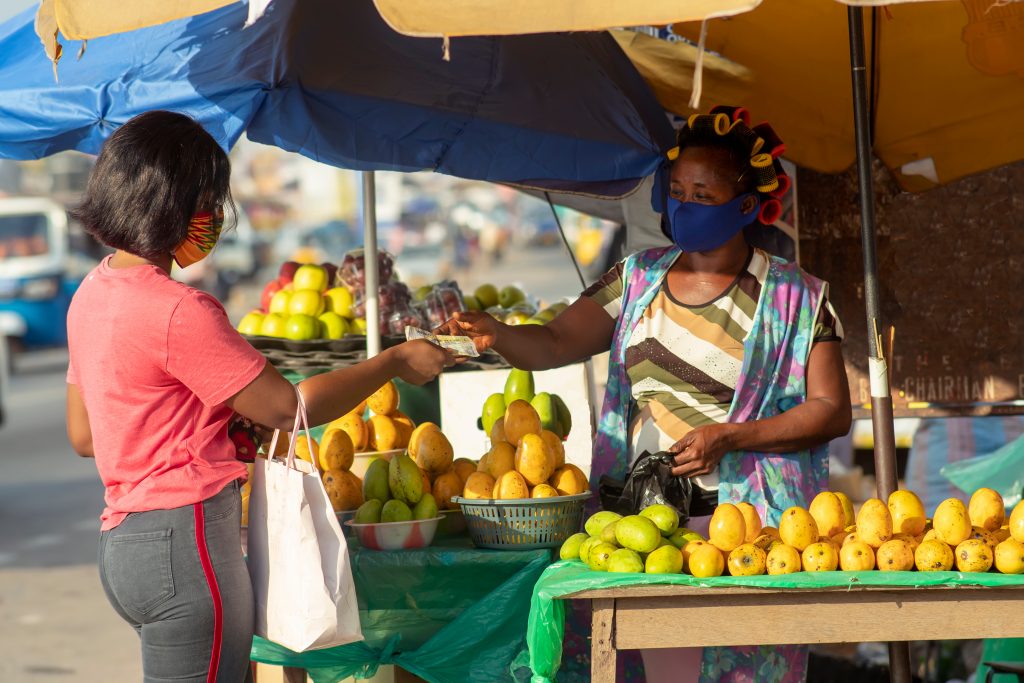 Social issues impacting household food security in the epoch of COVID-19
June 28, 2021
Written by: Loveness Msofi Mgalamadzi The COVID-19 pandemic has affected lives and livelihoods around the world, and Malawi is no exception. This blog explores the social and food security issues arising from the implementation of COVID-19 preventive measures at household level in the country. Introduction The COVID-19 pandemic has brought about unprecedented impacts that have… Read more »
Read more »
Older Entries
Latest Covid-19 Publications