<! ******************** NEWS ******************** -->
<! ******************** COUNTRY PDF ******************** -->
Kenya
APRA is working in Kenya to conduct quantitative and qualitative research to:
1. Examine how investment corridors are reshaping agricultural commercialisation pathways and rural livelihoods, looking at what the impacts have been – and for whom;
2. Analyse the political economy of changing livestock marketing and trade in northern Kenya.
For more detailed information about our research in Kenya, download our country brochure.
Contact Person: Hannington Odame | hsodame@gmail.com
Download Kenya brochure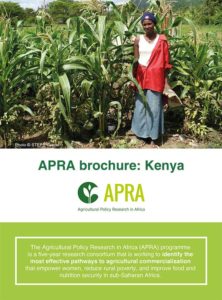 <! ******************** COUNTRY PUBLICATIONS ******************** -->