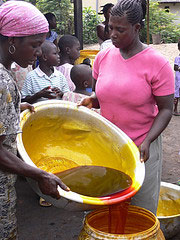 This 3-year project looks at what the commercialisation of land and agriculture might mean for growth and poverty reduction in Africa.
Can new land and agricultural commercialisation initiatives be used as opportunities to promote growth and reduce poverty and inequality in developing countries? If so, how?
What are the better and worse models?
Which sets of institutional arrangements between investors and local smallholders provide the best opportunities for benefit-sharing and for synergies between large and small farms?
The project is supported by the Economic and Social Research Council (ESRC).
Case studies
Ghana
Oil-palm production in Western Region (plantation)
Mango farms in Eastern Region (commercial farming areas)
Fruit production and processing in Eastern Region (outgrower)
Kenya
Sugar cane production in Tana Delta Region (plantation)
Field crop farms in the Coastal Region (commercial farming area)
Flower production around Mount Kenya (outgrower)
Zambia
Mixed grain production Lower Zambezi Valley(plantation)
Mixed farming at Mkushi Farm Block (commercial farming areas)
Grain production in Lusaka Province (outgrower)
Research partners
This research is undertaken by the Future Agriculture Consortium, with the Institute for Poverty, Land and Agrarian Studies (PLAAS) being the lead organisation, working with the Institute for Development Studies (IDS) and Institute for Statistical, Social and Economic Research (ISSER) and partners in the three countries.
Publications
Photo: Jukwa Village Palm Oil Production, Ghana by 1village on Flickr