Building sustainable post COVID-19 value chains for Africa's rice sector: Outcomes of an East African Dialogue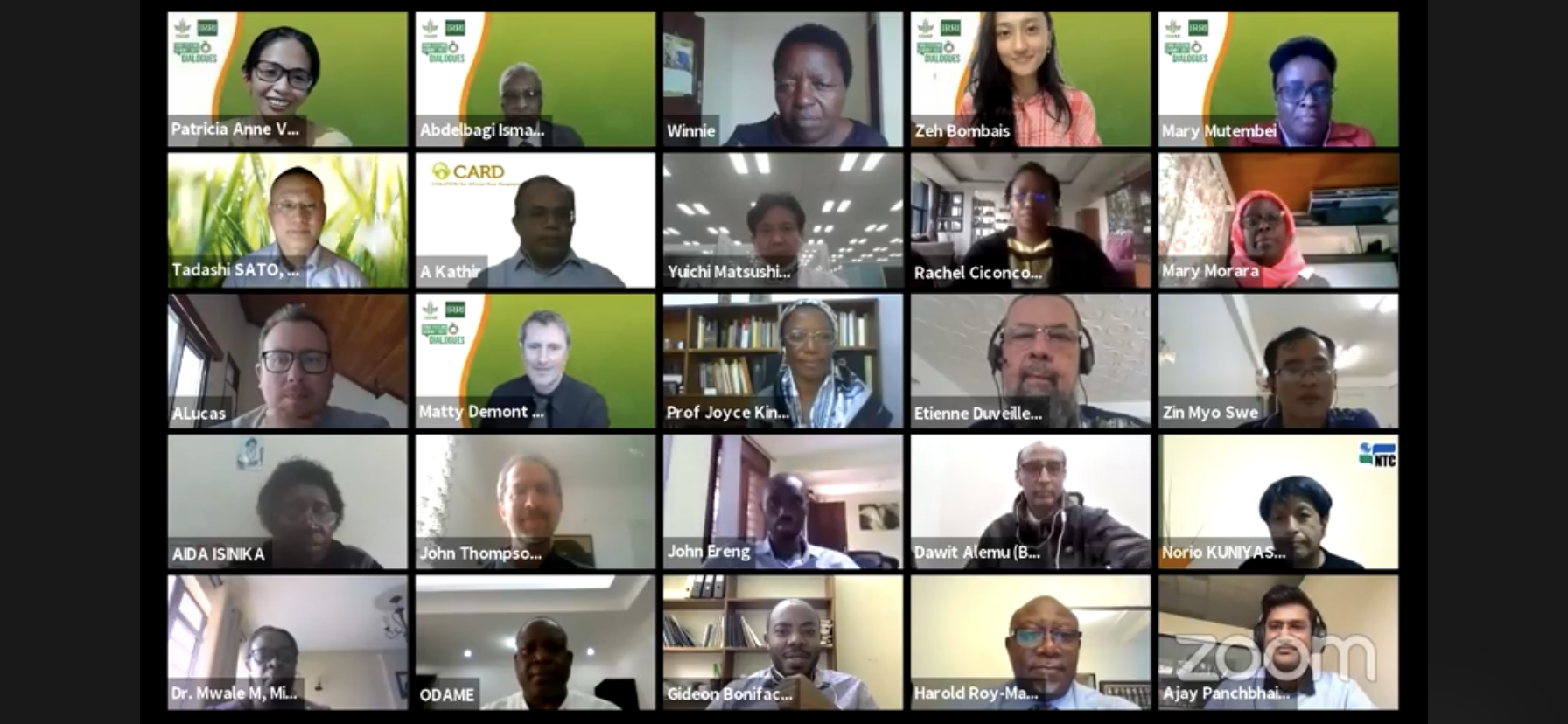 Written by: Evelyn Otieno
---
This blog reflects on the recent East Africa Independent Food Systems Dialogue, which brought together rice producers, the research and academic community, donors and investors, the private sector and farmers which aimed to discuss and develop pathways to building sustainable value chains in Africa's rice sector.
---
Since the onset of the COVID-19 pandemic, countries the world over grapple with its negative socio-economic effects. Reduced food production, ill health, business closures, job losses, lockdowns, reduced labour availability, and declining economies are just some of the COVID-related challenges facing global populations.
As countries work to build back after the pandemic, one cross-cutting priority is building sustainable food systems to provide food not only for today's consumption but also to ensure food security in years to come. The story is the same, if not worse, in Africa, where effects of the pandemic have ravaged the continent's fragile food systems. More than ever before, there is an urgent need for sustainable food systems in the region, especially through agricultural value chains given that agriculture is the primary economic activity in most African economies.
The Future Agricultures Consortium (FAC) remains at the forefront of research to provide timely, high-quality, and independent information and advice to improve agricultural policy and practice in Africa. As part of its work, FAC has recently focused on the impact of COVID-19 on livelihoods and food security. In such efforts, the consortium participated in the independent dialogue dubbed IRRI East Africa Independent Food Systems Dialogue.
The dialogues entailed an online broadcast of a public forum, which paved the way for panel discussions on topics such as policy, research, and investment. The sessions involved other actors in Africa's rice sector, including the Agricultural Policy Research in Africa (APRA), the Japan International Cooperation Agency, the Coalition for African Rice Development, the Center for African Bio-Entrepreneurship, CGIAR, government and other stakeholders in the sector.
What data is needed to motivate actors in Africa's rice sector
In his opening remarks, Dr Abdelbagi Ismail, IRRI Regional Representative for Africa, noted that the rice value chain has become longer, but faces challenges such as decreasing access to production resources, inadequate research capacity and challenges in the implementation of individual countries' rice development strategies. He noted that research should address these challenges, and provide information for the development of appropriate agricultural pathways and opportunities. Dr Ismail went on to ask what data is needed to motivate players in Africa's rice sector.
A panel report excerpt by APRA CEO John Thompson provides an answer to Dr Ismail's question, emphasising that, "it is important to have good data and evidence-based arguments to support policies that strengthen the rice sector." Thompson added that "speaking with one voice and an ability to influence policy and programming would be important in the search for sustainable value chains for East Africa's rice sector." Discussion from this panel also called for an introduction of standards to improve the quality of rice which is produced. There is a need for diverse processors who are well connected and can work with governments. Also important is improved access to financing, investments in irrigation, sustainable water management, efficient transport systems, continuous research, and strong rice associations.
Need for integrated value chain research
Participants in Session Three, which discussed rice research and production, noted that research has focused heavily on production, thus excluding other players in the rice sector who are not necessarily involved in production. Dr Mary Mwale, a food security specialist in the Kenya Ministry of Agriculture, Livestock and Fisheries, reported that "although the government has subsidy programmes, Kenya's rice sector has not received much support."
This session recommended that rice research should improve nutrition and lead to increased production to match consumer preferences. It also recommended increased communication between value chain actors, support for informal markets and food safety from the farm to the fork (production, farm management, harvesting, transport and processing). Nutrient diversification, comprehensive planning, investment in infrastructure, innovation, integration of nutrition, improved availability of inputs, and access to finance are all important in achieving sustainable rice systems in Africa.
Need for relevant agricultural investments and initiatives
The conference noted that research can contribute to food outcomes if all involved actors have a common understanding of the status of the rice sector. Professor Joyce Kinabo, food technology nutritionist, Sokoine University of Agriculture, Tanzania, called for an understanding of the value chain. "Value chains are different in terms of operations, and there is a need to contextualise the rice value chain, share information, enhance proper data management, and understand nutrition outcomes and local initiatives to deliver context specific interventions," she explains.
Conclusion
As we talk about the UN Food Systems Summit, we need to think about how to make our actions politically sustainable through the implementation of sustainable, consistent policies across Africa. For research to contribute to policy-making, researchers and policymakers should understand each other. There should also be increased collaboration at all levels, such as between researchers, governments and farmers, and through regional organisations and dialogues like this one, which lay a foundation for food systems transformation in Africa.