This is one of the larger commercial mango farms in the area. While mangoes have always been among the traditional crops of the area, 'the introduction of new varieties of mangoes was in 1996 by ARDA (the US-based Adventist Development Relief Agency)… and I decided to go into this in 2002.' Previously, he had grown indigenous varieties of mango for the local market on a small scale.
Access to land
Secure access to land is one of the main obstacles to commercializing agriculture in the area. 'Government doesn't own the land, the chiefs don't own the land, it is owned by an individual or a family.' He explains that you can either lease land or engage in sharecropping or, if you are wealthy, buy it outright. He has entered into consecutive 20 year leases with a clan that owns the land, and whose young people are not farming but moving to nearby towns and to Accra. 'Initially it was low, but as more people are coming [to the area], the cost is going up.' But he continues to clear more land, and plants more mango trees every year. He doubts the landowners would ever force him off the farm, as they would have to compensate him for his investment in the trees – and he continues to plant more mango trees each year, thereby shoring up his hold on the land.
Most of those acquiring farms and starting up commercial enterprises are Ghanaians – the only foreign mango farmer in the region is a South African. Mr Mensah explained that most of the commercial farmers now in the mango industry are not peasant farmers who have been able to commercialise through their own production, but those from nearby towns or Accra, who are pensioners or have accumulated capital through government jobs. His own 12 children – ten of whom are adults and two of whom are professionals living in the UK and USA – are not interested in the farm, but 'later they would like to join me' and he expects that they will inherit his rights to the farm and continue with the mango business.
Turning to fruit crops
With the long-term decline in cocoa prices, spurred by expanded production in Nigeria and Cameroon, as well as in Latin America, Ghanaian farmers have increasingly turned to high-value export fruit crops, including mangoes, as an alternative tree crop that promises good prices. But ensuring quality to meet the standards of exporting companies is a challenge for these small commercial farmers, who must also carry the costs of getting certified under GlobalGAP. And any sub-standard fruit is sold cheaply to local women for resale in informal markets. None of the farmers have juicers or any capacity to process or add value on-farm.
Yet the boom crop has not created many jobs. Most farmers have only a couple of permanent (usually male) workers who live on-farm with their families, and employ large numbers of pickers during the harvest season twice a year. This labour market has seen new land being cleared, but has also partially replaced the sugarcane industry, which preceded mango as a dominant cash crop in the area, and which was more labour-intensive.
The farmers may be better able to secure access to markets once a packhouse built by the Millennium Challenge Corporation is operational, and could potentially service 6,000 farms. For the past year it has sat empty, piles of 4.5kg boxes marked 'Ghana Mangoes' stacked high in the unused cooler rooms.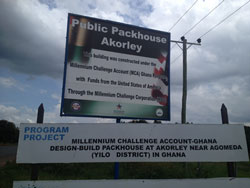 The MCC's packhouse (pictured right), not yet operational, will enable mechanized washing, sorting and packing of mangoes for export.
But rather than spurring on the growth of the mango section, the growth of the export market may be leading to consolidation and more narrow dynamics of class formation. Somanya Mango Farmers' Association secretary Kofi Teye says that the number of mango farmers has declined since the association's formation in 2005, despite the growing export market, mostly because of farms being merged into larger operations. The costs of compliance with certifying agencies and negotiating with processors are among the reasons: 'if you have a small farm, the problems you go through are about the same as a big farm.'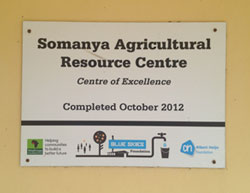 The Somanya Mango Farmers' Association has a building provided in large part by fruit exporter Blue Skies, which many of its members supply, as well as UK supermarket Waitrose and Dutch supermarket Albert Heijn.
The farmers negotiate prices with the processing companies each season, and usually find agreement, but 'we are still dependent on the dictates of the prices of the processors.'
Roads and rain
For some, land access, land clearing, rising input costs, variable rainfall, and labour costs are joined by problems of farm access due to poor roads which can be impassable during the major rainy season in April to June. Last year, says Kojo, 'my fruit were ripe and I couldn't get them to the road. They rotted right there.'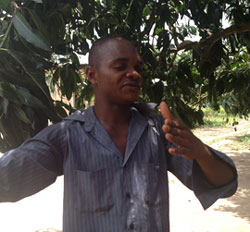 Kojo Sosu, farm worker and manager at Modest Steps Farm in Somanya's mango-growing area, explains how retired government officials and businessmen from towns are buying up farms.
Nearby, at 'Modest Steps Farm', the young farm manager, Kojo Joseph Sosu explains that most of the farmers are old men. His own boss is an absentee owner, a retired banker who lives with his wife who runs a pharmacy in a town one hour away. As well as owning Modest Steps, he is a contractor who buys from other mango farmers and supplies one of the largest fresh-cut fruit exporters, Blue Skies. But he is elderly. Will the owner's children come and work here? No, insists Kojo: 'You know rich people, they will not want to come and do the hard work here like me'.
By Ruth Hall, Land and Agricultural Commercialisation in Africa project
This post first appeared on the PLAAS blog.