Ethiopia's import dependence on rice-exporting countries: implications for policy and development responses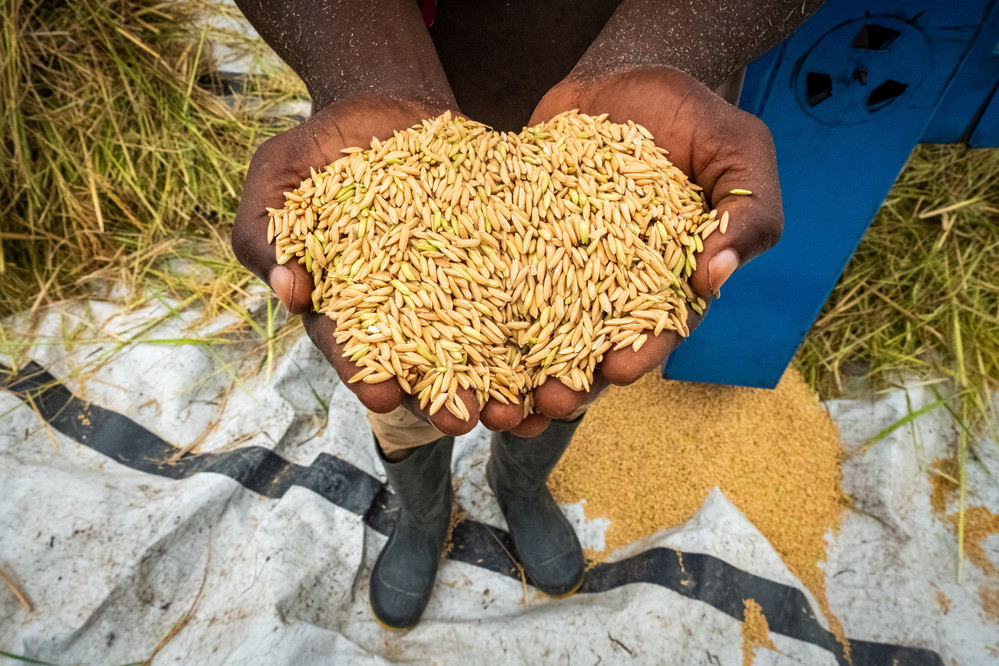 Written by: Dawit Alemu
---
With the current instability in global grain markets – mainly due to the ongoing impacts of COVID-19, the war in Ukraine, and climatic events impacting rice production – major rice-producing Asian countries have been considering steps to protect their domestic markets. This blog reflects on the possible implications of export bans or taxation measures taken by rice exporting countries on rice production and marketing in Ethiopia, along with the extent of policy and development interventions made by policymakers to mitigate the impacts.
---
Many African countries – recognising their over-dependence on imported rice and the instability of global rice markets – have been working to increase domestic rice production. As one of Africa's main rice importers, Ethiopia developed its first National Rice Sector Development Strategy (NRDS) in 2010, which was revised in 2020 to run to 2030. Over the past decade, significant expansion in rice growing has occurred, with the total land area under rice cultivation rising from about 10,000ha in 2006, to over 85,000ha in 2021. But, despite these efforts, consumer demand has far outstripped supply and, today, rice imports account for 76 per cent of Ethiopia's rice consumption.
In comparison to other staple foods, rice is a relatively new crop to Ethiopia having been introduced in the 1970s by the government to address food security issues. The grain is now considered so important that the Government of Ethiopia ranked it among the country's priority commodities in 2008. However, recent geopolitical and climatic events could threaten imports. With global instability in the grain market and reduced domestic rice production due to climate change events in 2022 – for example, a lack of rain in India and flooding in Pakistan – major rice exporting countries have been considering reducing their rice exports.
In 2021, India accounted for about 40 per cent of rice exported globally. However, as a result of poor rains in 2022, domestic production was expected to decline considerably. Consequently, the Government of India initially proposed an export ban of broken rice and the introduction of a 20 per cent export tariff for other rice types. However, with an improvement in recent rainfall over Indian rice growing areas, fears have been quelled somewhat – although extensive flooding in Pakistan is estimated to have reduced rice production in 2022 by at least 10 per cent, leading to soaring prices across markets in the country.

As Ethiopia becomes increasingly more dependent on Indian rice imports, any measure taken by India is expected to have direct and considerable impact on the Ethiopian rice market. As shown in Figures 1 and 2, over 90 per cent of both broken and milled rice imports to Ethiopia come from India, which has risen to 97 per cent of milled rice and almost 100 per cent of broken rice imports in 2021.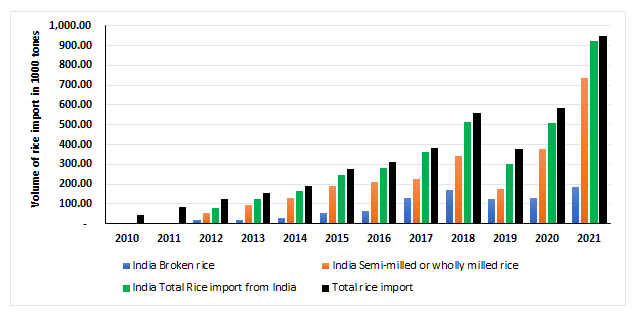 Following India's reconsideration of its export ban, the threat to rice imports has temporarily eased. However, continued global uncertainty and economic pressures, combined with the risk of future climatic challenges, are making it increasingly urgent for Ethiopia to become more self-sufficient in rice.
Recognising these import dependence challenges, not just in rice but also other crops, the Ethiopian government introduced flagship programmes for three priority commodities: rice, wheat, and edible oil. In August 2022, Ethiopia's National Rice Flagship Program was officially handed over to the Ministry of Agriculture. This ambitious five-year programme (2022-2027) aims to achieve over 80 per cent self-sufficiency in rice. This is a laudable goal, but whether it is realistic remains to be seen. The prominence and significance given to rice by the Ethiopian government is undoubtedly much more evident now – with the grain being given priority commodity status and specifically mentioned in government documents.
Policy and development responses
The current 10-year (2020-2030) NRDS aims to boost domestic production by 2030 to 1.93 million t of rice – by increasing the area to 385,000ha from the current about 85,000ha and increasing the average yield of 5t/ha from the current 3.15t/ha. The National Rice Flagship Program (2022-2027) has been designed to ensure that the NRDS is implemented. To meet these targets, flagship interventions are targeting the entire rice value chain. In addition to increasing rice yields and expanding cultivation areas, the initiative is also working to strengthen the rice processing industry, modernise the marketing system, and facilitate rice import regulation to boost competitiveness of domestic rice.
The recognition of rice as a priority commodity and the attempts to address the challenges faced are evidence of policy attention, which is required to ensure considerable expansion in rice production. For example, in Oromia region, it is reported that the cultivated area for rice increased to 100,000ha in the 2021/22 production season, from about 11,000ha in 2020/21. A similar trend is reported across other rice-producing regions like Amhara, Benishagul Gumuz and Southern Nations, Nationalities and Peoples' Region (SNNPR). However, for Ethiopia to achieve its ambitious self-sufficiency goals, it will be critical to promote active collaboration and engagement between the government, private sector and development partners to:
Build the capacity of producers and value chain actors to use modern machinery and process rice more quickly to achieve higher quality value addition;
Improve the marketing system for both paddy and milled rice mainly targeting marketing system development that provides incentive for quality paddy and milled rice production. This demands an active role for the government in supporting coordination of the rice value chain and strengthening capacity of private actors involved in value addition and marketing;
Ensure access to improved rice-related technological options (pre-harvest, harvest, and post-harvest technologies); and
Set up strong organisational structures (including the staff, offices, and finances) within the National Rice Flagship Program to effectively facilitate effective its implementation from federal to regional level.
Photo credit: © IFAD/Bernard Kalu