Policy Briefs
The Policy Brief series was launched by Future Agricultures in 2005 to provide a forum for the analysis of important agriculture policy issues by leading researchers. The series aims to identify key issues, apply the best and most up-to-date research to help understand these issues, and explore the implications of this research for the design and conduct of policy. We typically publish between 8 to 10 Policy Briefs each year.
A significant number of our policy briefs are also translated into French.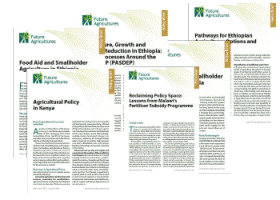 Latest articles
April 13, 2012 / Policy Briefs
CAADP Policy Brief 07
by Kate Wellard-Dyer
Smallholder agriculture is the core contributor to agricultural production in most African countries and the main driver for food security, poverty reduction and growth. But productivity remains desperately low with limited use of improved inputs (except where boosted by subsidies) – compounded by volatility in climate and markets.
Science and technology is widely seen as essential in turning African agriculture round. The Comprehensive African Agriculture Development Programme (CAADP) Pillar IV is leading moves to revitalise, expand and reform Africa's agricultural research and development effort.  Investments are being made by national governments, donors and private funders in (mainly international) research institutions to develop improved seeds and soil fertility technologies for a Green Revolution in Africa. Public and, increasingly, private sector delivery systems are gearing up to deliver these technologies to farmers. Within integrated agricultural research for development (IAR4D), focus is moving beyond the farm-gate to credit, markets and value-addition. Farmers are being involved earlier in the development process – the effectiveness of agricultural technology generation and dissemination institutions seen as depending crucially on relevance and responsiveness to farmer needs.
Yet 'market-led technology' approaches – aimed mainly at high potential agricultural areas – face serious challenges in delivering a broaderbased inclusive agricultural revolution.
This policy brief draws on research findings by Future Agricultures and asks:
Are there options outside conventional institutional routes that bring alternative expertise – particularly farmers' own innovation experience – into revitalised innovation systems that cut across public, private and farmer-led processes?
How can agricultural innovation systems be made to work for poor people in expanding market access and enabling rural innovation?
Are there alternative pathways for more sustainable and socially-just development, and what obstacles – political-economic as well as technocratic – need to be overcome to pursue these?