Policy Briefs
The Policy Brief series was launched by Future Agricultures in 2005 to provide a forum for the analysis of important agriculture policy issues by leading researchers. The series aims to identify key issues, apply the best and most up-to-date research to help understand these issues, and explore the implications of this research for the design and conduct of policy. We typically publish between 8 to 10 Policy Briefs each year.
A significant number of our policy briefs are also translated into French.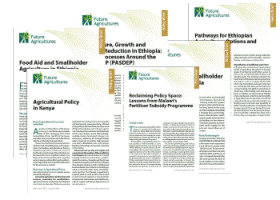 Latest articles
May 29, 2014 / Policy Briefs
CAADP Policy Brief 13
Policy-makers are increasingly focusing on the linkages between agriculture and climate change. Since 2009 African Union members have committed to embracing climate change mitigation and adaptation as integral components of agricultural development. While a number of pilot initiatives are under way, we know little about what this kind of focus on climate change and agriculture will mean in practice. Realising the potentials of agricultural systems for adaption and mitigation is about more than technological choices and farming practices; it is also about politics and power.
This Brief draws on recent research by the Future Agricultures Consortium (FAC) which examines how the agenda for climate-smart agriculture is playing out in practice in Africa, and asks:
Who participates in national agriculture and climate change policy processes?
Whose knowledge counts in defining climate-smart agriculture?
On whose terms and in whose interests are particular approaches and technologies favoured?