A major evaluation of Future Agricultures has been published by the Department for International Development (DFID), our main funder, looking at the impact and influence of our work and how it is being used in policy and practice.
The independent evaluation covered Future Agricultures activity for the period 2008-2013. It was commissioned by DFID to focus on understanding the pathways from high quality outputs to policy and practice change outcomes and impacts, and what can be learnt from the Future Agricultures experience in relation to these.
---
Read the full report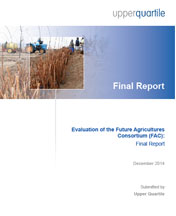 Report sections
---
About the evaluation
The objectives of the evaluation were to:
assess the relevance of FAC's policy research and communication work to agricultural policy in Africa
document lessons from FAC, and accordingly, make recommendations and/or outline options for commissioning agricultural policy research
assess FAC's performance with respect to the achievement of logframe indicators.
The evaluation, which took just under a year to complete, was carried out by the consultants Upper Quartile, and the report was published in February 2015. It is also available on the DFID website.