Future Agricultures Twitter reaches 20,000 follower milestone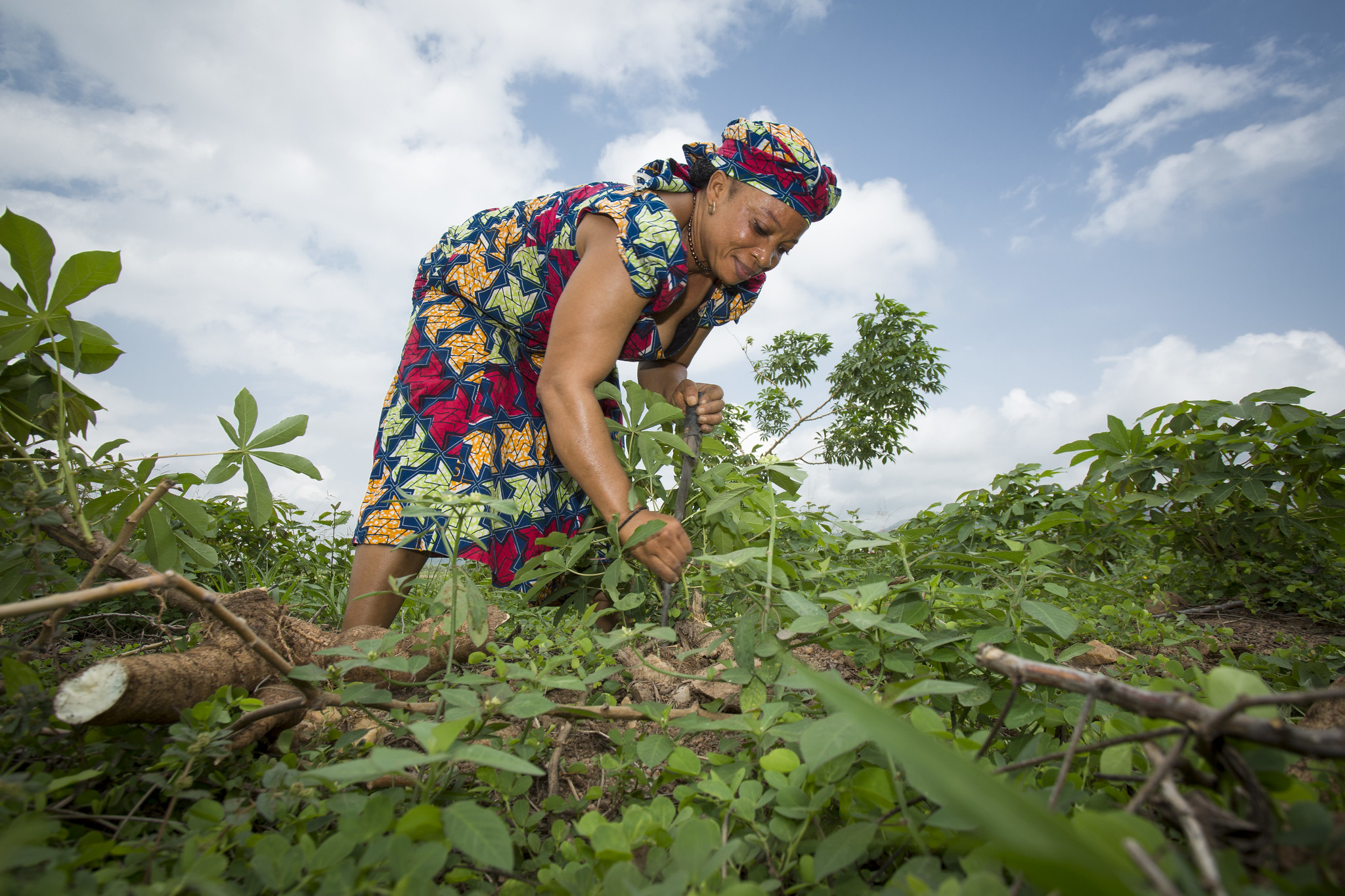 ---
Written by Toby Penrhys-Evans, APRA ICE Team
---
After almost 10 years on Twitter and posting over 3,000 Tweets, the Future Agricultures Consortium account, @FutureAgrics, has hit the significant milestone of 20,000 followers. The ever-increasing follower numbers highlights the relevance of the content promoted through this channel through working papers, blogs, briefs and many other kinds of publications. These include pertinent topics such as food security, the role of gender, climate change and, more recently, the impact of the COVID-19 pandemic on food systems.
This content would not be possible without a dedicated team of academics and researchers – experts in their own fields – who have provided us with top quality blogs and academic papers to promote on Twitter and Facebook.
Twitter beginnings
The Future Agricultures Consortium (FAC) was founded in 2003 as an Africa-based alliance of research organisations seeking to provide timely, high-quality and independent information and advice to improve agricultural policy and practice in Africa. Through a network of over 90 researchers across the region and around the world, its goal was to show how agricultural policy in Africa could help to reduce poverty and strengthen agricultural growth.
The FAC Twitter account was created in May 2011. As the first @futureagrics tweet below shows, opening pleasantries were skipped to go straight the point and promote a discussion paper on the challenges of integrating gender research in FAC work (access original link here). Twitter continued to be used as the core platform to publicise timely and important Africa-based agriculture research over until the FAC programme ended in 2014.
In mid-2015, the FAC Twitter account had over 9,000 followers, highlighting the significant impact and popularity of FAC work promoted through Twitter, and building an impressive legacy for the future.
APRA
In 2016, the newly formed Agricultural Policy Research in Africa (APRA) consortium built on over a decade of research and policy engagement work by FAC, and capitalised on the already well-followed Twitter platform.
With headquarters at the Institute of Development Studies, APRA is funded by the Foreign, Commonwealth and Development Office (FCDO). The APRA programme continues to contribute valuable content, such as working papers, policy briefs and blogs, to publicise on Twitter, drawing on a number of experts in agriculture research from universities across Africa and the world. The programme focuses on which 'pathways' (i.e. a specific route to commercialisation, such as a food-based pathway) to agricultural commercialisation are the most effective in empowering women, reducing rural poverty and improving food and nutrition security in sub-Saharan Africa.
Championing African research
As many of the promoted blogs and publications come from African researchers and academics, the Twitter content often focuses on research that highlights critical current issues that need urgent policy intervention. For example, a topic covered by research could be how poor roads in Tanzania are undermining rice farmers (see below), or how illegal logging in Nigeria is causing problems for cocoa farmers.
A typical month
Each month, around 30 Tweets are posted from the FAC Twitter account to promote the APRA blogs and news items, as well as sharing (and re-tweeting) important news and developments from other organisations in agriculture research.
This activity usually leads to around 60,000-70,000 impressions (the number of times a Tweet has been seen) and between 150-250 new followers every month. The image below is a snapshot of the monthly FAC Twitter activity on 20 September 2020, showing the popularity of a recent tweet on an upcoming APRA Working Paper on farming implements in Tanzania. Although APRA work is important, FAC Twitter also shares information and engages with the wider community on related topics. The hashtags #SouthSouthCooperation and #COVID19 shown in 'top mention' are examples of what is currently trending on Twitter.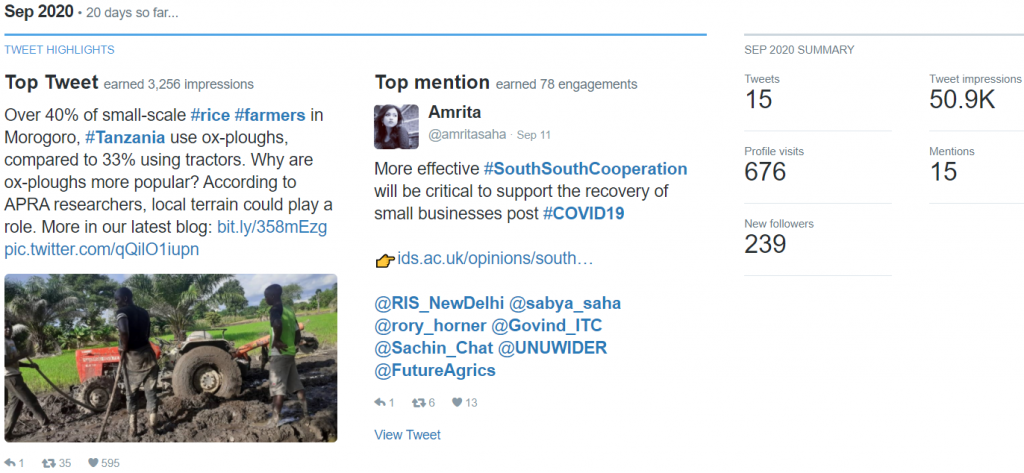 Looking ahead
In 2020, much of APRA's work has been affected in recent months by uncertainties caused by COVID-19. For example, planned field work in APRA countries has had to be postponed or adapted to comply with their respective COVID-19 restrictions. However, it has also allowed FAC Twitter to highlight new research on how the pandemic is affecting agricultural commercialisation and other issues (e.g. food value chains). Through Twitter, a voice can be given to those adversely affected by the pandemic, and whose stories may not otherwise be covered in the mainstream media.
Whatever challenges the future brings, we look forward to continuing to promote key academic research and engaging with our valued followers.
---
Feature photo credit: ©IFPRI/Milo Mitchell