APRA researchers to join 8th Annual ReNAPRI Stakeholders Conference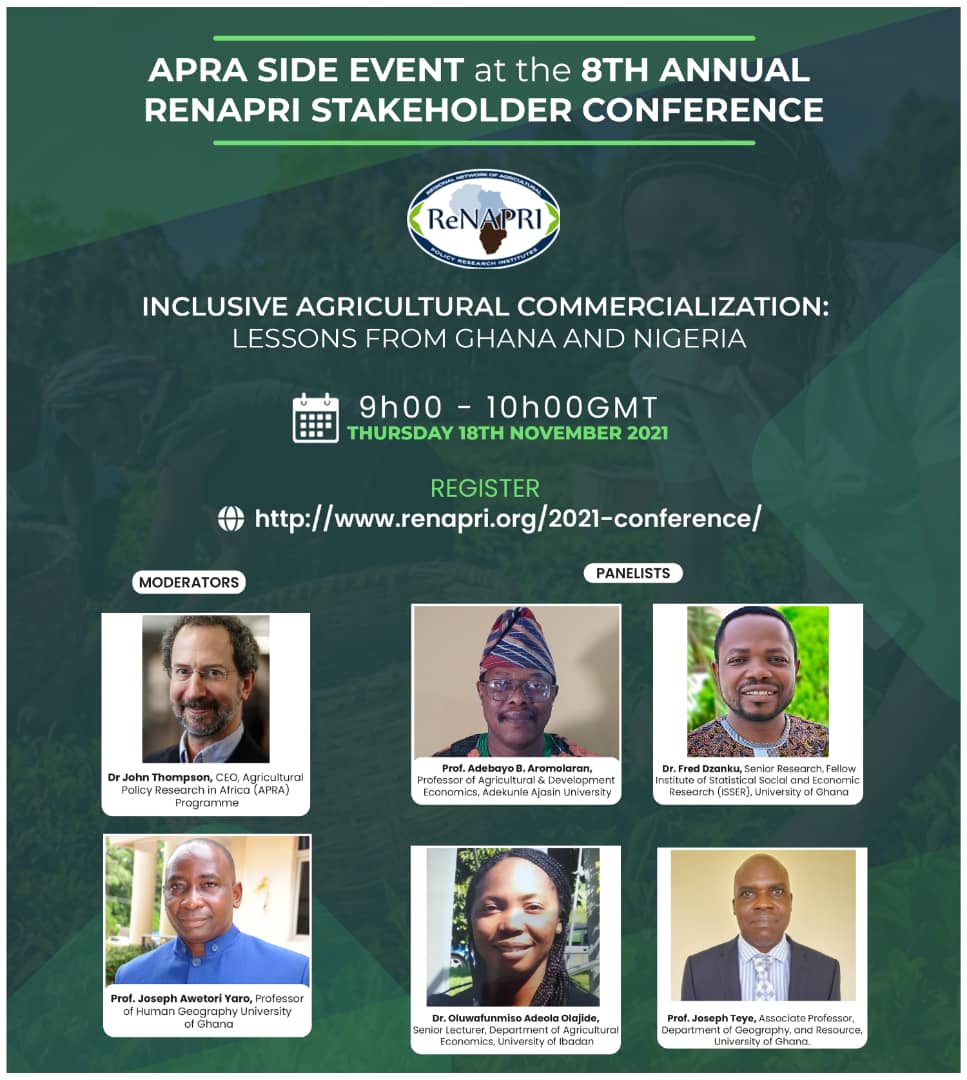 As the Regional Network of Agricultural Policy Research Institutes prepares to host its 8th Annual Stakeholders Conference, under the theme, 'Transform: Toward Sustainable and Resilient Food Systems in Africa', APRA researchers are gearing up for their side event! Conference sessions will include topics such as 'Opportunities for building resilience of African farming systems'; 'Going beyond the farm: Achieving resilience in downstream agrifood systems'; and 'Building integrated and inclusive climate-smart, nutrition-secure pathways in sub-Saharan Africa'. APRA's session on 'Inclusive agricultural commercialisation: Lessons from Ghana and Nigeria' will be held at 9:00am GMT on Thursday November 18th.
The side event will be moderated by APRA CEO, John Thompson alongside Professor Joseph Yaro from the University of Ghana. Prof Yaro is also APRA's West Africa hub coordinator and lead for its work on cocoa in Ghana. The APRA panel will consist of four West African APRA researchers: Nigeria-based Prof. Adebayo Aromolaran of Adekunle Ajasin University and Dr Oluwafunmiso Adeola Olajide of the University of Idaban, and Ghana-based Dr Fred Dzanku and Prof. Joseph Teye of the University of Ghana.
The panellists and moderators will seek to address the central question: Which pathways to agricultural commercialisation are the most effective in empowering women, reducing rural poverty and improving food and nutrition security in sub-Saharan Africa? Over the past five years, this question has been addressed by APRA researchers across nine countries through in-depth, interdisciplinary, comparative research. The purpose of this side event is to present some of APRA's policy and practically relevant insights from Ghana and Nigeria, and to solicit input from other stakeholders across the policy and practice space.
The one-hour event will include a brief introduction to APRA's work, and presentations by the panellists to address evidence related to the following key questions:
What are the welfare outcomes for varying subgroups (men, women and youth) from selection into different commercialisation pathways?
What have been the long-term changes and outcomes of different pathways of agricultural commercialisation?
The presenters will also participate in a panel discussion to speak to policy messages and key 'nuggets' arising from the evidence they have shared, followed by a Q&A session to answer any remaining queries.
Register for the APRA side event, here.