APRA researchers to hold a national dissemination workshop in Ghana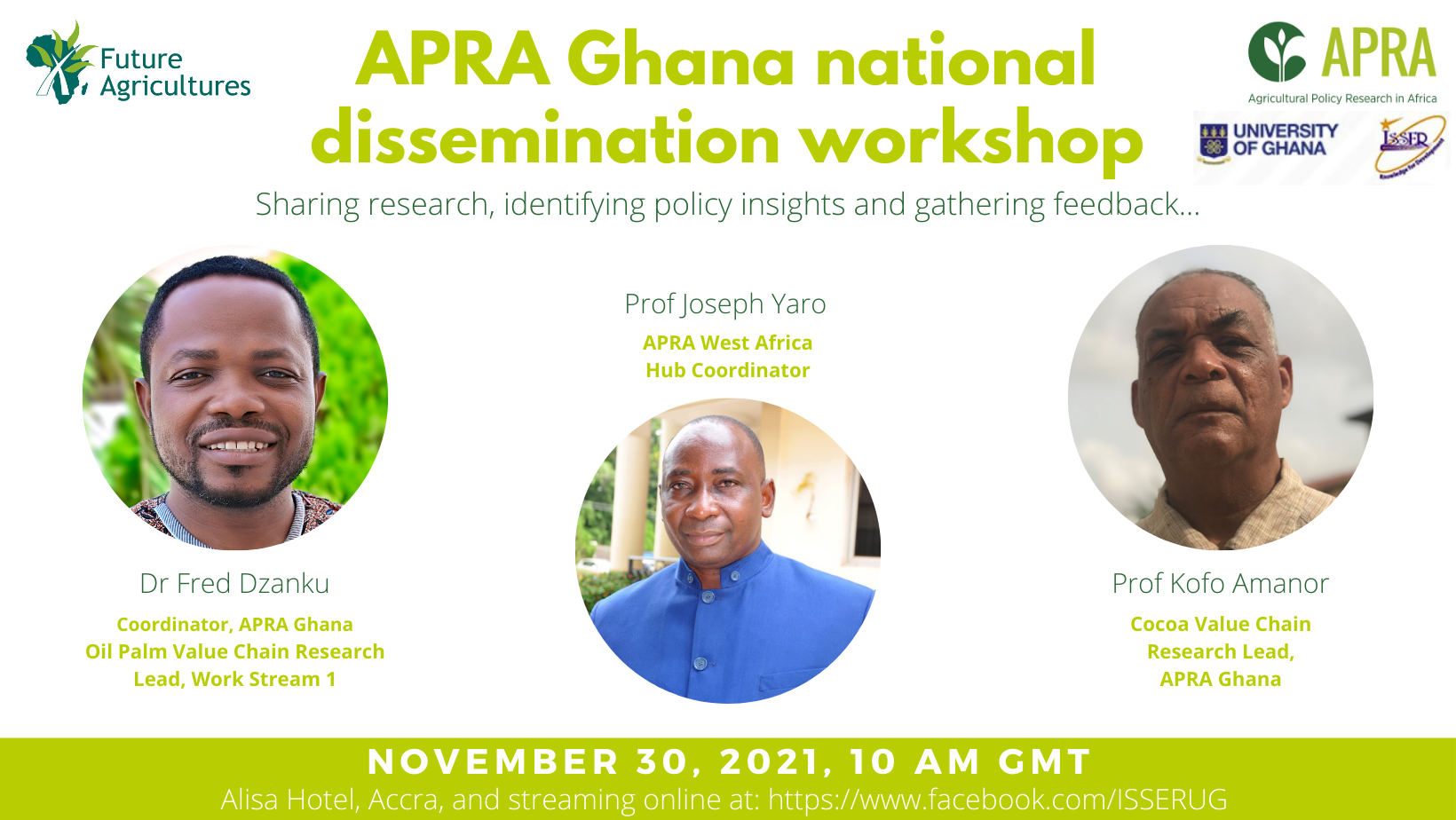 APRA researchers in Ghana are gearing up for a national dissemination event! The event will be filled with presentations from the two APRA teams working in the country (Work Streams 1 and 2), and, more generally, on APRA's objectives, research projects and findings. The workshop will be held at 10.00 GMT on Tuesday, November 30th at the Alisa Hotel in Accra.
The presentations will be given by those researchers leading APRA Ghana's work, including Prof Joseph Yaro, APRA's West Africa hub coordinator; Prof. Kojo Amanor, the lead for APRA's work on cocoa in Ghana (Work Stream 2); and Dr Fred Dzanku, the coordinator for APRA's research in Ghana and lead for its work on the country's oil palm value chain (Work Stream 1).
Invited participants include representatives from the Ghana Ministry of Gender, Children and Social Protection, the Ghana Agricultural Workers Union, the Institute of Statistical, Social and Economic Research, Wageningen University and Research and the International Institute of Social Studies.
Presenters will seek to address the central question: Which pathways to agricultural commercialisation are the most effective in empowering women, reducing rural poverty, and improving food and nutrition security in Ghana? The researchers involved have spent the last five years working to address this question as it pertains to Ghana's agricultural commercialisation through in-depth, interdisciplinary, and comparative research. The purpose of this event is to present some of the APRA team's findings, and the relevant, practical policy insights they have developed, with the hope to solicit feedback and input from other stakeholders across the policy and practice arena.
Essentially, the presentations at the event will address evidence related to: (a) Agrarian change and commercialisation in the Ghanaian cocoa sector, and (b) Oil palm commercialisation arrangements and household welfare in south-western Ghana. After the presentations, attendees will have an opportunity to provide professional insight on APRA's research findings and their policy implications in Ghana, and raise issues for broader consideration. Subsequently, there will an interactive session in which participants will discuss the key policy messages arising from the evidence shared, followed by a Q&A session for APRA researchers to answer any emerging questions.
---
Did you miss this event? You can watch a recording of the whole session, on the Facebook livestream!