Cyclone Idai hits Agriculture in Beira Corridor: Preparing for the Future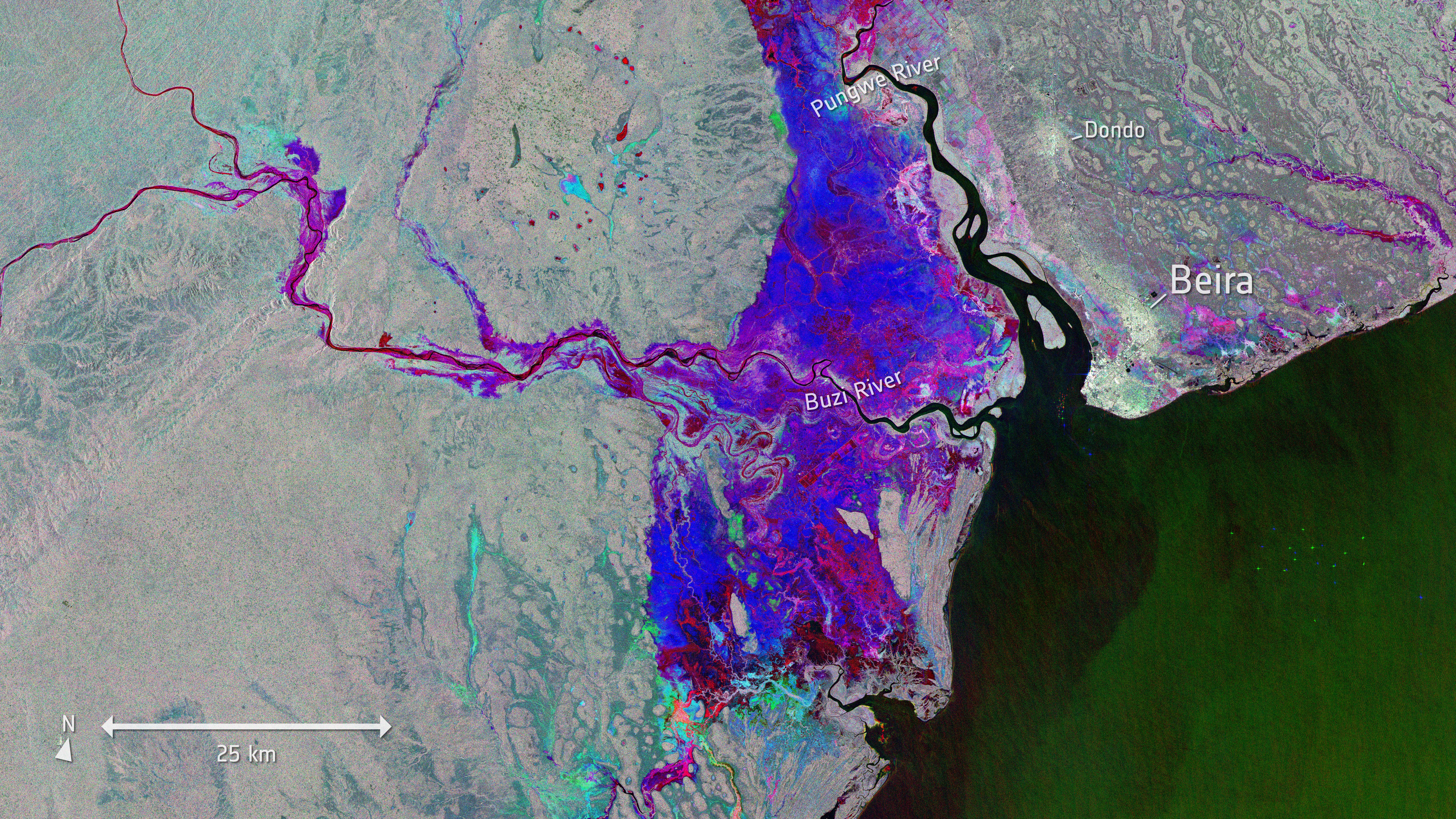 ESA: "This Copernicus Sentinel-1 image indicates where the flood waters are finally beginning to recede west of the port city of Beira in Mozambique. The image merges three separate satellite radar images from before the storm on 13 March, from one of the days when the floods were at their worst on 19 March, and as the waters are beginning to drain away on 25 March. The blue-purple colour indicates where floodwater is receding, while areas shown in red are still underwater."
On 14 March, Cyclone Idai made landfall at the Mozambique port city of Beira. Strong winds, torrential rain and flooding generated mass devastation in the city while the cyclone travelled inland along the Beira Corridor to wreak further damage across central Mozambique, Malawi and Zimbabwe. The Government of Mozambique confirmed the deaths of 598 people in that country alone, and a cholera outbreak has since been announced.
The region is well known to APRA researchers, as it is the site of the Beira Agricultural Growth Corridor (BAGC), a public–private initiative that has been studied as part of our workstream on agricultural corridor investments in Africa. Over the past decade, a range of private firms and donor agencies have planned and launched initiatives in the Beira region to promote commercial, often export-oriented agriculture, in what proponents say could be the breadbasket of Mozambique. Investments include PROIRRI ('Project Irrigation'), financed by the World Bank; the USAID-funded 'Resilient Agricultural Markets Activity' programme; a US$ 40 million rural development programme 'SUSTENTA' launched by the national government; and a range of private-sector agricultural enterprises. Research for the United Nations University has found that the Beira region has become the most concentrated area of large-scale farms in Mozambique, in some cases benefiting from the insecure land tenure of local communities.
There has also been significant investment in transport infrastructure along the corridor. Leveraging an up-country mining boom, the government has raised finance to rehabilitate railways, roads like the EN6 highway, and facilities at Beira port – all in the name of agricultural development.
Cyclone Idai is surely a grave setback. Parts of Beira port were severely damaged, impeding delivery of fuel, wheat and other goods; roads and bridges have been washed away; and businesses in Zimbabwe have suffered from the breakdown in imports and exports along the inland corridor. The World Bank has estimated that US$ 2 billion in recovery costs will be needed in Malawi, Mozambique and Zimbabwe to address the infrastructure and livelihood impacts.
Zambezia and Sofala, where Beira city is located, and the hinterland province of Manica have long been identified as vulnerable to extreme climate-related events. Officials in Beira report that preventive measures had been taken to minimise the impact of Cyclone Idai and, after a two-week blockage, the port and main transport corridor have reopened.
The Beira crisis highlights the increasing importance of exports and regional and cross-border trade to African economies, and the reliance of landlocked countries like Malawi and Zimbabwe on efficient transport and port infrastructure. But the crisis is also a reminder of the vulnerability of many agriculture-based livelihoods in the Beira corridor, and the need for systematic, sustained investment in rural areas. While large farms have increased in number, smallholder farming remains the dominant agricultural system in central Mozambique. According to FAO, Cyclone Idai has destroyed more than 500,000 hectares of crops, as well as sweeping away livestock and damaging grain stores. Small-scale farmers now face grave challenges in planting for the September harvest season.
Mozambique is prone to extremes of storms as well as drought, and climate change is only going to continue to intensify such events – in late April, an even larger cyclone, Cyclone Kenneth, hit the northern province of Cabo Delgado. Smallholders and businesses along the Beira corridor are very familiar with floods from overflowing regional rivers such as the Metuchira. These rivers are what give the corridor its agricultural potential – but in the absence of infrastructure that potential becomes a risk.
Through APRA research conducted over the past two years, we have been considering how small-scale farmers in Africa can ensure that large-scale infrastructure and investment projects, such as BAGC, will meet small-scale farmers' needs and increase their resilience to climatic and economic shocks. That could include continued investment in climate-resilient agriculture suited to small-scale farming contexts, such as measures to prevent soil erosion. Our research also suggests that corridor infrastructural improvements must extend to rural feeder roads. A Mozambican stakeholder told us:
"We still lack infrastructure, roads, storehouses and we need to organise smallholders into associations… the truth is that the EN6 road has little impact for smallholders. We need tertiary roads. Seventy percent of the cost of some products is due to transport costs in the poor road conditions we have."
Investment in farmer-friendly infrastructure, too, can be done with climate change in mind; in the southern province of Gaza, for example, a pilot was conducted to pave rural feeder roads using geocell technology so that the roads can better withstand future flood damage by distributing road stresses.
One observer has suggested that public spending on infrastructure and incentives for foreign investors have impeded the Mozambican state's ability to respond to Cyclone Idai. Certainly, not only governments, but also donors and investors must strike a difficult balance when planning for climate resilience, agricultural development and infrastructural investments. Nevertheless, it is vital that those who are most affected – small farmers and businesses – have a say in how those plans are made.
Written by: Rebecca Smalley and Euclides Goncalves on behalf of the research team from APRA's 'Corridors and commercialisation' workstream
Photo credit: contains modified Copernicus Sentinel data (2019), processed by European Space Agency – (CC BY-SA 3.0 IGO)
Corridors Mini-Series: