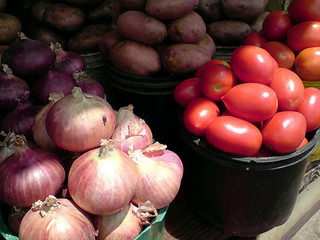 Two research updates have been published from the Commercialisation theme.
They provide an update on our case studies in Tanzania and Ethiopia, examining how small farmers have been able to take opportunities to commercialise under different conditions.
Onions in Tanzania
With minimal assistance and direction, small farmers in central Tanzania have created thriving plots of irrigated onions, marketed in Dar, other parts of Tanzania and in the region.
This research update looks at the role of marketing, government support and changes in infrastructure affecting these small farmers and their communities.
Onions and tomatoes in Ethiopia
Since the local agricultural bureau began a support programme for irrigated onions and tomatoes for sale in 2005, agriculture in central Ethiopia has become more commercialised.
This research update looks at the effects of the intervention, and suggests some challenges for the future.
Image: Onions and tomatoes, from knezovjb's Photostream on Flickr