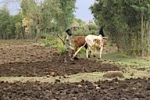 Across the world, we are seeing a dramatic rise in the extent of cross-border, transnational corporation-driven and foreign government-driven, large-scale land deals unfolding. Such 'land grabs' revolve around the production and sale of food and biofuels, conservation and mining activities. Understanding the social, economic and political consequences is an important challenge.
As a follow up to the highly successful conference on global land grabbing held in 2011 at IDS, the Land Deal Politics Initiative (LDPI) is organizing a second international academic conference to be held on 17-19 October 2012 at the Africana Studies Center at Cornell University, Ithaca, NY, USA.
The call for papers is now closed, but you can see it here:
The Future Agricultures Consortium, whose secretariat is at IDS, is one of the organizers. Among the confirmed keynote speakers is the new Director-General of the UN Food and Agriculture Organization (FAO) and Brazilian academic, José Graziano da Silva.
The organizers invited papers that offer rigorous and innovative analysis based on recent, original field research. Doctoral students and younger researchers, particularly from the global South, have especially been encouraged to participate.