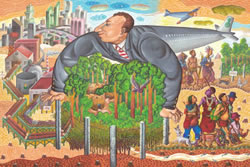 A special issue of the Journal of Peasant Studies, published this week, explores the controversial issue of 'green grabbing' – the appropriation of land and resources for environmental ends.
The vigorous debate on 'land grabbing' already highlights instances where 'green' credentials are called upon to justify appropriations of land for food or fuel – as where large tracts of land are acquired not just for 'more efficient farming' or 'food security', but also to 'alleviate pressure on forests'.
Green grabbing builds on well-known histories of colonial and neo-colonial resource alienation in the name of the environment – whether for parks, forest reserves or to halt assumed destructive local practices. Yet it involves novel forms of valuation, commodification and markets for pieces and aspects of nature, and an extraordinary new range of actors and alliances – such as pension funds and venture capitalists, commodity traders and consultants, GIS service providers and business entrepreneurs, ecotourism companies and the military, green activists and anxious consumers among others find once-unlikely common interests.
The Journal of Peasant Studies issue draws new theorisation together with 17 cases from African, Asian and Latin American settings, and links critical studies of nature with critical agrarian studies, to ask:
To what extent and in what ways do 'green grabs' constitute new forms of appropriation of nature?
How and when do circulations of green capital become manifest in actual appropriations on the ground – through what political and discursive dynamics?
What are the implications for ecologies, landscapes and livelihoods?
And who is gaining and who is losing – how are agrarian social relations, rights and authority being restructured, and in whose interests?
This special issue was launched at the Critical Agrarian Studies Colloquium on 'Global Land Grabbing' at the Institute of Social Studies in the Hague on 11 June. The event was chaired by Susan George (Transnational Institute) and Ian Scoones (IDS).
A range of new journal special issues also will be discussed at the Colloquium, focusing on themes such as the role of the state, political economy and governance, water grabs, globalisation and gender impacts. Together this will represent over 80 peer reviewed papers on different dimensions of 'land grabbing', many of which were originally presented at the International Conference on Land Grabbing held at IDS in 2011.
Work at IDS, with collaborations in Sierra Leone, Zambia, Kenya and Ghana, is continuing the investigation of 'green grabbing' under a STEPS Centre project on the Political Ecology of Carbon.
Blogs
Going once, going twice….. The great green land grab by Terry Sunderland, CIFOR, 14 September 2012
Media coverage
Environmental goals affect local population (pdf) – translation, Jonathan Witteman, De Volkskrant, 13 June 2012
Milieudoel treft lokale bevolking (pdf) – original article in Dutch, Jonathan Witteman, De Volkskrant, 13 June 2012
The dark side of the green economy: 'Green grabbing' Melissa Leach, AlJazeera, 20 June 2012
Q.&A.: The Underside of 'Green' Transactions Joanna M. Forster, NY Times Green blog, 20 June 2012
Downloads
Download for FREE 'Green Grabbing: a new appropriation of nature?', by James Fairhead, Melissa Leach and Ian Scoones in the 'Green Grabbing: a new appropriation of nature?' special issue of Journal of Peasant Studies 39.2.
Register with Taylor and Francis to read the complete issue of Journal of Peasant Studies 39.2 for FREE.
Image: from an original artwork by the Filipino painter Boy Dominguez, as used on the Journal of Peasant Studies promotional material.