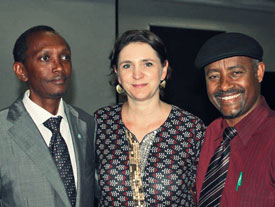 Future Agricultures was represented at the 11th CAADP Partnership Platform in Johannesburg on 24 March 2015, by Ruth Hall, convenor of the Land theme.
Prof Hall spoke at a side event on 'Improving Land Governance for Inclusive and Sustainable Agricultural Transformation', convened by the Land Policy Initiative. The other speakers were Eugene Rurangwa (United Nations Food and Agriculture Organisation) and Belay Demissie (Land Policy Initiative).
The Land Policy Initiative is a joint programme of the African Union, African Development Bank (AfDB) and the United Nations Economic Commision for Africa (UNECA).
Presentations
You can view and download presentations by the speakers below via our Slideshare site.
Blog
Prof Hall has written an article for the FAC blog reflecting on the discussion at the side event, and the implications for coordinated approaches to land rights in Africa.
The long road to African land rights: next steps by Ruth Hall, 25 March 2015