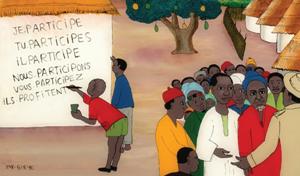 Future Agricultures researchers have contributed to an issue of the Journal of Peasant Studies on large land deals. 'The new enclosures' examines the implications of large-scale 'land grabs' for property, labour and rights.
Estimates of the total area of large land deals worldwide range from 43 million hectares (World Bank 2010) to 227m hectares (Oxfam 2011). Large land deals are often shrouded in secrecy, and often the full impact on local people is only felt after many years.
To access all the articles in the special issue, click the link above to register and be able to access all articles.
About the issue
The articles in this collection look at the political economy of land deals, and their implications for property and labour regimes; the way patterns of social difference are affected by changing land use; the politics of resistance; the narratives that are used to justify land grabs; and the role of powerful elites and international development agencies in blocking or encouraging land deals.
The articles draw on case studies from Ethiopia, West Africa, Kenya and South Africa, as well as research from Asia and other regions, to look at the history, present and future of land deals.
Free access to articles
Please see below the token url for free access to selected articles in the 39.3-4 issue of JPS:
http://www.tandfonline.com/r/fjps3934
When you click on the link, you will be taken to a sign in page on Taylor & Francis Online, where you will need to login or create an account. they you will be redirected to the 39.3-4 issue page with the free articles highlighted in green.
If you do not currently have an active account then you will first need to register. Please click on the link above and then click on 'Register' to complete all the required details. You will then have a username and password that you can use to login and access the free content.
If you already have an account simply click on the link above and sign-in with your username/password. You will be able to access the free content immediately.
Other activities