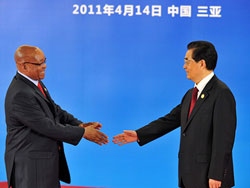 A set of seven new working papers looks at how Brazil and China are changing agricultural development in Africa.
The China and Brazil in African Agriculture (CBAA) project analyses new patterns of development co-operation in Ethiopia, Ghana, Mozambique and Zimbabwe. It examines how Chinese and Brazilian understandings of agricultural development are translated in aid and investment projects.
The working papers look at the four countries in turn, and at the international, political and historical context of co-operation between countries in the global South.
Download the papers
These working papers are the first publications from the CBAA project. Other planned outputs are
a geo-referenced database of agricultural co-operation projects in the four countries,
in-depth case studies
comparative analysis, and
implications for the future of aid and investment policy in African agriculture.
The initial findings were discussed in a panel at the Political Economy of Agricultural Policy in Africa conference on 19 March 2013.
Photo: President Jacob Zuma attends BRICS (Brazil, Russia, India, China, South Africa) Summit, 14 Apr 2011 by governmentza on Flickr (by-nd)