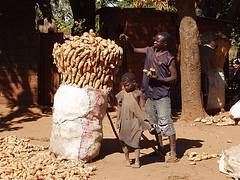 The Farm Input Subsidy Programme (FISP) is one of the highest profile government policies in Malawi, comprising about 70% of the Ministry of Agriculture's budget. It features in the election pledges of all the political parties and has been strongly influenced by a succession of Presidents.
While FISP is supported by the rural majority, it is a contested area for the private sector and donor community. Future Agricultures and its members have contributed to a series of biannual evaluations, on-going monitoring and academic analysis and comment on the programme. The independent evaluation of FAC in 2014 explored the effect of these outputs on the policies of key stakeholders and the implementation of the programme.
The principal conclusion is that evidence of the effectiveness of FISP has encouraged those donors that already supported FISP to continue funding and muted the criticism of those that were ideologically opposed. Real-time monitoring of implementation had resulted in some improvements to delivery practice.
Read more about Input Subsidies and Social Protection
Source: FAC Evaluation, December 2014
Image: Sweet potato by ILRI on Flickr