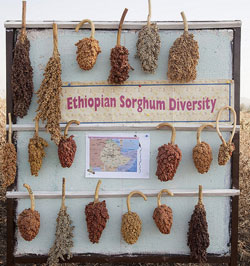 In 2009 Ethiopia's cereal seed system was based on central planning, with no recognition of informal seed systems, or the role of markets in seed distribution.
This system was not functioning effectively, such that farmers were unable to access quality seed at the time they needed. FAC's work on seeds has contributed significantly to the decentralisation and liberalisation of the cereal seed system in Ethiopia.
Key changes have included:
establishment of regional seed companies
the successful piloting of direct seed marketing to farmers
the development of independent regulatory authorities;
and the adoption of a new Seed Proclamation in 2013.
FAC's pioneering research on the political economy of the cereal seeds system in 2010 was a timely and distinct contribution to the policy debate in a context of grain seed shortage and endemic low productivity.
In 2011, FAC supported an International Workshop on Seeds systems organised by the Ethiopian Institute of Agricultural Research (EIAR), which provided a forum for the main stakeholders in country to share their existing knowledge, creating a shared 'evidence base' to inform new policy. FAC also brought experts from its wider network in Malawi, Kenya and Zimbabwe, to share learning from their seed systems, highlighting key lessons for Ethiopia.
The lead FAC researcher on seeds in Ethiopia (based in the EIAR) has been effective in networking and influencing policy processes informally via engagement in discussions in the Agriculture Ministry, and numerous consultancy assignments. Mostly notably, he has been an adviser to the Integrated Seed System Development (ISSD) project run by Wageningen University's Centre for Development Innovation (CDI), financed by the Dutch government, which has pioneered direct seed marketing in the four main regions of Ethiopia and is widely acknowledged as having the largest single influence on changes to the cereal seed system.
FAC has provided strategic support to the emergence of this programme in Ethiopia and is currently engaged in a wider partnership with CDI to scale up this programme in various African countries.
Read more about the Integrated Seed Sector Development in Africa programme.
Source: FAC Evaluation, December 2014
Photo: Varieties of sorghum, from gatesfoundation's photostream on Flickr