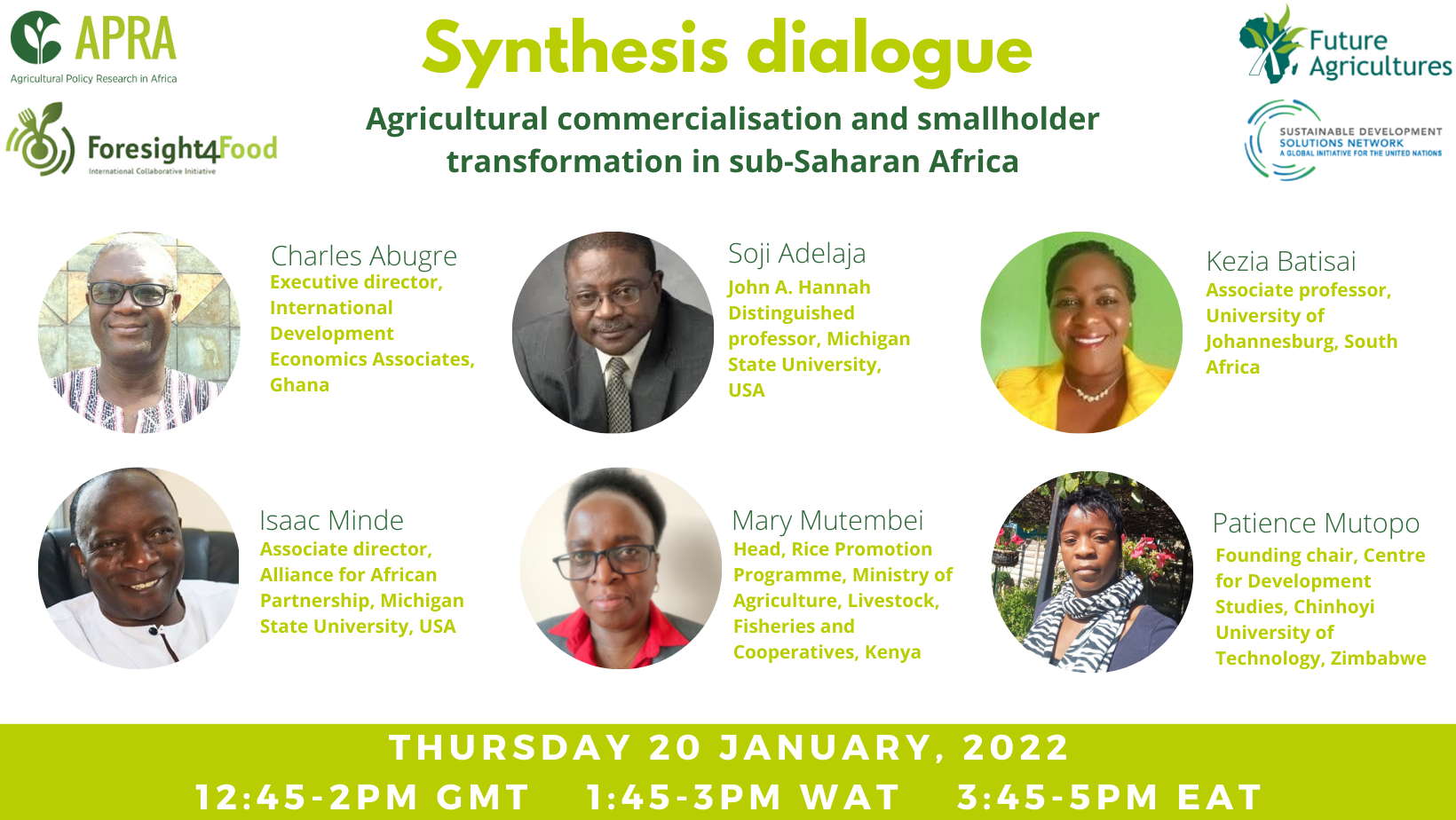 On 22 January 2022, APRA, in partnership with the UN Sustainable Development Solutions Network (SDSN) and Foresight4Food (F4F), will host an interactive e-dialogue on Agrarian Change and Rural Transformation in sub-Saharan Africa.
The session, which will be held on Zoom from 11am-12.30pm GMT, will involve analysing the dynamics of agricultural commercialisation and agrarian change across East, West and Southern Africa, focusing on the emerging challenges and regional realities. In three parallel discussions, four APRA scientists from each region will present on the implications of their research findings for agricultural policy and practice.
Following these regional dialogues, a synthesis discussion will take place from 12.45pm-2pm GMT to gather regional perspectives and share a commentary on agricultural commercialisation and smallholder transformation across sub-Saharan Africa.
West Africa: Inclusivity and Smallholder Transformation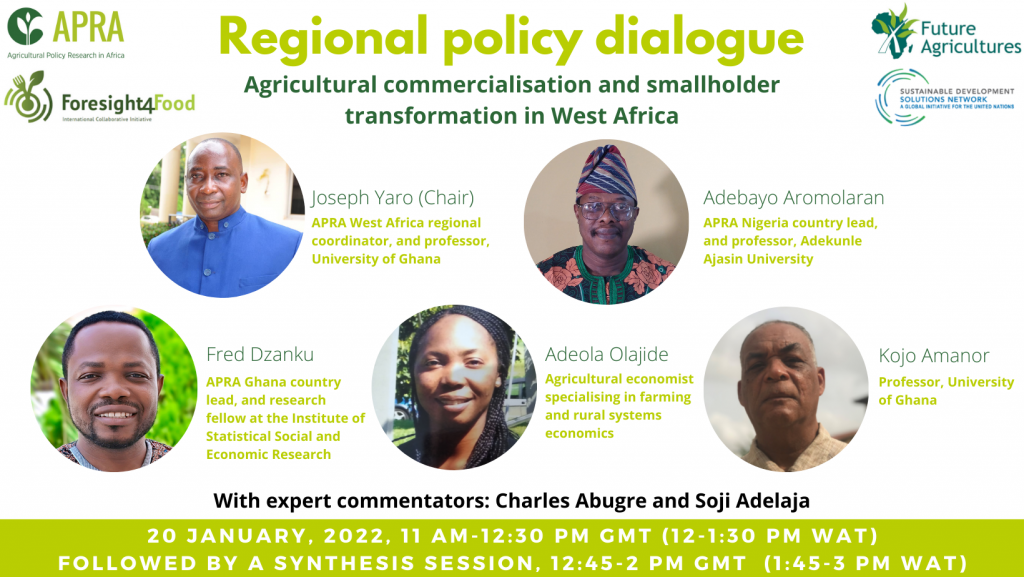 Speaking from West Africa, APRA's Adebayo Aromolaran will draw on evidence from Nigeria to examine the extent to which medium-scale farms are driving agricultural transformation in Africa. Adeola O. Olajide also from Nigeria, will highlight the poverty-commercialisation-food security linkages among smallholder cocoa farmers in the country's southwest region, whilst Kojo Amanor will look at the long-term patterns of change in the Ghanaian cocoa sector. Also from Ghana, Fred Mawunyo Dzanku's presentation will explore how best to enhance the inclusivity of smallholder agricultural commercialisation.
East Africa: Dynamics of Rice and Sunflower Commercialisation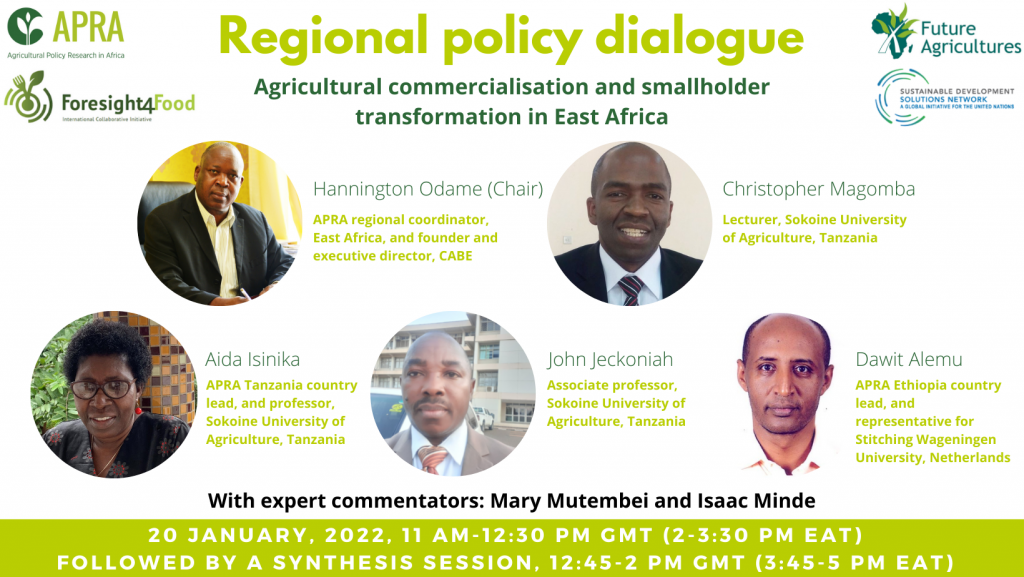 Discussions from East Africa will take a different focus: APRA's Aida Isinika will present on the effects of different forms of rice commercialisation on women's empowerment and food and nutrition security in Tanzania's Kilombero Valley. Also from Tanzania, John Jeckoniah will speak on sunflower commercialisation and its associated impacts for livelihood diversification and poverty reduction in the Singida Region. Dawit Alemu aims to highlight the dynamics of rice commercialisation in Ethiopia's Fogera Plain, whilst Christopher Magomba will explore how small-scale processors are supporting commercialisation among smallholder rice farmers in Ethiopia and Tanzania.
Southern Africa: Social Differentiation and Livelihood Trajectories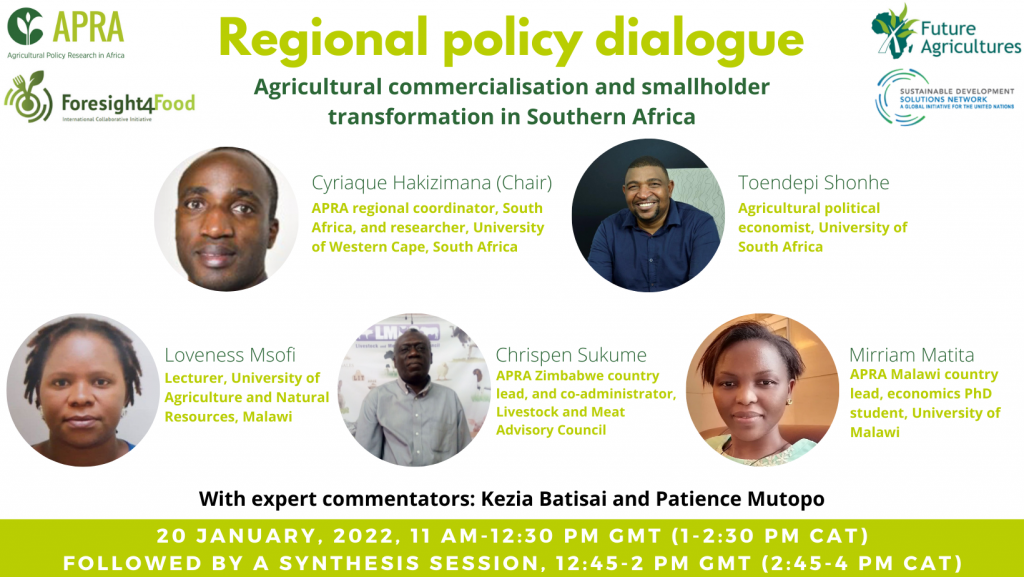 Finally, from Southern Africa, the talks will start with Blessings Chinsinga and lessons on groundnut commercialisation and livelihood trajectories from Malawi. Understanding gender and social differentiation in the context of agricultural commercialisation will be the focus of the presentation by Loveness Msofi, also from Malawi. Next, Toendepi Shonhe will address agricultural commercialisation, changing labour regimes and rural transformation, drawing on evidence from Zimbabwe, and Chrispen Sukume will also look at agricultural commercialisation pathways in Zimbabwe, as well as input use and crop productivity among smallholder farmers.
To wrap up the presentations, two expert commentators in each regional group (Charles Abugre and Soji Adelaja, West Africa, Mary Mutembei and Isaac Minde, East Africa, Kezia Batisai and Patience Mutopo, Southern Africa), will offer brief reflections on the e-Dialogue issues from their own perspectives, before talks move on to an audience discussion.
A Synthesis Discussion: Implications for Policy and Practice
Following the regional discussions, the six expert commentators and all e-dialogue participants will come together to compare lessons in a plenary synthesis discussion. The focus will be on drawing out emerging trends, challenges and opportunities for the emergence of more inclusive forms of agricultural commercialisation and food system transformation, with a greater focus on policy.
This event will be the first in a series of three e-dialogues to be held by APRA, SDSN and F4F in January and February, which aim to feature new evidence and analyses to highlight the critical factors that enable or constrain small and medium producers, farm workers and processors to invest in agriculture. For more information on topics and timing for the other e-dialogues, see here.