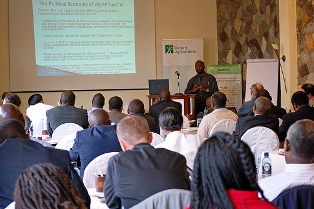 Commentaries on each of the panel sessions were provided by participants and are linked below.
Panel 1 – LIVELIHOODS: Land Rights (Convening Space)
Chair: Paul Mathieu, FAO, Rome
15.30 Tea/coffee
16.00 Panels session 2 (panels 6-10)
17.30 Drinks reception and open space session, video and publications display (IDS Common Room)
19.00 Dinner, hosted by the Future Agricultures Consortium (IDS, Room 120)
21:30 Buses to Brighton depart
Thursday 7 April
10.30 Tea/coffee
11.00 Panel session 3 (panels 11-15)
12.30 Lunch
14.00 Panel session 4 (panels 16-21)
15.30 Tea/coffee
17.30 Book fair: a series of book, report and special issue journal launches over drinks, plus poster and publication displays from different participating organisations.
18.00 – Room SC1/2: Book launch: of Powers of Exclusion: Land Dilemmas in Southeast Asia, Singapore and Honolulu (by Derek Hall, Philip Hirsch and Tania Li) Singapore University Press and Hawaii University Press, 2011.
19.00 Bus to restaurant in Brighton departs.
19.30 Dinner in Brighton hosted by the Journal of Peasant Studies and the Future Agricultures Consortium.
Friday 8 April
10.30 Tea/coffee
11.00 Panel session 5 (panels 22-27)
12.30 Lunch
14.00 Panel session 6 (panels 28-32)
15.30 Tea/coffee
17.00 Closing remarks and thanks – Ian Scoones, Future Agricultures Consortium, IDS,Sussex