The Institute of Development Studies is situated on the campus of the University of Sussex, conveniently located on the outskirts of Brighton, close to the Channel ferry ports and to Gatwick and Heathrow international airports, and just over an hour by train (60 miles) from London.
Detailed map of the University of Sussex campus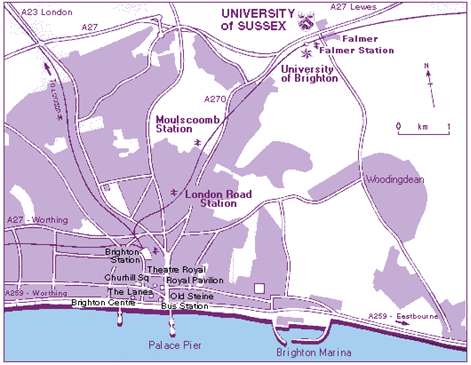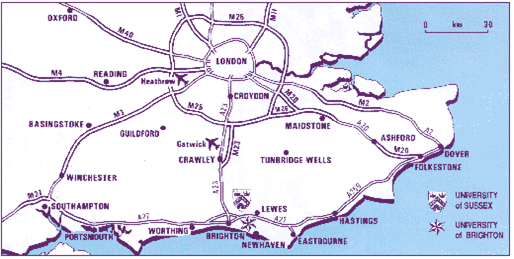 Train
Book through to Falmer railway station. The station is immediately opposite the University of Sussex campus entrance. Some trains on the Coastway line east of Brighton run direct to Falmer, but travellers from London and on most other lines will need to change at Brighton or Lewes. Falmer station is well served by frequent local trains from Brighton and Lewes (about eight minutes from either direction) which run until about midnight.
Enquiries (train times nationwide) – 08457 484950
For further information and timetables, see the Network Rail website.
By Coach
Coaches to Brighton leave Victoria every 90 minutes from 0900 hours. The journey takes around 1 hour 45 minutes. The coach arrives in Brighton Pool Valley bus station and you can then take a bus to the campus from the Old Steine (approx. 100 metres' walk). Alternatively take a taxi.
Enquiries: National Express – (inc Jetlink/airport coaches)
– 08705 808080
By Bus
Bus numbers 28, 30, 128, 728 and 729 travel between Brighton (Old Steine) and Lewes and stop outside the University campus; bus number 25 runs between Brighton (Churchill Square and Old Steine) and the University and comes onto the campus.
Enquiries: Local bus services – Brighton and Hove Bus Co
By Car
The University campus is on the main A27 road between Brighton and Lewes, about four miles (six kilometres) from the centre of Brighton and the same distance from Lewes. Visitors driving from London should take the M23/A23, coming off at Patcham to join the A27 eastbound towards Lewes. Drivers from the West should take the A27 direct to the University; from the East they should go to Lewes and follow the signs for Brighton. Visitors may use any of the designated car parks (see map) but should note that the car parks are open and unattended. Cars should be locked and objects of value should not be left in them.
By Taxi
Taxis are available at Brighton and Lewes railway stations and in central Brighton, but please note that there is no taxi service at Falmer station. It is about four miles (six kilometres) from the centre of Brighton to the University of Sussex; due to traffic congestion it can often be quicker to take the train.
Taxis: Brighton (Streamline) – 01273 747474
By Air
If there is a choice of airport, it is advisable to fly to London (Gatwick) since it is closer to the University than London (Heathrow), and has better transport links to Falmer.
From Gatwick take the train to Brighton or Lewes and change for Falmer. From Heathrow take the Underground (London Transport) to Victoria railway station and then take the train to Brighton or Lewes and on to Falmer; or take the airport bus to Gatwick and go on by train from there.
Coaches (number 747) run from both Gatwick and Heathrow Airports to the centre of Brighton. This is a good option from Heathrow if you have lots of luggage.
Gatwick Airport enquiries – 08700 002468
Heathrow Airport enquiries – 08700 000123
By Sea
From Newhaven, take the train direct to Falmer. From Portsmouth or Southampton, take the train to Brighton and change there for Falmer. From all other ports, take the train to London and travel from London Victoria Station via Brighton or Lewes.
Channel Tunnel Eurostar operates train services to and from continental Europe via the Channel Tunnel. There is a passenger terminal at Ashford, but it is easier to carry on to London Waterloo Railway Station. From Waterloo take the underground (London Transport) to Victoria Railway Station and then the train to Brighton and on to Falmer.
Eurostar (Channel Tunnel) – 08705 186186 Useful travel and transport websites
www.transportdirect.info
Government site containing a searchable public-transport route-finder database. Also includes live travel information.
www.journeyon.co.uk
Journey planner for the Brighton and Hove area.
www.citytransport.org.uk
Government site containing live traffic and travel information for Brighton and Hove.
{