The triple drivers of rice commercialisation in Fumbisi Valley, northern Ghana (2)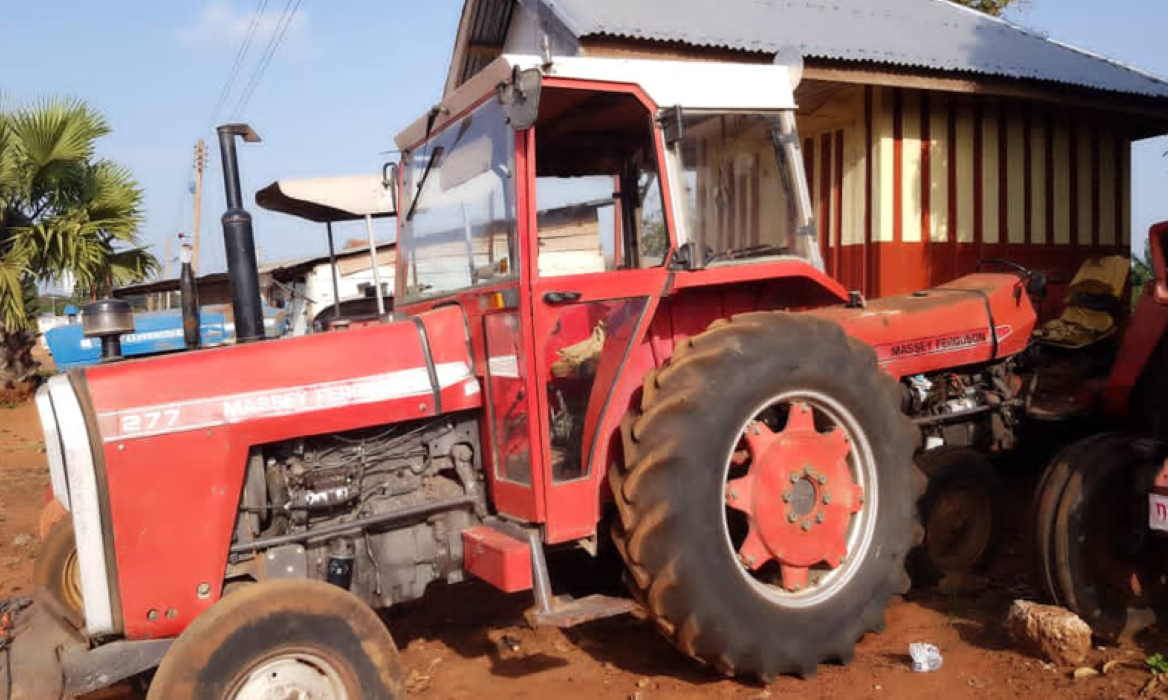 ---
Written by Joseph Awetori Yaro and Ibrahim Wahab
---
This blog looks at how the triple drivers of mechanisation, weedicide/herbicides and improved seeds play an integral role in rice commercialisation in northern Ghana, as found in APRA Working Paper 71. The author explores how, and why, they are so important, alongside other factors such as market demand, roads and other infrastructure, state policy, and land availability.

Part one of this series examines the rising farm sizes in the Fumbisi Valley
Mechanisation
In the last decade, there has been a substantial increase in the rental of mechanisation equipment in the northern regions of Ghana with farm sizes above 5ha benefiting the most from (Houssou et al. 2018). The major policy initiative by the state to increase local rice production and reduce the high import bill on rice led to support for mechanisation of agriculture, which involves waivers on import taxes on equipment and the supply of subsidised state-imported machinery. Imports of used has increased the stock of tractors in northern Ghana, where more durable second-hand tractors are preferred compared to new tractors brought in by politicians, which often lack available spare parts and are politically motivated.
Circular migration of tractors between the transition zone (vegetation zone of northern Ghana) and Guinea Savannah zone has made it possible for many local farmers to access tractors. Once the rainy season begins in the transition zone, most strong tractors form convoys and travel the 200(–360km journey to farm in these zones and then return with other tractors owned by transition zone farmers to northern Ghana a few weeks after to plough in the extensive farmlands. Poor farmers who cannot afford the fees of tractor services pledge a bag of farm produce (which varies depending on produce) after harvest to obtain this service.
"Some decades ago, we were not cultivating the valleys. Our fathers had no extensive valley farms. They only cultivated smaller patches of rice for home consumption. It is only now that we have started commercial rice farming in the valleys. We did not have tractors at that time".

According to an 'Earth Priest'[i] at Uwasi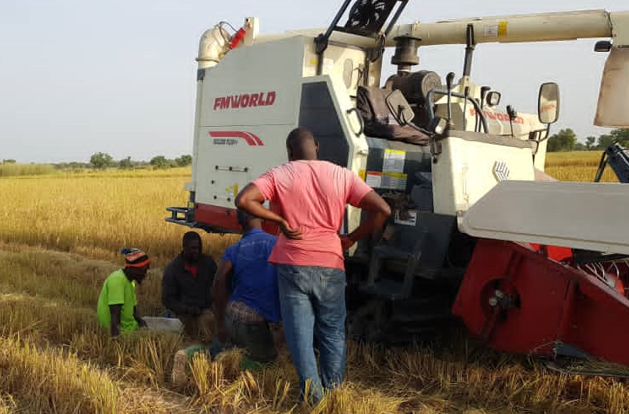 Combine harvesters, consisting of crawlers and normal tyre versions, have become available, although are still not enough to meet the demands of most farmers who have to harvest at the desired moisture content for rice processors. Crawlers are mostly owned by large-scale farmers who will harvest their 200–2000ha farms before providing services to the medium and small-scale farmers.
"It is the stranger farmers who brought large farms. You need farm implements like tractors and harvesters to expand area in the valley. We do not have that kind of capital."

An elder at the Weisi Chief's court
Mechanisation enabled by rich stranger farmers explains the high fertility of the Fumbisi valleys. Women's engagement and expansion of farm sizes is mainly due to mechanisation:
"When we were using the hand hoe and bullocks, farming was slow but now the tractors have hastened the land preparation process. Additionally, the cost of the tractor is GH₵80 per acre, which is not too much"

Women's Focus Group Discussion, Weisi
Improved seeds
The use of improved seeds due to increasing availability and decades of sensitisation by the state and NGOs has become a major driver of farm size increases and commercialisation. Commercialisation is being boosted by farmers' move away from planting traditional, late maturing seeds to improved, early maturing varieties (Houssou et al. 2018) in order to meet increasing demand and the constraints posed by climate change (such as grains that can adapt to a shorter rainy season).
Once small-scale farmers start to witness the higher productivity on the bigger farms, they are incentivised to invest in those seeds as well. However, small-scale farmers still grow both local and improved rice varieties due to their own consumption preferences. They argue that the local variety will yield even with unreliable weather, and without the application of fertilisers and insecticides. Extension agents have become conduits for the distribution of improved seeds as they manage the state programs that send seeds directly to farmers or partner input distributors to give these out for free or at a subsidised price. For example, the Planting for Food and Jobs Initiative has made rice, maize, soyabean etc. available to several thousand farmers.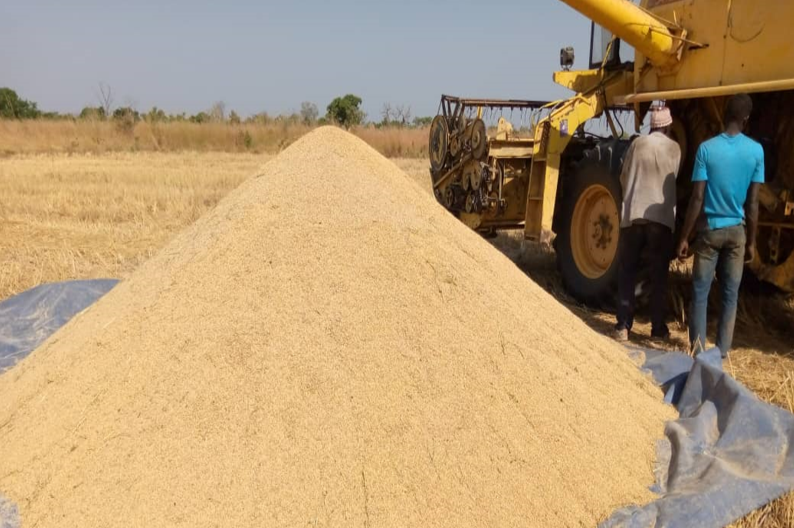 Herbicides/Weedicides
One of the main yield-limiting factors in the production of rice is weed management, which grow very fast and compete with crops for available nutrients. In addition, flood waters do not recede while weeds are infesting fields. In such conditions, farmers rely on weedicides to control weeds. The popular weedicide used is under the trade name Bison. A survey by Rodenburg et al. (2019) shows that rice farmers who used weedicides to control weeds suffered reduced yield losses of about 0.4 t/ha compared to their counterparts who employed hand weeding. The same survey shows that there is increasing reliance on weedicides to control weeds with as much as 55 per cent of rice farmers using chemicals to control weeds on their farms. This proportion increases to 82 per cent for field areas between 5-10ha and 81 per cent for fields with areas above 10ha (Houssou et al. 2018).
"I expanded with the emergence of tractors coupled with the use of agrochemicals especially herbicides that allowed me to do zero tillage. These changes allowed me to increase my acreage. I used to cultivate 3 acres and that has increased to about 15 acres"

Medium-scale farmer, Weisi
Herbicides are the most widespread agro-chemical used by every farmer for preparation of land, although several negative effects are reported such as destruction of the micro environment, species reduction, pollution of soils and water bodies and effects on other crops downstream. The labour-saving power of herbicides and weedicides make these important determines for farm size expansion in the area.
Conclusion
The triple-drivers of Commercialisation and farm size increases discussed in the previous blog have resonated with several other districts where commercialisation of other crops is underway. However, other enabling factors include increased market demand, skills/knowledge and infrastructure. The time for commercialisation has come because all the conditioning factors seem to prevail, such as large urban centres in need of food, Chinese expansion of road infrastructure, rich urbanites continuous investments in agriculture, rural dwellers up-taking new innovations they rejected in the past and the support from politicians in making agro-inputs available through subsidies.
---
[i] In this area of Ghana, an 'earth priest' is the religious head and has claims to local land, therefore overseeing it.
---
Feature photo: Picture of a tractor in the Fumbisi Valley, Ghana. Credit: Charles Nyaaba /Peasant Farmers Association
---
References
Amanor, K. (2019) Mechanized Agriculture and Medium- Scale Farmers in Northern Ghana: A Success of Market Liberalism or a Product of a Longer History? APRA Working Paper 23, Brighton: Future Agricultures Consortium
Cabral, L. (2019) Tractors in Africa: Looking Behind the Technical Fix, APRA Working Paper 22, Brighton: Future Agricultures Consortium
Houssou, N. et al. (2018) 'Changes in Ghanaian Farming Systems: Stagnation or a Quiet Transformation?' Agriculture and Human Values 35.1: 41-66
Muyanga M. et al. (2019) 'Changing farm structure and agricultural commercialisation in Nigeria', APRA Working Paper 26. Brighton: Future Agricultures Consortium
Rodenburg, J. et al. (2019) 'Status quo of chemical weed control in rice in sub-Saharan Africa', Food Security 11.1: 69-92
Shonhe, T. (2018) The Political Economy of Agricultural Commercialisation in Zimbabwe, APRA Working Paper 12, Brighton: Future Agricultures Consortium
---
Please note: During this time of uncertainty caused by the COVID19 pandemic, as for many at this time, some of our APRA work may well be affected but we aim to continue to post regular blogs and news updates on agricultural policy and research.