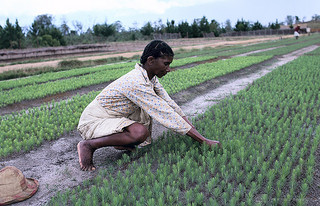 The winners of the small grants competition for research into young people and agri-food have been announced. The grants programme was launched in May 2012 by Future Agricultures, to fund research and other work to pursue a research agenda following the 2012 Young People, Farming and Food conference, and contribute to evidence-based policy processes.
Grants of up to UK£2,000 were offered on a competitive basis to applicants in a position to make a serious contribution to the post-conference research agenda. Grants of this size are not sufficient to initiate and complete new work, so we sought to identify and fund "value-added" activities such as additional field visits, additional data analysis, specific writing projects, attendance at a conference, or organising a conference panel.
Out of just over one hundred applications our panel selected twelve winners:
Fred Alinda (Rwanda)
Social Differences and Participation in and Adoption of Agribusiness Technologies: The Case of Young Coffee Farmers in Rwanda
Lydia Biriwasha (Zimbabwe)
Agricultural Gardens in Zimbabwean schools: Attitudes and Perceptions
Mohamadou Sall (Senegal)
Who left the farms? Case study from the Ngomene and Diossong Farms (Senegal)
Anna-Lisa Noack (Kenya)
How can food security be enhanced and ensured in rural Western Kenya according to local small and medium-scale farmers, off-farm laborers, and local institutions: which strategies may be effective and who will facilitate their implementation and adoption?
Joana Sousa (Guinea-Bissau)
Cashew nut and swamp rice farming: a way forward? Views of elders and youngsters
Manuel Bivar (Guinea-Bissau)
Balanta youth farmers of Guinea-Bissau: re-agrarianisation, rural militia, and land tenure and cattle raiding conflicts
Michael Chasukwa (Malawi)
Youth, Agriculture, and Land Grabs in Malawi
Cyriaque Hakizimana (Burundi)
African Youth and Rural Futures: A Critical Assessment of the Determinants of Youth's Rural Livelihoods in Burundi
Abdurehman Eid (Ethiopia)
Commercialization of Pastoralism; Delve into the Role of Youth: Case of Somali Pastoral Areas in Ethiopia
Joanes Atela (Kenya)
Opportunity space for the youth in Kenya's agricultural policy formulation and implementation
Tabby N. Karanja (Kenya)
Constraints and Opportunities in Financing Agri-Food Marketing: The Case of Banana Marketing by Young Entrepreneurs in Kenya
Emmanuel Zivenge (Zimbabwe)
Youth participation in policy processes and its impacts on agricultural activities
To find out more about our work on youth and agriculture, visit the Young People and Agri-food Theme.