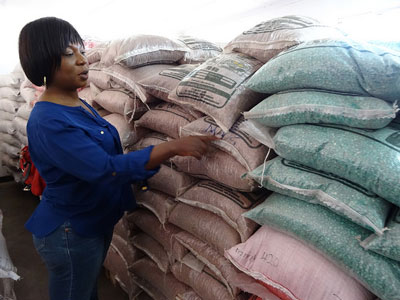 A regional dialogue on "Strengthening African Seed Systems: Technical, Economic and Policy Challenges" took place in Nairobi on 14-15 July, hosted by Future Agricultures and the Tegemeo Institute of Agricultural Policy and Development.
Video and presentations from the event are now available to view on this page.
The workshop aimed to examine the institutional, social and political dimensions of getting seed technologies into use and to highlight the challenges of increasing access to improved seeds for poor farmers through both formal and informal channels.
It draws on recent research by the Future Agricultures Consortium (FAC), a learning alliance of African and international researchers working on agricultural policy processes in Africa, and the Tegemeo Institute of Agricultural Policy and Development, Kenya's leading agricultural policy research institute, along with a host of leading national and international experts.
Presentations
Slides from the presentations are available to view on Slideshare, via the links below.
Video
Blessings Chinsinga: From seed policy to practice: perspective from Malawi (YouTube)
Blog
Leonard Haggai, Research and Engagement Officer, Future Agricultures East Africa hub, reflects on the learning from the event.
---
About seed systems in Africa
In recent years, governments, regional and international agencies, farmers' organisations, non-governmental organisations and private companies have acknowledged the importance of seed systems as a crucial element in any potential improvement of agriculture in Africa. Inadequate attention in the past to building and supporting viable and effective seed systems has been identified as a key reason why the original Green Revolution had a very limited impact in Africa. In that regard, it is encouraging that a wide-ranging review published in 2013 by the Alliance for a Green Revolution in Africa (AGRA), an independent organisation funded by the Bill & Melinda Gates Foundation which supports smallholder farmers to become more productive and profitable, stresses the importance of a creating a 'diverse and dynamic seed system' in Africa. Similarly, a recent communiqué by the African Union Commission's African Seed and Biotechnology Programme (ASBP) recommends that 'a pluralistic approach to seed sector development is required to optimally serve objectives of food security, economic development and biodiversity through entrepreneurship'.
In this workshop, we are attempting to focus the conversation about African seed systems by showing how they can and why they should become more diverse, dynamic and innovative. To accomplish this transformation, we are engaging the policy makers and other stakeholders on the need to let go of some cherished ideas and adopt a new perspective on innovation – how and where it happens and (most importantly) who does it.
For more information, contact Hannington Odame.
Image: Afriseeds seed by cimmyt on Flickr (cc-by-nc-sa)