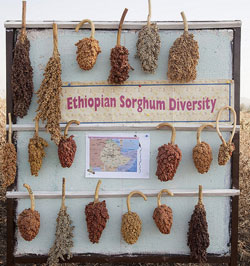 A new book, available as a free download (Zip file, 18MB), is the culmination of a considerable amount of new and important research on seed systems, both within Ethiopia and across Africa.
Defining Moments in the Ethiopian Seed System draws together a large collection of papers presented at the 'International Conference on Sustainable Seed Systems in Ethiopia: Challenges and Opportunities', hosted by the Ethiopian Institute of Agriculture Research, Addis Ababa, in June 2011. It provides insights into the latest innovations in seed system research and development, the evolving role and performance of the formal and informal seed sectors and the potential for their integration and, significantly, the political economic and institutional factors shaping national and regional seed policy and processes.
In this respect, the book comprises more than simply a set of 'defining moments' in the evolution of Ethiopia's own seed system, as it raises fundamental questions about the opportunities and challenges facing seed system development in Africa at a time of increasing change and uncertainty.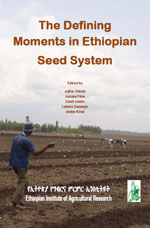 Above all, this collection makes it clear that it is essential to focus on issues of diversity—in gene pools, in seed and crop varieties, in agronomic practices, in training and technical support, in production and delivery systems, in resulting landscapes, and in the way we go about appraising and pursuing— divergent trajectories in knowledge, innovation, and development with regard to seed systems.
Download the entire book (ZIP file, 18 MB)
Chapter list
Chapter I: Policies, Strategies, and Institutions for Ethiopian Seed System Development
The political economy of cereal seed systems in Africa: lessons from a five-country study
John Thompson and Ian Scoones
Evolution of seed policy and strategies and implications for Ethiopian seed systems development
Zewdie Bishaw and Niels Louwaars
Seed business in Ethiopia through Indian experience
J. C. Rajput, Ashish Wele, Milind P. Kulkarni
Seeds and subsidies: the political economy of input programs in Malawi
Blessings Chinsinga
Regional seed partnerships: innovations to evolving and enabling seed policies in Ethiopia
Mohammed Hassena and Joep van den Broek
Political economy of seed systems in Zimbabwe: rebuilding the seed system
Magunda, Douglas
Can agro-dealers deliver the green revolution in Kenya?
Hannington Odame and Elijah Muange
Chapter II: The Role and Performance of the Formal Seed System
Varietal development and release for enhancing the seed system in Ethiopia
Adefris Teklewold and Daniel Mekonnen
Seed health testing in seed systems in Ethiopia
Dereje Gorfu, Amare Ayalew, Frew Mekbib and Yonas N
Roles of public and private seed Enterprises
Abebe Atilaw and Lijalem Korbu
Management and delivery challenges and opportunities in the Ethiopian seed system
Yonas Sahlu, Dawit Alemu and Abebe Atlaw
Administering the seed industry
Lemma Desssalegn, Yonas Sahlu and Frew Mekbib
Free movement of seeds and plant propagative materials and the spread of crop pests in Ethiopia
Tebikew Damte
Chapter III: The Informal Seed System
Practices and developments in the informal seed system of Ethiopia
Asnake Fikre, Adugna Wakjira, Frew Mekbib, Setegn Gebeyehu
Variations in farmer organizations engaged in seed entrepreneurship
Hussein Mohammed, Tadesse Desalegn, Fetein Abay, Kedir Nefo, Nigussie Dechassa, Marja Thijssen and Walter De Boef
Farmer-based seed multiplication in the Ethiopian seed system
Dawit Alemu
Strengthening informal seed multiplication: community seed banks in Alaba Special Wereda
Abebe Shiferaw, Jean Claude, Kahsay Berhe and Dirk Hoekstra
Intervention strategies for promoting underutilized species
Kariuki LW, Maundu PM, Morimoto Y
A twentieth-century history of cereal seed development in Ethiopia
James C. McCann
Chapter IV: Seed Systems in Cereals, Pulses, oil and Vegetable Crops
Integrated seed sector development: experiences in Africa
Mohammed Hassena, Joep van den Broek, Marja Thijssen, Walter de Boef and Niels Louwaars
Integrated formal and informal tef seed system
Kebebew Assefa, Sherif Aliy, Solomon Chanyalew, and Gizaw Metaferia
Tef seed system in Minajar-Shenkora and Lume-Ejere Weredas of East Shewa
Sitotaw Ferede
Barley seed systems and technology development
Berhane Lakew, Wondimu Fikadu, Fetien Abay and Tesfahun Alemu
Opportunities and challenges in hybrid maize and sorghum seed production in Ethiopia
Mosisa Worku, Taye Tadesse, Tafese Gebru and Melaku Admasu
Decentralized common bean seed production and delivery system in Ethiopia
Endeshaw Habte, Setegn Gebeyehu, Kasaye Negash, Kidane Tumsa and J.C. Rubyugo
Integrated system in chickpea and lentil seed multiplication, delivery and impact
Million Eshete, Sherief Aliye, Asnake Fikre and Lijalem Korbu
Integrated seed system in faba bean seed multiplication, delivery and impact
Tamene T., Mussa J., Wondafrash M., Tadesse S., Yeneneh B.
Progress and challenges of the informal seed system of highland oil crops
Adugna Wakjira, Abebe Delesa and Bulcha Woyessa
Importance of the informal seed system in sesame technology scaling-up in Ethiopia
Geremew Terefe and Mulugeta Atnaf
Progress, success, and challenges in Ethiopian vegetable seed system
Lemma Dessalegn, Shimeles Aklilu, Getachew Tabor, Selamawit Ketema and Kebreab Abebe
Research experiences and lessons on cool season vegetables seed production in Amhara region
Semagn Asredie and Fentahun Mengistu
Potato seed systems in the highlands of Ethiopia
Gebremedhin Woldegiorgis, Atsede Solomon, S Steffen, Semagne Asredie, Gebrehiwot Hailemariam
Challenges and opportunities in the coffee seed system of Ethiopia
Taye Kufa, Teshome Kumela and Wondyifraw Tefera
Progress, success and challenges of the informal seed system of spices, aromatic and medicinal plants in Ethiopia
Girma Hailemichael, Solomon Abate and Ali Mohammed 525
Challenges and opportunities in forage seed system of Ethiopia
Solomon Mengistu and Getinet Asefa
Photo: Varieties of sorghum, from gatesfoundation's photostream on Flickr