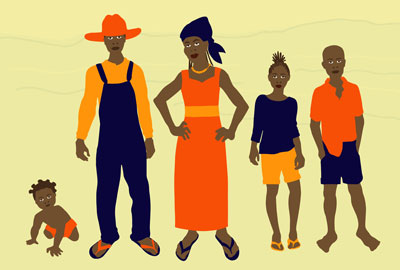 African Farmer, a free, open source online game, has been launched by the Future Agricultures Consortium and the University of Sussex.
The game simulates the complex decisions and uncertainties faced by small-scale farmers living in Sub-Saharan Africa. It aims to challenge and engage students, development practitioners, and anyone interested in the challenges faced by farmers in poor countries.
The challenge for players is to manage a farming household in a village, as they make decisions on what to grow, what to buy and how to feed a family – and see the results of those decisions. African Farmer presents players with a range of challenges, from food prices, diets and work, to more unpredictable chance events like weather and disease.
The game is available in two versions: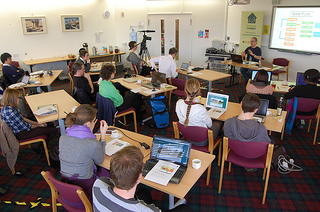 Playing the game at the Institute of Development Studies, March 2014
Farming in Sub-Saharan Africa is complex and varied. While the African Farmer game does not aim to cover every aspect of rural life, it will encourage players to discuss the issues in an engaging way, alongside more standard textbooks or educational materials. In doing this, it builds on a growing tradition of interactive games used in development studies. African Farmer develops ideas from the educational board games Green Revolution, developed in the 1970s by Graham Chapman and Liz Dowler; and Africulture, developed in the 1980s by Graham Chapman, Janice Jiggins and Henk de Zeeuw.
African Farmer was created by developers from the Department of Informatics at the University of Sussex and researchers from the Future Agricultures Consortium. It was supported by the UK Department for International Development through a grant to Future Agricultures, with additional support from the UK Economic and Social Research Council through a grant to the STEPS Centre.
The game is open source, so anyone wishing to develop or adapt the game can download the source code on GitHub.
Play the game
Why was the game developed?
In this blog post, STEPS member John Thompson explains the origins of the game and how it might provide insights into the challenges faced by small-scale farmers.
Video: how to play the multi-player game
Aimed at teachers, trainers and other group leaders, this short video is a step by step guide to the process of running the multi-player game.
Video: what's it like to play the game?
Participants in a game session in March 2014 talk about what they thought of the game and what questions it raised.
Video: how was the game created?
Dr John Thompson (Future Agricultures Consortium/Institute of Development Studies) and Jim Jackson (Department of Informatics, University of Sussex) talk about the background to the game and how it works.
John Thompson: the thinking behind the game
James Jackson: how the game works and how it was made