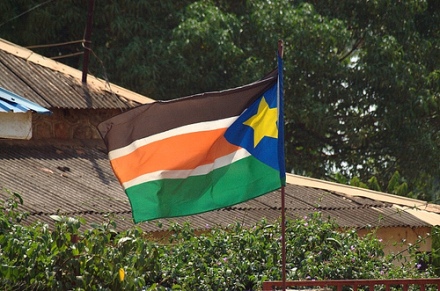 In a seminar at the Institute of Development Studies on 1 October, Dr Luka Biong Deng discussed South Sudan's uneasy relationship with oil and some ways to understand the country's future (audio and slides are below).
The excitement of recent independence has given way, in part, to fears about South Sudan's ability to survive economically. Although the country has large reserves of oil, this has not translated into wealth for many in the country.
Indeed, the abundance of oil could be part of the problem – the so-called 'natural resource trap'. Should South Sudan look to other sources of income to lift its citizens out of poverty, or could oil be part of the long-term solution?
Dr Biong Deng has been Minister for Cabinet Affairs in Sudan and a visiting fellow at the Institute of Development Studies, and now works at the NGO Kush Inc.
Audio and slides
Listen to Dr Biong Deng's seminar here:
Luka Biong Deng's slides:
Photo: Flag, by aljazeeraenglish on Flickr