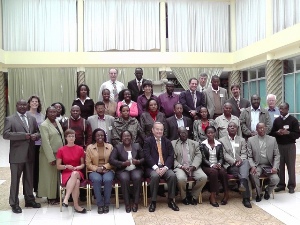 Over 30 agricultural development practitioners from four eastern African countries participated in a 'Smallholder Café' in Nairobi on 11 July 2012.
The event was the second of three regional workshops, organised by Future Agricultures Consortium, and co-hosted by the Food, Agriculture and Natural Resources Policy Analysis Network (FANRPAN), the Overseas Development Institute (ODI), and Agriculture for Impact (A4I) at Imperial College London.

Dr Wilson Songa, Agriculture Secretary, Ministry of Agriculture, Kenya, opened the workshop with a keynote speech about Kenya's agricultural development priorities. He talked about the challenge of ensuring that Kenya's smallholders are connected to markets in a resilient and sustainable way. He also set out the elements of a blueprint for future action: calling for partnership with and learning from the private sector and other non-governmental actors, while at the same time acknowledging the importance of the government's role in ensuring that enabling policy frameworks were in place. He ended on a note of optimism, saying that the light was shining on Africa and the challenge was for African citizens to make it shine brighter.
Dr Steve Wiggins of ODI presented the findings of his literature review for this project, setting out a draft five-point policy framework for assessing 'what works' for smallholders.
The workshop also heard two case studies outlining different approaches to working with smallholders, presented by Stephanie Hanson of One Acre Fund and Florence Kariuki of Equity Bank.
The workshop took place as part of A4I and ODI's 'Leaping and Learning' project analysing the evidence about how best to connect smallholder famers to markets at scale, which is funded by the UK Department for International Development and the Bill & Melinda Gates Foundation. The conclusions of the event will be reflected in the final report for the 'Leaping and Learning' project, to be published in early 2013.
This text has previously appeared on the Agriculture for Impact blog.