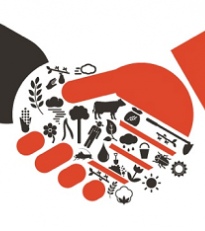 An event on 11 November 2013 in Brussels will launch two new reports which provide practical, real-life examples of linking smallholder farmers in Africa to markets, as well as a robust academic review of the challenges faced, lessons learned and path ahead.
Leaping and Learning: Linking Smallholders to Markets

Commissioned by Agriculture for Impact and produced by the Overseas Development Institute (ODI), this report is the result of a comprehensive review of existing case studies and academic literature on improving market access in Africa and provides a set of guidance for donors, policymakers and development practitioners to incorporate into future action.  The report, which was co-authored by Steve Wiggins, convenor of our Commercialisation theme, was part supported by Future Agricultures.
8 Views for the G8: Business Solutions for African Smallholder Farmers to Address Food Security and Nutrition
A second complementary report, edited by Agriculture for Impact, offers G8 leaders and other decision-makers a set of practical solutions and case studies from eight leading agriculture NGOs on how to connect smallholder farmers in Africa to agricultural value chains – to increase their production and productivity, improve their nutrition and boost their incomes and livelihoods.
This event is hosted by Agriculture for Impact and the Overseas Development Institute.
Registration
Linking Smallholder Farmers to Markets in Africa: Lessons Learned and the Path Ahead
11 November 2013
13:00 – 15:00
DG AGRI Auditorium (L 120 00/25)
European Commission, Brussels, Belgium
To RSVP for the event, please contact Katrin Glatzel at k.glatzel10@imperial.ac.uk