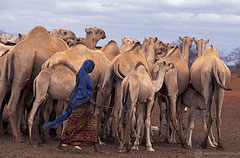 On 29th April 2013 the RVI hosted a seminar to discuss the book Pastoralism and Development in Africa: Dynamic Change at the Margins, in collaboration with the Future Agricultures Consortium.
The seminar brought together researchers, policy makers and practitioners to reflect critically on how pastoral?driven innovation can be incorporated into policies and investments for strengthening pastoralism in the Horn of Africa.
Although the Kenyan government has neglected the pastoral economy in the past, pastoralists themselves are innovating hugely, challenging the perception that they must simply cope and adapt to survive. Recently, however, the increasing use of land by commercial enterprises and foreign governments has resulted in dramatic losses for farmers and pastoralists in Kenya, creating conflict.
The speakers included:
Hon. Mohamed Elmi, MP for Tarbaj and former Minister for the Development of Northern Kenya and other Arid Lands
Jeremy Lind (Institute of Development Studies)
Hussein A. Mahmoud (Pwani University College)
Abdirizak Arale Nunow (Inter-Parliamentary Union, Inter-governmental Agency on Development (IGAD))
Polly Erickson (International Livestock Research Institute)
Francis Chabari (Kenya Drylands Livestock Development Programme).
Event report
The Rift Valley Institute has produced a report on the event detailing the discussions and key points.
Audio
Audio of the event is available to play below, courtesy of the RVI's channel on Soundcloud.
You can also subscribe to  the RVI podcast on iTunes for more audio from the Rift Valley Institute.
More about the book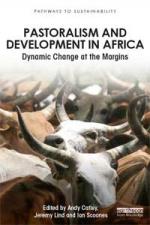 Pastoralism and Development in Africa offers a view of 'development at the margins' in the pastoral areas of the Horn of Africa highlights innovation and entrepreneurialism, cooperation and networking and diverse approaches which are rarely in line with standard development prescriptions. The editors are Andy Catley, Jeremy Lind and Ian Scoones.
The book is published in the ESRC STEPS Centre's Pathways to Sustainability book series.
Photo: Woman herding camels, from worldbank's photostream on Flickr (cc-by-nc-nd)