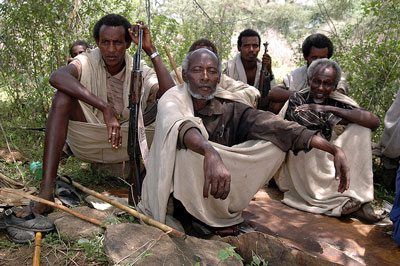 Two new working papers present studies of conflict among pastoralists and other groups in two regions of the Horn of Africa and an area of Northern Namibia.
Pastoralists are responding to social and economic changes in different ways. Understanding the challenges, history, politics of these situations can help to point the way towards supporting greater dialogue and development.
About the papers
A case study from Northern Namibia looks at the Owambo herders, faced by difficulties with grazing rights, fencing off of land and an eviction order. The study looks at the impact of the eviction order on the different groups involved, and to what extent it has been resolved.
A second study examines the 'Afar Triangle' in Ethiopia, Eritrea and Djibouti in the Horn of Africa, and argues that the Triangle, rather than being a well-defined area, in fact represents many overlapping and contested 'margins' – political, territorial and environmental. Efforts to settle the pastoralist Afar people may offer them opportunity to claim land entitlement, but open them to the threat of co-option and control. Looking at the Afar people's own responses to economic and social developments is important in finding pathways to development.
Downloads
Grazing rights in Namibia's communal areas: A case study of a local land grabbing dispute in Western Kavango region (PDF, 663 KB)
Working Paper 93 by Theodor Muduva
Contested Margins, Complex Pathways: The Afar Triangle in the Horn of Africa (pdf 662 KB)
Working Paper 94 by Alan Nicol and Mosope Otulana
Photo: Ethio pastoralist 4 of 5 by Andrew Heavens on Flickr (cc-by-nc-nd)