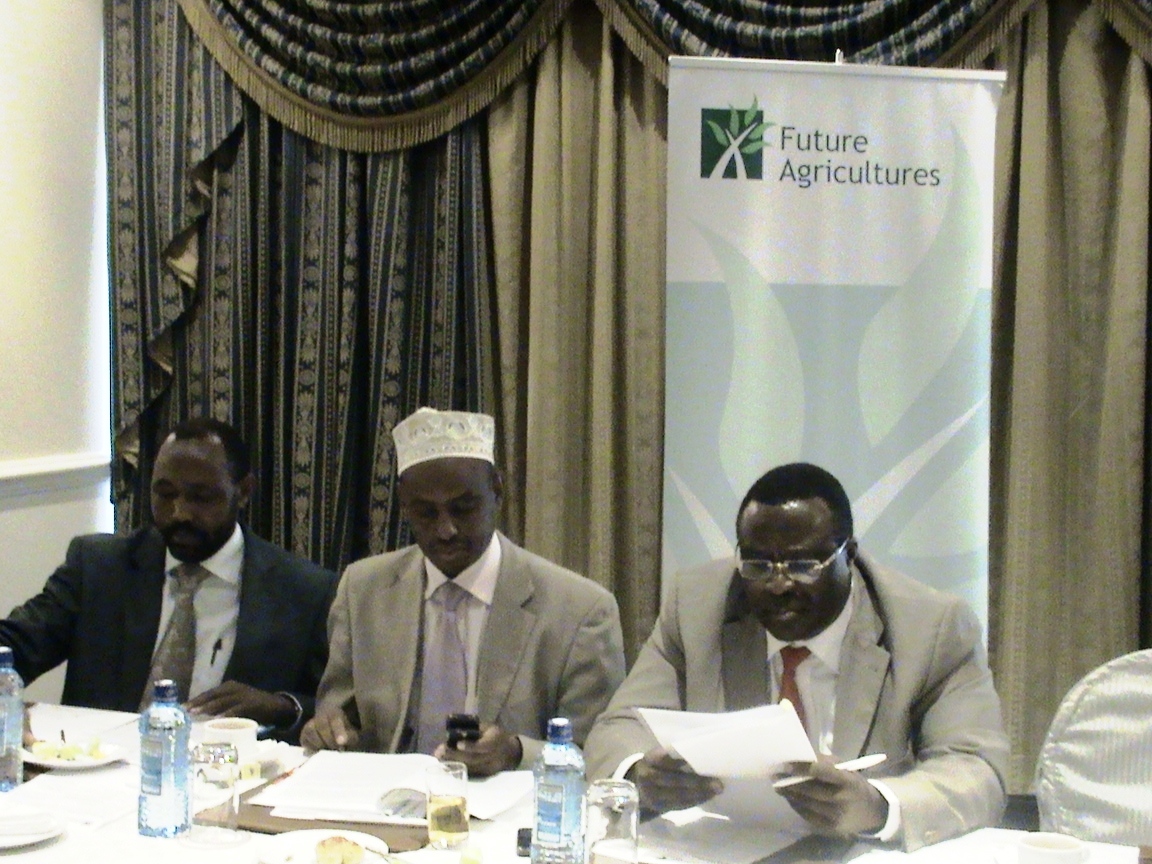 Securing land tenure for pastoralists in Kenya is one of the major concerns for policymakers from the pastoral community.
A breakfast meeting hosted by Future Agricultures Consortium and its partners, Centre for Minority Rights Development (CEMIRIDE) and Pastoralists Development Network of Kenya (PDNK) addressed the issue.  Members of parliament from the pastoral community expressed concerns that pastoralists continue to lose large chunks of their land to competing interests such as irrigation agricultural and to private developers.
This makes them vulnerable to droughts due to lack of grazing areas for their animals and threatens the future of pastoralism. This was partly blamed on the limited participation from pastoral groups and representatives on the current land policy debates.
The meeting brought together members of parliament from pastoral communities, researchers, the Civil Society Organisations and Non Governmental Organisations working with pastoral communities.  A key objective of the meeting was to take stock of some of the critical policy issues that impact on the livelihoods of pastoralists and to decide on a formal framework of engagement between the Pastoralism Parliamentary Group (PPG) and other stakeholders in pushing forward the pastoralist's agenda in the policy discourse in Kenya. The Chairman of the PPG and MP for Turkana Central, Hon. Ekwe Ethuro, said the meeting was timely because the MPs have been grappling with key issues such as how to safeguard the devolution concept entrenched in the new Kenyan Constitution, which is going to be very important to the pastoralists especially on land issues.
Also on the agenda were pastoralists' vulnerability to perennial droughts and improving response mechanisms.  FAC researcher John Letai presented a policy briefing on key issues touching on pastoral livelihoods, including policy responses to drought, climate change, land tenure, and pastoral development.  "Livestock in Kenya contribute to about 800 million US dollars annually. Due to the 2009 drought, that value went down by 50 percent. We need to have timely engagements with the Government and other policy actors so that pastoralists are cushioned during drought seasons," said Letai.
FAC, together with other partners, will continue to engage the PPG through research and advocacy on policy issues that touch on pastoralists and pastoralism in Kenya.
Briefing note