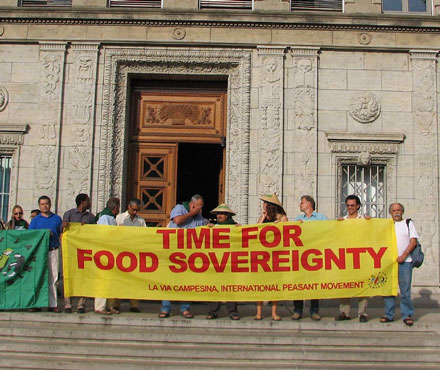 The International Institute of Social Studies (ISS) is organising a colloquium on food sovereignty on 24 January 2014 in The Hague. Places are limited, so early registration is advised.
Food Sovereignty: A Critical Dialogue
ISS, The Hague, Netherlands
24 January 2014, 9.00 to 18.00
A fundamentally contested concept, food sovereignty has — as a political project and campaign, an alternative, a social movement, and an analytical framework — barged into global agrarian discourse over the last two decades. Since then, it has inspired and mobilized diverse publics: workers, scholars and public intellectuals, farmers and peasant movements, NGOs and human rights activists in the North and global South.
This event follows up a conference at Yale University in September 2013, which brought together advocates and critics of food sovereignty.
Confirmed speakers for the January colloquium at ISS include Paul Nicholson, Susan George, Teodor Shanin, Olivier de Schutter, Marc Edelman, Philip McMichael, Annette Desmarais, Jennifer Clapp, Peter Rosset, Annie Shattuck, Tanya Kerssen, Eric Holt-Gimenez, Jan Douwe van der Ploeg, Karine Peschard, Isabella Giunta, Ryan Isakson, Ian Scoones, Ben White, Wendy Wolford, Bridget O'Laughlin, Priscilla Claeys, Alexander Nikulin, Sofia Monsalve, Antonio Onorati, Michael Windfuhr, Nora McKeon and Flavio Valente.
To register for the January event, please email iss.icas@gmail.com, including your name, institutional affiliation, city and country.
Image: Time for Food Sovereignty by jmdesfilhes on Flickr