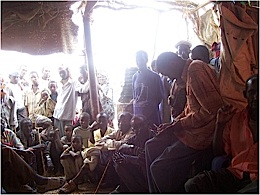 Agriculture plays a major role in pro-poor economic growth in countries with large, poor rural sectors – this is increasingly recognised. There is also a major focus on social protection interventions to address risks and insecurity affecting poor people. However current policy debate and formulation makes limited attempts to integrate agricultural and social protection policies. A number of on-going pieces of work are linked to the FAC programme providing insights into the links between agricultural growth and social protection. These include Working Papers, Policy Briefings, Conferences and engagement in other projects.
A major publication series has been produced during the past year, providing a substantial overview of key findings from across FAC countries, including some work in West Africa. This will appear as a series of FAC working papers (WP) and policy briefs (PB):
Working Papers
WP05 – Agriculture and Social Protection in Kenya
Policy Briefs
In addition, a FAC-sponsored book, Seasons of Hunger: Fighting Cycles of Quiet Starvation Among the World's Rural Poor with Hunger Watch, was launched at IDS, ODI and DFID on World Food Day, 16 October 2008.
Country Specific Engagement
Ethiopia
Evaluation of Productive Safety Net Programme: "Ethiopia's PSNP: 2008 AssessmentReport" 

(IDS & ODI & A–Z Consult)

PSNP Phase 2 planning and post–PSNP strategising:"Options for Social Protection in Ethiopia" (Stephen Devereux & Amdissa Teshome)

Formulating a national Social Welfare Policy: Amdissa is engaging with MoLSA
Kenya
Drafting a national Food Security & Nutrition Policy: KIPPRA was a Task Force member

Simulated impacts of investing in agriculture (SAM): KIPPRA to present findings to Parliament in March

Evaluation of Hunger Safety Net Programme (HSNP): IDS is a member of the M & E Consortium
Malawi
Response to high food prices:DFID–funded FAO consultation (Chirwa paper)

Evaluation of 2007/8 & 2008/9 agricultural input subsidy: Ongoing engagement with government, CSO, DFID & other donors (summary paper Jan 2009) (SOAS & Wadonda)
Africa-wide Engagement
AGRA policy meeting (June 2008 – Poulton & Dorward)

ReSAAKS Gaborone meeting (Dec 2008 – Dorward, Chirwa & Poulton)

DFID soil fertility and fertilisers debates: (E–conference & Nov 2008 meeting – Dorward)

Salzburg conference & Gates meeting on fertiliser (May 2008 – Chirwa, Dorward)