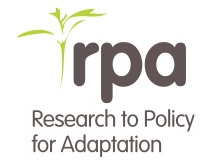 DFID/IDRC-funded Research to Policy for Adaptation (RPA) project provides accessible tools, methods and conceptual approaches for researchers to analyse the policy processes for climate change adaptation in a specific country.
RPA is helping to build researchers' capacity to understand and influence policy processes around adaptation.The RPA initiative conducts policy focused case studies and establishes policy engagement strategies and mentoring relationships between RPA researchers and academic partners. The RPA project is working on case studies on policy processes related to –
crop diversification (Malawi)
agro-meteorology (Kenya)
pastoralist livelihoods (Kenya)
indigenous weather forecasting (Kenya)
Malaria (Kenya and Tanzania)
risk management in agriculture (Tanzania)
The RPA project looks at ways to influence the policy-making processes and local government.  Researchers analyse policy process from three overlapping angles: narratives and evidence, actors and networks, and politics and interests.These findings form the basis for identifying policy spaces and areas where they may help the formulation of adaptation polices in Africas.