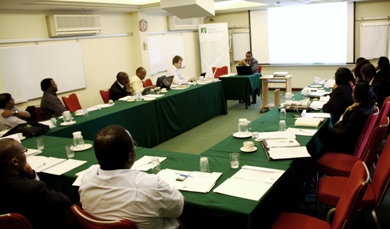 The Kenya Institute for Public Policy Research and Analysis (KIPPRA) in partnership with the Institute of Development Studies (IDS), Sussex, UK and the Future Agriculture Consortium (FAC) organised a one day round table meeting for policy makers, implementers and researchers involved in work on climate change and agriculture in Nairobi on September 30th 2010. The main aim of the meeting was to share research findings from ongoing case studies, as well as setting the stage for further research.
The meeting drew on findings from case studies under the DFID/IDRC CCAA project 'Research to Policy for Adaptation' (RPA), conducted by KIPPRA since 2009, and represented the launch of a new Climate Change Theme of the DFID-funded Future Agricultures Consortium (FAC) in Kenya. The RPA case studies have focused on understanding the policy context of adaptation projects to help identify policy spaces to improve the policy engagement of the their projects.
The increasing international attention to agriculture and the potential impacts of climate change provides important challenges, as well as opportunities, for the sector. This meeting explored how these may play out in a Kenyan context through questions such as: How climate change goals are negotiated in the agricultural sector? And, how research can better engage with and inform national level policies?
Download a short report on the meeting and a list of participants.
Roundtable presentations: