The FAC Pastoralism Theme organised an international conference with Tufts University on the "Future of Pastoralism in Africa", which was held on 21-23 March 2011 at the International Livestock Research Institute (ILRI) in Addis Ababa. Over 100 scholars from around the world gathered to critically reflect on the future of pastoralism in Africa, and to share new learning from the dynamics of change and innovation occurring in pastoralist areas.
A number of government officials and policy makers from the Horn of Africa also participated, including Dr. Abebe Haile Gabriel, Director of the African Union Department of Rural Economy and Agriculture which has recently articulated a new AU Policy Framework on Pastoralism. Dr. Luka Deng, Minister for Cabinet Affairs, Government of Southern Sudan, Hussein Tari Sasura, Deputy Minister for Northern Kenya and Other Arid Lands, and Ahmed Shide, State Minister at Ministry of Finance and Economic Development, Federal Democratic Republic of Ethiopia, were other senior-level officials from the region who participated. Representatives from the local and regional offices of USAID, DFID, FAO, and ILRI also attended.
The conference was held against the backdrop of the escalating food insecurity crisis in Somalia and neighbouring areas of Ethiopia and Kenya, an emergency that has once again raised questions around the sustainability of pastoral production systems in the region, development failures in pastoral areas and what are appropriate policy and developmental responses to problems of chronic poverty and weakened livelihoods. With much of the current effort to boost agriculture in drylands focused on crop farming, the conference urged the African Union's CAADP representative to take pastoralism seriously, as a resilient and productive part of the future of Africa's drylands.
New evidence
Analysis of how pastoralists are continuing to adapt to changes in their environment was presented at the conference. The conference shed new light on longstanding assumptions that pastoralism is in irreversible decline and highlighted the dynamics of change happening in pastoralist areas. New evidence that livestock based livelihoods offer real potentials was highlighted by a number of researchers. Research findings presented at the conference demonstrated that pastoralism is the most productive use of highly variable rangelands, contributing 10-44% of GDP for many African nations.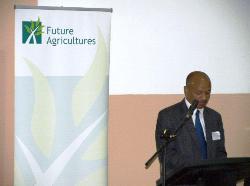 In the Ethiopian context, the Minister of Federal Affairs, Dr. Shiferaw Teklemariam (pictured left) noted how pastoralism contributes 16% of Ethiopia?s national GDP and that livestock reared by pastoralists in otherwise marginalised rangelands are clearly contributing to national development. Other research that was shared provided key insights into some of the pressures on changing pastoral systems, including "resource grabs", conflict and counter-insurgency operations, and climate change.
Following the conference, Dr. Luka Deng, then the Minister of Cabinet Affairs in the former National Unity Government of Sudan, wrote the following e-mail to the Organising Committee:
I was extremely happy in taking part in the conference of pastoralism as it has deepened my commitment to issues related to pastoralism. … I intend to share this report [of the main findings from the conference] widely at all levels of government, National, Southern Sudan and states. If possible we can arrange a meeting with National Minister of Animal Resources to breif him with other stakeholders about the outcome of the conference. I strongly feel that we can use this opportunity to create more awareness in Sudan about the future of pastoralism in Sudan…Thank again for getting me involved and getting me back to the family of pastoralism.
Furthermore, two FAC researchers, Hussein Mahmoud and Abdirizak Nunow, shared the main findings of the conference at a recent extraordinary meeting organised by the AU Department of Rural Economy and Agriculture in Nairobi to discuss long-term options for sustaining dryland economies and production systems in the Horn of Africa.
Results
The results of the conference have been collected and organised in a comprehensive website, which has been widely advertised to specialist list-servs, research organisations on livestock in the region, as well as advocacy groups, including the Coalition of European Lobbies on Pastoralism, which directly lobbies European Members of Parliament on issues relating to pastoral development in sub-Saharan Africa. The website has been viewed 4,104 times (1,718 from Africa; 1,580 from Europe; 604 Americas; 122 from Asia; 34 Oceania).
An edited volume is currently in preparation, drawing on 21 papers presented at the conference. The editors are in discussions with different publishers, with the aim of launching the volume in early 2012 as a major publication and antidote to the many misrepresentations of pastoralists that permeate current media coverage of the Horn of Africa crisis.
NB: Since this Impact Story was written, the book Pastoralism and Development in Africa has been accepted by Earthscan/Routledge, with a publication date of June 2012.