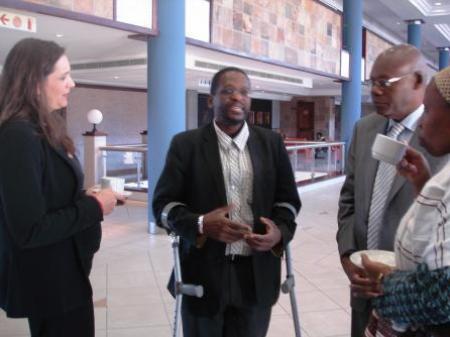 Future Agricultures (through the Institute for Poverty, Land and Agrarian Studies, South Africa – PLAAS) partnered with the Pan African Parliament (PAP) to hold a continental seminar with African parliamentarians, entitled "Making Investment Work for Africa: A Parliamentarian Response to 'Land Grabs'", on 21-22 July 2011 at the Parliament in Midrand, Gauteng, South Africa.
This partnership emerged from a bilateral meeting where FAC Land Theme Convenor Ruth Hall met with the President and Deputy President of the Parliament, in October 2010 – a meeting arranged by the deputy chairperson of one of the committees (see below). The meeting resulted in an agreement to co-host this event and secured the support of the President of the Parliament for a keynote address highlighting the role of African parliamentarians in understanding and responding appropriately to the challenges and opportunities of investor interest in African farmland.
As well as working with PAP and with the International Institute for Sustainable Development (IISD) to conceptualise and convene the meeting, FAC Land researchers Ruth Hall and Gaynor Paradza attended and contributed to the event, presenting their research and its policy implications.
Outcomes of the meeting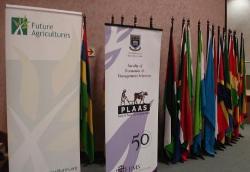 The outcome of the meeting was a declaration:
calling on the African Union (AU) and the New Partnership for Africa's Development (NEPAD) to take action on land-based investments and to develop guidelines on these
that the AU establish an "African Ministerial Conference on Land-based Investments" to chart a collective response from African states
and to support "centres of excellence including research institutions to document land-based investments underway and to share information in accessible formats with policy makers, parliamentarians, civil society and affected communities."
The call for an African Ministerial Conference on Land-based Investments was one of the explicit objectives of the FAC Land theme's Pathways to Impact plan for this year, adopted in Addis Ababa in March 2011, and thus represents a major achievement for the Land theme.
Next steps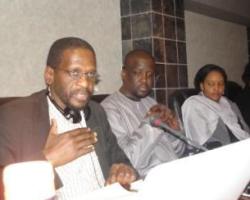 The PAP meeting expressed the call that research partners from FAC and elsewhere continue to work with the PAP parliamentarians – notably those in the Committee on Agriculture, Rural Economy and Natural Resources (CARENRE) – to ensure that research findings are shared in their country parliaments. In addition, there was joint commitment to link research to Regional Economic Commissions and parliaments so that insights and recommendations from research can be taken up in legislative and policy development. FAC agreed provisionally to work with the Pan African Parliament to host equivalent events for policy makers and civil society organisations through regional economic bodies: the Economic Community of West African States (ECOWAS), the East African Community (EAC) and the Intergovernmental Authority on Development (IGAD) in East Africa, and the Southern African Development Community (SADC), ensuring in each case that research findings from our country studies are presented to and made available in accessible ways (as written inputs) in these fora.
Photo 1: From left to right: FAC researcher Ruth Hall (Institute for Poverty, Land and Agrarian Studies), Hon. Sisa Njikelana (Deputy President of CARENRE, PAP), Honourable Augustin Iyamuremye (Chairperson of CARENRE), and Isilda Nhantumbo (International Institute for Environment and Development, UK), during one of the breaks.
Photo 2: The Future Agricultures Consortium partnered with the Pan African Parliament to host the event, together with the International Institute for Sustainable Development and FAC partner, the Institute for Poverty, Land and Agrarian Studies (PLAAS) at the University of the Western Cape, South Africa
Photo 3: At the Pan African Parliament workshop: Hon. Sisa Njikelana (left), South African Representative to the Pan African Parliament and Deputy Chair of the PAP Committee on Agriculture, Rural Economy and Natural Resources, and Mohamed Lamine Ndiaye (right), Oxfam, Senegal