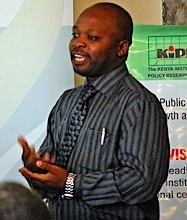 Opportunities, Challenges and Future Prospects: presentations and panel discussion
10 February 2009 PanAfric Hotel, Nairobi. As Kenya's food crisis is declared a national disaster and 10 million people face hunger, scientists from the Future Agricultures Consortium have set out new recommendations to help the country maximise the benefits of fertiliser subsidies for its farmers. Kenya Minister of Agriculture Hon. William Ruto was presented with new proposals to help in the effective, sustainable and equitable delivery of 'smart' fertiliser subsidies, drawing on lessons from both Malawi and Kenya.
The high-level 'Fertiliser Subsidies: Lessons from Malawi and Kenya' meeting in Nairobi heard that Malawi's experience shows how a subsidy on fertiliser can boost national production of maize and eliminate the need for imports. Subsidies can be costly, however, and may deter the development of private enterprise. Kenya's experience of liberalised fertiliser markets shows that the private sector can establish a network of dealers and reduce the costs of distribution of fertiliser. Yet fertiliser may still remain unaffordable to poor farmers. Subsidies may thus be needed to allow them to use fertiliser and increase their yields.
A key question then, is how can subsidies be made 'smart' – that is, effective and efficient? The lessons from the two countries are:
It is small farmers who need a subsidy to buy fertiliser, not large farmers. Giving vouchers to small farmers can direct subsidies to those who need them, while containing the cost of the subsidy.
Subsidies should help the development of networks of input dealers, rather than undercutting them. Kenya has seen a remarkable expansion of its private dealers since the early 1990s. Rather than having fertiliser distributed directly by state agencies, fertiliser should be channelled through the existing dealers.
If poor households — most of whom are net buyers of staple foods — are to benefit from fertiliser subsidies, then enough additional maize needs to be produced to make maize available at lower prices. Yet prices must remain high enough to give farmers incentives to produce. Judicious intervention in maize markets to ensure that prices remunerate farmers while providing consumers with affordable food is an important complement to subsidies.
Fertiliser subsidies rightly attract political interest. The danger here is that political parties compete for votes by offering ever more generous and indiscriminate subsidies. Monitoring the costs and results of subsidies, and publicising them, are one way to encourage politicians to consider the effectiveness of subsidies.
The practical recommendations were put together by researchers from the Kenya Institute for Public Policy Research and Analysis, Tegemeo Institute of Agricultural Policy and Development and the Future Agricultures Consortium, after extensive research of the fertiliser subsidy systems in Kenya and Malawi.
Mr Ruto, addressing the conference, said the Kenyan government intends to increase fertiliser usage from 400-500 tons a year to a million tons a year within the next ten years: "Food security helps us deal with poverty, so it is a very serious issue that requires our utmost attention," he said.
And working closely with the private sector was key, the minister added: "I know fertiliser dealers and traders are not too happy because of governmental intervention in the private sector, but I have very few options because the price of fertiliser has increased in the last 12 months from an average of Sh 1,800 to an average of Sh 6,500." However agreements with the private sector were needed, including a potential joint venture blending facility to make fertiliser affordable and customer-sensitive.
John Omiti, Senior Policy Analyst and Head of Productive Sector Division, KIPPRA, and Future Agricultures Country Coordinator for Kenya said: "Fertiliser subsidies can be an effective means of raising rural incomes and boosting agricultural productivity. The challenge is to find efficient and equitable mechanisms to deliver fertiliser and other key inputs to farmers in ways that optimise benefits to the largest number, while limiting problems of diversion, leakage and political manipulation. Our research from Malawi and Kenya shows this can be achieved, but it requires state commitment to supporting a vibrant private sector, strong civil society oversight and transparent political decision making. "
The 'Fertiliser Subsidies' conference brought together key decision-makers for the future of agriculture in Kenya, including members of government, private sector companies, international donors and researchers. The conference set out suggestions to address Kenya's current food crisis by harnessing key lessons from Malawi's successful fertiliser subsidy programme – which boosted maize production by 15-22% in 2005-2006 but has proved less successful as time has gone on. Now Kenyan solutions are needed for Kenyan's specific political and economic needs.
Sustained (but not indefinite) input subsidies were a major part of successful Green Revolution packages in the past making a critical and contribution to 'kick starting markets', first within staple food supply chains and then in the wider rural economy.
Kenya already has one of the highest rates of fertiliser usage in Africa delivered by a successful private sector, which the government's current approach is in danger of damaging, the new research shows. Therefore an urgent need exists for more constructive government/private sector engagement, to minimise state intervention and maximise the effectiveness of the market.
But the political processes underlying this issue need careful attention. The research revealed that political interest often trumps economics and sound policy making; costs can escalate to higher than expected levels; and governance failures occur when large amounts of money are involved.
Last month Kenyan President Mwai Kibaki declared the food crisis a national disaster, asking international donors for $400 million to help the 10 million people facing shortages. The World Food Programme estimates 3.2 million are in urgent need of aid. Drought coupled with high fertiliser and commodity prices have led to a grain deficit. The impact has been worsened by the displacement of people after last year's post-election violence.
The Kenya Ministry of Agriculture has embarked on a major campaign called Vision 2030 to address the challenges facing Kenya's agricultural sector, which Mr Ruto has said include low productivity, marketing inefficiencies, inadequate value addition, inadequate financial services and low and inappropriate use of in such as fertilizers and certified seeds. According to the government 35,000 farmers currently benefit from free seeds and fertilizers, with plans double this figure during this financial year.
Link
EDITOR'S NOTES
Research authors are available for interview
Photos available upon request
The Future Agricultures Consortium aims to encourage critical debate and policy dialogue on the future of agriculture in Africa. The Consortium is a growing partnership involving research-based organisations in Africa and the UK, with core funding from the UK Department for International Development (DFID). Through stakeholder-led policy dialogues on future scenarios for agriculture, informed by in-depth field research, the Consortium aims to elaborate the practical and policy challenges of establishing and sustaining pro-poor agricultural growth in Africa. https://www.future-agricultures.org
Kenya Institute for Public Policy Research and Analysis is an autonomous public institute whose primary mission is to provide quality public policy advice to the government of Kenya and to the private sector in order to contribute to achievement of national development goals. http://www.kippra.org/
Tegemeo Institute of Agricultural Policy and Development is a policy research institute under the Division of Research and Extension of Egerton University Kenya. The institute is widely recognized as a centre of excellence in agricultural policy research and analysis in Kenya. Tegemeo has undertaken empirical research and analysis on contemporary economic and agricultural policy issues in the country. Among the areas studied are reforms and their impact on the key agricultural enterprises and natural resource management. http://www.tegemeo.org/