The future of cocoa production in south western Nigeria: Stakeholder insights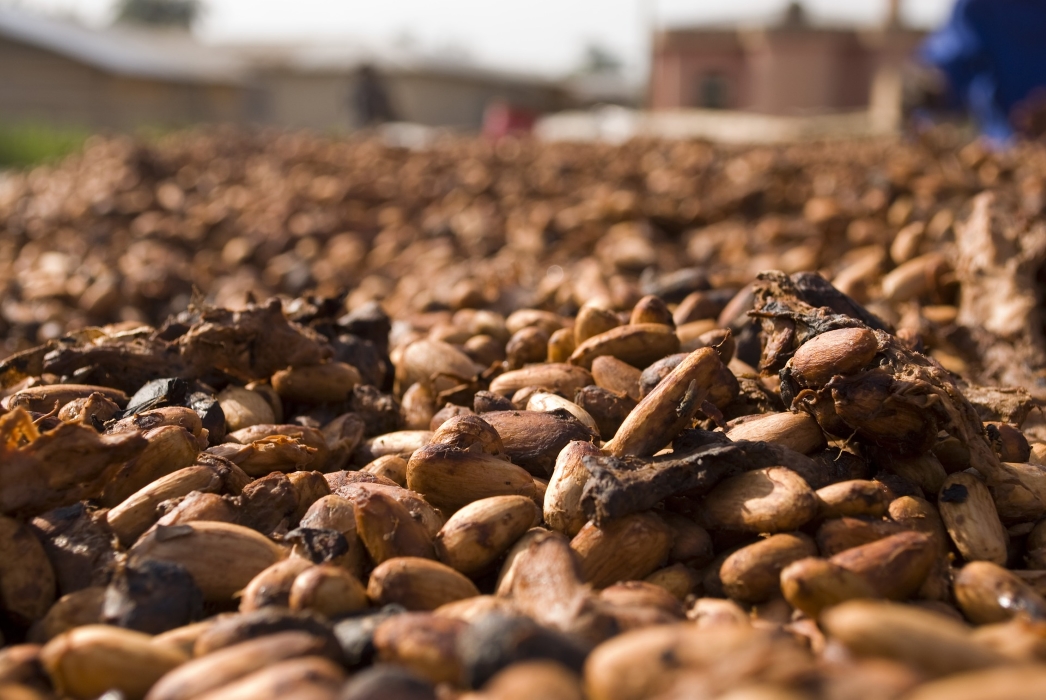 Background

Agricultural enterprise in Nigeria's economy has played a key participatory role by addressing the issues of poverty, food insecurity, unemployment and foreign revenue acquisition. Cocoa has been integral to championing the agricultural economy as it remains the top most exported cash crop, alongside oil palm and rubber, accounting for 58.4 per cent of Nigerian foreign exchange earnings from 1960-1970. From 1970-1985 it reduced significantly to 5.3 per cent, while between 1980 and 2000 this figure was only 4 per cent.
The cocoa production sector has remained unstable for decades and the federal government has tried to revive it through various intervention projects that aimed to reposition it as an export cash crops for additional foreign exchange earnings to crude oil. This has resulted in a recent increase in the export value of agricultural goods to Asia in 2018 by 167 per cent from N67.3 billion in 2017 to N179.6 billion. This growth was mainly driven by demands from Japan, India and China who are now major dealers in the chocolate industry. Other major importers of Nigeria's cocoa are Netherlands, Germany, Indonesia, Malaysia and Belgium.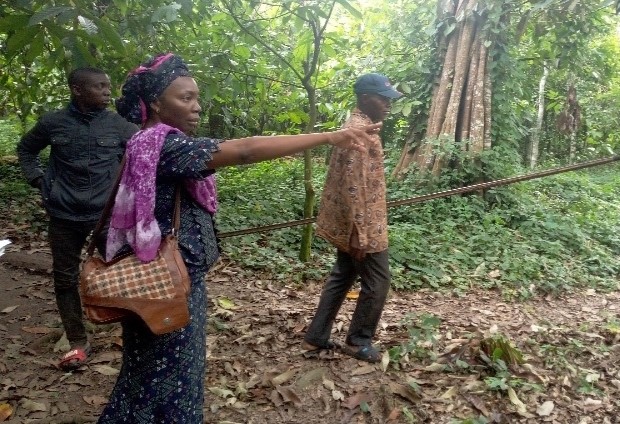 However, the present state of cocoa production in Nigeria is lagging behind other countries in the commercialisation of, hence the need to re-evaluate cocoa production among household farmers to identify the current constraints responsible for the continual decline in the sector. APRA engaged the stakeholders (Cocoa farmers, policy makers, input dealers and marketers) in Southwestern Nigeria (Osun, Ondo and Ogun States) to uncover areas of concern that is restricting cocoa commercialisation in the region.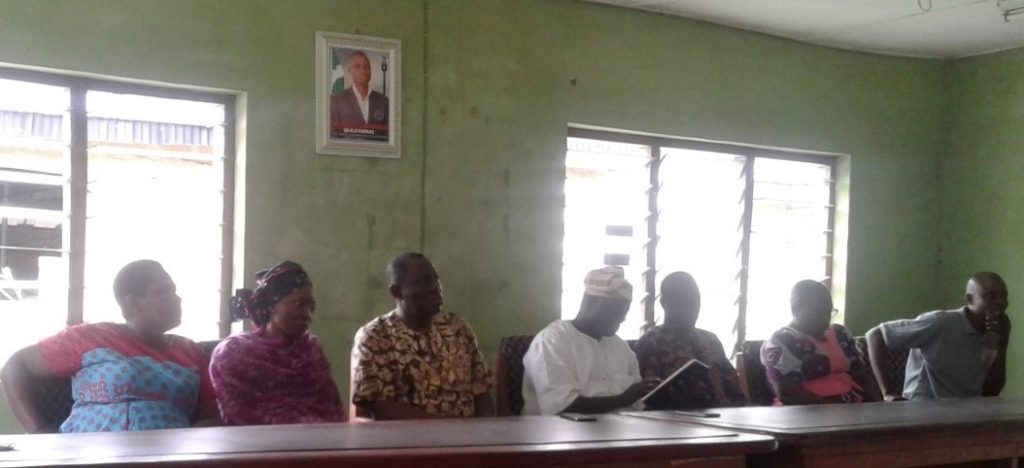 Stakeholder feedback
Osun State
Obstacles that have emerged in cocoa enterprise in southwestern Nigeria are multifaceted. In Osun state, the activities of illegal gold mining on cocoa farms that cause serious land degradation issues has become more prominent. Mr. Isaac Olaitan, a cocoa farmer in Osu village, explains that "Illegal miners go into cocoa farms with or without the permission of farm owners to mine gold using excavators to dig the ground thereby causing loss of cocoa trees". Another victim, Mr. Yusuf revealed that his farm was destroyed by illegal miners, and that although he reported the incident to police, he claimed that they did respond.
Although the Divisional Police Office (DPO) in the area stated that the crime of illegal mining is a bailable offence under the law – Mr Yusef reiterated that – the division encourages settlement out of court to avoid conflict in the community. He asserted that land owners often don't farm cocoa, while those who crop don't own land[1]. Hence, he advised that cocoa farmers in the community should also be honest with themselves as this will reduce the issue of conflict with farmers that grow cocoa on leased farms. However, feedback from the meeting revealed that corruption is a major reason that leads to injustice. The law enforcement agents who are meant to curb this act have been paid off, thereby allowing the free entry of illegal miners to farms. It was further discovered that there are some miners with government permits who destroy land within cocoa plantations in a bid to create paths or roads leading in or out of the apportioned mining areas.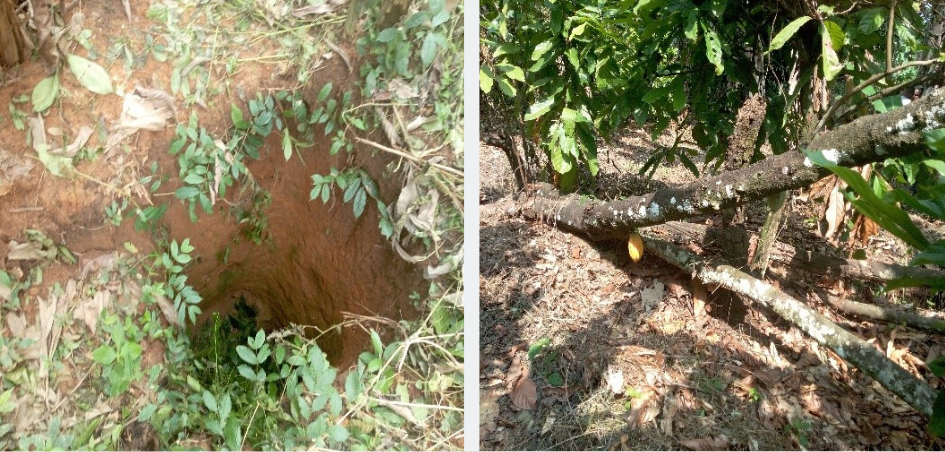 Ondo State
In Ondo state, it was a completely different scenario. During the stakeholders' engagement meeting, urbanisation and timber logging were the major concerns that negatively affected future commercialisation of cocoa in the state. Other associated problems included ageing cocoa trees, parasitic organisms, lack of improved cocoa varieties, high cost of inputs, poor knowledge of agrochemicals, low quality chemicals, climate change, poor enabling policy environment and poor access to extension services. However, an increase in the amount of logging in the state is becoming problematic, as was expressed by one of the discussants "cocoa production has been bedeviled with lumbering activities, which has affected cocoa enterprise as a major contributor to livelihood in the state".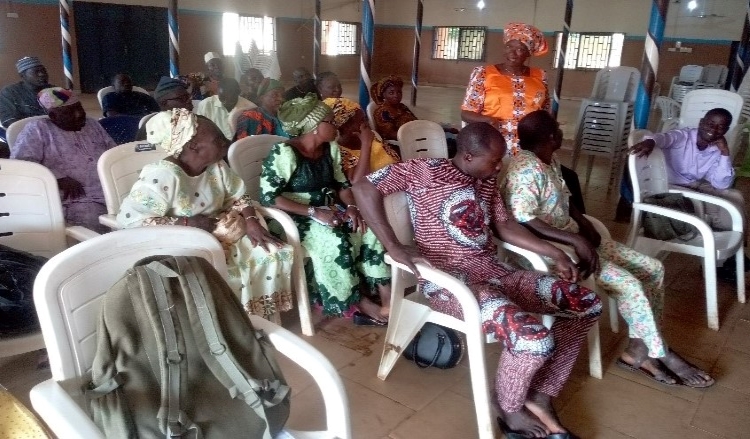 Ogun State
Stakeholders' engagement in Ogun state revealed that there is a high number of older farmers dominating the enterprise, and that youth involvement in cocoa enterprise in the state is "close to zero." Many youth have moved to cities where they operate okada (motorcycle transportation) businesses. According to the discussants, okadas provides quick income and though not sustainable, many consider it preferable to waiting for cocoa that will take a minimum of three years to grow. Furthermore, labour for cocoa production in this area is significantly higher than in neighbouring states, and securing land for cocoa production has cultural limitations. Women don't have right to land by inheritance, which is the common tenure system among cocoa farmers in the state.



Summary
The general consensus from the engagement meetings was that the aforementioned are battles that must be won to secure the future of cocoa in southwestern Nigeria. This is essential when considering the pivotal role that the enterprise plays towards economic recovery, poverty reduction, men and women empowerment, and food and nutrition security. There is a future for cocoa in Nigeria, and although there are challenges, the discussants believe that these can be overcome.

---
[1] This is a paradox we noticed. Cocoa farmers on leased land don't have land inheritance, which is the common form of land ownership, while on the contrary, people with land inheritance don't venture into cocoa production but rather lease out their land to get yearly premium from the land from those willing to cultivate cocoa.


Written by Kehinde Adesina Thomas

Cover photo credit: David Greenwood-Haigh from Pixabay
Other photos credit: Kehinde Adesina Thomas