The case for integrated organic farms in Nigeria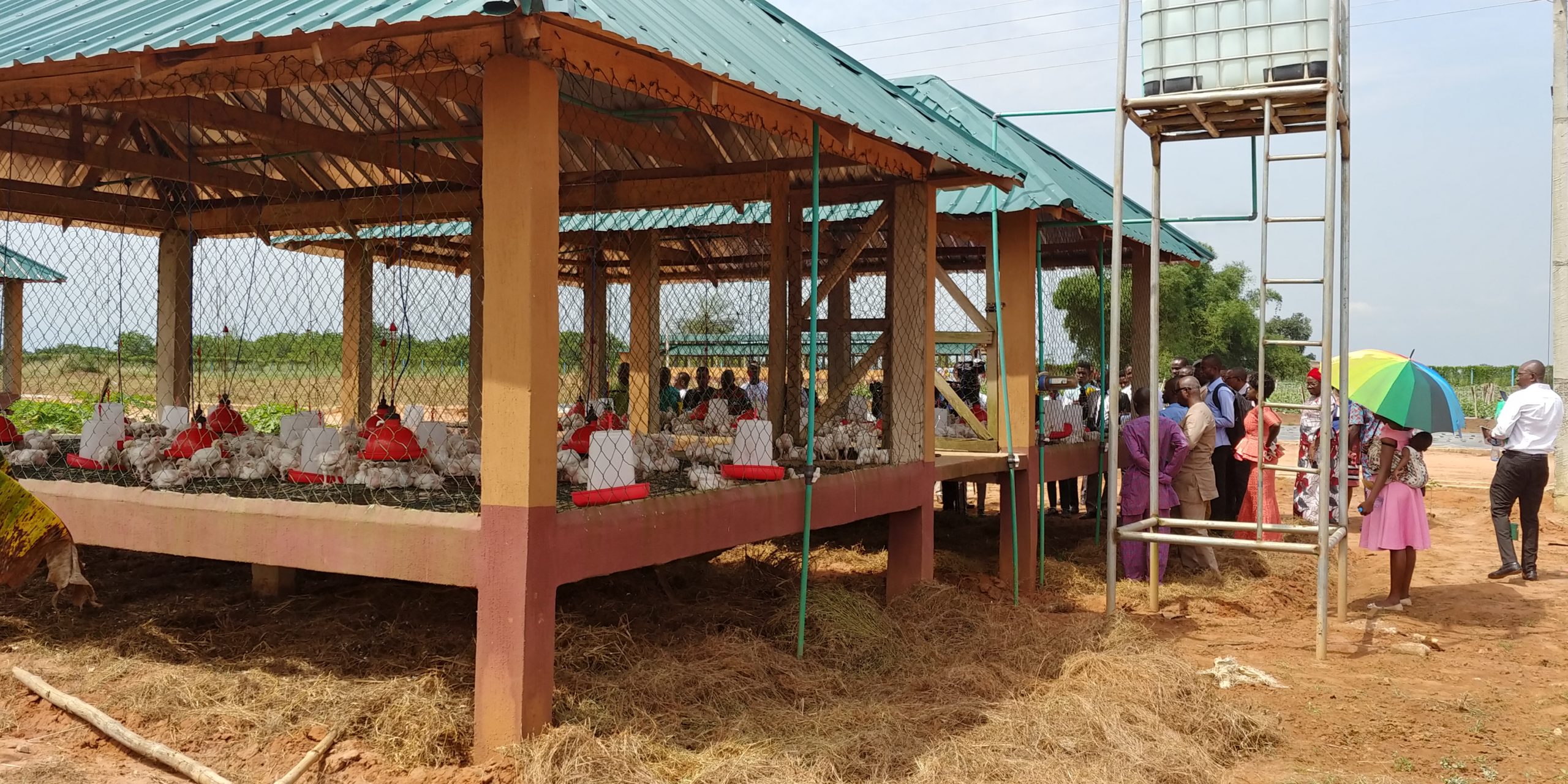 Efforts by the Government to reduce food imports, increase food availability and incomes from agriculture could put more pressure on land use through the growth of medium/large scale farms, and an expansion in area cultivated by smallholder farms across Nigeria. This could, in turn, create a situation of unregulated expansion of cultivable land under "conventional agriculture", that could potentially result in:
Decline in the quality of land due to unsustainable land use practices under conventional agriculture.
Decline in available arable land per capita due to high population growth rate and increasing urbanisation
Further rise in the proportion of carbon that causes global warming, from the current 29% from conventional agriculture.
Thus, resulting in declining factor productivity and slow growth in agricultural sector output.
Way forward
In order to avoid this negative medium/long term consequence of current land use practices in Nigeria under conventional agriculture, agricultural policy may need to refocus on a new "Regenerative Agricultural Initiative". According to Fr. Godfrey Nzamujo, Director Songhai Nigeria Initiative, Port Novo, this new "regenerative agricultural initiative" must focus on the reversal of the current process of entropy (degradation) towards a process of syntropy (regeneration)".
The system involves setting up our agricultural production system as units of fully integrated organic agriculture farms based on the principle of "zero waste" or "waste to wealth". It is a system that "uses less to achieve more". The system uses fewer external inputs, exerting downward pressure on both the release of harmful carbon into the atmosphere and on unit cost of production. It replaces the intensive use of external inputs (such as agrochemicals, inorganic fertiliser, feeds etc.) with internally generated inputs from wastes which would have otherwise gone to increase environmental degradation.
Furthermore, all waste generated on such a farm is ploughed back to produce value addition. The idea behind this Integrated Organic Farm Model is to develop an agricultural system that is land regenerative, ecologically sustainable and economically viable.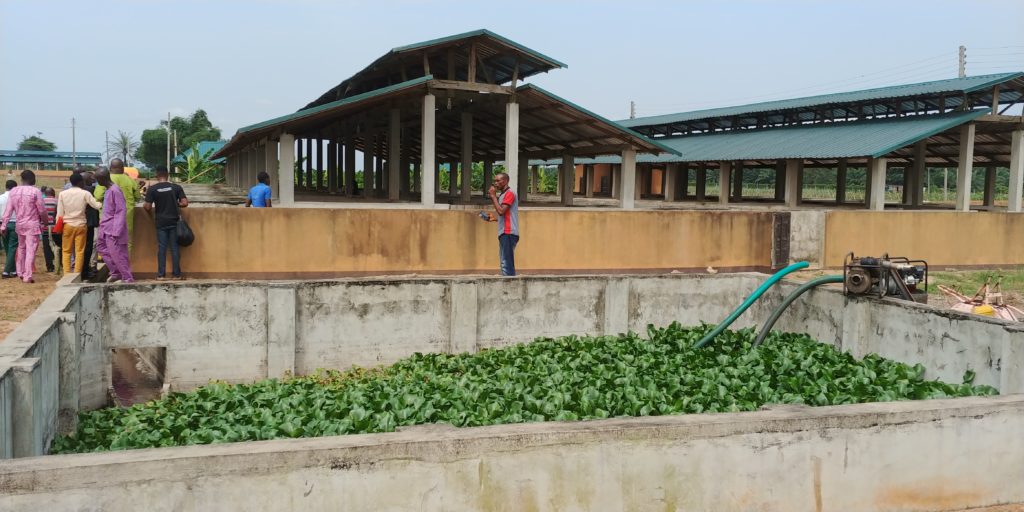 Benin-Owena River Basin Development Authority (BORBDA) waste water reservoir
Photo credit: Adebayo B. Aromolaran

Songhai Model
In 2017, the Honourable Minister of Water Resources, Engr. Suleiman Adamu, charged all River Basin Development Authorities in Nigeria to set up at least one Integrated Organic Farm patterned after the Songhai Model in Porto-Novo, République du Bénin, in each Senatorial District in Nigeria
On November 21 2019, students and experts of agriculture (research , education, extension) across Edo, Delta, Ekiti and Ondo states were gathered at the Benin-Owena River Basin Development Authority (BORBDA), Edo State for an interactive session on how to use this concept of Integrated Organic Farming to drive a sustainable and inclusive agricultural transformation process. In addition to showcasing the "Songhai Model Integrated Organic Farm", the meeting sought to explore possibilities for collaboration with stakeholders to facilitate the expansion of the project into other communities within the BORBDA catchment area. APRA was represented at this meeting by the APRA Nigeria WS1 Country Coordinator, Prof Adebayo B. Aromolaran from the Adekunle Ajasin University, Akungba Akoko.
According to the managing Director, Engr Saliu Ahmed, BORBDA, working in partnership with the Songhai Regional Partnership Initiative, has set up a 60-hectare integrated farm in its second phase of development. 40 ha is put to cassava cultivation, 5 ha to the production of several well integrated farming activities, while 15 ha is still under fallow.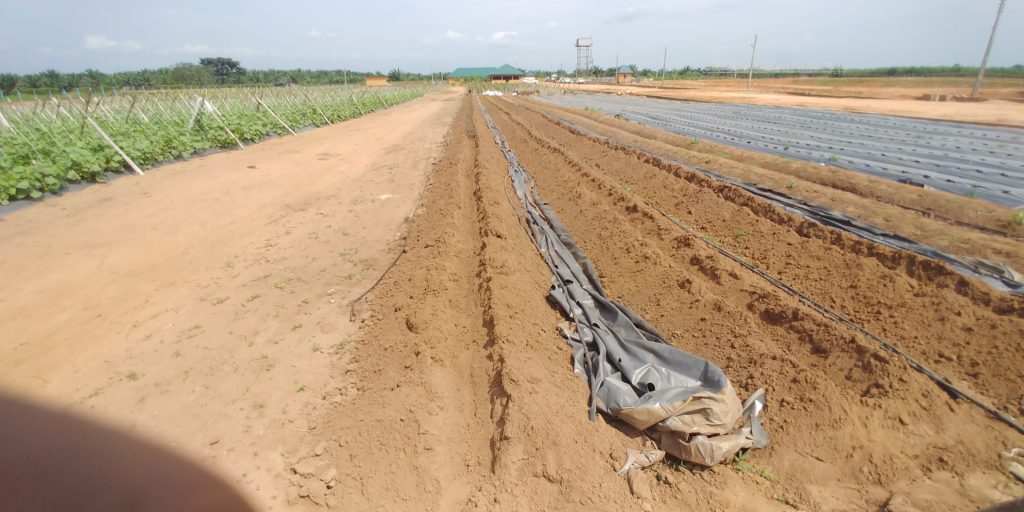 Beds open for manure application at BORBDA site
Photo credit: Adebayo B. Aromolaran

Core Integrated Farm
The 5-ha core integrated farm includes the following units/enterprises: the market garden unit, piggery unit, brooding unit, growers' units, layers unit, poultry unit, aquaculture unit, compost production unit, biogas production unit, agroforestry unit, cassava processing unit, meat and fish processing unit, waste water recycling unit. The farm area is supplied with water through a 50,000 litre overhead tank.
The market garden involves raising vegetable crops (2-3 months maturity) all year round with a drip irrigation network and includes a compost production unit where a combination of manure and plant materials are composted for three months. There is no destruction of vegetation through burning on the farm. All non-saleable vegetative growth is ploughed back into the farm for mulch, composting, or biogas. The agroforestry unit includes cultivation of dwarf, early maturing and high yield plantain, pawpaw and avocado pear.
The poultry unit consists of a brooding section, growers' section, and layers' section. The specially designed poultry house is lifted on raised legs, while the watering system is automated and metered to avoid wastage. The 5-hectare integrated farm also contains 12 concrete ponds for culturing catfish and a large earthen pond for culturing Tilapia fish: each pond with a capacity for 6000-8000 fingerlings. The piggery unit has 50 pens with 380 animals – an efficient sanitary environment is maintained due to cleaning and a sustainable use of manure.
The waste – water reservoir is a concrete structure which receives nutrient-rich wastewater from both the aquaculture and piggery units. Water hyacinth, later turned into electricity via biogas, is planted to deodorise the nutrient-rich wastewater before recycling to crop farms for irrigation. The farm also has a cassava processing unit with produces various kinds of processed cassava products such as gari, starch etc. Other facilities on this 5-hectare integrated farmland include an oil palm processing unit, a slaughterhouse, and a meat/fish processing unit with 3 smoking kilns.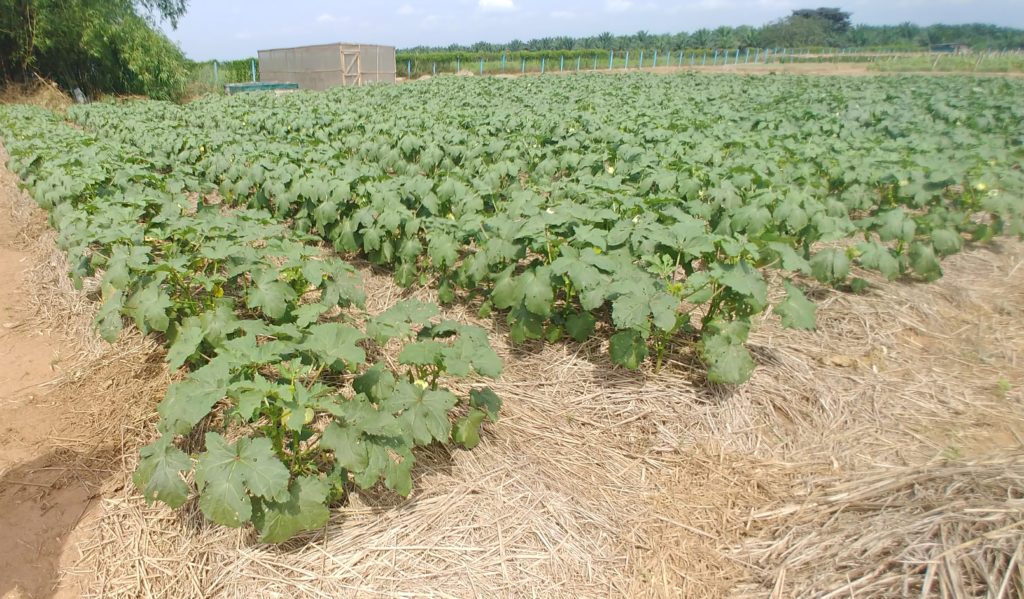 Grass mulch applied on field at BORBDA site
Photo credit: Adebayo B. Aromolaran

Conclusion
The BORBDA integrated organic farm, being the first of the targeted 118 Songhai Model Integrated Organic Farming outfit established by the Nigeria Ministry of Water Resources, readily presents an opportunity to drive job creation through capacity building youths and farmers who are interested in organic agriculture as a business enterprise. This model farm is a practical demonstration of how Nigerian, and indeed African agriculture, can mitigate the potential negative consequences of unregulated expansion in cultivable land under conventional farming system.
This blog was written by Adebayo B. Aromolaran, Adekunle Ajasin University, Akungba Akoko, Ondo State, Nigeria
Cover photo: Raised poultry cage at BORBDA site
Photo credit: Adebayo B. Aromolaran