Commercialisation of quality seeds could enhance rice yields in Tanzania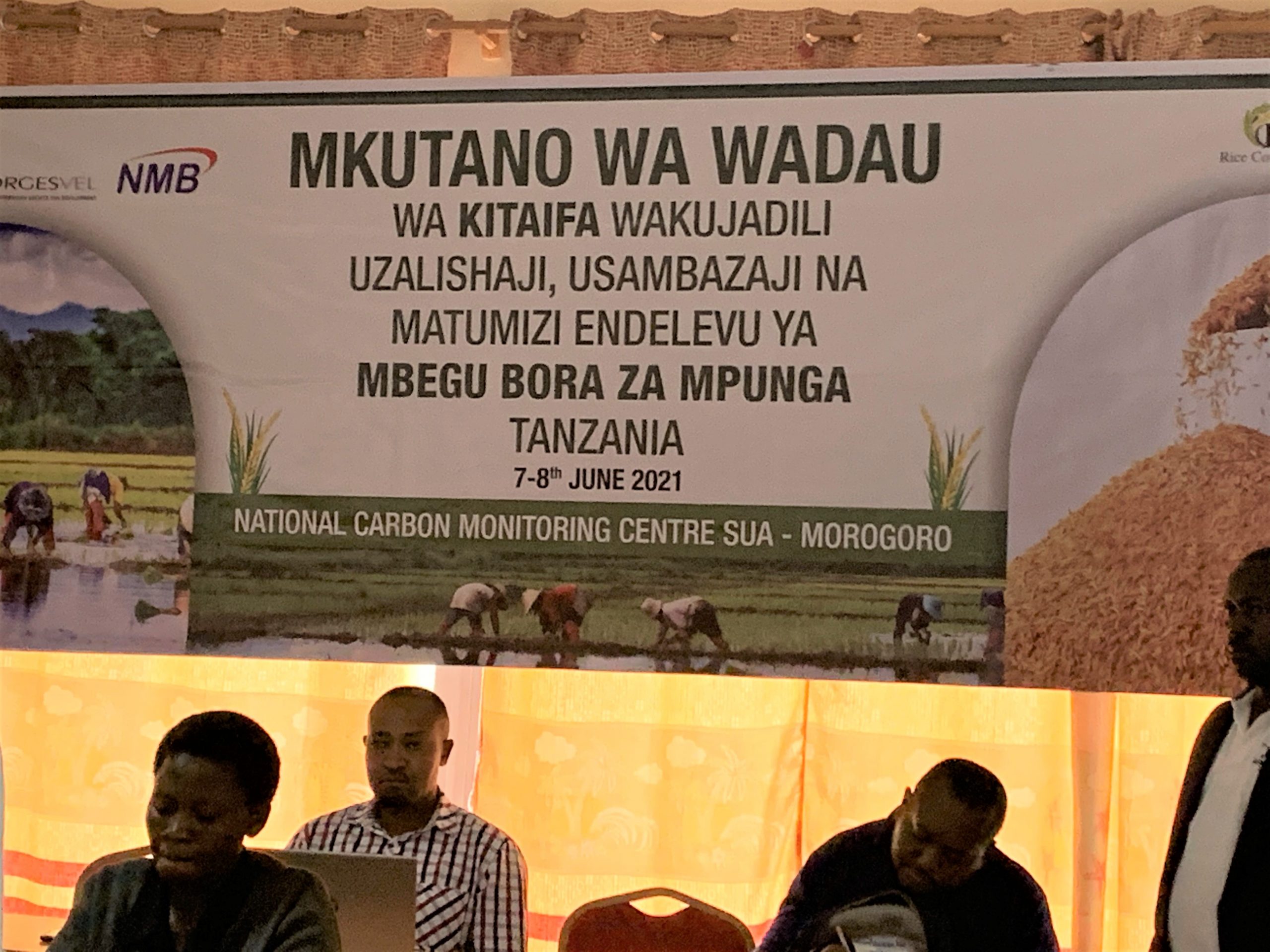 Written by: Aida Isinika
---
Research finds that the productivity of Tanzania's rice sector could improve due to commercialisation of new varieties. This blog comes against a backdrop of studies, programmes, interventions, and activities by the public and private sectors which work towards commercialisation of rice, among other crops. To contribute to these efforts, the Rice Council of Tanzania (RCT), in collaboration with Rural Urban Development Initiatives and Tanzania Agricultural Research Institute (TARI), organised a workshop to deliberate on strategies to accelerate commercialisation of new rice varieties which have been released for multiplication and dissemination.
---
This workshop, which was held between 7–8 June 2021 at Sokoine University of Agriculture in Morogoro, brought together rice processors, traders, farmers, researchers, and agencies including Tanzania Official Seed Certification Institute (TOSCI) and Agricultural Seed Agency. This workshop is important for many reasons; firstly, although annual rice production has been increasing in Tanzania (which is a leading producer of rice in Africa), productivity remains low. Also, the country's mean yield has doubled, increasing from about 1.1t/ha in 2008 to 2.2t/ha in 2018. Despite this increase, rice yield in Tanzania is still lower than the national potential, which is estimated to be 4t/ha under rain-fed production and up to 7 t/ha under irrigation.
The opening session and presentations
The workshop was officially opened by the TOSCI director, and followed by presentations which paved way for a plenary discussion. The presentations highlighted the importance of rice as both an income and foreign exchange earner, as a source of employment and as an important food crop in Tanzania. The presentations also explained the role of improved seed in rice commercialisation and outlined the necessary actions to improve the quality and timely availability of rice seed to farmers. Another important point from this session is that the existing policy and legal framework, which allows the production of Quality Declared Seed (QDS), presents an opportunity to address the country's rice seed shortage.
Contribution of APRA research
The workshop provided a platform for the Agricultural Policy Research in Africa (APRA) to contribute to discussions on rice commercialisation in Tanzania. This knowledge arises from APRA studies which explain the benefits and limitations of commercialisation of rice among other value chains in Tanzania and the wider East Africa. APRA researchers certainly enriched the discussions by sharing their findings and experiences on rice commercialisation.
Contribution of processors
Ruaha Milling Company Ltd., a medium-sized rice miller in Iringa region, shared its' experience in contract farming, involving about 600 farmers with a reach of over 5,000 participants along the value chain. Terming this a "win-win situation", the processors explained that through contract farming, the company has a guaranteed rice supply while the involved farmers are assured of markets at a stable price.
Challenges facing Tanzania's rice sector
Tanzania's rice sub-sector faces many challenges, including low use of technology, limited financing, inefficient milling processes, high costs of production, milling and storage, poor quality of rice, informal trading of processed and unprocessed rice, inadequate warehouse management techniques and low use of improved seed varieties. In fact, less than 20% of rice farmers in Tanzania use improved seeds.
Recommendations
The workshop recommended the improvement of seed systems through continuous education and facilitation, ensuring that farmers plant the right seed varieties which are best-suited for various markets. Also, market expansion would enable farmers to sell rice seeds in their respective districts since there is little demand at the ward level, especially for medium-scale QDS seed producers. The workshop further proposed certification to ensure that QDS farmers and other seed producers comply with the set standards. Finally, the private sector called upon the government to support them in addressing the challenges which arise from multiple fees and taxes.
Way forward
It was agreed that the setting up of district rice platforms, agro-dealers, further training of farmers on business skills, and coordination of QDS would enhance the quality of services given to farmers. Millers should also enhance contract farming to increase the uptake of improved seed.
To contribute to the proposed recommendations, TARI plans to deliver climate-resilient rice seed varieties to address climate-related challenges, as these increase the risks and uncertainties encountered by producers, leading to economic instability, malnutrition, and food insecurity.
TARI is also working with stakeholders to ensure continuous breeding, wide dissemination, distribution, awareness and increased access to early maturity, water-efficient varieties which are adapted to saline conditions. It will also train farmers on crop management to increase productivity, and to ensure the production of varieties that meet the preferred market standards and demands.
Finally, the workshop participants committed to strengthen District Forums under RCT. These would encourage technology transfer and be used to lobby and advocate for priorities of rice production such as QDS to upgrade the existing rice varieties.