APRA e-Dialogue summary: Strategies and pathways for supporting more equitable and resilient food systems in Africa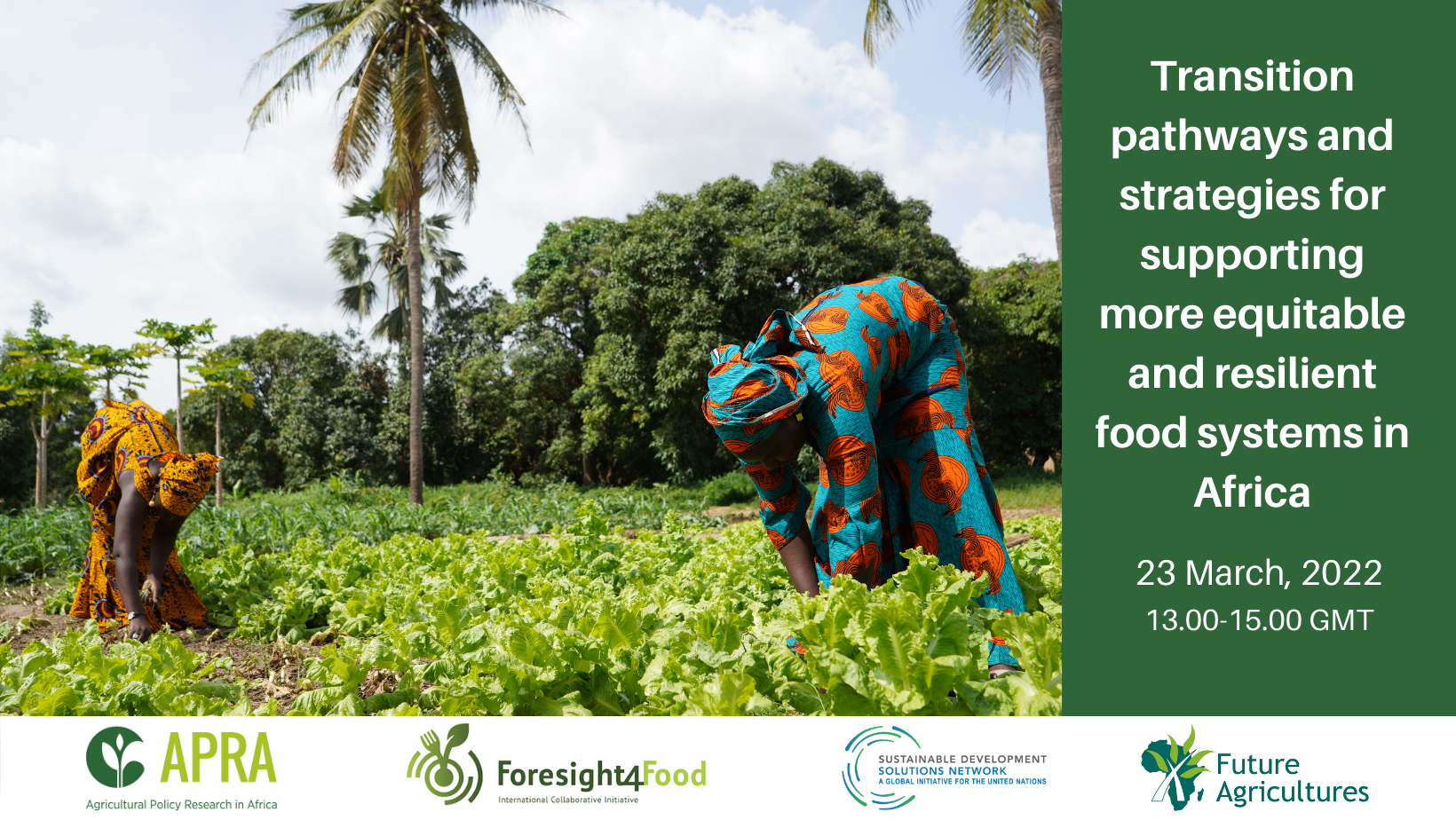 ---
On 23 March 2022, representatives from APRA, along with fellow researchers and associates, came together virtually to discuss challenges that currently exist around equity and resilience within African food systems, and potential measures to negate these. The two-hour long session began with APRA presentations highlighting specific outcomes across East and West Africa, before expert commentary and a Q&A-led session moved talks onto how to make equitable food system transformation a reality.
---
Gender imbalance and inequality
The first presentation came from Fred Dzanku, APRA Ghana country lead, and highlighted issues around gender imbalance, stating: "Women are less commercialised when it comes to oil palm as a cash crop… They tend to be more involved in the processing, but are being squeezed out by emerging tech." However, women do have more opportunities within the rural farm economy, he revealed – so "agri-food system policies need to focus more on the rural non-farm sector in order to include women."
Devotha Mosha, research fellow at Sokoine University of Agriculture, Tanzania, also revealed issues of inequality in her presentation on rice and sunflower oil commercialisation in Tanzania. Her team found that, while some women and youth work directly with these crops, economic constraints – such as a lack of purchasing power – have prevented more from doing so, and meant those who do have not benefitted much from commercialisation. Instead, women are more involved with processing and marketing within the rice sector, or are looking to alternative crops entirely.
Diving deeper into this key theme of equality, Loveness Msofi, an APRA researcher from Malawi, revealed that men are dominating the groundnut value chain – controlling resources, land, income, and sales – and pushing women further to the sidelines. This dominance is further unsettling the balance of power within the household; exacerbated by some men also spending their increased income on vices such as alcohol. "A starting point to tackle inequality is to strengthen women's agency within the household," said Msofi, and to help achieve this, "women need more training to improve their technical skills."
Policy and power
To draw out continent-wide challenges and opportunities for enhancing equity and resilience, Imogen Bellwood-Howard, research fellow at the Institute of Development Studies, looked at politics, power and social differentiation within the agricultural value chains. She highlighted that resilience against shocks is crucial for all actors, yet it is male-led and successfully achieved only by larger businesses. Her presentation further argued that political motivations and associations are at play – with access to credit and capital, along with tax breaks and safety nets, easier among these more resilient groups. To promote greater equality, policy needs to support and encourage career sustainability in the long term. The short term is also important, especially for small-scale actors, who could be targeted with measures such as better access to loans.
Blessings Chinsinga, APRA Malawi co-country lead, also spoke on the policies and strategies required for agri-food system transformation to be fully inclusive. "Whether a food system is inclusive or not depends on the broader environment," he stated: "There needs to be changes to support an inclusive food system in a rural context." Currently, policies and governance only focus on certain actors or formal systems – excluding large proportions of the sector, including women and youth – and they need to be far more inclusive.
Nalishebo Meebelo, executive director at the Regional Network of Agricultural Policy Research Institutes (ReNAPRI), provided her reflections on the presentations: "There's room for everyone to contribute to growth in the sector, with the availability of both male and female labour – yet we continue to compartmentalise," she said. "The data allowing for more inclusive policies is available to policy makers, but is not being utilised effectively." Meebelo believes that deep-rooted cultural tendencies are a key factor in hindering progression. "We are going to talk about inclusivity for a long time, unless we face the reality that our cultural tendencies are behind our practice of keeping women and youth out of gainful activities in the agri-food system," she added.
Further commentary was provided by Thom Jayne, an APRA Nigeria principal investigator, who stated that APRA needs to conduct more research into land tenure. "Smallholder farmers need access to land in order to commercialise… but APRA needs to be clearer in its policy suggestions regarding how to improve land tenure for commercialisation: who has the right to restrict land transfers? There is currently no guidance – all we say is that the legal framework needs to be improved."
A Q&A on inclusion
A wider panel discussion began with a focus on the rice and sunflower oil commercialisation. Why are women involved in sunflower more vulnerable than their rice counterparts? It mainly comes down to the fact that the rice value chain is more vibrant and offers greater employment opportunities, explained Aida Isinika, country lead for Tanzania. However, there are still positives around sunflower oil production: "Sunflower is able to uplift people and help them diverge into other crops like onion," she reveals. "It is a stimulus to jumpstart rural economies."
Queries were also raised around intensification – why is it more inclusive of women than expansion, and how do women in rice and sunflower oil production deal with high labour demands? While expansion requires land ownership, which women are less privy to, intensification is more concentrated on inputs such as labour – something they can provide. Furthermore, labour-related demands are no longer as heavy as they once were: fertilisers and herbicides mean less weeding is involved.
The role of technology in elevating women in the sector was also discussed – with Chinsinga noting: "Most technology we have currently is externally driven, and in most cases not suitable to the needs of population, especially women," he stated. "We need tech that speaks to different categories of farmers." Msofi agreed, stating that in countries such as Malawi, women's education levels are lower in comparison to men – and this needs to be taken into account when developing technology. Providing women with the required access to tech innovations – such as through subsidies and credit facilities – is also crucial, confirmed Isinika.
However, in addition to women, greater assistance and consideration also needs to be directed towards youth – and one participant asked whether there is potential to include them more in emerging sectors, such as bamboo. While there is scope to do so, policies are currently not supportive enough to drive youth into these. For example, "in the past five years or so, the Ghanaian Government's budgets have contained some funding for youth entrepreneurship and involvement in agriculture," shared Dzanku. However, "policy implementation is not very visible in rural areas, so it doesn't always benefit or reach those who really require this type of funding."
Positives for the future of policy
To wrap up the session, Meebelo emphasised the importance of looking at the bigger picture and "understanding the potential that sits in front of us. Thinking on a micro level is what creates a power play between men, women and youth," she said. Jayne adopted a positive outlook, stating that it's important to recognise just how much progress African food systems have made in the last two decades: "Sub-Saharan Africa has had the largest agricultural growth of any region in the world." It's also important to note the rise in highly educated individuals, and the positive impact this will have on policy and governance as they move into positions of power over the years ahead," he said.
Lastly, Dr Janet Edeme, acting director of the Department of Rural Economy and Agriculture at the African Union Commission, commended the work conducted by APRA's research teams and revealed how their findings can be utilised moving forward. "We need to look at how these can be ground in bigger conversations," she stated. "Policy reforms at national level haven't moved beyond current agenda – but APRA's policy findings will really go a long way in changing this."