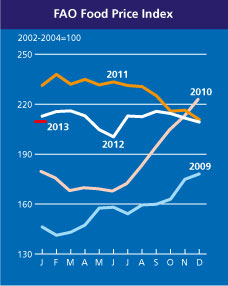 High and unstable food prices have been high on international agendas in recent years, amid concerns about population, demand and environmental constraints.
A new paper by Andrew Dorward argues that much greater attention needs to be paid to understanding and monitoring the links between food prices, poverty, and  agricultural labour – in the context of increasing global constraints on high external inputs to agriculture.
The paper suggests indicators that may help to make the connection in policy and monitoring.
Governments need good indicators to be able to develop policy and monitor the production of food, if food security is to be maintained. Until now, a lack of relevant indicators has meant that the link between prices and productivity has often been overlooked.
In the paper, published in the journal Food Policy, Dorward suggests two simple sets of indicators for use in policy development and monitoring of agricultural productivity and of the impacts of food price changes on poor and less poor people.
Their strengths, weaknesses and potential value are discussed in the context of the wider need for better indicators for sustainable agricultural development and food security in any post-2015 successors to the current MDGs.
View the paper (open access)
Dorward, A (2013) Agricultural labour productivity, food prices and sustainable development impacts and indicators, Food Policy, Volume 39, April 2013, Pages 40–50
Related links