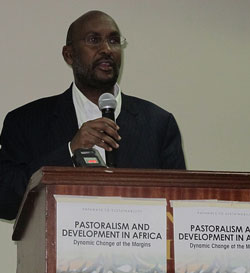 The book Pastoralism and Development in Africa: Dynamic Change at the Margins had its Kenya launch in Nairobi on 13 February 2013. The keynote speaker was Hon. Mohamed Elmi, Minister of State for Development of Northern Kenya and Other Arid Lands, who spoke about the book to an audience of policy makers, researchers, development practitioners and journalists.
"What I value about this book is the richness and diversity it portrays. It does not ignore the challenges, nor the fact that the changes we are witnessing in pastoral areas – of greater commercialisation, individualisation and integration – will have both winners and losers. But alongside these it gives us the positive examples of pastoralists adapting successfully to change, as they always have. And it captures the innovation among peoples who are too often dismissed as backward and reactionary," said the Minister.
John Letai, one of the book's authors, gave a presentation on pastoralists' innovations in Laikipia Plateau in Kenya. "As a result of the devastating drought in Kenya in 2009, pastoralists were forced to respond in different ways. Some of these responses have been employed before while others are innovations. This book highlights some of these innovations, their successes and challenges," explained Letai.
Hussein Mahmoud, another chapter author and co-convenor of the FAC Pastoralism theme, highlighted the complex camel trade in Kenya and Ethiopia. Due to conducive policies, Ethiopia is reaping benefits of the trade while on the other side of the Kenyan border, the trade continues to be hampered by bottlenecks in livestock marketing policies.
Dr. Sara Ossiya of Ibaren Konsultants and formally of AU-IBAR said that the book provides powerful views of pastoralism from the pastoralists themselves. She called on governments in the Horn of Africa to secure the future of pastoralism.
Video
Hon. Mohamed Elmi – pastoralism in Kenya
John Letai – pastoralists and innovation
Hussein Mahmoud – pastoralists and the camel trade
Dr. Sara Ossiya – pastoralists' perspectives
Audio
Pastoralism book launch, Kenya, February 2013 by Fac on Mixcloud
Pius Sawa, a radio journalist talked to Hon. Mohamed Elmi, the Minister of State for Development of Northern Kenya, Dr. Sarah Ossiya of Ibaren Konsultants, and Prof Hussein Mahmoud and John Letai of Future Agricultures during the launch to get their views about the book and pastoralism in general.
Photos
Browse the gallery below for photos from the event.
Minister's speech
Download the speech by Hon. Mohamed Elmi, Minister of State for Development of Northern Kenya and Other Arid Lands:
More about the book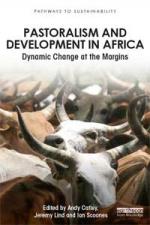 Pastoralism and Development in Africa offers a view of 'development at the margins' in the pastoral areas of the Horn of Africa highlights innovation and entrepreneurialism, cooperation and networking and diverse approaches which are rarely in line with standard development prescriptions. The editors are Andy Catley, Jeremy Lind and Ian Scoones.
The book is published in the ESRC STEPS Centre's Pathways to Sustainability book series.