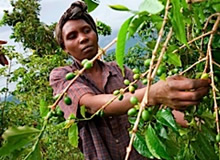 Government and commercial farmers in South Africa have responded to a new report on the living and working conditions of farmworkers by criticising its methodology. Provocatively entitled 'Ripe with Abuse', the report by Human Rights Watch documents violations of minimum wages, safe working conditions and workers themselves.
By rejecting the report based on its methodology, key players miss the point: one violation of human rights is too many. The South African government is also missing an opportunity to better monitor and enforce its progressive labour laws.
14 September 2011 – Stephen Devereux and Collette Solomon
Industry dismisses labour violations based on methodology
Human Rights Watch interviewed 117 farmworkers in Western Cape Province, home to an estimated 121,000 farmworkers. The research used a qualitative methodology involving in-depth interviews with key informants and testimonies of farmworkers.
A wine industry representative dismissed this approach as generating "assertions based on what appears to be random anecdotal evidence", and queried the absence of "a strong base of statistics and facts".
Qualitative research is always vulnerable to accusations of 'anecdotalism'. The Human Rights Watch report makes no attempt to quantify the scale of violations of farmworkers' rights; it simply confirms that such violations persist. The report complements rigorous academic research and policy analysis. Like good investigative journalism, it exposes wrongdoing and recommends appropriate public action.
The methodological critique of the report is a smoke-screen. It allows a farming industry with vested interests to defend and officials with policy failures to conceal to deflect attention away from the real issues.
It is disappointing, even scandalous, that media coverage and debate have focused on how the findings were collected, instead of on the findings themselves. When Amnesty International reports on the illegal detention and torture of a single political prisoner, nobody asks about Amnesty's sample size.
Failing to uphold South Africa's labour laws
South Africa's progressive labour legislation for farm workers includes statutory minimum wages, provisions for paid leave, regulations around safe use of pesticides and adequate sanitary facilities in vineyards and orchards, freedom to join trade unions, and decent housing and living conditions on farms. Human Rights Watch found evidence of violations of all these rights. The report criticises not only commercial farmers and farmers' organisations, but also the government, for failing to monitor conditions on farms and enforce its laws regulating the treatment of farmworkers.
Insinuations that the Human Rights Watch findings are wrong because the methodology is flawed can be refuted by pointing to supporting evidence from a range of sources.
Research on the vulnerability of farmworkers
In a paper presented at the Centre for Social Protection conference on 'Social Protection for Social Justice' at IDS in April 2011, we highlighted the disconnect between South Africa's progressive social legislation and the reality of poverty, vulnerability and abuse that farmworkers face, especially those living and working far from the tourist-friendly Wine Routes. Our paper documents inadequate water and sanitation facilities on farms, cases of physical assault and rape of farmwomen by farm owners and managers, and evictions of HIV-positive workers.
South Africa's respected Human Rights Commission has also released reports in 2008 and 2003 on abuses of farmworkers. Like the Human Rights Watch report, these reports were based on testimonies and public hearings. Yet the Commission's findings were accepted as credible by stakeholders in the farming sector.
Other organisations have also documented violations.
Women on Farms Project recently oversaw several studies that confirm the Human Rights Watch findings. A survey by the organisation found that in one district 58 percent of workers interviewed were paid less than the legal minimum wage. Among women, the figure was 69 percent.
Research on labour brokers found that many fruit farmers do not allow trade unions to access their workers, making it impossible to unionise them.
A study by the University of Cape Town found that 75% of 211 women farmworkers were forced to re-enter orchards and vineyards only hours after they were sprayed, and 25% were not given protective clothing, contravening health and safety laws.
Shooting the messenger, missing opportunities
Human Rights Watch has usefully refocused attention on the gap between South Africa's progressive labour legislation on paper and the failure of many farmers to uphold farmworker rights in practice.
Instead of shooting the messenger, the government and commercial farmers should have responded to the report by pledging to step up their efforts to eradicate all incidences of bad practices on commercial farms.
'Ripe with Abuse' challenges those with political and economic power in South Africa to deliver on the post-apartheid promise of economic and social justice for all.
Original article can be found on the Institute for Development Studies site