Beyond Farmer First: Rural People's Knowledge, Agricultural Research and Extension Practice
Edited by Ian Scoones and John Thompson
ISBN 1 85339 250 2
ITDG Publishing (1994), 301 pages. Price: £12.95
This book presented a selection of the papers presented at the workshop "Beyond Farmer First", which took place at the Institute of Development Studies , Sussex , in October 1992.
Click on the links to view scanned copies of selected sections of the book (by kind permission of Practical Action Publishing).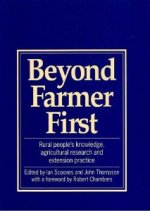 Part 1: Theoretical reflections on knowledge, power and practice
Part 2: Methodological innovations, applications and challenges
Part 3: Transforming institutions and changing policies
Go to publication